Online Marketplaces for SMBs
Small- and medium-sized businesses (SMBs) have many opportunities when it comes to ecommerce. There is a large variety of online marketplaces for SMBs, giving them many options for selling their products or services. Selling on ecommerce marketplaces can bring many benefits to a business and help their overall growth
SMB
Walmart Marketplace for Small Business | FAQs As a small business owner, you're always looking for ways to branch out beyond your local community. Online marketplaces, like Amazon Marketplace and eBay, provide a great opportunity for your business to reach […]
An online marketplace is an ecommerce platform that offers products from various sellers. Examples include Amazon and Walmart Marketplace.
Read on to learn more about why you should sell on ecommerce marketplaces, the best online marketplaces, and our tips for selling your product online.
GET ANSWERS TO WALMART MARKETPLACE FAQS FOR SMALL BUSINESSES
5 reasons SMBs should sell on ecommerce marketplaces
Online marketplaces offer a unique advantage when it comes to selling online. Here are five reasons that you should consider ecommerce marketplaces for SMBs:
1. Established audience
Most online marketplaces already have an established audience of shoppers. Joining an online marketplace will allow you to reach a large audience of ready-to-buy consumers, generating more online orders and sales.
2. Quick onboarding
Most online selling sites offer quick onboarding, meaning that you can get started quickly. You can create an account, upload your products, and start selling fast. Additionally, platforms like Amazon provide convenient bulk product upload options.
3. Broad audience
By utilizing an online marketplace, you will naturally reach a larger audience. Consumers will find your products more easily on a platform like Amazon than a website they are unfamiliar with.
4. No tech experience required
Compared to hosting your website, you do not need many technical skills to start selling on a marketplace. Everything is handled on the same platform through a single dashboard, from customer service to marketing.
5. Support from tools, insights, and data
Online marketplaces such as Amazon and eBay provide tools to help independent sellers be successful. A few of these tools include data analytics and key insights to manage and improve your business.
Which are the best online marketplaces for SMBs?
When it comes to ecommerce marketplaces for SMBs, there are many options. Here are our picks for the best online marketplaces for SMBs and their benefits:
1. Amazon
Start selling online quicker without creating a website
Easily manage everything through Seller Central
Ability to leverage Amazon's traffic of over 150 million unique monthly visitors
Ability to streamline fulfillment with the FBA inventory management and shipping processes
Combat copycats and scammers with Amazon Brand Registry to protect your brand
No charges for setup, subscription, or listing fees
Access to Walmart's TwoDay Delivery program, adding value and encouraging shoppers to order
Reach a broad audience with Walmart.com's 100 million unique monthly visitors
3. Shopify
Easily and quickly create a store through Shopify's interface, explicitly built for "technically challenged individuals"
Ability to use a custom domain name
Customize your storefront with Shopify's online store builder and themes to match your brand and boost awareness
No need to update software and servers since Shopify is cloud-based and hosted
4. Target Plus™
Ability to entice shoppers to buy with benefits like 5% off using a Target REDcard, free shipping, and easy in-store returns
Access to a broad audience. With over 1,800 storefronts nationwide, you will receive access to Target's massive audience, boosting brand awareness and sales
5. eBay
Start selling fast by setting up shop and gaining traction for your products quickly
Access to eBay's 106 million unique monthly visitors
6. Etsy
Reach a niche market since this platform caters to a specific niche and your audience is most likely to be looking for the products you offer specifically
Streamlined shipping options with Etsy's shipping discounts
7. Sears Marketplace
No long-term commitment with the ability to cancel at any time
Access to Sear's 15 million unique monthly visitors
Easy-to-use order management interface
8. Alibaba
Access to Alibaba's large audience of 654 million active buyers each year, expanding your audience instantly
Ability to reach B2B and B2C buyers ready to purchase your products
9. Rakuten
Shoppers have access to Rakuten's loyalty program, giving them points for every purchase
Ability to offer incentives like up to 40% cash back at 2,500+ stores
Customized storefront to match your brand identity and boost awareness
10. Facebook Marketplace
Display items from your Facebook Page shop for free to boost awareness and sales
Allow customers to purchase without leaving Facebook, streamlining the conversion process and making it easier to buy from your business
Advertise your store through custom advertisements to display in Facebook Marketplace
The first step to increasing your SMB's Amazon sales is getting a FREE proposal.
One of our experts will be in touch within 24 hours!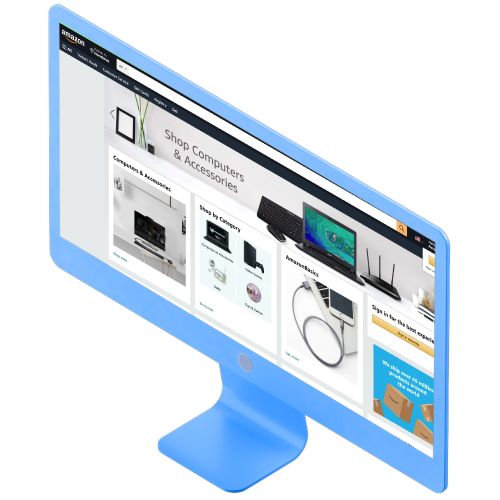 5 tips for selling your SMB's products online
1. Write engaging, optimized product descriptions
When writing product titles and descriptions, try to match or exceed the level of detail of the second description.
This tactic helps you achieve two things:
Help listings show up when users search using keywords in the listing
Give users enough information to engage with your listing and make a purchase
2. Make product videos
There are two types of videos that work well for marketing products online:
Explainer videos

Clearly tell viewers how a specific product works and how it can make their lives better
Employ storytelling to address customer pain points and share solutions to common problems
It can be animated, live-action, or a mix of both

Product demo videos

Shows your product in action
Chance to demonstrate all the features that put your product above your competitors' products
Focus less on the story behind your product and more on how the features work
3. Encourage reviews from happy customers
On many online marketplaces, like Amazon, positive reviews can impact your products' rankings. Reviews build trust between your business and your customers. You can generate more reviews by simply sending an email to recent customers.
Adopting an active role in the Q&As can help secure sales while also marketing your product to other shoppers. Your responses will demonstrate to consumers that your company is active and takes the time to be involved with their community.
5. Schedule limited-time promotions
Limited-time promotions are a great way to earn exposure for your products. They do not have to include discounted product prices. They can also consist of freebies like stickers or other additional products that encourage shoppers to buy and share your product within their social circles.
Join the best online marketplaces and start selling more
Ready to grow your online orders? Read more about our ecommerce marketing services and contact us online today!