What to Do When You Are Banned from AdWords
It's a business owner's worst nightmare. You've funneled lots of cash into your Google Ads account and your ad stops running.
If it happens to you, it's a big deal. Google is the biggest search engine in the world, so companies that aren't advertising on it are at a huge disadvantage compared to their competition.
Plus, you might not even know why you were banned. Google has restrictions on who can use Google Ads and for what, but you won't know you've violated these rules until it's far too late.
But even with how much it can hurt your marketing, you can get back on Google Ads.
This page offers a list of reasons why Google suspends accounts, along with a list of tips on pay-per-click advertising (PPC) for banned companies.
We're also more than happy to speak with you directly! You can contact us online or call 888-601-5359 today to speak with one of our experts!
37% of marketers say that generating high-quality leads was one of their biggest challenges.
We want to decrease that percentage.
WebFX can help you generate high-quality leads with a customized marketing strategy.
Learn More About Lead Generation Services
Why are accounts banned from Google Ads?
Google Ads is one of the most popular ways to promote your business online, but it's very strict about what ads can say and do. As a result, people may break a rule without even realizing it, and if they don't stop, they can be banned.
Sometimes, the reason for the ban is obvious. If your ad is promoting alcoholic products or sexually explicit material, Google Ads will eventually find you and ban you. The same goes if your ad promises to take people to one page, but takes them somewhere else.
Some site owners avoid these but still get banned anyway. That's because they violate policies without even knowing they're doing it.
For instance:
You can't promote copyrighted material on Google Ads. You may think your ad promoting your book is fine, but because you didn't submit copyright documentation, Google flags your ad and bans you.
Capital letters and other special characters can help content stand out. In Google Ads, they get your ad removed.
These are all honest mistakes, but they can lead to the same consequences if you do them enough.
What can sites do to recover from a Google Ads ban?
If you've invested a lot of time and money into Google Ads, it can seem like a big blow when your account is suspended.
But remember, you can get the ban removed if you work for it. Take the steps you need to get back as quickly as possible.
Identify and fix the violations
When your account is suspended, you'll get an email notifying you of the ban and telling you why it occurred.
The reason is obvious in some cases, strange in others. It's up to you to follow up with the support team at Google Ads to ask questions and offer solutions.
Once you know what happened, make the changes to your ad and ask Google to life the ban.
While this sometimes works, it's not a guaranteed return to Google Ads. While you're being considered, you can try other strategies to improve your reputation with Google and keep traffic flowing to your site.
Implement organic SEO
Just because you can't advertise on search engines anymore doesn't mean potential customers can't find you there.
Take your PPC budget and invest it in your search engine optimization (SEO) strategy to rank organically.
Add more content to each page. Make changes to URLs and page titles if necessary.
As your site ranks higher in search engines, the need to advertise doesn't go away, but at least you can continue to grow — even if it's a little slower than before.
Advertise on social media
You may not be able to advertise on Google anymore, but you can still advertise on social media.
Refocus your time and advertising dollars on Facebook, Twitter, and other popular networks to reach your audience.
However, keep in mind that each of these networks has their own PPC rules and guidelines. Make sure you read them thoroughly to prevent getting banned from a second PPC medium.
Ramp up other marketing tactics
With the loss of your PPC campaign, you're going to have to be more active on other marketing channels.
Spread its budget among the other channels you use. Reinvest in email marketing and drip campaigns. Post more often on social media, or commission new kinds of content to get links (like infographics).
Google Ads has become such a prolific tool for online advertising that it can seem like a major struggle to bounce back when it's no longer an option.
Fortunately, there are other ways to promote your business besides Google Ads, and these strategies will get your campaigns back on track.
Still, with enough time and honest effort, you can get your ban lifted by showing Google that you're dedicated to running a credible, reliable website. And once you've earned your way back to Google Ads, you can make sure to never repeat your previous mistakes.
WebFX is a partner businesses trust.
Hear from HydroWorx, who saw a 236% increase in organic sessions with WebFX services.
Watch the Video Testimonial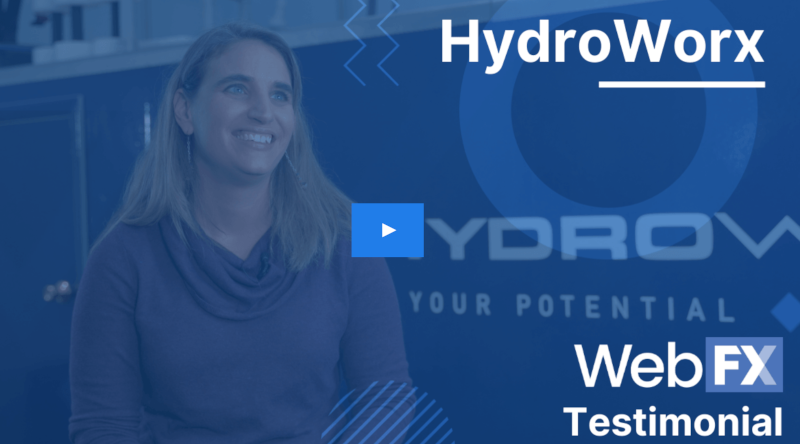 WebFX will help you get back on Google Ads
WebFX is a full-service Internet marketing agency, and that means we work with all kinds of clients to help them online. We've helped clients recover from Google penalties before, including banning. If you're no longer welcome on one of the world's largest PPC networks, we can help you!
Contact us today to get back on Google Ads and making money for your business!