Looking for an Advertising Agency in York, PA?
If you're looking for ad agencies in York, PA, you're probably hoping to find a partner who can effectively promote and grow your business both online and off. By now, you've probably realized the power of the Internet — and you want to harness it. But how can you develop a comprehensive marketing plan that marries both traditional and modern methods that also increases brand awareness?
If you want to create a comprehensive marketing plan, you need a comprehensive marketing company.
As a leading digital advertising agency serving companies in Central Pennsylvania, including York, PA, WebFX provides search engine optimization, pay-per-click management, link building, content marketing, media buying, and other Internet advertising services.
We're a leader in York advertising, and through our York area partners, we can provide services that go beyond digital marketing to meet all your advertising needs.
Contact us online or call 888-601-5359 today for your free evaluation!
What kinds of services does an advertising agency provide?
Here are some of the services that a classic advertising agency in York PA provides.
Branding
Strategic Planning
Public Relations
Media Solutions
Direct Mail and Print Advertising
Commercial and Corporate Video Production
Promotion and Event Management
Unlike most advertising agencies in the York area, we don't limit ourselves to these traditional methods. We're happy to help you draft and send press releases, or create beautiful graphic design elements to be used in print advertising or your branding.
But our focus is on methods that have a clear ROI—and that means turning to the web.
WebFX believes in the power of the web. We've created positive ROI for hundreds of businesses just like yours.
We've partnered with some companies who have experienced more than a 300% ROI on different aspects of their online advertising. Unlike print media, online advertising is easy to track, change on the fly, and monitor for success. That's why we recommend strategies like SEO, PPC, email marketing, and online PR.
What sets WebFX apart from other agencies?
It can be a pain to find a vendor for each and every need you have. Sometimes you find yourself working with so many partners and vendors that you can't keep them straight. Wouldn't it be nice if you could work with just one company for everything you wanted?
With WebFX, that's what you get. Unlike other ad agencies in York and the surrounding area, we're a full-service firm. We offer everything from A to Z, from general branding support to super-specific on-page SEO optimization. We pride ourselves on offering everything a business could ever need, as far as marketing is concerned — and if we can't do it for you ourselves, we'll turn to one of our York partners to get it done for you.
Time to Level Up Your Sales
Our long list of services helps you grow every aspect of your business with marketing strategies that are proven to increase bottom-line metrics like revenue and conversions.
In the past 5 years, we've managed more than 12.9 MILLION transactions across our client base.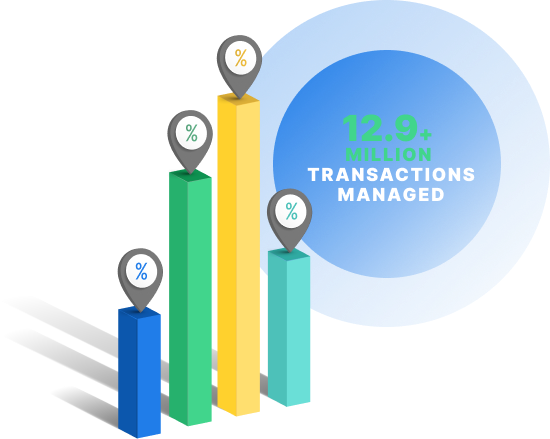 Conveniently located and always available
WebFX is located in nearby Harrisburg, PA, just a short half hour drive away from York. Our convenient location means we're always available for team meetings, events, or strategy discussions.
You can come see our office along the beautiful Susquehanna River, or we can always come to you! Don't feel like a drive? No problem — you can call us anytime.
We don't consider ourselves your "ad agency" or "web development company" — at WebFX, we're part of your team.
We work closely with you for all of your York advertising needs because we know how much your business depends on the success of your advertising. In fact, we're so integrated with the businesses we work with that our employees have even won "team member of the month" awards from clients!
If you're looking for an advertising company local to York, don't settle for selecting three different vendors or pick an agency that doesn't offer modern, web-based ad services.
Contact WebFX today to find out how we can make a real difference in your branding and advertising, both online and off.