Browse Lancaster digital marketing services
If you're looking for digital marketing in Lancaster, look to WebFX. As a full-service agency, we provide a complete solution to marketing and advertising your business online, whether you're looking to use search, social, email, or another channel.
SEO services
Use our SEO services to bring qualified traffic and leads to your company's website.
Social media services
Build brand awareness and reach the users that matter most to your business with social media.
PPC advertising services
Invest in PPC advertising to generate immediate leads, sales, and revenue.
Content marketing services
Generate continuous website traffic, leads, and sales with content marketing.
Web design services
Launch a fast, easy-to-use website to support your digital marketing strategies.
Email marketing services
Nurture valuable leads and current customers with our email marketing services.
Additional online marketing services we offer include:
And more
If you aren't sure which service matches your specific needs best, feel free to contact us online or call us at (888) 601-5359 to speak with an experienced strategist at our Lancaster PPC company.
Why WebFX is a leading Lancaster PPC company
When you partner with a leading PPC company in Lancaster like WebFX, you'll get access to a team of over 500 PPC and digital marketing experts who can develop, implement, and manage customized PPC strategies that suit your business needs.
Here are some more reasons why WebFX is a top Lancaster PPC agency:
1. We are focused on achieving the best possible ROI
At WebFX, we drive impressive results for our clients and Lancaster businesses. We focus on helping you achieve the highest possible ROI for your PPC strategies.
We'll work with you to develop a customized PPC strategy that will help you achieve your business goals. We also use data to inform our strategies to develop PPC campaigns that will drive the best results for your Lancaster business.
2. We monitor and track your campaigns
We also track and monitor your PPC campaigns to ensure they are driving the best results. By continuously measuring the success of your strategies, you won't have to worry about wasting resources on campaigns that aren't driving revenue for your Lancaster business.
And when you partner with WebFX, you'll get access to our IBM Watson-powered ROI-tracking technology MarketingCloudFX. With MarketingCloudFX, you can easily track your PPC campaigns and other digital marketing strategies all in one place.
MarketingCloudFX also enables you to:
View the sources of your leads and phone calls
Monitor consumer behavior on your website
Track search engine performance
Receive strategy analysis and reports
Calculate ROI
And so much more!
MarketingCloudFX makes it easier than ever to track the success of your PPC and digital marketing efforts and make strategic decisions that drive revenue for your business.
3. We are an extension of your marketing team
At WebFX, we are dedicated to the success of your Lancaster business. We take the time to get to know you, your team, and your company, so we can better understand your needs and goals. And we'll work with you to create a personalized PPC strategy that best suits your budget.
When you partner with WebFX, we become an extension of your marketing team. We can develop, implement, manage, and track your PPC strategies and keep you in the loop every step of the way. We'll also provide regular updates and analysis reports, so you can easily see the results of your PPC campaigns.
Browse our Lancaster PPC services and plans
Are you ready to take the next step and start boosting your sales and brand awareness with an effective PPC strategy? We can help.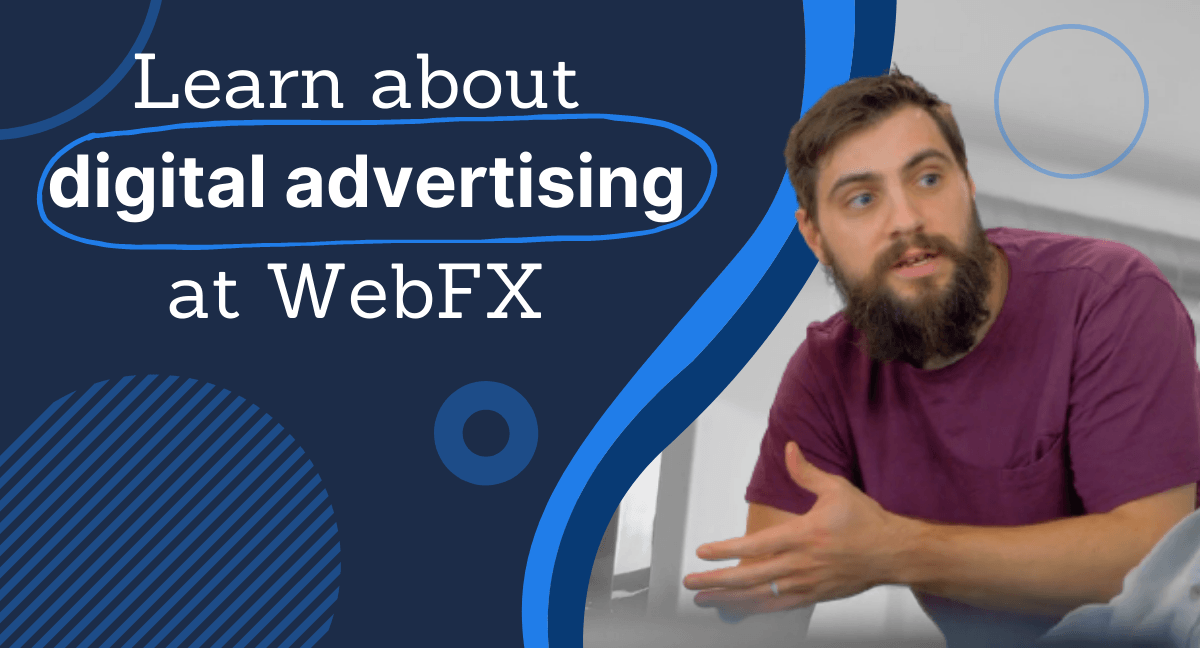 We offer several PPC pricing packages, so you can choose the option that best suits your budget.
Browse our PPC services below:
And when you invest in Lancaster PPC services from WebFX, you'll get access to:
A dedicated (and seasoned) PPC account manager
A custom PPC strategy for your business and industry
Data-driven keyword research for your campaigns
In-depth competitor ad analysis
Optimized and tested custom ad campaign copy
PPC ad bid management that maximizes ROI
PPC account monitoring and tracking to ensure top results
Regular reports and analysis to keep you up to date
And much more!
When you partner with a leading PPC agency in Lancaster like WebFX, you'll have access to a team of industry-leading PPC specialists who can maximize your PPC search engine performance to boost revenue for your Lancaster business.