What Is Search Marketing? Everything You Need to Know to Get Started
Search marketing is an online marketing strategy that encompasses search engine optimization (SEO) and search engine marketing (SEM). It combines marketing with advertising, offering your company a 360-degree approach to promoting yourself online.
Are you ready to learn more about search marketing?
Keep reading to get the scoop on search marketing, plus how to use search marketing in your online advertising and marketing campaigns. If you need professional help with your search marketing strategy, contact us online or call us at 888-601-5359.
Time to Level Up Your Sales
Our long list of services helps you grow every aspect of your business with marketing strategies that are proven to increase bottom-line metrics like revenue and conversions.
In the past 5 years, we've managed more than 12.9 MILLION transactions across our client base.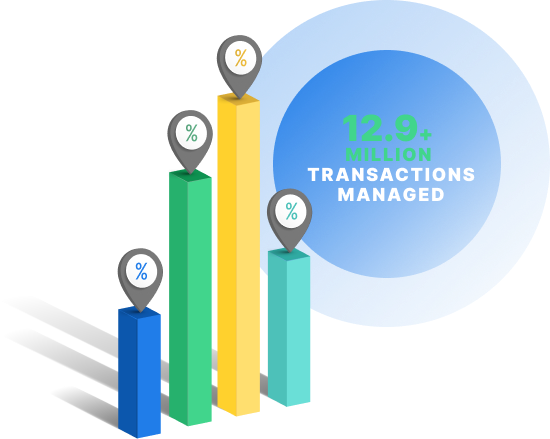 What is search marketing?
A digital marketing strategy, search marketing uses paid and unpaid techniques to earn your business increased visibility across the Internet. A few examples of these techniques include pay-per-click (PPC) advertising and SEO.
Why is search marketing sometimes called search engine marketing?
When reading about search marketing strategies, you'll come across several search marketing definitions that refer to it as search engine marketing. That's not accurate, though, as search engine marketing and search marketing focus on two different areas.
Search marketing: Uses SEO and SEM, an unpaid and paid strategy.
Search engine marketing: Uses SEM, a paid strategy.
How did this mix-up happen, though? Time.
When people started using search engine marketing, it described using SEO and SEM. Over time, however, that changed. People saw search engine marketing as more for SEM, a paid strategy, versus SEO, an unpaid one.
In response, search marketing became the umbrella term for using SEO and SEM.

Understanding the difference between a search marketing strategy and a search engine marketing strategy is critical.
You don't want to create mix-ups among team members or confuse decision-leaders when talking about your digital marketing plan. If you're going to keep discussions straightforward, consider using the specific name of the strategy you're using, like SEO.
How do I get started with search marketing?
Getting started with search marketing requires time and dedication. When you adopt search marketing, you're taking on two diverse strategies: SEO and SEM. If you want the best results from these strategies, you need them to work together and support one another.
That's why, before launching a search marketing strategy, you need to review SEM and SEO.
These two core tactics serve as the foundation to search marketing. If you don't launch a smart and coordinated strategy for SEM and SEO, your company won't get the kind of results you expect from search marketing.
Keep reading to learn how to build the best SEM and SEO campaigns.
Already know everything about SEM and SEO? Skip ahead for a walkthrough on starting your strategy!
Your search marketing strategy and SEO
SEO is a vital component to search marketing. If you want to bring search marketing on board, you need to understand SEO, from what it is to how it works. Even if you plan to outsource your SEO, like to an SEO agency, it's essential to understand its purpose and functions.
Get all the details on SEO and its role in search marketing below:
What is SEO?
SEO encompasses an umbrella of strategies. These strategies, like improving your website's speed, focus on increasing your visibility in search results, like on Google or Bing. When it comes to search results, increased visibility translates to increased traffic, as well as leads, sales, and revenue.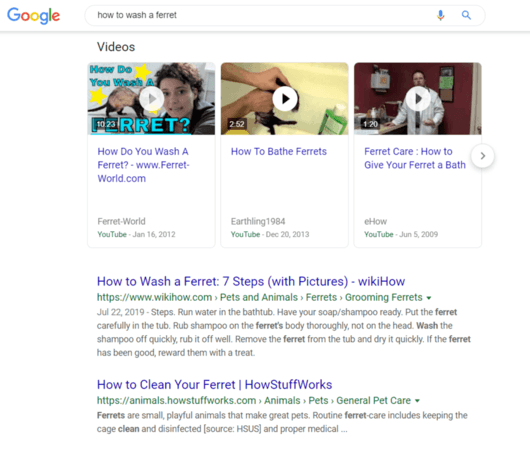 You can see the value of SEO when you think about your search habits.
When you go to a search engine like Google, how often do you scroll down the list of results and click to page two? Not often. Studies even show that the first page of search results earns 71% of all clicks and that only 25% of users visit the second page of results.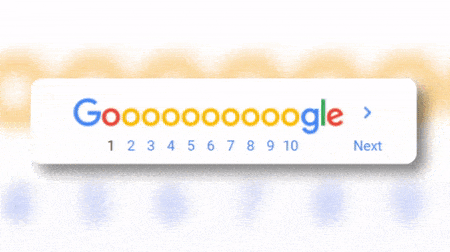 You want a spot on the first page, and using SEO in your search marketing strategy can help you earn it.
How does SEO work?
Ok, so SEO can increase your visibility in search results, but how does it do it? Great question!
This search marketing strategy improves your visibility in search engine results pages (SERPs) by optimizing your online presence according to the ranking factors or algorithms used by search engines. Search engines use their algorithms to rank or organize sites in search results.
Your online presence generally consists of three areas:
Your website
Your social media
Everyone else's site
These areas get classified into two separate SEO focuses:
Off-page SEO: With off-page SEO, you focus on your social media presence and presence on everyone else's websites. The core focus of off-page SEO — attracting links to your website from other sites — is one of the most influential ranking factors. That's because links, especially from trusted and reputable sites, serve as a massive trust signal to search engines.
On-page SEO: With on-page SEO, your focus gets dedicated to your website. On-page SEO revolves around making your site friendly to search engines and users, like by creating a fast website, informative title tags, and engaging content. The design, content, and functionality of your site play a vital role in your ranking capabilities.
On-page and off-page optimizations power SEO. When you optimize your online presence according to SEO best practices, search engines notice. That notice can result in higher rankings in search results, which leads to more traffic from your target market.
If you want to learn more about the workings of SEO, check out this SEO guide!
How long does SEO take to work?
One of the reasons search marketing includes not only SEO but also SEM is because of how long SEO takes to work. While you may see immediate results after launching a PPC campaign, SEO takes a few months to deliver.
On average, expect a three- to six-month turnaround for SEO.
SEO takes time for a few reasons, including one outside your control. Search engines have a tremendous number of pages to consider when compiling search results. Their crawlers must visit and index millions of sites, and it can take time for search engines to sift through all that content.
Not to mention, off-page ranking factors can take time to optimize. If you're looking to attract links to your site, for example, that can take months. Even on-page SEO can take time, especially if you're tackling massive tasks like creating a responsive website.
SEO, however, is worth the investment and wait.
Once you optimize your website and earn those top spots in search results, you start receiving traffic. This free traffic includes people in your target audience. Attracting this kind of qualified traffic can result in new leads, more sales, and additional revenue.
What are some must-have SEO tools?
A few tools that can help you get started with SEO include:
If you can, start with free tools or tools that offer trials. Beginning with these tools can help your business experiment with the different tools available and choose the best ones for your SEO and search marketing strategy.
Learn More About SEO for Search Marketing
Your search marketing strategy and SEM
The second component to search marketing, SEM, serves an essential role in not only making your search marketing strategy a success but also supporting your SEO efforts. If you're going to use SEM, however, you need to know the basics.
Keep reading to get all the details on SEM!
What is SEM?

SEM, also known as search engine marketing, uses paid ads that appear in search results to promote your business, products, and services. These ads generally appear at the top or bottom of search results, like on Google and Bing.
How does SEM work?
In comparison to traditional advertising, SEM works with more data and tools. This expanded toolkit makes SEM a competitive advertising strategy because it can create ads targeted and tailored to your target audience.
Ok, but how does SEM work?
SEM operates on the following:
Keywords
Bids
Budget
Any additional targeting options
When you use SEM, you research keywords.
Keywords describe words or phrases that people use when searching on search engines. For example, if your dog loves to fetch and you want to get them a toy for that, you may search, "dog fetch toy" on Google or Bing.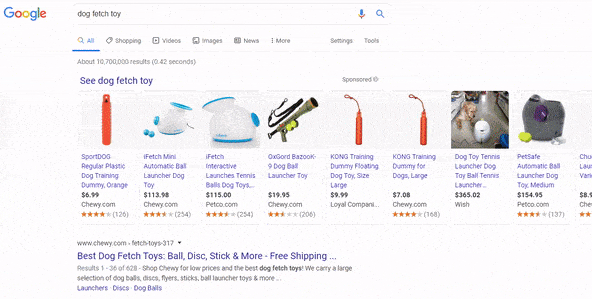 That phrase, "dog fetch toy," can serve as a keyword for an advertiser that sells dog fetch toys.
Advertisers can target more than one keyword with SEM. If they sell a ball launcher for fetching, for instance, they may target other keywords that dog owners use, like "dog fetch launcher" or "automatic dog ball thrower."
You can use additional targeting options to refine your SEM campaigns. Examples include:
Location
Day of the week
Time of day
User interests
And more
Your SEM ad, for instance, may look like the following:
Keywords: dog fetch toy, dog fetch launcher, automatic dog ball thrower
Day of the week: Friday, Saturday, Sunday
Time of day: 3 p.m. to 12 a.m.
Once you choose your keyword and targeting options, you set your monthly budget and make your bid.
A bid is how much you'll pay for someone to click on your ad, which is where the term cost-per-click (CPC) comes from in SEM. In some cases, depending on the ad type, your company may bid for someone to call the number on your ad.
Three critical points you'll want to remember about bids include:
You will never pay more than your bid
You will sometimes pay less than your bid
You will not exceed your monthly budget
It's also worth mentioning that you cannot pay-to-win with SEM. Search engines like Google and Bing use more than your bid to determine your ad's placement in search results (and if your ad even appears in search results).
When it comes to SEM, search engines host auctions and determine the winners with these factors:
Ad quality
Ad relevance
Bid
Every search engine is different, which is why you'll want to read about each search engine's auction. Even though Google and Bing, for example, share a similar ad auction, you'll still want to learn what each search engine looks at and prioritizes.
Once you start your SEM campaign, you can make continuous changes and improvements to your strategy. Since SEM provides instant feedback about the performance of your ads, you can make fast changes to your targeting, bids, and keywords, to maximize your results.
How long does SEM take to work?
SEM starts working immediately.
As soon as your ad network, like Google Ads, approves your ads, they can start appearing in search results. Remember, however, that your ads will need to win auctions. If they don't, they won't show in search results.
For the best SEM turnaround time with SEM, create relevant and high-quality ads for your audience.
What are some must-have SEM tools?
Some helpful tools for SEM include:
These tools can help get your team started with SEM. Your ad platform, like Microsoft Advertising, will also provide some free tools for you to use. For example, both Google Ads and Microsoft Advertising offer mobile apps so you can manage your ad campaigns on the go.
Learn More About SEM for Search Marketing
Ok, how do I create a search marketing strategy?
Now that you know more about SEO and SEM, you can start creating your search marketing strategy. While every approach is different, these five steps (or pointers) can help your team build the foundation for a competitive and revenue-driving strategy.
Get started now!
1. Outline how your SEO and SEM strategies will work together
Before you start auditing your website's SEO or opening your Google Ads account, you want to determine how your SEO and SEM strategies will work together. Skipping this step in your search marketing strategy can lead to disjointed approaches that fail to reach their full potential.
A few examples of how SEO and SEM work together include:
Using SEM keyword data for SEO keyword research
Targeting the same keywords to maximize your presence in search results
Using SEO data (or organic traffic data) to build SEM remarketing campaigns
Testing the value of keywords for SEO with an SEM campaign
And more
Once you outline how SEO and SEM will work together, you can start planning your strategy.
2. Research valuable SEO and SEM keywords
Keyword research is a critical step in creating a search marketing strategy. SEO and SEM both use keywords, and if you want to get the most value and return from search marketing, you need to find the best keywords for your business, products or services, and audience.
You can research keywords a few ways, including:

Depending on your strategy, you may create separate documents for tracking SEO and SEM keywords. For example, you may have a Google Sheet with keywords for your SEO campaign and another for your SEM campaign.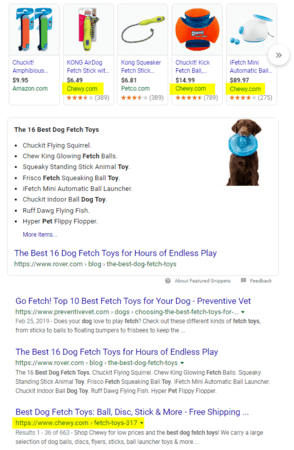 Keep in mind, however, that these campaigns will sometimes overlap.
For instance, you may optimize a product page for SEO and run an SEM campaign for that product page. Both these campaigns, SEO and SEM, will probably target similar keywords. That's okay! Using this kind of approach can help your business maximize its real estate in search results.
Once you have your keywords compiled, you can move onto the next step. Make sure, however, to make keyword research a part of your regular schedule. You may research new keywords, for example, every month to expand your SEO and SEM efforts.
3. Launch your SEO and SEM campaigns
This step in building a search marketing strategy can (and will) take time.
You have a ton of moving parts and will probably need to compile a checklist for each area. If you're working with a team, you can assign different tasks to different team members. For example, copy team members may handle writing site content and ad copy while developers handle technical SEO to-dos.
As an example, here are some steps your SEO checklist may include:
Complete an SEO audit
Set up Google Analytics and Google Search Console for website
Research keywords for existing website pages
Integrate keywords into existing pages' content, title tags, and meta descriptions
Compress all site images
Minify HTML, CSS, and JavaScript on site
Build a content calendar for new content
Create a routine reporting schedule for monitoring SEO
In comparison, your SEM campaign may have this checklist:
Research an appropriate monthly ad spend
Create a Google Ads and Microsoft Advertising account
Outline ad campaigns, ad groups, and ads
Research keywords and compile into ad groups
Determine any additional targeting options to use
Write ad copy
Build a routine reporting schedule for measuring campaign performance
Taking the time to outline what you need to do can help you start a successful search marketing strategy. You can also make sure you create realistic deadlines for you and your team. Plus, you build excellent habits, like regular reporting or routine keyword research, for success.
4. Monitor your search marketing strategy's performance
Next, you want to track and monitor the performance of your search marketing strategy.
While some companies adopt a "set-it-and-forget-it" kind of approach to search marketing, this strategy doesn't work. You want to take a proactive approach to monitoring your campaigns.
Keeping track of your SEO and SEM can help you respond fast to missteps.
For example, if you target a keyword with multiple meanings, you may start receiving clicks and traffic from users outside your target audience. If you're using this keyword in an SEM campaign, this can result in wasted ad spend. In comparison, your SEO campaign may see a high bounce rate.
Monitoring your SEO and SEM can also alert you to wins or opportunities.
For instance, you may notice a high click-through rate (CTR) and conversion rate for a specific keyword in your SEM campaign. In response, you may increase your bid for that keyword. Or, you may create a whole new ad to target that keyword.
You can track the performance of your search marketing strategy with the following tools:
Google Analytics
Google Search Console
Bing Webmaster Tools
Advertising platforms, like Google Ads or Microsoft Advertising
For the best results, check in on your campaigns monthly.
When launching a new SEM campaign, however, monitor your ads every week. More frequent monitoring at the start of your campaign can help you make quick, impactful changes, like to your targeting.
5. Implement improvements to your search marketing strategy
Finally, make continuous improvements to your search marketing strategy.
When you monitor and track your campaigns, you'll likely discover areas of improvement. For instance, you may launch a process improvement to ensure all site images get compressed. Or, you may revise your keyword strategy from short- to long-tail keywords.
These improvements, no matter how small or big, can make a tremendous impact on your strategy.
Implementing continuous improvements can also help push your company past competitors. While the competition may launch-and-leave its search marketing strategy, your team continues to make updates to increase your performance and results.
We foster and form long-term partnerships so that your business has long-term results.
Over 90% of WebFX clients continue partnering with us into year 2 of their campaign.
Hear from Our Happy Customers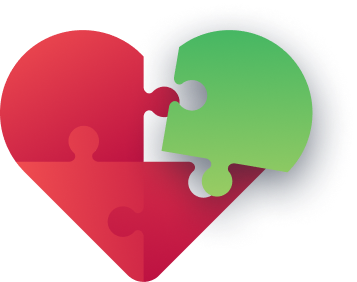 Need some help with search marketing?
Search marketing offers your business a smart approach to marketing and advertising your company online. With a competitive search marketing strategy, you can capture valuable organic and paid traffic that translates to leads, sales, and revenue.
If you need help developing, launching, and managing your search marketing strategy, WebFX can help.
With a dedicated team of 500+ search marketing specialists, as well as a suite of online marketing services, our search engine marketing company offers everything your company needs to succeed with search marketing. Even better, we've helped our clients earn $3,021,182,299+ in revenue in the past five years.
Are you ready for search marketing? Contact us online or call us at 888-601-5359 to get started today!
Earn a 20% greater ROI with WebFX