How Your Small Business Can Rank on Google: Local, Organic, and Paid Results
If you own a small business, you know the difficulties of getting your company on the map. Oftentimes, even if you own a specialty shop, your business is overlooked due to big businesses and corporations nearby. Not to mention, there are more than 29 million small businesses in the United States, which means you likely have competition in your own backyard.
However, not all hope is lost for small businesses. In fact, there is more opportunity than ever for local companies to make a name for themselves.
Internet marketing methods including local search engine optimization, search engine optimization (SEO), and pay-per-click advertising (PPC) are all fantastic ways to increase brand awareness, conversions, and revenue. These strategies allow you to compete with some of the best in the business and help your small business rise to the top.
On this page, we'll talk about three extremely effective methods you can use to make a name for your small business in a saturated market. Keep reading to learn how you can help your business show up in top local, organic, and paid search results so you can reach more customers.
If you'd like to speak with a specialist before reading on, feel free to contact us at 888-601-5359!
Why is it important for my small business to rank at the top of Google search results?
Internet users conduct more than 3.5 billion daily searches on Google. When people search online for products or services you offer, you want to appear at the top of the search results.
If you don't rank highly in search results, you won't attract qualified leads and traffic to your site. When your site doesn't get any traffic, that means it's missing out on valuable foot traffic too. Not to mention, it lacks brand awareness, along with the many other benefits that high rankings can bring.
If you're lucky enough to earn that top spot for keywords that relate to your business, you'll get a staggering 33 percent of clicks. Though that might not sound like a lot, it's certainly important to take into consideration that the second position spot gets around 15 percent of clicks, the third spot gets around 9 percent, and the rest of the results get even less than that.
Considering those factors, it's easy to see why a top spot is so valuable.
More importantly, if you don't rank on the first page at all, only 25 percent of searchers will even get to the second page of results, and if you're on the third page, you can pretty much ditch the hopes of getting any traffic.
In short, without great Google rankings, your small business misses out on traffic and brand awareness, conversions, and revenue — among many other things.
If you're interested in learning how your small business can rank at the top of Google search results, keep reading.
We foster and form long-term partnerships so that your business has long-term results.
Over 90% of WebFX clients continue partnering with us into year 2 of their campaign.
Hear from Our Happy Customers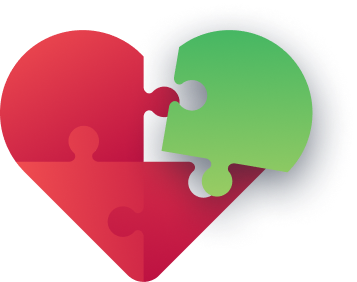 How do you rank at the top of Google results?
It might sound like a simple goal, but the road to get there is tedious. However, maintaining top rankings in Google can do wonders for your small business, so it's worth every ounce of effort.
Here are a few of the best ways to get your small business a top spot in Google search results.
Local search engine optimization (local SEO)
Local SEO provides a huge opportunity for small businesses. Why? Because the term "small business" is often times synonymous with the term "local business."
Small businesses are local businesses to those who live in the area, so it's important to consider the audience closest to you — the locals.
How do you market to them? How do you cater to them? And most importantly how do you make it easy for them to find your business while wading through hundreds of other small businesses in the area?
Local SEO is the answer. Local SEO refers to search engine optimization efforts centered around making your business visible to people who live in your area, or people who are visiting your area.
The strategy thrives off of location-based targeting, which means your business becomes visible when people are in the vicinity of your business. For example, if there are tourists in Cape May searching for a breakfast joint, local SEO can help restaurants show up when someone searches for "breakfast in Cape May," or "Cape May breakfast restaurants."
There are many local SEO strategies that work together to create the perfect campaign, so we'll cover them next!
Google Business Profile
Google Business Profile is a free service offering from Google that is critical to a small business local SEO campaign.
It makes it extremely easy for users to find your business when they search for the products or services that you offer in your area.
When you have a Google Business Profile, and someone searches for your products or services in your locality, a map will appear showing your exact business location, along with information like hours of operation, address, phone number, website URL, customer ratings, and more.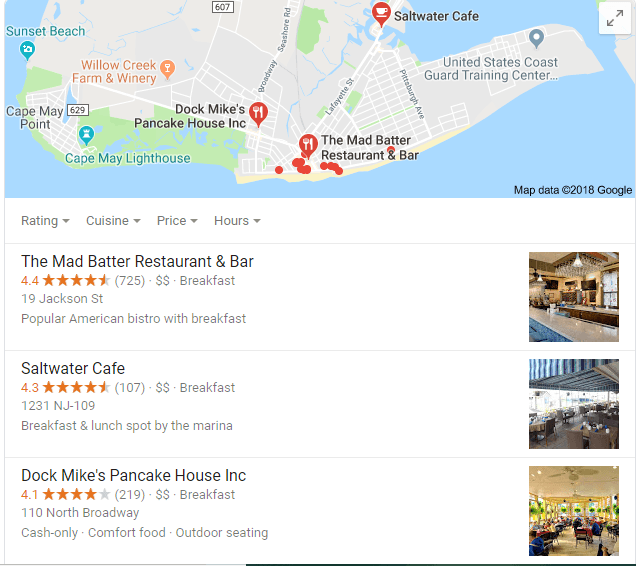 This at-a-glance result makes it easy for users to see where you are located in relation to other small businesses like you and makes contacting you a breeze. This can go a long way in helping someone determine who they want to do business with.
If you're easier to contact or locate than another business, that could seal the deal for a potential client or customer.
Targeted website content
When it comes to local SEO, it's important to target potential clients with your content as well.
When you include your location in important website locations like your headings, title tags, meta descriptions, and page content, Google will start to rank you for those terms.
That means when someone searches a location-specific keyword, like "home décor in Philadelphia," and you include it in those important locations, you'll have a better chance at outranking your competitors for that keyword.
For example, if you own a home décor boutique in Philadelphia, a great title tag would be something like "Premier Home Décor Boutique in Conshohocken." The front end of the title tag, "premier home décor," hits the nail on the head when it comes to the products you offer, and "in Conshohocken" gives a specific location.
This specific, location-based keyword gives you a great opportunity to show up when users are in your area searching for your products, or when they search for "home décor in Philadelphia/Conshohocken."
The title tag isn't the only place you'll want to place your target keyword, though. You'll also want to place it in your page headings and content.
For example, your home page heading might include the same keywords as your title tag, and you might have a specific page on why you're the "best home décor location in Philadelphia," or a blog post that talks about the importance of home décor products that you love.
Including your most important keywords, which are likely products and services, along with your location, and surrounding locations is extremely important for helping you rank in Google for local searches.
Create a blog based on your location
We've already mentioned the importance of including location-specific keywords in your website, but to take it a step further, appeal to the locals by creating a location-centric blog.
Using the earlier example of home décor in Philadelphia, some of your blog posts could talk about the following:
Where to go in Philadelphia to get home décor inspiration
Different home styles in Philadelphia and the home décor they use
Philadelphia-specific home décor
DIY Philadelphia décor
A blog is extremely beneficial to any website, and you can kill two birds with one stone by targeting your location with your blog. Google loves blogs because they provide a steady stream of fresh, new content for users, so they help your website rank as a whole as well.
Search engine optimization (SEO)
Local SEO is different from organic SEO because the former targets users based on location. With organic SEO, you can target your customers based on general search terms that are important to your small business.
Organic SEO results are those that show up under paid ads and local SEO results.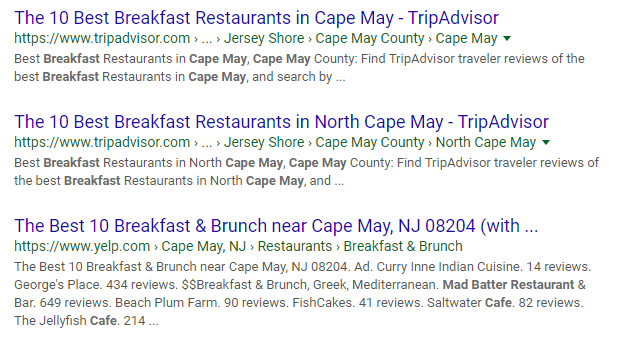 SEO consists of numerous sub-strategies that work together to create a lasting result — high placement in search results. Here are some SEO strategies that can help your small business rank at the top of search results.
Ensure your site is responsive
Having a responsive website is one of the best ways to ensure that it ranks highly in search engines. However, just because your site is responsive, doesn't mean it'll automatically rank highly in search results.
Google's job is to provide the very best search results to searchers. They want to be sure that sites that they rank highly not only provide informational, beneficial content to users, but also a fantastic user experience. User experience is the quality of a user's visit based on the usability of the site.
Ensuring your website is responsive is just one way to show Google that you want to provide a great experience for anyone that visits your site.
More than 50 percent of searches are made with a smartphone, and when you have a site that is responsive, you guarantee that those site visitors see your site the same way someone would if they were to visit on a desktop. A responsive design also caters to those using a tablet.
This is important because without a responsive design, contact forms and buttons could be skewed, and you could miss out on conversions.
Provide a great user experience
Providing a mobile-friendly site is just one element of user experience. There are many other components of a great user experience, and in order for your small business to rank highly in organic search, you should be sure to consider them all.
Here are some of the most important user experience components to consider on your website:
Page speed: When you run an ecommerce site, if your site takes longer than two seconds to load, you can kiss your traffic goodbye. In today's world, people want immediate results, and the load time of a website is no exception. In order to provide a great experience for your visitors, you should ensure that your pages load in two seconds or less.In addition, page speed also affects your bounce rate, which is the portion of site visitors that navigate away from your website after viewing just one page. You want your bounce rate to be low, because it's a metric that Google considers when ranking your site.Checking your page speed is easy — you can use a tool like Pingdom to gain insight into your page speed, and if you're not satisfied, WebFX can help with our page speed optimization services.
Website design: To ensure visitors have a good experience on your site, you'll also want to make sure your site's design is updated and features easy-to-use navigation. If you have a web design that is severely outdated, isn't aesthetically pleasing, or doesn't include multimedia to break up text, you're not providing the best user experience for visitors.A great website design is one that connects seamlessly to your small business in every sense. The colors should match the vibe and feel of your business, and the design should mimic your company's style. For example, a snowflake-heavy design would work perfectly for a snowboard company, but probably isn't the right choice for a surfing business. When it comes to your web design, everything should work together.Aesthetics mean a lot to a great web design, so not only should the colors and style be on point, but you should also be sure to include a lot of multimedia on your pages. This means you add photos, graphics, and videos to text-heavy pages to ensure that site visitors don't get bored. Including multimedia on your pages goes a long way when it comes to engaging site visitors and encouraging them to learn more about your small business.
Great navigation: As mentioned before, page load time is important because people want instant gratification. The same goes for the navigation on your site. Visitors want to be able to find just what they're looking for — and fast.If you want to guarantee that your site visitors can find just what they're looking for, you'll want to include an effective navigation bar on all of your pages. This works as a map of sorts for your website, and it guides users throughout your site while pointing them to specific information that they're looking for.Most business websites have a navigation bar that includes tabs like "home," "about us," "services/products," "contact us," and "company blog," among other things. Under each of these tabs, you can opt for a drop-down menu that further breaks down that category. For example, under the products/services tab, you might have a drop-down menu that provides categories for each of your service offerings.Having an effective navigation bar helps to keep users on your site for longer because they're more apt to find exactly what they're looking for, which makes for a potential conversion.
Do keyword research prior to writing content
In order for your small business website to rank highly, you have to target keywords that mean the most to your industry and most importantly, your target audience. To find those keywords, you should always do keyword research prior to writing your content.
Use a tool like keywordtool.io to help you find what keywords your audience is searching for. A tool like this will give you powerful information to help you craft your content calendar — information like search volume and competition.
After doing keyword research, you'll have an idea of what terms you'll want to include in your content, and what kind of content lends itself well to each keyword. For example, a general term could fit well in a blog post since you can write about the term in any context.
A version or variation of a product or service term would work best on a page that you talk about those products and services.
Take note of what keywords have the lowest competition and the highest return, and target those to see the best results.
Come up with a powerful content strategy
Like we mentioned before, it's Google's job to provide informational and beneficial content to users. That means they'll rank sites that provide the best of the best when it comes to information about a certain topic.
When you write your content, you'll want to ensure that you write at length about each topic. This will help your pages rank. According to one study, content that is 1000 words or more tends to rank higher.
When Google sees that you've written at length about a topic, it shows that you know what you're talking about. In other words, if you're running the home décor shop in Philadelphia, and you only write 300 words of content about how to choose the right décor for a bedroom, it becomes obvious that you might not have much wisdom or knowledge to share. Boost that blog post to 1000 words, and you'll show Google that you're knowledgeable on the topic.
The length and quality of your content isn't the only important thing to your strategy. You'll also want to be sure that you provide a wide range of content on your website. You should include informational content, longform content, blog posts, and service pages to name a few.
This variation in content gives you plenty of opportunities to rank in Google.
Paid search results
If you want to maintain top rankings in Google search results, you'll need to use SEO. However, SEO takes time to show results, as it's a long-term strategy.
If you want to reach more customers while establishing your organic rankings, paid advertising can help.
The great thing about PPC advertising is that you can gain top spots in search results for mere pennies per day, depending on your industry, competition, etc.
PPC works on an auction system in which you choose what keywords you want to rank for and bid against other businesses that want to rank for the same keyword. When your bid beats the other bids, you'll earn a top spot for that keyword.
Rankings are determined based on your bid and your quality score, along with other variables.
Paid results can appear in a few different places in search results. Sometimes, they'll appear with a photo of a product or service at the very top of search results.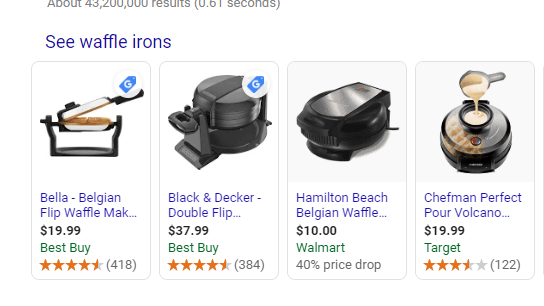 Other times, they'll appear as an organic search result, with a tag denoting that it's an ad.

Additionally, they can appear along the right-hand side of a search results page.
No matter where your ads show up, they're a great way to get users to your website. When a user clicks on an ad, they'll automatically arrive on a landing page. The landing page should provide information about the product or service in the ad, and give users an opportunity to take the next step in the buying process — whether that be learning more about your products or purchasing on the spot.
WebFX offers custom SEO and PPC plans
If you're interested in improving your Google ranking, our small business SEO company can help. We offer tons of custom options for SEO, local SEO, and PPC plans.
Custom SEO plans
Our range of SEO plans for small businesses provide you with custom dashboards, custom SEO copy, quarterly competitor reports, searcher experience analysis, and so much more. We also offer SMB local SEO services.
Custom PPC plans
If you're looking for a PPC campaign to fit your needs, WebFX can help. Our PPC campaigns provide important elements including custom ad spend, 400-10,000 keywords targeted, Google Shopping Management, and more!
Independent research from Clutch has named WebFX the
top SEO company

in the United States.

Clutch has personally interviewed more than 250 WebFX clients to discuss their experience partnering with us.

Read More Clutch Reviews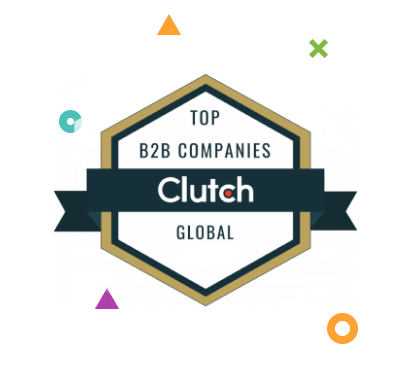 Does your small business need help ranking in search results?
If you need help getting your small business off the ground and into search engine results pages, WebFX can help. We've been around for decades, and we know the ins and outs of strategies that help small businesses like yours to rank.
We work with tons of different industries, and we've driven results for over 1000 happy clients. We even have more than 1020 client testimonials that speak to the quality and effectiveness of our services.
Our team of over 500 Internet marketing specialists are experts in their craft. They're constantly learning and keeping up to date with industry standards and changes — making for strategic, effective campaigns.
With SEO and PPC, we can help you rank for terms that your small business will benefit from. We can also help create a website that provides a great user experience for users, along with improving your page speed, navigation, and content creation.
If you're ready to get your small business moving, feel free to contact us online, or give us a call at 888-601-5359!
How Is Your Website's SEO?
Use our free tool to get your score calculated in under 60 seconds.