Digital has exploded, and if you're not online, you're missing out on a lot of potential customers. When people look for information, they look on the Internet first. Usually, the Internet is the only place they look. If your business isn't online, you need to consider creating a website, especially if you own a small business. Having a website increases your credibility in your area, expands the reach of your business, and gives you an easy, cost-effective way to communicate with your customers. Not sure where to start? We got you covered. Here's a comprehensive guide to help you with web development for your small business.
SMB
Home SMB Web Development Services from WebFX Having a beautiful and functional website sets your small-to-midsize business's (SMB) marketing up for success. With SMB web development services, your new website will deliver a positive user experience and help you earn […]
SMB
SMB Web Development Agency: Build Your Dream Site With WebFX Whether you invest in search engine optimization (SEO), pay-per-click (PPC) advertising, or email marketing, you're driving people back to your website. If you don't have a website optimized to deliver a great user experience, […]
What is web development for SMBs?
Web development sounds technical, but it just means creating a website, which can be an easy task depending on your route.
When creating a website, you have three options.
Use a content management system
Hire a developer
Create the website yourself
If you use a content management system such as WordPress, Wix, Shopify, or Weebly, to name a few, you can create a website quickly and easily. As the easiest way to set up your website, these platforms offer pre-made templates and require minimal coding. One drawback to using these platforms is that you have less control over the customization, but it still serves as a cost-effective way to get your small business on the web.
Hiring a developer, the most expensive option, will allow you to create a site catered to your business. So, if you have a specific idea in mind for your website and none of the templates speak to you, consider hiring a developer.
If you're feeling adventurous, you can create your website from scratch by yourself. If you like the DIY approach, the Internet has many tutorials that can help you make the website of your dreams.
Web development for small businesses also includes choosing the right design, content, and visuals. We'll talk more about those later.
Time to Level Up Your Sales
Our long list of services helps you grow every aspect of your business with marketing strategies that are proven to increase bottom-line metrics like revenue and conversions.
In the past 5 years, we've managed more than 12.9 MILLION transactions across our client base.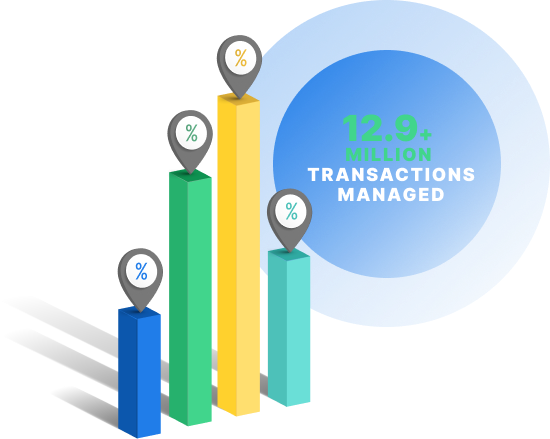 Why is web development for SMBs important?
As we said earlier, web development allows you to reach a broader audience. Having a website with relevant information helps you improve your brand image, attract new customers to visit in-store, and encourage existing customers to stay loyal. It can also help you gain trust in your area and push you ahead of your local competition.
It also allows you to communicate with your audience. If you have a sale going on, you can post that on your website. If you send emails out, you can point traffic to your site, where you can have more detailed messages.
You can also sell your products online. Brick and mortar stores restrict you to selling to just local customers. Having a website allows you to sell to anyone around the world. This can boost your business and profits immensely.
If you want to expand your small business, web development is how you do it.
5 key elements for SMB web development
When creating your website, there are certain elements that you need to keep in mind.
1. What's the point of your website?
You have to define your focus before you can start creating your website. Do you want a lead generation site where your primary goal is to have visitors contact you or request information? Or do you want to establish an ecommerce site where visitors can purchase right from your site? You need to answer these questions before you design your website. When you decide on your primary goal, you can create your website to make sure it centers around that goal.
2. Create a site map
Plan out the flow of your site. How do you want the user to navigate through your site? This is an integral part of web development for small businesses. Make sure users can easily access the important information. Focus on your main categories and then create subcategories so that users can easily find the information they came to your site for.
3. Create your content
Your content needs to have a purpose. If there's no purpose, then why take the time to put it on your site? Do you want to create a blog? A blog gives visitors useful information and allows your site to rank in search engines to give your site a traffic boost. If you have an ecommerce site, list all of your products with descriptions. You may also want to add ratings and reviews to add trust signals to your site. Don't forget to add an about page so that users understand your business.
4. Design your site to align with your brand
Create a site that matches your brand. If green and white are your brand's colors, make those the primary colors of your website. Also, make sure the design is clean and absent of clutter. Clutter can distract a visitor from your goal on your site. Ensuring your site is easy to read and navigate ensures that your visitor will have a positive experience. If the site does not match your brand, that may leave your visitors confused and signal that they cannot trust you.
5. Choose the right supporting images
Add professional, high-quality photos to your site. Make sure the image goes with your website. Images can help the visitor connect with your business and better understand your products.
3 tips for mastering web development for SMBs
Now that you understand what elements go into creating a website, try these three tips to learn how to get started with web development for small businesses.
1. Make the site easy to navigate
Having an easy-to-navigate website can make or break your online presence. If users cannot find items on your website, they will most likely leave and never return. Create a navigation bar with all the main sections on your site, with drop-down menus for the subcategories. Making your site easy to navigate will help increase on-page conversions.
2. Monitor your website
Monitor your website with online analytics tools such as Google Analytics. Google Analytics can provide insights into how your website performs. It can show you where your website traffic comes from, how conversions happen, and other essential details. This can help you stay ahead of potential problems.
3. Keep your website updated
Update your site frequently. If you no longer offer a service or product, remove it from your site. If you added a service or product, add it to your site. When you see issues on your site, fix them quickly. Update poorly performing pages to improve them. Google also favors fresh copy, so if you have an older page, try updating it to give it a bump in ratings.
These three tips can help you master your online web development for your small business.
We don't want to tell you about the work we do, we want to SHOW you.
View Our Portfolio

We've built over
Websites
in a variety of industries.
Launch a revenue-driving site with web development services
In today's digital world, your website is the first interaction consumers have with your small business.
That's why almost 95 percent of a user's first impression relates to web design. It's also why web design services can have an immense impact on your company's bottom line.
Because of this, more companies are not only reevaluating their website's design but also partnering with WebFX, the web design agency that's driven more than $3 billion in revenue for its clients.
With over 50 web design awards under our belt, we're confident we can design a custom website that drives sales for your unique business. Contact us today for a free quote.