Today, people use Google for practically everything — especially for health issues. If someone has a rash, an itch, or a strange feeling that they just can't place, statistics show that most people use Google before consulting an actual doctor. There could be a lot of reasons for this — like pride, price, or apathy — but a surprising number of those people actually see a doctor about the results they find online.
In the past, looking up your symptoms online might've been a sign that you were a hypochondriac. But now, Google accommodates billions of users by providing top-notch, reliable medical information in certain search results. With that in mind, it's never been more important for medical businesses to provide world class content to compete for common, high-volume search terms in their field.
Paging Dr.
Google: The new importance of medical keywords

Embed this graphic on your site:
Now, let's take a look at what this data means.
The numbers
First of all, 59% of adults look up health information online. That's a huge number of Internet-savvy, information-hungry users looking up symptoms, diseases, treatments, costs, and — most importantly — businesses that can help.
What's more, 39% of those searches are for someone else. That means that one out of every three people looking up medical information is doing it for someone they care about. So what's this mean for a medical business?
Basically, you have a golden opportunity to offer medical information to curious users who want to know more about certain conditions. That doesn't mean you can diagnose them via the Internet — in fact, that's a recipe for disaster. But it does mean that you can share information on your expertise.
For example, if you run a retirement community, you can discuss your system for treating age-related conditions like arthritis. There, you can talk about your business's proximity to relevant doctors, the importance of regular exercise, and how physical therapy can help. And because 39% of online medical searches are for someone else, you don't have to always write directly to your potential audience.
Instead, you can write to their family or loved ones. So in addition to a page about treating common conditions, you can create another page on your site that addresses the concerns someone may have about admitting a parent to a home. That gives you the chance to connect with an even larger audience than just potential patients.
You can highlight how your staff treats your residents, your business's visiting hours, payment cycles, and more. Still, this scenario of a retirement community is just one example of a medical business that can gain a valuable market foothold with this information.
Who talks to a doctor?
Surprisingly, 53% of people who self-diagnose see a doctor later. And even more surprisingly, almost half of them have their conditions confirmed.
This is important for a couple reasons. First, it means medical information on the Internet is more credible than it used to be (or hypochondria is at an all-time high). Second, it means the information that people find is compelling enough to send them to a doctor.
That's a lot of potential for hospitals and private practices. Sharing information about common conditions like broken bones, muscle sprains, appendicitis, and more is a viable way to attract patients. This is a major shift in tone from the past couple decades.
Before, looking up medical information online almost always ended in panic — WebMD even has a page about how the Internet makes hypochondria worse (ironically). Maybe that's the reason over half of all searchers go to a doctor. But it also means you have the chance to become the voice of reason in your field.
For example, family practices can see some great returns in this area by writing about common ailments for young children. Since young children can't always articulate how they feel, parents have to guess what illness their child may have based on symptoms. Naturally, they also want a second opinion from a reliable source — and fast — so they can determine whether or not to visit a doctor.
And whether they visit a doctor or not, they'll remember that you gave them the information they needed to decide.
Bonus Read: 5 Captivating Healthcare Marketing Examples
Valuable medical keywords
When you're writing content online, you have to target certain keywords on each page to be successful. The keywords you choose are up to you, and the list above includes the 30 most common on Google. But that doesn't mean you should target them exactly.
Why short keywords won't work
These one- and two-word search queries are incredibly vague, and that doesn't make them valuable to businesses that want to profit from online marketing.
Instead, it means they're purely informational. And while someone looking up these terms will certainly want to know the information that you're sharing, they'll probably find it on sites that Google trusts more than yours. These search terms are some of the most competitive in the world, which means your business will have a hard time getting noticed.
The Center for Disease Control (CDC), WebMD, and the National Institute of Mental Health are some of the most common top searches for these terms. It's highly unlikely that you'll beat them. Instead, shoot for long-tail keywords that include your expertise.
If you treat herpes cases in 20-something males, you can write about the different herpes strains (like cold sores and late-age chicken pox), what they look like, and whether or not they require a doctor's visit. If you're a psychiatrist, you can write information on post-partum depression, acute social anxiety, or signs of early-onset dementia, to name a few. And if you're a dermatologist, you can talk about how to deal with acne without scarring and how to soothe eczema breakouts.
Basically, you have a treasure trove of long, specific keywords you can use for your site. It just takes some strategy to make it all work.
Health cards and what they mean for you
Last – and the biggest reason you should avoid one-word keywords – is Google's new health cards. Health cards launched in 2015, and they're designed to provide Google users with reliable information at a glance.
That means they're designed for people using Google — not the companies ranking on Google. In fact, health cards can actually hurt your company's visibility in search results, even in the top three. Why?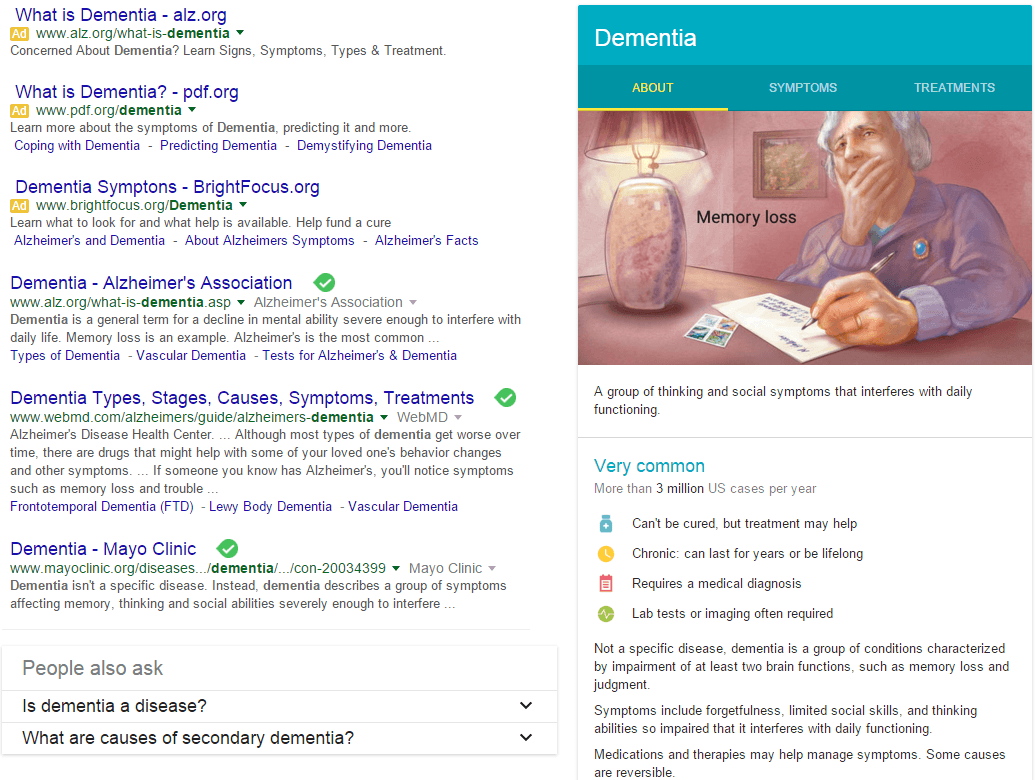 Google uses licensed medical artists to create professional images for every card. They also have big, colorful headings that stand out against the typical black-green-blue of a search results page. Plus, the information for these cards comes from some of the most trusted medical sources Google could find, including Mayo Clinic and even their on-campus doctors.
It's also important to note that a lot of these cards come with the "People also ask" box in the middle of search results, which pushes ranks #4 through #10 down even lower on a page. That means if you wanted to rank for any search term that uses a health card, you're up against a big colorful card, PPC ads, and additional search result functions — not to mention the current top three results that probably won't move anyway. With all that working against you, it's more important now to concentrate on long-tail keywords when you're working in the medical industry.
With health cards, small businesses simply don't stand a chance in search results for vague keywords.
Using the right keywords for your medical business
Does your medical business currently use a content marketing strategy to attract patients like this? And has Google's health cards affected your rankings? Let me know in the comments!
How is your website's SEO?
Use our free tool to get your score calculated in under 60 seconds.
Get posts by email
Join 200,000 marketing managers and subscribe to Revenue Weekly!
"*" indicates required fields
WebFX Careers
Join our mission to provide industry-leading digital marketing services to businesses around the globe - all while building your personal knowledge and growing as an individual.