11 minute read

Trevin serves as the VP of Marketing at WebFX. He has worked on over 450 marketing campaigns and has been building websites for over 25 years. His work has been featured by Search Engine Land, USA Today, Fast Company and Inc.
Keywords are the bread and butter of search engine optimization (SEO). They're how your customers find your site. And if you don't properly optimize your pages to target SEO keywords, you won't drive qualified traffic to your site.
No traffic = no sales. Keyword research for SEO can be a daunting task, especially if you're not sure where to start. You may struggle to find the right keywords, always wondering, "What keywords should I use?" or "How do I choose the best keywords for SEO?" Read on to find out how to find the most valuable SEO keywords for your company and niche.
Or contact us online to ask an SEO expert your keyword research questions!
What SEO keywords should I target on my site?
What keywords you should target depends entirely on your business and SEO goals. It's similar to Alice in Wonderland's conversation with the Cheshire Cat:
"Would you tell me, please, which way I ought to go from here?" "That depends a good deal on where you want to get to," said the Cat.
If you don't know what you want to accomplish with your SEO efforts, it's hard to identify the most valuable keywords for your business. With a clear goal, on the other hand, you'll be better equipped to choose keywords that steer your SEO strategy in the right direction.
While your overall goal may be to increase website traffic, try narrowing it down even further.
Consider:
What kind of traffic do you want? Are you looking for ready-to-buy visitors, or do you want to boost brand awareness? Is your target audience very specific, or are you looking to attract a broad demographic?
How fast do you want to see results? Can you take your time building up the SEO on your site, or do you need quick results?
By answering these questions, you'll have a better idea of the type of keywords that will work well for your SEO strategy.
How to choose the best SEO keywords in 13 easy steps
After you have your SEO goals set in place, it's time to start building up your master keyword list. An exportable spreadsheet works great for this. With it, you can quickly sort and compare your SEO keywords.
It's also helpful to keep a running list of potential SEO keywords for your business, so you can easily update it on the go. Now, let's look at 13 steps for picking result-driving SEO keywords for your niche.
1. Identify keywords you already rank for in search results
First, check out which keywords you already rank for using tools like Ahrefs and Google Search Console. These tools will help you check your position on Google and other search engines, like Bing.
This is a great way to pinpoint topics that resonate with your audience — and it will prevent you from creating duplicate content. You can also identify low-ranking pages in need of TLC and re-optimize them to regain valuable search rankings.
When looking at the keywords you rank for, think about:
What keywords produce top rankings and conversions?
Should I create new pages to target related topics that may interest my audience?
Can I add related keywords to existing pages or posts?
2. Study the competition
You'll also want to evaluate competitors' rankings. Using tools like Ahrefs' content gap tool, you can identify keywords your competitors rank for that you do not. Evaluating competitors' rankings can uncover a goldmine of potential SEO keywords for your niche.
You'll also want to research the competition level of each of your keywords. High-volume keywords tend to have high levels of competition, making them harder to rank for in search results. Deciding whether those keywords are worth competing for can help you prioritize your keyword targeting and create valuable content for your business.
Looking for an all-in-one SEO audit tool? You've found it.
SEO Checker provides data on key metrics to give you:
Complete SEO score

Content Grade

Site Speed Analysis

and more.
3. Brainstorm keyword topics
Next, brainstorm SEO keyword ideas. The best way to know which keywords to use is to come up with some broad SEO keyword categories that match your business and goals. Make a list of relevant topics (think about from the perspective of your target audience).
Let's say you're a sound design company that produces music scores and sound effects. Your broad keyword categories could be:
Music scores
Sound effects
Voice acting
Make sure that as you're building your keyword list, you group your keywords according to:
Topics
Keyword intent
Search volume and competition level
4. Use keyword research tools
If you want to get the most from your keyword research, you'll want to use tools like Moz's Keyword Explorer, AnswerThePublic, and LSIGraph. These tools are great ways of generating and brainstorming new keywords.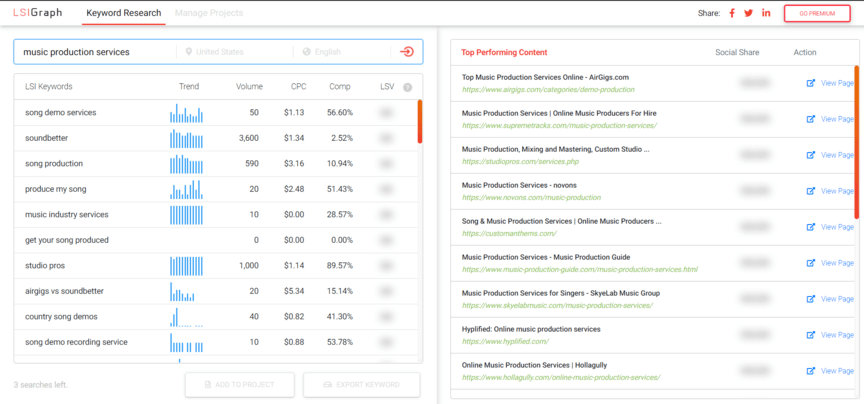 Start by entering the general topics that you outlined earlier.
Different keyword research tools will tell you different things, but generally, you can find information on related SEO keywords, search volume, and cost per click (CPC). After you build a master keyword list, it's time to start narrowing it, so the keywords you target match your SEO goals.
5. Find your niche
Specializing in a niche market will bring your site the most traffic and sales. Finding a specialization and targeting those niche keywords will do three things for your company:
Make you the expert in your field
Lower competition for customers and keywords
Bring more valuable traffic (ones ready to convert)
Also, find your company's unique selling points (USPs). Consider what makes your company unique:
What can you do better than the competition?
What can you provide that's not on the market?
For example, your sound design company could produce novel sci-fi sounds or hard-to-record sound sources such as weapons or large vehicles like airplanes. On the other hand, your company could be very skilled at producing original sounds even on tight deadlines.
6. Find a keyword sweet spot
Determining what keywords you should use is all about finding a balance between:
Keywords related to your business, products, and services
Keywords your audience searches most online
Keywords with maximum ranking and conversion potential
Your keywords need to be a mix of user intent and volume. They need to be searched enough to actually bring traffic to your site, but they also need to be bringing the right kind of traffic to your website — traffic that you can easily lead down the sales funnel to a transaction.
7. Choose keywords that resonate with your audience
Your best keyword research will come when you know your audience. Ask yourself: "What does your perfect visitor look like?" CareerExplorer is a great place to research demographics in a specific industry or career you're targeting.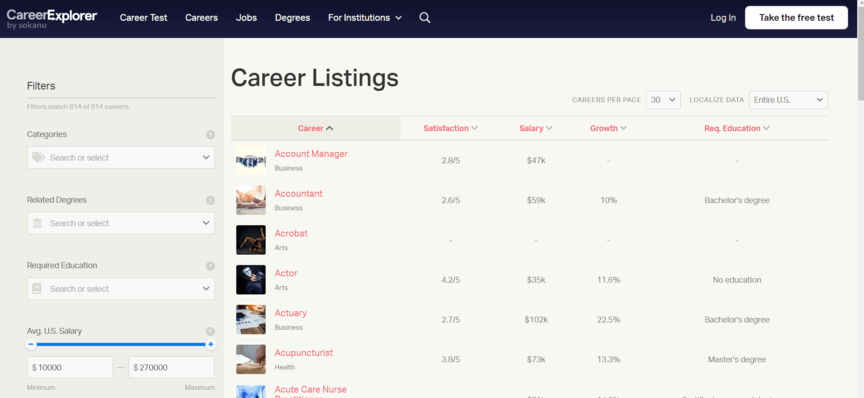 For example, if you're targeting video game producers, they could look like:
Male
31 years old
5 years in the industry
College-educated
Now that you have a marketing persona in mind, think like your target customers:
What services are they looking for?
What kind of questions and needs might they have?
What kind of keywords is your target audience using?
Depending on the goal you outlined earlier, you might be targeting different types of keywords.
8. Research the search intent behind SEO keywords
Search intent refers to the reason why people search or what they're trying to find online. Researching your keyword's search intent needs to be something that you do throughout your SEO process, but it can also help you narrow your keyword list. Is your audience looking to:
Know: Users are looking for an answer to a question or more knowledge on a subject ("What is sound design?"). Informational keywords bring your site traffic, but they're less likely to convert because people that search them tend to hang out at the top of the funnel (TOFU).
Do: Users are looking to accomplish a goal or interact with an activity such as to download, play, or purchase ("Sound design services"). Action keywords bring your site conversions and sales, with associated users sitting in the middle or bottom of the funnel (MOFU, BOFU).
Locate: Users are looking to locate a site. Navigational keywords are either exact URLs or descriptive ("Black iris sound design gallery"). The goal of website queries changes depending on what users want to accomplish, so with this one, users can fall anywhere in the sales funnel.
Visit: Users are looking for directions to arrive at a specific location ("Sound design studio near me"). Location-based keywords are more BOFU because users intend to visit your store's location likely to purchase a product or service.
Before writing content, check that the search intent is what you thought when gathering keywords. If it isn't, you may shift your content's topic or change the keyword. The intent of keywords also changes as Google gets better at identifying search intent and as the meanings of words change.
Schedule regular checkups on your content to make sure that they still match the intent of the keywords they target.
9. Choose a mix of head terms and long-tail keywords
Mix head terms and long-tail keywords when choosing keywords. Head terms are short, competitive, high-volume keywords like "sound design." They're hard to rank for, but it doesn't hurt to target them anyway as long as you also include long-tail keywords. Long-tails are what will really bring your site traffic.
They're more conversational keywords that tend to be longer than three words — "Foley artist for video games," for example. They're also some of the best keywords you could use. They're less competitive to rank for, and they show the user's intent much better than head terms, so they're easier to target with related content.
Here are some places to start brainstorming long-tail keywords when asking yourself, "What keywords should I use?"
Ask your service department what types of questions your customers are asking
Check Google's People Also Ask feature to uncover related questions and topics
Target keywords starting with question words (who, what, when, where, how, etc.)
Use keyword research tools
10. Conduct a search for existing content
Before finalizing the SEO keywords you want to target, make sure you don't have existing content that targets the same terms. Often, you'll uncover existing pages during the initial phases of keyword research, but it's helpful to conduct a final search of your site to check for pages targeting keywords on your list. Conduct a site search using the site operators on Google Search.
If your site was named AcousticCloud and you were checking to see if you already had content on "music theory for sound design," you would enter this into the search bar:
site:acousticcloud.com "music theory for sound design"
If you have already generated a page for that keyword, you can mark it off your keyword list. If the page isn't ranking as well as you hoped, re-optimize it. Bonus tip: Searching like this is also great finding links for your internal linking structure!
11. Don't forget about seasonal keywords
Take into account seasonal trends and locales. Annual events for different regions are a great way to drive traffic to your site, giving you a boost in sales for that time of year (think Black Friday sales).
12. Set negative keywords (for paid ad campaigns)
For pay-per-click (PPC) campaigns, make a list of keywords you don't want to rank for. In other words, these are searches where you don't want your content to show, especially if your target keyword is broader than the search query. For example, if you target the keyword "sound designer" to provide information and services for that keyword, you probably don't want to be showing up as a search result for "sound designer education requirements." Negative keywords are especially useful in paid advertising campaigns.
The traffic from that search won't likely ever become your customers, so you'll save money by excluding it from your ad campaign.
13. Analyze the results of your SEO keyword targeting
Check to see how your content and your ad campaigns are performing. You can use tools like Google Analytics or Ahrefs to do this. If you're unsure how to go about analyzing the results, WebFX can help!
We provide custom reporting to let you know exactly how your SEO efforts are performing. By analyzing the results, you can determine if you invested in keywords that were beneficial to your company. And if the keywords weren't bringing enough traffic to return your investment, you can easily remove them from your list.
If the keywords were well worth your time, you can optimize for them further to increase your profit even more.
Let WebFX help you do keyword research!
WebFX is the top SEO company, rated as the #1 SEO company in the world. We'll help you find the keywords you should use for your company with our SEO keyword research services.
We'll generate new content perfectly optimized for SEO so that you can be at the top of your keyword research game. We have the results to prove it. In the past five years, we've generated $3 billion in revenue for our clients.
Check out our 1000+ raving client testimonials! Contact us online or call us at 888-601-5359, and our SEO specialists will get started on building your keyword list today!
Trevin serves as the VP of Marketing at WebFX. He has worked on over 450 marketing campaigns and has been building websites for over 25 years. His work has been featured by Search Engine Land, USA Today, Fast Company and Inc.

WebFX is a full-service marketing agency with 1000+ client reviews and a 4.9-star rating on Clutch! Find out how our expert team and revenue-accelerating tech can drive results for you!

Learn more
Try our free SEO Checker
Boost your site's search performance with our free SEO Checker. Analyze your website for optimization tips on titles, headers, content, speed, and more. Get a free report now to enhance rankings on Google, Bing, Yahoo, and beyond!
How Is Your Website's SEO?
Use our free tool to get your score calculated in under 60 seconds.
Try our free SEO Checker
Boost your site's search performance with our free SEO Checker. Analyze your website for optimization tips on titles, headers, content, speed, and more. Get a free report now to enhance rankings on Google, Bing, Yahoo, and beyond!