Most savvy business owners know that a strong content marketing strategy is one of the best ways to boost their site's rankings and traffic, but even so, many of them don't have or regularly update a company blog. There are a handful of reasons for this, but the most common is simple: They don't consider themselves writers. Many people seem to believe that writing is an inherent ability – either you have it or you don't.
Fortunately, that's not at all the case. And while some people may have an easier time finding the right words to explain their ideas, anyone can learn how to write a blog post with a little time and energy.
Bonus reading: blog structure for SEO
How to start a blog post in 6 steps
Follow these six steps, and you'll be well on your way to writing good blog posts that attract site visitors – and possibly new customers:
1. Pick a topic
Choosing a topic is arguably the hardest part of the entire writing process. And while that may not seem like the most positive note to begin these steps on, there are a few ways to make it a little easier. If you're serious about blogging or regularly adding content to your site, I recommend that you create an editorial calendar.
Set aside an hour or so at the beginning of each month to plan out all of the topics you intend to cover, as well as the days you plan to publish them. Then, when you sit down to write a post, determining your topic is as simple as glancing at a calendar.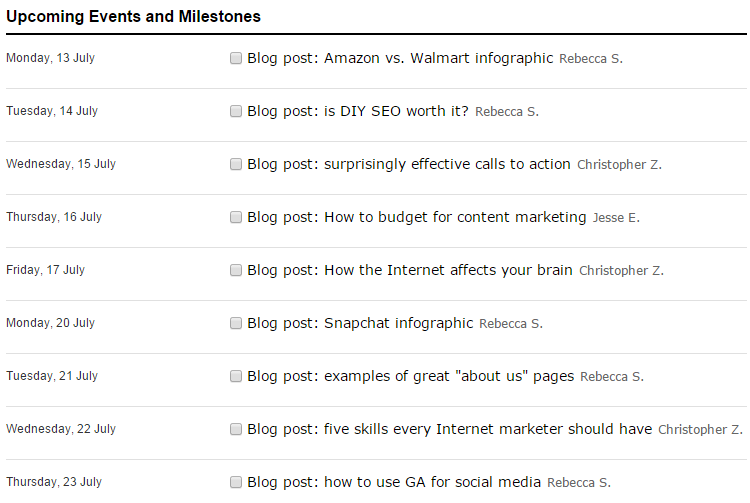 As for the topics you add to the calendar, they can range from commonly asked questions to current industry issues – basically, anything your customers might find interesting.
For more ideas on choosing interesting subjects, check out this blog post.
2. Do your research
If you're writing from experience and are confident in your knowledge (ex. you're a mechanic writing about basic car maintenance), you can skip this step. Otherwise, do your research before you start writing a blog post.
Many new writers make the mistake of structuring posts around their own opinions, then attempting to find supporting evidence later. But considering that your primary goal is to inform and help your readers, it's important to make sure that everything in your entry is 100% accurate. There are many different ways to organize your research, but personally, I recommend that you open a blank word document and take notes as you read.
Jot down interesting facts or statistics, and be sure to include links to their sources. There are few things more frustrating than using a certain piece of information as evidence of an important point, then being unable to find the source later when it's time to start writing the blog post. Making a note of all of your sources (whether you end up using them or not) eliminates this issue.
3. Create an outline
Creating an outline may cause a few high school English class flashbacks, but organizing your ideas before you start writing the post can save you a lot of headaches when it comes time to edit. The way you structure your post will depend on your topic, but if you're writing a how-to style post (like this one), a numbered list is an easy way to lay things out. Come up with a set of broad steps for accomplishing the task you're describing, then put them in chronological order.
It's as simple as that! Another common format is question-based posts. If your topic is based on a commonly asked question (ex.
"Why do I need X product?" or "How is your company different from other competitors?"), you likely have several answers or reasons. Put them in order of importance, and you're set. If you're writing a research-based blog post, the facts should do half of the work for you.
Unless you're trying to make a specific point, you can usually just have a separate paragraph for each fact or statistic. The order isn't all that important, although I personally prefer to start off with one that's particularly interesting or surprising to catch readers' attention right off the bat.
4. Fill in the details
At this point, you have all of the information you need – an interesting topic, research to back it up, and a solid outline. Now, all you need to do is fill in the details – but that can be easier said than done. Different approaches work for different people, but I find it easiest to close out all of the windows on my computer except for the draft, and not reopen them until I'm finished writing.
If you're anything like me, you'll be amazed at how quickly you can write without your inbox or social feeds distracting you. I also recommend that you skip over your introduction and go straight to the body paragraphs. Unless you have an anecdote or other specific opening in mind, it's all too easy to get stuck on how to start your post.
Instead, jump straight to the sections of your outline that already have basic ideas or facts.
5. Write the introduction and conclusion
Once you've written the body of your blog post, the introduction and conclusion should practically write themselves. And although it may seem strange to skip the first part of your post as you write, it's ultimately much easier to introduce a post once you already know exactly what it's about. If you find yourself stuck trying to craft the perfect opening line, there's a good chance you're overthinking it.
A foolproof method is simply to explain why you're writing about your topic – is it a question a lot of your customers ask? Is it related to a specific event in the news? When you explain the line of thought behind your post, you show your readers why it is significant.
And even though it might not seem like the most creative way to start a blog post, being straightforward is often more effective anyway.
6. Edit your blog post
At this point, you may think your work is finished. But before you hit publish, take a few minutes to go back through and look for errors. And if you have someone you can send it to for edits, that's even better.
It's often difficult to spot issues in your own work because you already know exactly what information you're trying to convey. Send your post to someone unfamiliar with the topic, and ask them if they find anything confusing. Your target audience likely isn't as familiar as you are with your industry, so your writing should be as clear and easy to understand as possible.
Once you've eliminated all grammatical errors and unclear wording, it's time to publish! And although maintaining an active blog can seem like an ambitious goal at the start, with this process, you'll be writing them like a pro in no time.
Ready to start writing?
The most difficult part of writing your first blog post is often just getting started.
So pick a topic, open up a Word doc, and start writing! Or check out WebFX's blog writing services!
WebFX Careers
Join our mission to provide industry-leading digital marketing services to businesses around the globe - all while building your personal knowledge and growing as an individual.