On May 24, Google announced it will monetize one of its last ad-free properties: Google Maps. Google Maps will soon launch Promoted Pins — purple pins on map search results — that can bring up information on products or services if a user decides to tap them. It's expected to be a major force in local SEO. For advertisers, this means driving more foot traffic to physical storefronts that have high rates of customer conversion, at least compared to websites.
For users, this means they have more options when they search for directions. Here, we'll take a look at how Google Maps Promoted Pins work, how your company can use them, and why they're ever-so-slightly controversial. Note: Google Maps Promoted Pins are not to be confused with Pinterest Promoted Pins.
How Google Maps Promoted Pins work

Promoted Pins are pretty straightforward in terms of user experience.
When someone types a destination into Google Maps, they'll see the standard red pins that connect one location to another, complete with directions. Then, they'll also see similar businesses nearby highlighted purple to make them stand out. The user then has the option to tap a purple pin to see more information on the business and products it sells.
If they want, the user can then change their destination to the purple pin so they can navigate there and buy from the advertiser instead of their original choice. So if you run a pizza shop, you can start competing more heavily with other pizza shops in your area by using Promoted Pins on Google Maps. Whenever someone looks up a nearby competitor — or maybe just "pizza" in your area — they'll see you and your competitor.
In a sense, that means any company that uses Promoted Pins has the chance to steal customers from its competitors. It's ultimately up to the advertiser to decide whether that's ethical. In another sense, Promoted Pins open the door for a better user experience.
For example, maybe a customer is only looking up a competitor of yours because they didn't know your pizza shop existed. But then they see a purple pin for your business, tap it, and check out your menu. You sell pizza for less, and you have better reviews.
Just like that, you earned a new customer and siphoned revenue away from your competitor. In pure business terms, it doesn't get much better than that.
How to use Promoted Pins

Google offers Promoted Pins through its AdWords platform, just like a search or Gmail Ads campaign.
All of this information is outlined on Google's support site.
Promoted Pins advertiser eligibility
To start using Promoted Pins, you have to meet Google's criteria and best practices for eligibility:
Once you meet Google's eligibility criteria, you can start thinking about ad payment.
How you're charged for Promoted Pins
You're charged for ads based on the following criteria:
"Get location" clicks / taps
"Get directions" clicks / taps
Mobile click-to-call clicks / taps
Basically, it's the same principle behind standard AdWords PPC. If someone interacts with your ad, you pay for it. And now that you're paying for ads, you want to make sure that they're working for your business.
Tracking Promoted Pins stats
Just like other AdWords ads, you can look at many stats behind your Promoted Pin's success. You just have to do the following:
Navigate to Campaigns, Ad Groups, Ads, or Keywords
Navigate to Segment
Navigate to Click Type
That's it! Aside from these three steps, all you have to do is create the actual ad, which is entirely up to you and your creative team. While Google hasn't released exact specifications for Promoted Pin ads yet, they'll likely include your company's name, reviews, and special products you offer.
That's what Google's prototype ad displays, anyway.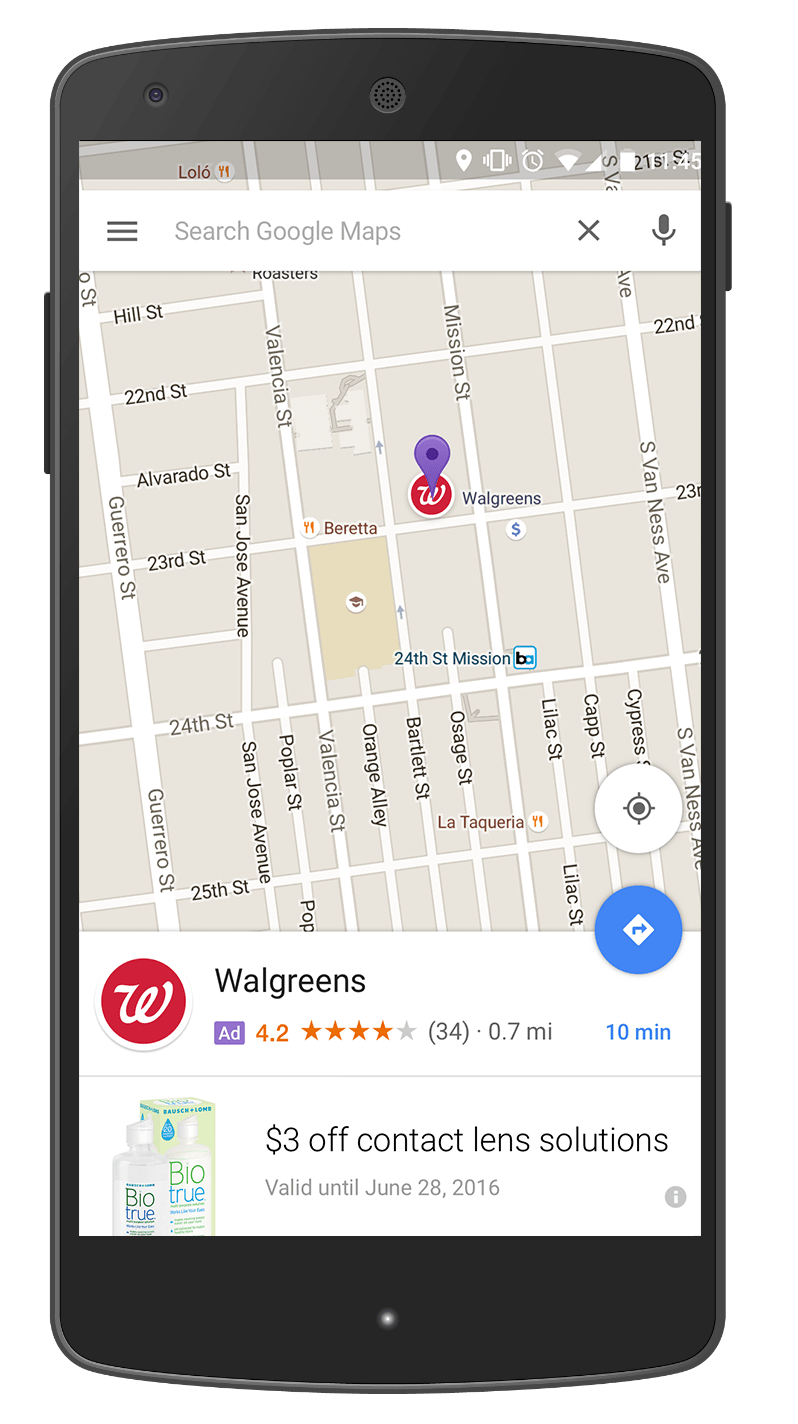 With all of that, it's plain to see that Google Maps Promoted Pins are a game-changer for local SEO. It's up to you to beat your competitors to the punch.
The Promoted Pins controversy

As with any new ad initiative, there's a fair amount of controversy surrounding Google's new ad system. Even though the ads are designed to improve the user experience with Google Maps, there's still concern that the ads will potentially ruin Google Maps as a whole. After all, it's one of the last few ad-free products from Google, since they started selling Gmail ads.
From a consumer standpoint, that means Google has monetized practically every user behavior that they can take — and that sets a scary precedent for the future. What's next? Predictive ads based on previous Maps searches?
While that would be a huge boon to advertisers, it would also be profoundly creepy for users, even in an age of hyperactive data collection and utilization. Along with that, Google is setting an example with their use of Promoted Pins on Maps. Google Maps is the most popular way to navigate on phones, and it's insanely useful for anyone traveling — well — anywhere.
But Bing Maps and Apple Maps are out there, too. They don't have nearly the same user numbers as Google Maps, but what happens when Google Maps starts serving ads? There are two probable outcomes:
Bing Maps and Apple Maps will see an increase in user numbers while Google Maps declines — though not significantly enough for Google to lose money
Bing Maps and Apple Maps incorporate ads themselves, leaving few (if any) reliable, ad-free navigation options
It's also somewhat confusing why Google chose now to introduce Promoted Pins. It's possible that they just perfected the technology to serve ads in this way, but if that's the case, it's strange that it took them so long. It's also possible that Google simply didn't have the motivation to start with Promoted Pins before they finished their last advertising project — Gmail Ads.
But whatever the reason — and no matter the controversy — it appears that Google Maps Promoted Pins are coming whether users like it or not. For advertisers, that's some of the best news that's come from Google in a long time.
Will you use Google Maps Promoted Pins for your business?
Do you plan to use Promoted Pins for your company?
Will you do it to increase product sales or generate leads? Let me know in the comments!
How is your website's SEO?
Use our free tool to get your score calculated in under 60 seconds.
Get posts by email
Join 200,000 marketing managers and subscribe to Revenue Weekly!
"*" indicates required fields
WebFX Careers
Join our mission to provide industry-leading digital marketing services to businesses around the globe - all while building your personal knowledge and growing as an individual.