Google Maps is unquestionably a remarkable tool. Not only can it help people find their way quickly and easily to where they want to go, but it can also help small businesses attract more customers by displaying their locations. But let's say you run a search for your own small business on Google Maps, only for it not to appear at all.
In this case, the obvious question for you to ask is, "Why is my business not showing on Google Maps?" Several factors could be causing your business not to appear on Google Maps, and we'll look at eight of them below.
Read on to learn more about how to appear on Google Maps, and then consider partnering with WebFX's team of over 500 experts for our local search engine optimization (SEO) services. Just call 888-601-5359 or contact us online to get started today!
Learn how we increased traffic by over 40%, and conversions by over 100% for an ecommerce client.
Read the Case Study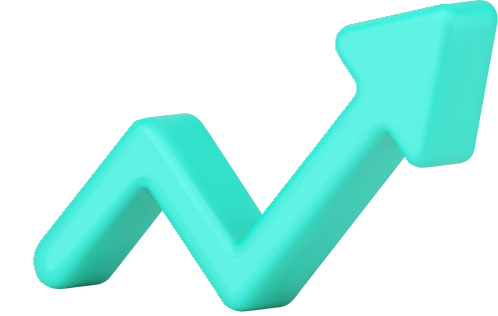 Why is my business not showing on Google Maps?
There are several reasons why your Google My Business or Google Business Profile does not show in Google Maps.
One of the most common is your Google Business Profile is unverified. Claim your Profile and complete verification via phone or mail and your business can start showing in Google Maps.
8 reasons your business isn't showing on Google Maps
Just like with regular Google search results, a variety of different algorithms work together to determine how things appear on Google Maps. Depending on how your business profile is set up in Google, different things could be causing it not to show up on the map.
Here are eight possible reasons why your business isn't on Google Maps. Read on to learn how to appear on Google Maps by fixing these issues!
1. It isn't relevant to the search query
Before you assume that your business isn't on Google Maps at all, verify that you're not looking at it through the lens of an unrelated search query. The best way to see whether your business is listed is to go to https://www.google.com/maps/ and navigate to your business's address without searching for a specific term. If you navigated to Google Maps by searching "ice cream shop," for instance, you're largely limiting the results to ice cream shops.
If that search term isn't relevant to your business — or if it isn't listed as a descriptive term in your listing — then it probably won't appear on the map. This problem might seem obvious, but it can be an easy mistake to make.
2. It's too far away from where you're searching for it
Like the previous point, check that your search query hasn't eliminated your business due to distance. Google Maps is built to prioritize nearby results, so if you're searching for your business from thirty miles away, it may not be showing up. Let's say you're a burger restaurant, and you use "burgers" as your search term.
If there are numerous burger restaurants closer to your current location than your business, you may not see it listed.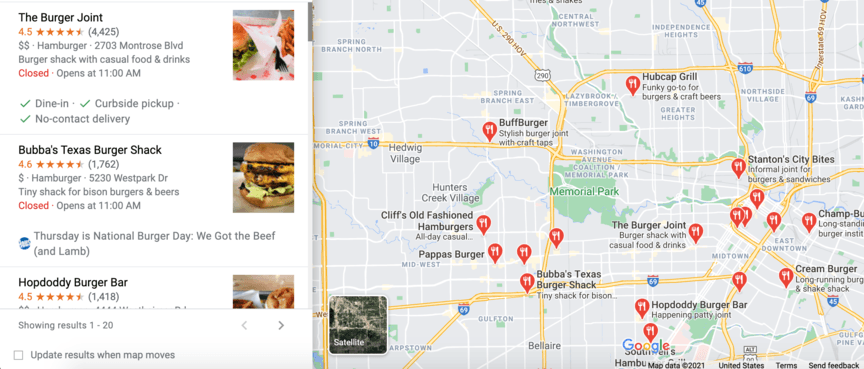 3. It isn't high enough in prominence
A third possible reason why Google Maps doesn't show your business is that you don't have enough prominence. Prominence is a term Google uses to describe how well-known a business is. For example, the Burlington Coat Factory will likely have more prominence than the local clothing shop.
When displaying search results, Google prioritizes businesses with high prominence. If your business has many competitors with more prominence than you, you'll probably be listed below all of them.
4. It's not verified on Google Maps
Relevance, distance, and prominence are the three biggest ranking factors in Google Maps. But what if rankings aren't the problem?
What if your business just isn't listed on Google Maps at all? In this case, one of the most likely culprits is verification. For your business to have any shot at appearing in Google Maps searches, it needs to be verified.
To verify it, you need to claim your Google My Business profile or create one if it doesn't already exist. Once you do that, Google will have you verify your ownership of the business, typically by phone or mail. When Google has confirmed that your business is where you say it is, you'll start appearing in searches on Google Maps.
5. Your listing doesn't have category tags
A helpful tool Google offers for getting your business more attention on Google Maps is category tags. Category tags are essentially labels you can put on your listing that indicate what type of business you run. You can start by choosing a primary category tag, such as "auto repair shop." This tag should describe your business as a whole.
You can then add additional categories to indicate specific services your business offers, like "oil change station."
6. You share an office space
If you and another business share an office space, it can pose issues for both of you in Google Maps. Google doesn't like attributing a single address to multiple businesses. Usually, this can be solved by simply adding a suite number to your address.
Assuming you and the other businesses in your building have different suite numbers, Google should recognize the distinction. If you don't have a suite number, though, try contacting the Google Helpdesk and asking them how to proceed.
7. You recently added or changed your business location
Have you recently added or changed your business's address in Google Maps? If so, that could be the reason your business isn't showing up. If you recently added your address in the past three days, your business may not show up in Google Maps.
Google Maps takes time to update, so it may be that your business isn't appearing because your listing hasn't updated yet. On the other hand, if you recently changed your business's address, there could be two reasons you may not see your business on Google Maps. The first reason is that Google Maps needs time to update.
So, if you changed your address in the last three days, you may need to wait for it to update. The second reason is that you may need to verify the change of address with Google. You can do this by requesting a postcard to update the address.
8. Your listing has been suspended or disabled
A final possible reason why your business isn't on Google Maps is that your listing has been suspended or disabled. A suspension typically happens as a result of what Google calls "quality issues," which can cover a wide range of problems. Unfortunately, Google will rarely make it clear why you were suspended.
Here are some of the most common causes for you to investigate:
Inserting unnecessary keywords in your business name field
Multiple addresses for the same business
Having more than one verified listing for your business
Your name, address, and phone number are inconsistent across the web
These are only a few of the probable causes, however. The best way to resolve a suspended listing is to contact Google Support. Once you've nailed down a cause and fixed it, you can then apply for reinstatement.
Independent research from Clutch has named WebFX the
top SEO company in the United States.
Clutch has personally interviewed more than 250 WebFX clients to discuss their experience partnering with us.

Read More Clutch Reviews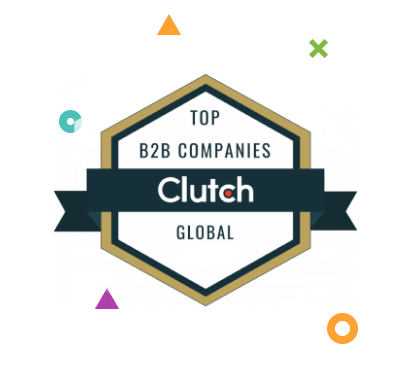 Let WebFX help you figure out how to appear on Google Maps
It can be frustrating trying to determine why Google Maps doesn't show your business, but it doesn't have to be impossible — especially not if you get help from an SEO agency like WebFX. With over 25 years of experience, we know how to drive results in Google. With our local SEO services, you can get your business listing up and running where your target audience can see it.
You'll also receive a dedicated account representative to keep you informed about everything we do for your business. Just call 888-601-5359 or contact us online to get started with us today!
WebFX Careers
Join our mission to provide industry-leading digital marketing services to businesses around the globe - all while building your personal knowledge and growing as an individual.