Does your business sell online? If so, you almost certainly have an ecommerce site like WooCommerce. Keep reading for the best WooCommerce CRMs out there.
You probably know that a lot goes into running an ecommerce site. Among other things, they can generate tons of user data for you, allowing you to learn more about your customers and target audience so you can optimize your sales.
But if you want to be successful in gathering and analyzing that ecommerce data, you'll need to hook your site up to a customer relationship management (CRM) platform. The thing is, not every CRM is compatible with every ecommerce platform.
If you use WooCommerce, you'll need to find a CRM that integrates with it. That allows you to transfer all your data to the CRM seamlessly so you can analyze it. But what are the best WooCommerce CRMs?
Keep reading for a list of the best CRMs for WooCommerce. Then subscribe to Revenue Weekly, our email newsletter, for more helpful ecommerce and marketing info!
Don't miss our Marketing Manager Insider emails!
Join 200,000 smart marketers and get the month's hottest marketing news and insights delivered straight to your inbox!
Enter your email below:
Inline Subscription Form – CTA 72
"*" indicates required fields
(Don't worry, we'll never share your information!)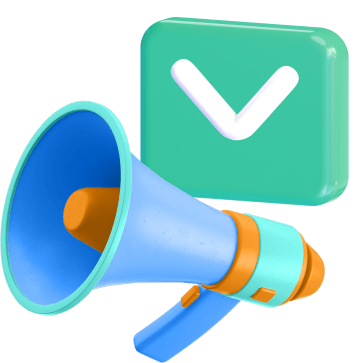 8 best WooCommerce CRMs for your business
With as many CRM options as there are, it can be hard to figure out which ones are compatible with WooCommerce, and even harder to figure out which of those are the best options. Thankfully, we're here to help you narrow it down to a handful of options, including:
Nutshell

HubSpot

WP-CRM System

Ninjodo

Agile CRM

Metrilo

ReadyCloud CRM

Drip
Here's a deeper look at eight of the best WooCommerce CRMs out there!
1. Nutshell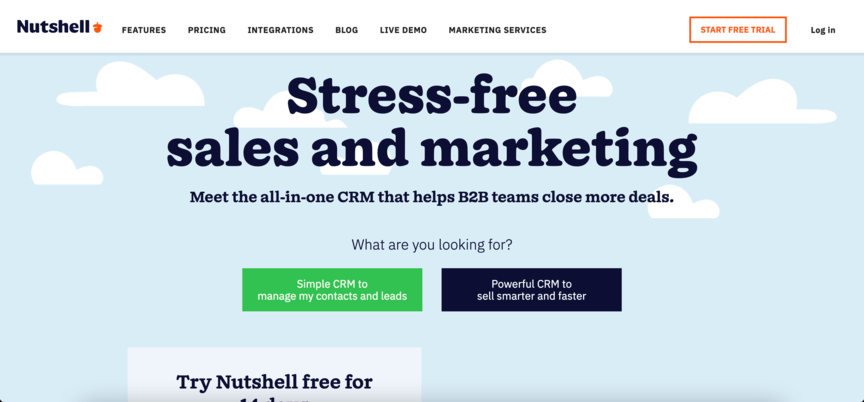 Price: $16+ per user per month
The first CRM for WooCommerce on our list is Nutshell. Nutshell is unquestionably one of the best CRMs on the market, with a huge focus on customer service. Not only can Nutshell handle sales automation and data analytics, but it also comes with a top-tier customer service team.
When it comes to WooCommerce, Nutshell uses Zapier to communicate with the ecommerce platform. It totally automates the process of transferring over your sales data, so you don't have to handle anything manually. You can just sit back and let the two platforms communicate.
2. HubSpot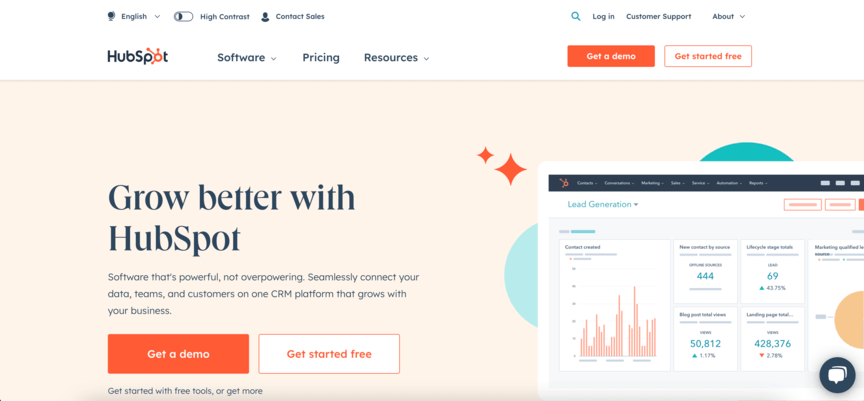 Price: Free, or $23+ per month for an upgraded version
HubSpot is one of the best-known CRMs out there, which isn't surprising considering how user-friendly it is. HubSpot also comes with plenty of excellent CRM features, from sending out abandoned cart emails to tracking sales trends.
To connect HubSpot to WooCommerce, you can simply install HubSpot's free WooCommerce plugin, and the two will integrate with one another. From there, you can use HubSpot's advanced analytics functions to view in-depth reports about the success of your online store.
3. WP-CRM System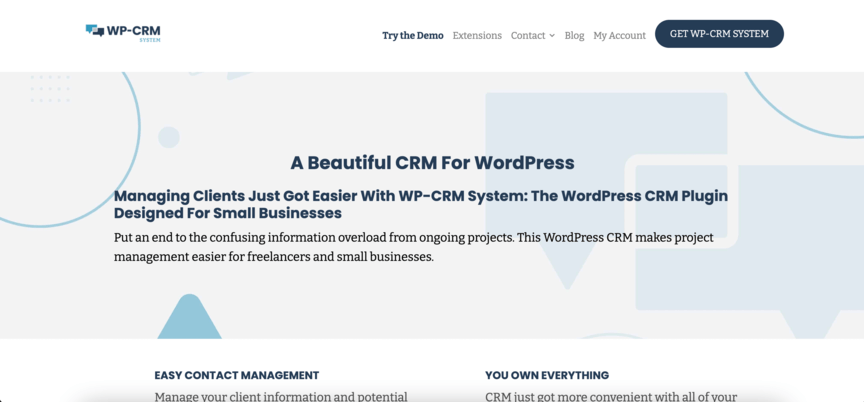 Price: Free, or $99+ per year for an upgraded version
WP-CRM System stands out for being limited to a single plugin. Unlike HubSpot, which uses a plugin to connect to a larger CRM, WP-CRM is limited to the plugin itself. You simply install it, and you're good to go.
Like Nutshell, WP-CRM offers top-tier customer service. Additionally, you can easily create and sort contacts based on the people who have visited your WooCommerce store. That makes it easy to find people you want to contact with abandoned cart emails or follow-up offers.
4. Ninjodo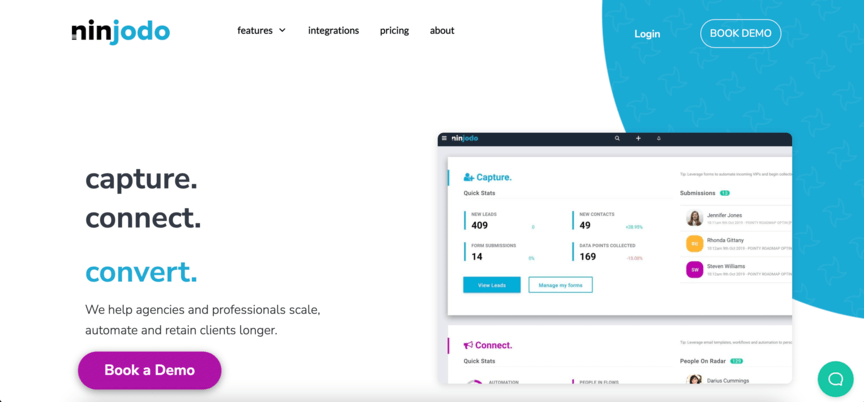 Price: $49+ per month
Another great CRM for WooCommerce is Ninjodo. This tool was designed specifically for smaller businesses that don't have as many employees on hand. For that reason, it contains all the essential CRM features but doesn't go overboard — it's meant to be simple. It even comes with step-by-step guides to help you out.
Moreover, you can run the whole platform via a mobile app, making it extra convenient to use. Like other tools on this list, Ninjodo can automatically pull in data from WooCommerce, preventing you from having to do it all manually.
5. Agile CRM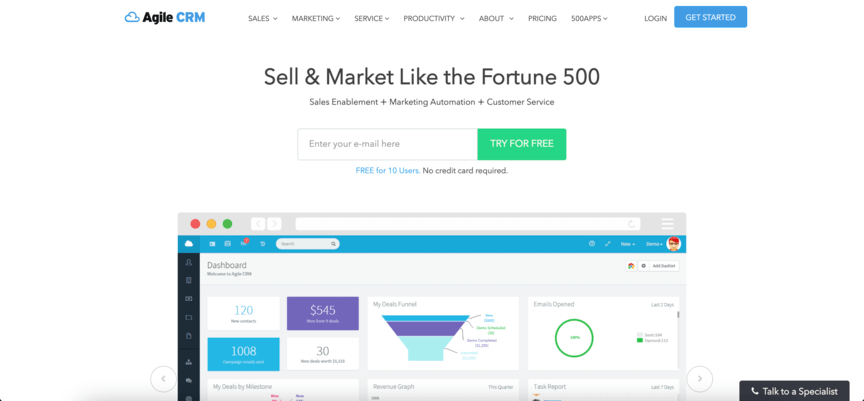 Price: Free, or $9+ per user per month for an upgraded version
Agile CRM stands out because it does a great job of connecting your ecommerce efforts with your marketing. You can use it to monitor social media campaigns and see which marketing efforts led to sales on WooCommerce. That's great for helping you optimize your marketing.
Agile is also great for helping you perform different sales and marketing tasks. You can use it to build landing pages for your site, as well as to compose and automatically send out emails to users, such as cart abandonment emails.
6. Metrilo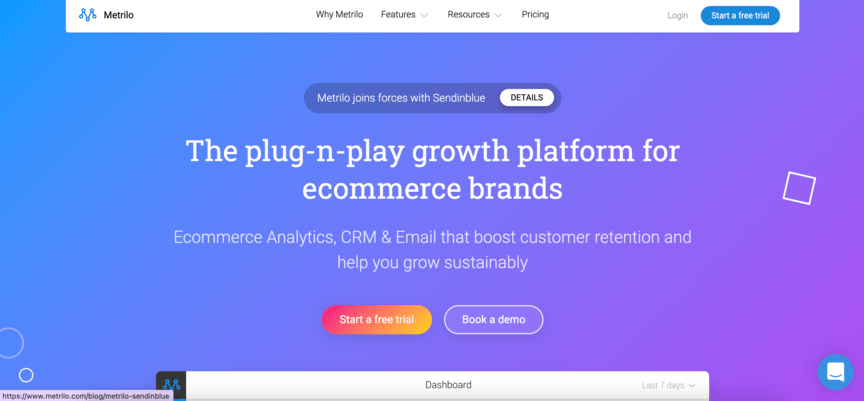 Price: $119+ per month
Metrilo is a CRM designed specifically to pair with WooCommerce, so it's a great choice if your priority is smooth integration between the two platforms. It comes with a few different plans you can choose from, with the cheapest one being $119 per month.
Metrilo more or less does what any CRM does. It offers basic sales automation features, generates sales analytics reports, and helps you organize your ecommerce data. It also puts significant emphasis on its email marketing capabilities — you can build and send out emails with ease from Metrilo.
7. ReadyCloud CRM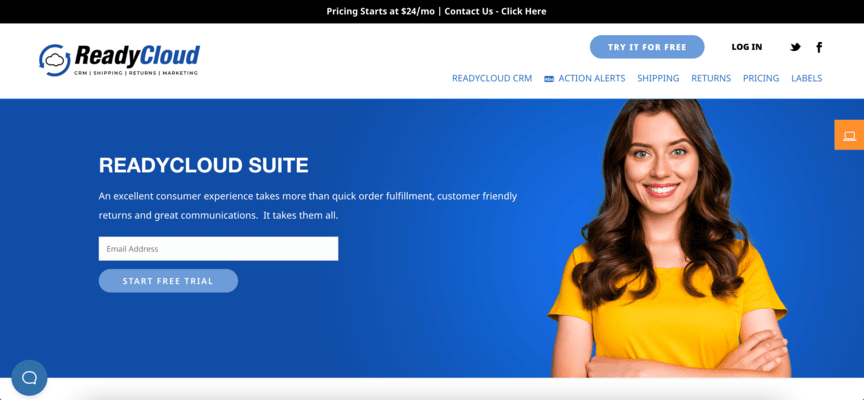 Price: $24 per user per month
If you want a CRM that goes above and beyond, ReadyCloud is a good option for you. When it comes to tracking ecommerce data, ReadyCloud doesn't hold back — it keeps up with everything from product tracking numbers to sales and shipping schedules.
ReadyCloud doesn't just integrate with WooCommerce, either. It can also integrate with other sites where you might be selling your products, like Amazon. Plus, it can integrate with tools like MailChimp to help you more effectively manage your email marketing and analytics.
8. Drip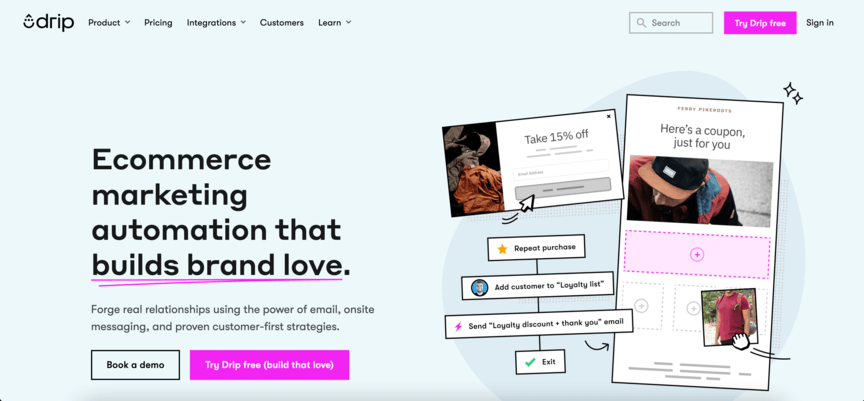 Price: $39 per month
The final WooCommerce CRM on this list is Drip. Drip doesn't diverge too much from the usual CRM template — it offers automation, email marketing capabilities, analytics, and data categorization.
That said, Drip does offer some top-tier customer service. You can also easily find out information on how to use it via webinars, live chat, and more. Plus, it comes with lead generation capabilities to help you drive people to your WooCommerce store from Facebook.
Partner with a team of ecommerce masters!
WebFX campaigns have delivered more than 12,936,451 ecommerce transactions in the last 5 years
Read the Case Studies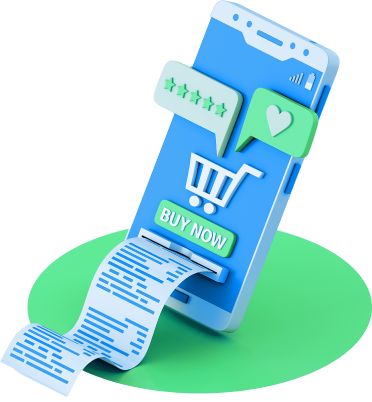 Nutshell is the perfect WooCommerce CRM for you
If you're looking for the best WooCommerce CRM, our recommendation is Nutshell. Nutshell has all the main CRM features you'll find elsewhere, plus it goes above and beyond with data analytics, which is the main point of any CRM. And it also has a killer customer service team.
Furthermore, if you want help managing your ecommerce store, you can partner with WebFX. We have decades of experience building top-tier online stores and websites, and we know what it takes to do it well and drive revenue. We'd love to do that for your business.
To get started with us, just call 888-601-5359 or contact us online today!
How is your website's SEO?
Use our free tool to get your score calculated in under 60 seconds.
Get posts by email
Join 200,000 marketing managers and subscribe to Revenue Weekly!
"*" indicates required fields
WebFX Careers
Join our mission to provide industry-leading digital marketing services to businesses around the globe - all while building your personal knowledge and growing as an individual.