Single-page websites get a pretty bad rap in the world of search engine optimization. Sure, they have funky designs and cool animations, but can Google still find them? There seems to be quite a bit of disdain for small or one-page websites from SEOs, and it doesn't take much searching to find articles with titles like "A One Page Site Can Clobber Your SEO." Then there are the forum quotes:
"One page sites are NOT sharable or findable." – Tom, Inbound forum
That statement is a little extreme, and not exactly true.
For example, the one-pager whatisrss.com ranks #1 for "what is RSS?" However, many people do have valid reasons for not wanting to do SEO on one-page sites, and they definitely can be a little more difficult to rank and optimize for searches. These sites are a little more difficult, but not impossible, or even close to impossible, to optimize. It just takes a different way of thinking and a little more creativity than the standard SEO task list you might deploy for a bigger website.
Here are a few SEO tips for one-page websites you can use to increase the likelihood of your own site ranking better and attracting more traffic.
Link building is crucial
Link building is important for all sites, but it's especially critical for small sites without an abundance of content. Since your usual on-page optimization may be limited, you'll need to rely even more on links to drive rankings and traffic. The main advantage you have here is time. Take all the time you'd normally spend on blog posts and page content, and use it to build relationships that can eventually earn you links.
You've seen plenty of articles on different ways to earn links, so now's your chance to actually go and try a few of the lesser-known tactics. These include 404 link building, unlinked brand mentions, and earning backlinks in real life. You can also add social media buttons so visitors can easily share content on your website.
You don't need great content, you need AWESOME content
The phrase "great content" is on my list of 2021's most overused phrases, even though I'm guilty of saying it as well. So many places talk about their "great content" that it reminds me of this line from The Incredibles: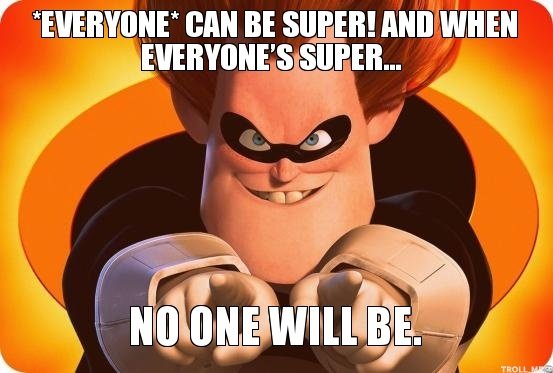 If your site is going to be only one page, that one page needs to be spectacular. Parallax scrolling websites look cool, but what makes yours different from all the others out there?
Sites are able to draw in links simply from being unique. For an extreme case, check out the site Staggering Beauty, which is just a noodle you shake to get crazy colors. Its weirdness earned 3,671 links from 775 root domains.
That's not to say you have to get crazy and do something unrelated to your business. But it does show that people are attracted to things they've never seen before. Make sure your content is not only worth linking to, but also outstanding enough to be worth sharing.
Never sacrifice readability for the sake of SEO. Neglecting the coherence of your content will deliver a blow to your rankings. But if you deliver quality content that is relevant to your audience, organic traffic will increase naturally.
Another thing to remember is that Google loves sites that stay updated, so make sure some of your content can be updated to stay fresh. Perhaps have a weekly news section that can be updated as needed. You can also update your portfolio and replace older product reviews from users with newer ones.
Keywords are even more important
Your keyword research has to be extremely thorough. You need to know exactly which keywords will get you the best results, and where to put them in your limited space.
You'll probably have to pick and choose the very best keywords since you won't be able to put them all in. This means making tough choices about what to leave out, so spend some extra time on your research. Wood Shed Production is a great example of a site that's optimized for a particular set of keywords.
If you scroll down, not only will you see the company name mentioned often, but all sorts of woodworking-related keywords, as well as local mentions of the towns they're in.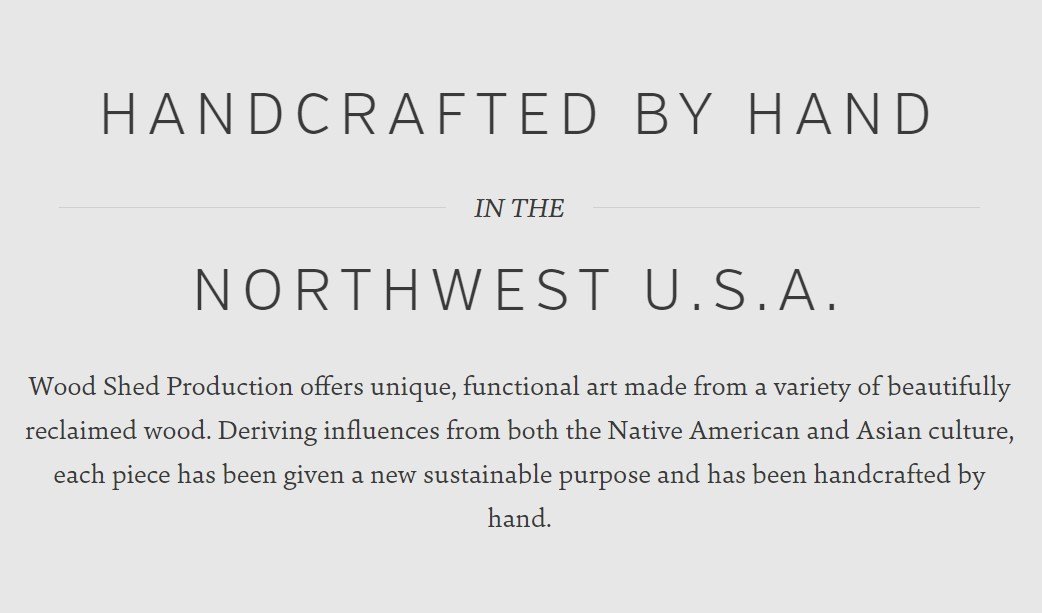 Single page sites are the rare exceptions to the "only have one H1" rule. Multiple H1 tags present an opportunity to optimize keywords, and on sites like these, multiple H1 tags are indicators of separation of content.
Speaking of separation of content…
Break content into sections with anchor links & themed keywords
Even though your site is one page, it needs some sort of structure to present the content in a clear, compelling way. For example, if you're designing a one-page website for your business, you can replicate the format of a traditional site by organizing the content by industry standards— home, products, contact, etc. The best way to do this is to use DIVs and anchor links.
For example, WebFX's favorite local coffee shop, Little Amps, has a one-page website that relies on anchor links and separate sections to divide up its content. The navigation at the top of the page allows you to "jump" to different sections (and there's a graphic effect showing you which section you're currently viewing):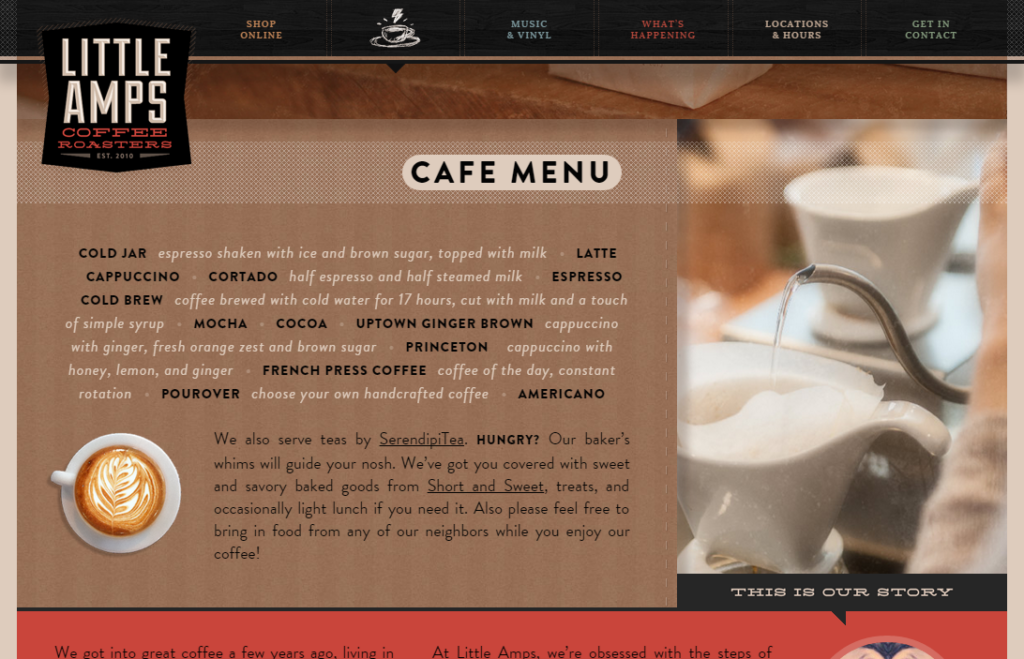 Let's look at how this is done. First, give each section's DIV an ID:
<div id ="Our-Work">
Then simply link to it:
<a href="# our-work"> Our Work </a>
When linking to a section of your site from another site, your HTML would look like this:
<a href="http:// www.trionndesign.com/#our-work ">Our Work</a>
Optimize each DIV ID for usability and keyword SEO, selecting relevant keywords for each section.
This is a great way to split up your content and make it is easier for visitors and search spiders to navigate your website. It will also help you direct visitors to specific portions of your page (for example, pricing or features) from other sites.
Track everything with Google Analytics
You should be doing this for all your sites, but you're going to need to pay even closer attention to your one-pager. In larger sites, if a page isn't performing, you can still get traffic from others.
With your tiny site, it's crucial that you dig into your analytics and use the data to make changes.
If you want results, you need to put in the effort
Doing SEO for one-page sites isn't impossible. It just takes extra work and a different way of thinking. You don't need to reinvent the wheel, just pay closer attention to the details.
The things that you can get away with missing on your bigger sites can be huge misses for a small one, so make sure to get the little things right. SEO for a one-page website requires a lot more focus and creativity. Are you up to the challenge?
If you're looking for further inspiration and SEO ideas for a one-page site, check out One Page Love and their enormous gallery of single page websites. It's a great way to get inspired for your own website or project!
WebFX is a full-service marketing agency with 1000+ client reviews and a 4.9-star rating on Clutch! Find out how our expert team and revenue-accelerating tech can drive results for you! Learn more
Try our free SEO Checker
Boost your site's search performance with our free SEO Checker. Analyze your website for optimization tips on titles, headers, content, speed, and more. Get a free report now to enhance rankings on Google, Bing, Yahoo, and beyond!
How Is Your Website's SEO?
Use our free tool to get your score calculated in under 60 seconds.
Try our free SEO Checker
Boost your site's search performance with our free SEO Checker. Analyze your website for optimization tips on titles, headers, content, speed, and more. Get a free report now to enhance rankings on Google, Bing, Yahoo, and beyond!