16 Genuine, Authentic Designers on Twitter
I've seen afewTwitterdesignerlistspopuphere and there and wanted to offer a fresh spin on things. This list contains 16 designers who I find extremely friendly, genuine, and have something to offer to the design community.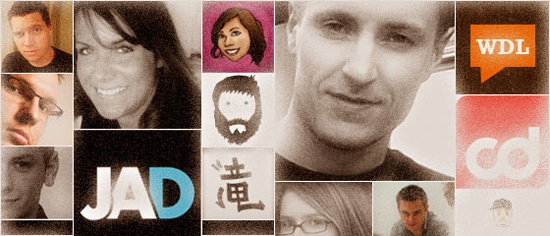 In one word, the people on this list can be considered "authentic." They are real, down-to-earth people who would love to chat (though you may ask if they're busy before striking up a conversation).
I wanted to build a list of designers who aren't necessarily on all the previous "follow lists" and are still quite follow-worthy, so without further ado, here goes…
Rogie King is web designer, illustrator, and blogger whose work you can find in his site, Komodo Media.
Samatha Warren is a web designer and a member of the Design team at Viget Labs. Her personal site: Badass Ideas.
Henry Jones is a web designer and developer based in Tennessee. He's the man behind Web Design Ledger. Check out his portfolio.
Matt Brett is a freelance web designer whose personal site, Matt Brett, has been making its rounds in web design showcase galleries.
Shannon Farrell is a graphic and web designer based from Virginia. Check out her personal site.
Chris Harrison is a web developer / designer. You can learn more about him on his personal site.
Nathan Smith is a designer, front end developer, and user experience developer. He runs a personal site called SonSpring.
Tim Van Damme is a Belgium-based interface designer at Made by Elephant (small creative agency). Check him out at his blog, Maxvoltar.
Lea Alcantara (@lealea)
Lea Alcantara is a designer based in Edmonton, Alberta, Canada. Check out her portfolio site: Lealea Design.
David Airey is a graphic designer and design consultant, specializing in identity projects. Check out his personal site and Logo Design Love.
Sean Farrell is a freelance designer, specializing in branding, web, and print. You learn more about him on his site: Penflare Designs.
Luke Beard is a graphic and web designer from England. His soon-to-be portfolio site: Luke's Beard.
Chris Colhoun is a design student and future employable designer. His personal site: Chris Colhoun.
Lee Munroe is a Northern Ireland-based web designer. Check out his personal site, as well as The Big Word Project.
Jeff Andrews is a designer. His personal site: Jeff Andrews Design.
Sean Baker is a young designer. You can check out his work on his site, Elysium Burns.
Got more tweeple to for us to follow?
Feel free to add your own nominations in the comments. The goal is for authenticity, not necessarily the biggest names in design.