Design Instruct: A New Tutorial Web Magazine for Designers
As we near the second year anniversary of Six Revisions, I (along with my brother Ike) have launched our latest web project, Design Instruct, a web magazine that aims to teach designers and digital artists useful techniques by way of detailed and step-by-step tutorials.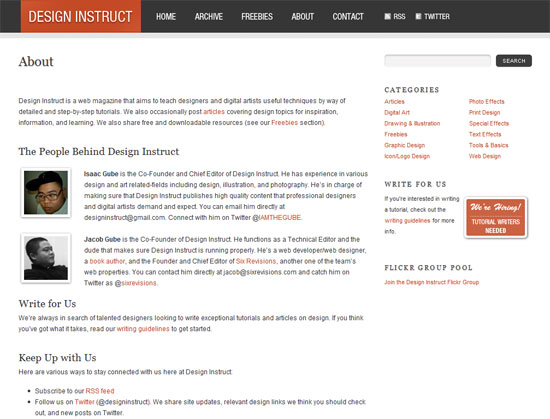 You can read more about our goals for Design Instruct in the Chief Editor's Welcome post.
What You Should Check Out
We invite you to have a look around the site and connect with us in various ways.
You can subscribe to the Design Instruct RSS feed so that you can get site content updates through your feed reader.
You can follow us on Twitter (@designinstruct) where we'll share site news, updates, special Twitter giveaways and contests for designers, interesting links, and inspiring Tweets.
We also have a Facebook page that you can become a fan on, as well as a Flickr Group pool for sharing your Design Instruct inspired works.
What You Can Do to Help
The easiest way to help us with Design Instruct is by sending out a Tweet to your network to share the news to your friends and followers.
You can click on the following link below to send out the tweet:
You can also show your support by subscribing the RSS feed, following us on Twitter and Facebook.
Last but not least, we'd love to know your thoughts on how to improve Design Instruct, and what you want to see in the future. If you find bugs (we're sorry), we'd love to know about them as well. You can contact us or leave comments on the Chief Editor's Welcome post.
Thank You Six Revisions Community
I want to thank you all for the support that you've given Six Revisions. It's almost been two years since I started this website, and I couldn't have imagined that we'd all be here where we are now.
It's been a wild ride from the start, and I hope you'll stick around for the journey. I also hope that you continue to show your support by joining my brother and me at Design Instruct!