Convert your print-ready artwork for a standard 9″x12″ presentation folder into a visually stunning mockup using this free template from CompanyFolders.com. The template allows you to turn your own custom artwork into a polished representation of your finished product.
Preview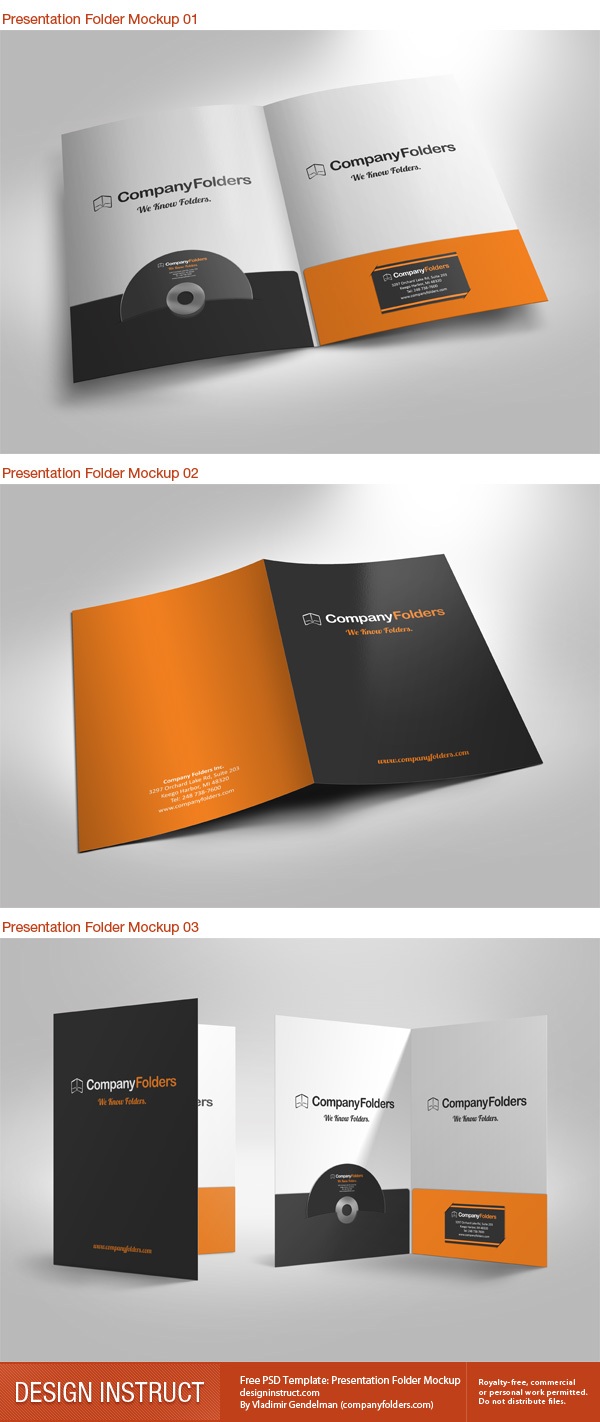 Why Should You Use this Free PSD Template?
Receive better feedback. A folder mockup gives clients and colleagues a much clearer idea of what your finished product will look like compared to a standard flat template that can be difficult to visualize. This means you're more likely to receive better feedback about the design before it's actually printed.

Save time and money. You can use your mockup to discover any design issues or errors before sending your artwork to the printer. This helps ensure your project will come out right the first time and you won't need to rerun the print job.

Get more exposure. You can place your customized mockup on a website or blog to elicit instant feedback from your audience.
How to Use the Presentation Folder Mockup PSD Template
Below are instructions on how to use the Presentation Folder Mockup PSD template.
Smart Objects 101
I'll show how to edit your free PSD template by adding your own source images. We'll achieve this by replacing the contents of the design's smart objects. Smart objects are layers in Photoshop made up of image data from a separate source such as a raster or vector graphic.
This effectively "protects" the layer, allowing you to edit nondestructively. You can add as many filters or effects as you like to the object and the original source image will still remain intact. Smart objects can also be rotated or resized freely without rewriting the object's pixels — meaning no damage to the image's quality.
They're especially useful when you want to include multiple instances of the same image. Any edits you make to the source image will be reflected in every "clone" you create of the smart object in your design. If your design contains multiple instances of a company logo, for example, you could use smart objects to easily replace all of those logos with a different one.
Think of smart objects as drinking glasses filled from a pitcher; alter the contents of the pitcher, and you'll change what ends up going into the glasses. To customize our mockup, we'll effectively change which "pitcher" each "drinking glass" is being filled from.
Step 1: Find the Smart Object You Want to Replace
Locate the smart object layer you want to replace the contents of. We'll begin by replacing the front cover of the folder, so we'll locate the layer labeled "Your_Front_Cover_Image."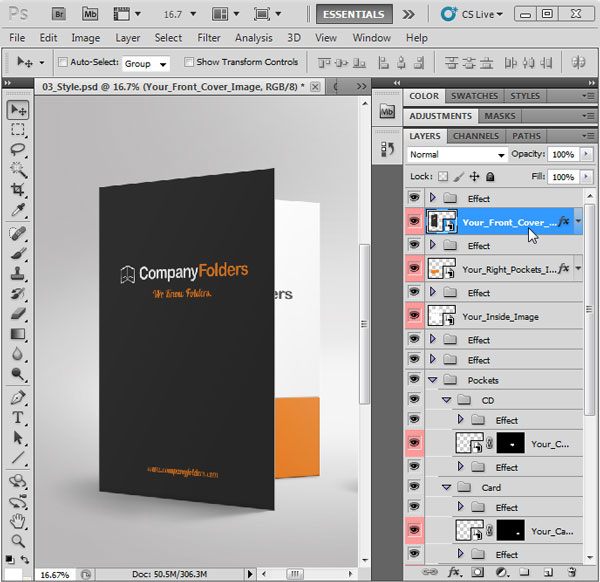 Step 2: Replace the Smart Object Contents
Right-click the layer and choose Replace Contents in the contextual menu.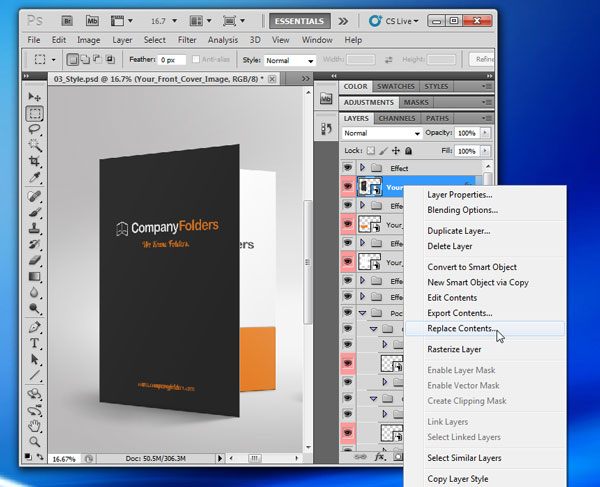 Select your desired image file.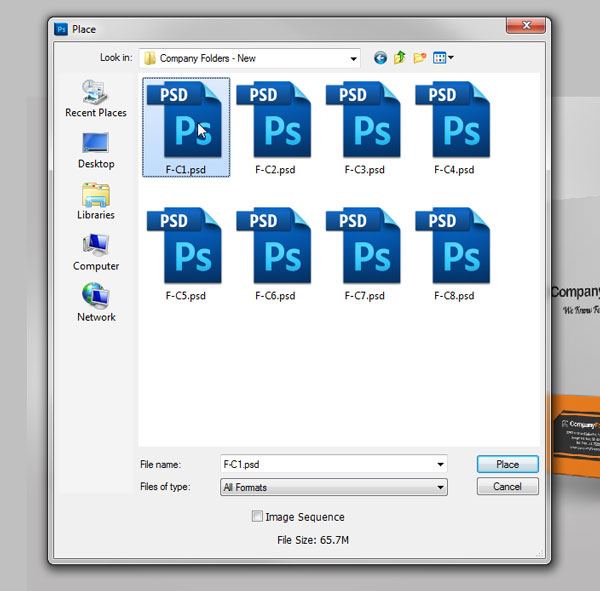 The front cover of our folder has now been replaced with the new art.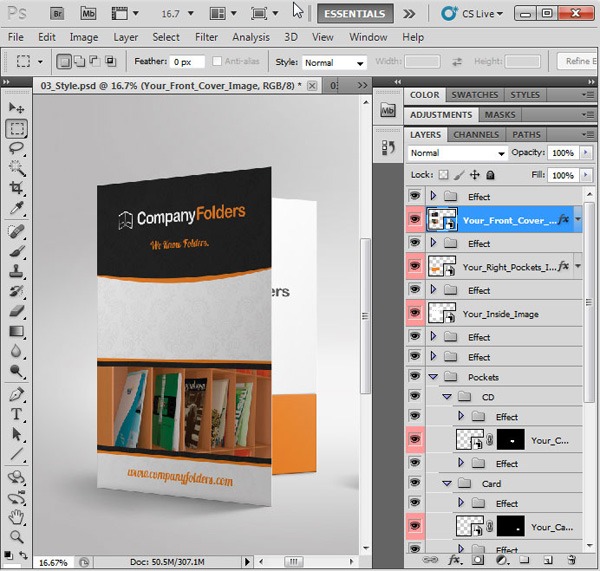 Step 3: Repeat the Process
Now we can repeat this process for all of the remaining elements. Here's the finished product after replacing the contents of every smart object in the mockup.
Video Tutorial: How to Customize Your Free Folder Mockup Template
Here's a video tutorial you can watch outlining the steps for customizing this free PSD template:
Folder Mockup Template Options
The folder we mocked up includes the following options:
4-color process printing: allows for a full spectrum of hues and shades, including full-color photography
2-sided printing: both the interior and exterior of the folder are printed
12pt base stock: a strong, durable white paper to ensure that the ink appears bright and vibrant
Soft-touch coating: gives the folder a velvety texture that begs to be touched
Left pocket CD/DVD slit: holds digital media in a visually appealing way
Right pocket business card slits (H3): makes it easy to store and highlight contact information
We hope you enjoy using your free folder mockup template! Please feel free to leave a comment if you have any thoughts or feedback.
Download