When businesses first started using the Internet for marketing purposes, the sheer existence of a website was enough to establish them online. However, now that virtually every business on the planet has one, it takes a bit more effort to stand out. So how can you be sure that your site is helping your business build authority?
Start with our video on website essentials!
It's very similar to how a political candidate establishes their own authority.
They strive to build a community of followers and supporters, and they form strategic partnerships to further their own goals and raise money. To create authority in today's Internet, your company's website should have many inbound links, shares, and a strong overall digital presence. Both on- and off-page factors like backlinks, site speed, bounce rate, and usability work together to establish your site's ability to be found online and benefit your company.
Based on these metrics, you can make higher-level business decisions such as investing more in pay-per-click advertising, social media marketing, or link building. It's vital to regularly evaluate your company's website to ensure that you know where your site stands. Fortunately, you don't need a Ph.D.
to perform this analysis.
In this post, we'll explore some effective (and free!) tools and tactics you can use to evaluate your site today. And don't forget, whether you need social media services in Boston, PPC services in Baltimore, or web design in Columbus, WebFX offers it all — and we're here to help your website grow!
1. Test for usability, speed, and mobile optimization
A good starting place for auditing any website is to run the site through Google's mobile usability tool and Google's PageSpeed Insights to uncover critical changes that should be made to improve the overall experience.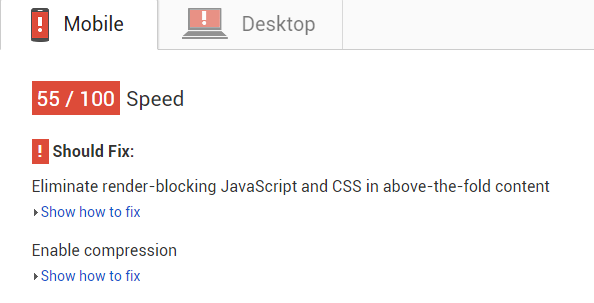 These insights will include fixes that can be expanded to unveil helpful instructions to solve each issue. These tools are free and easy to use, and help bring websites up to par with the speed and usability expectations of a modern user.
2. Analyze traffic sources
The most widely used (and free) web analytics tool is Google Analytics. If you don't use it already, it's a powerful tool that can give you insight on many different aspects of your site. For starters, you'll want to see where your traffic is coming from and how valuable the traffic is from each source: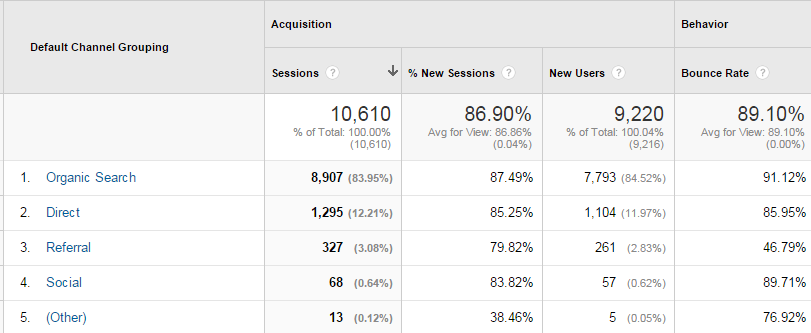 Organic traffic includes visitors who discover your website by means of a search engine like Google, Bing, or DuckDuckGo.
Direct traffic includes visitors who enter your website into their URL bar or click directly from their own bookmarks or search history.
Referral traffic includes visitors who click a link on a different website that directs to your website.
Social traffic includes links from social media channels such as Twitter, Facebook, Reddit, and Google Plus. Some businesses receive the majority of their traffic from social media, while others rank highly for relevant keywords and pull in a lot of organic traffic.
The value of each channel is what deserves the most attention.
You can determine value by measuring the conversion rate, time on site, and retention. You can even create custom goals based on your business needs that determine how valuable a visitor is based on what they click, buy, share, and do.
3. Perform a cohort analysis
A new Google Analytics feature that is still in beta is called cohort analysis. Essentially, you can explore and customize your website data by cohorts in a grid. By default, you can see the day you acquire new visitors and track your retention rate for those users throughout the week: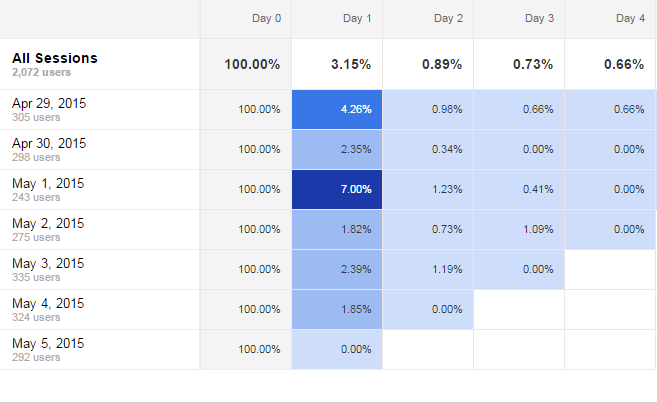 This gauges how "sticky" your website is.
A sticky website keeps visitors clicking and coming back for more, such as a news and media website, a blog, or an ecommerce store. Similar to your traffic analysis, you can customize the data to display value over time, allowing you to gauge whether a post, page, video, download button, sign-up page, or even blog is performing well.
4. Comb through backlinks
As we previously covered, links are an authority metric by design. If your competitors are building relevant, contextual, and useful links, you're going to have to build even better ones to be able to compete in the search engine battlegrounds. There are a number of free and paid tools to analyze backlinks.
One of the free and standard methods is to download a CSV report of your website's inbound links in Google Webmaster Tools:

With this, you can quickly see which sites are linking to your site. It will also provide you with a few strategic options, such as reaching out to thank the sites that send you a lot of traffic or targeting larger websites of the same genre, such as news or industry publications. Additionally, you can check to see if any links are raising red flags in Google's eyes, which has a direct impact on your site's visibility in search engines.
If they are, you can submit a disavow file to help get a website back in the good graces of Google. One the paid side of SEO tools, there are a few names that will surely come up. Among those are Moz and Ahrefs.
Moz has become a standard tool for measuring the authority of domains and pages within domains. The Moz toolbar is free to use, but will provide more expansive details for users who pay:

This allows you to quickly see an estimated authority of any given site, as well as explore the types of links they are receiving. Moz also offers a suite of features such as comparing multiple sites against your own, analyzing share data, and discovering broken links within your site that need fixing.
Ahrefs also allows users to perform a similar analysis of authority and discover which pages and content perform the best overall in terms of links and shares.
Collectively, using these tools and sites can help you uncover web elements that need addressing and can have a big impact on where you invest your Internet marketing budget. Modern marketing initiatives such as content marketing, social media marketing, and online public relations can all help meet your goals, but it's important to figure out which ones will have the biggest impact on your bottom line.
How is your website's SEO?
Use our free tool to get your score calculated in under 60 seconds.
Get posts by email
Join 200,000 marketing managers and subscribe to Revenue Weekly!
"*" indicates required fields
WebFX Careers
Join our mission to provide industry-leading digital marketing services to businesses around the globe - all while building your personal knowledge and growing as an individual.