Drip Email Marketing
Trying to make the most of your leads? Drip marketing is one of the best ways to keep your company in the forefront of the minds of your business leads by offering them timely, relevant, and targeted emails. WebFX's drip email marketing packages include:
The creation of a 6 part drip email series that follows a strategic distribution schedule
Drip email design, development, and HTML coding
On-demand reports that give you the ability to view open rate, clicks, and other statistics whenever you need them
Speak with a Consultant
View Pricing Packages
Drip email marketing, also known as lead nurturing, is one of the best ways that you can make the most of leads on your website. A drip email program allows you to automatically send pre-written emails to leads at various stages of the buying process. Drip marketing programs are easy to set up, and can create fantastic results for businesses seeking a way to continuously stay in the minds of their valuable leads or potential customers.
WebFX offers two drip email pricing plans for companies looking to start a drip campaign:
Drip Email Marketing Plans
Features
1 Drip Campaign
3 Drip Campaigns
Email marketing series
6 part drip email series
6 part drip email series for 3 forms (18 total drip emails)
Drip email strategic distribution schedule

✓

✓

Campaign and target strategy

✓

✓

Lead nuture workflow development

✓

✓

Recommended sales cycle implementation

✓

✓

Creative theme development

✓

✓

Design theme edits for each drip email

✓

✓

Copywriting for email campaigns

✓

✓

Graphics design for email body content

✓

✓

Coding of drip emails

✓

✓

Web form signup implementation

✓

✓

Web form signup tagging coding

✓

✓

Testing of emails on 24 clients

✓

✓

Built-in unsubscribe functionality

✓

✓

Ability to create custom segmented lists

✓

✓

Manual form subscription to drip email campaign

✓

✓

On-demand reports for open rate per drip campaign stage

✓

✓

On-demand reports for individual subscribers

✓

✓

On-demand clickthrough rate reports per drip stage

✓

✓

Ability to add additional drip stages in the future

✓

✓

200+ SMEs behind campaign driving results

✓

✓

Initial design, copywriting, strategy and tracking setup (&):
One time $1,750
One time $3,500
Up to 5,000 subscribers (or)
$200 per month
$200 per month
5,000 to 20,000 subscribers (or)
$450 per month
$450 per month
20,000 to 50,000 subscribers (or)
$750 per month
$750 per month
Over 50,000 subscribers
Call us - volume discounts apply
Call us - volume discounts apply
Need a custom quote?

Call Us: 717-609-1553

Sign Up
Sign Up
Email Marketing with Real Results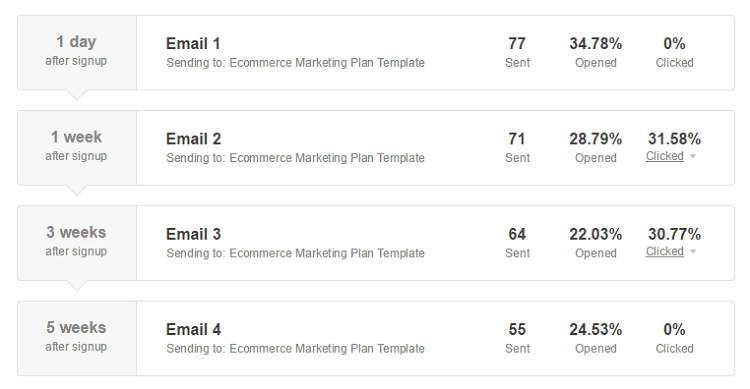 Drip emails are designed to be sent at crucial stages in the buying process. Since some buying decisions take longer than others, it's important to reach leads and potential customers at the right time. That's where we come in: WebFX offers drip email marketing plans that get real results for our customers.
We'll work with you to create a 6-part drip program that sends messages automatically to anyone who completes an action on your website. The emails we create will be attractive, mobile-optimized, and fully tested for performance on a total of 24 email platforms so you get the most reliable email marketing drip campaign possible.
On-Demand Reporting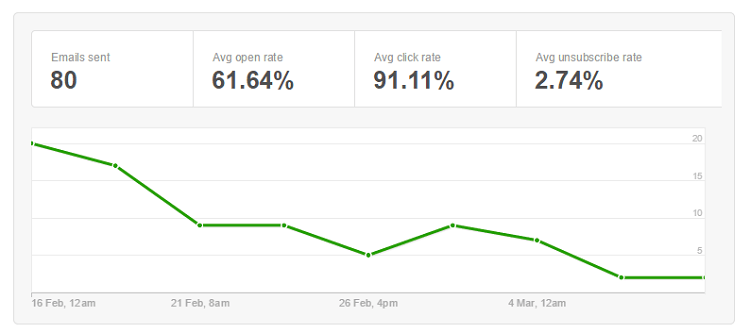 WebFX's drip email marketing platform allows you to view the results of each and every message sent. Our drip email software makes it so you can view the total number of sends, how many times the emails have been opened, the number of clicks, and more. We give you all the tools you need to see how each email is doing, and where there's room for improvement.
Some of our client Successes
Ongoing Optimization of Your Drip Email Campaign
If you want to add an additional email to your drip campaign, or adjust the send times for your existing emails, WebFX's proprietary software makes this easy. Your campaign can be modified to add additional drip stages, or to create custom segments on your email lists so you can easily modify your email marketing drip campaign.
Our drip email packages support campaigns of any size. Whether you have 500 subscribers or 50,000, WebFX can help you develop a highly targeted and successful drip email campaign that reaches the right people at the right stages of the buying process. Our expertise, experience, and drip email software can deliver effective, positive results for your website. Contact one of our experts today to get started on your own drip email program.
Are you ready to start your own drip email marketing campaign? Call WebFX at 888.449.3239 or contact an expert online now.