With email drip campaigns, you can send automated emails that go out to prospects based on the specific actions they take. But how do you create an email drip campaign that rocks? Check out these six drip campaign examples to inspire your campaigns!
Plus, if you want to get the latest tips and tricks for marketing your business online, subscribe to Revenue Weekly!
What are drip email campaigns?
Email drip campaigns involve sending out multiple emails at specific dates and times or for specific actions to garner engagement with your business.
These campaigns help you deliver content that's most relevant to your subscribers when they need it while also nurturing prospects towards conversion.
6 drip campaign examples to inspire your email campaigns
Looking for inspiration for your email campaigns? Check out these six drip campaign examples to help you get inspired!
1. Netflix
Drip campaign type: Re-engagement First on our list of email drip campaign examples is Netflix. Netflix runs multiple email drip campaigns to get users to engage with their subscription service. Here's a prime example of a drip campaign from Netflix.
This subscriber was watching shows through Netflix but hadn't watched in a while. So, Netflix used a drip email campaign to bring the watcher back to watch shows through their service again.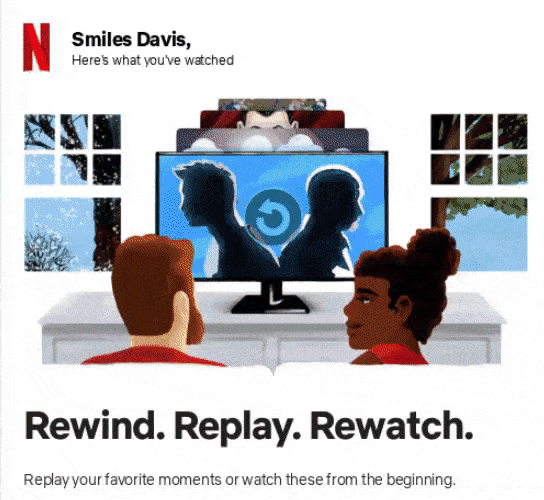 Netflix reminded the viewer of shows they enjoyed and invited them to watch those shows again.
The company also made recommendations at the end for new shows the viewer could watch based on their previous viewing history.
Why this email drip campaign works: This email drip campaign works because it targets users based on their specific interests. For example, the subscriber had already taken action with Netflix, which was watching the various listed shows, and Netflix used that information as part of their drip campaign. As a result, the subscriber got a personalized email to draw them back into the service.
It's an effective way to get the subscriber to re-engage with Netflix.
2. Adidas
Drip campaign type: Abandoned cart Next on our list of drip campaign examples is Adidas. One of Adidas's drip email campaigns focuses on getting abandoned cart shoppers to return to their purchases and complete them. In this example, Adidas tries to bring the subscriber back by highlighting the product they left in their cart and adding additional information to convince them to buy.
This email is triggered when the user abandons their cart.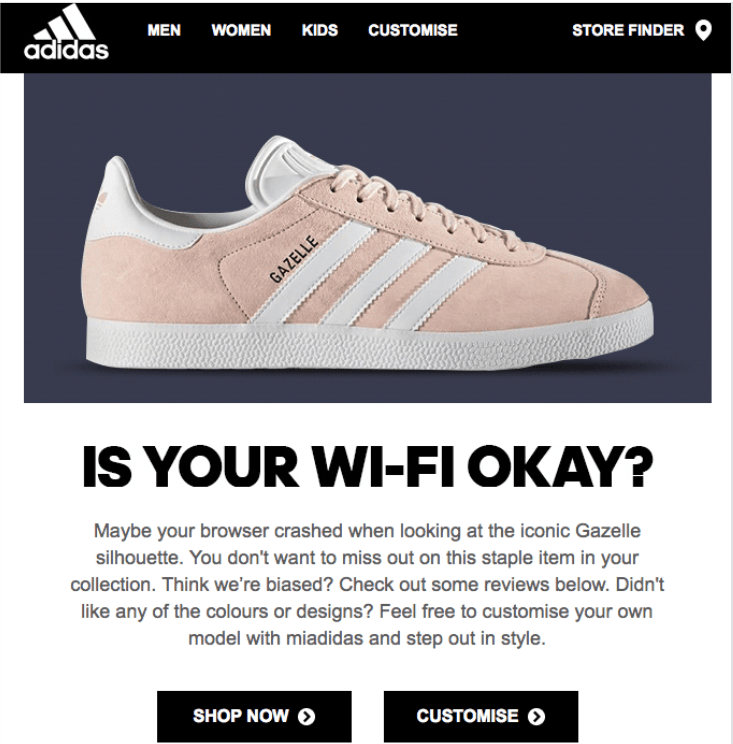 Adidas includes critical information like reviews and customization to try and sweeten the deal to get prospects to complete their order.
Why this email drip campaign works: With this email drip campaign, timing and personalization are key. Adidas sends these emails shortly after the user abandons their cart, enabling the subscriber to keep the product fresh in their mind.
Additionally, Adidas crafts its email drip campaign to deliver information that gets prospects to convert. With the reviews and customization, Adidas gives users the extra nudge they need to convert. Since this email drip campaign is automated, Adidas can effectively reach prospects at the right time and get them to come back and complete their purchase.
3. Tillamook
Drip campaign type: Welcome email Next on our list of drip campaign examples is Tillamook. Tillamook is a prime example of how to use drip email campaigns to send welcome emails. In this example from Tillamook, you can see they welcome their new subscribers by sending a colorful and engaging email.
They highlight a bit about their business and welcome the subscriber to their list.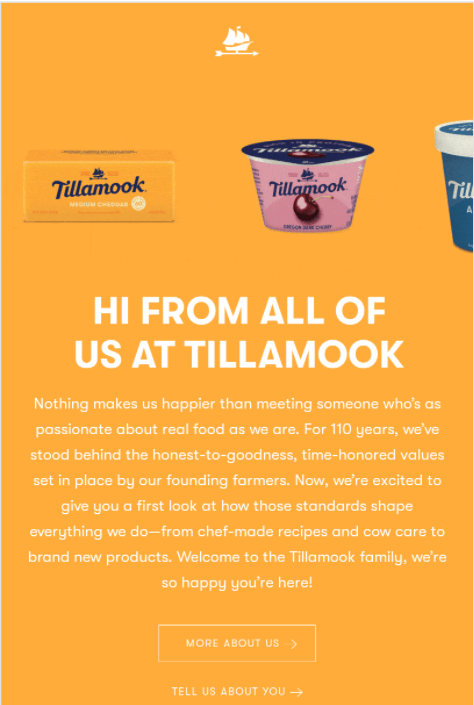 Tillamook also invites the subscriber to learn more about the company while also encouraging the subscriber to tell Tillamook more about themselves.
Why this email drip campaign works: Tillamook's welcome email is simple and to the point. When a new subscriber joins their email list, they're welcomed to the email list and given a short bit of information about the company.
It's simple and to the point, which is what a user expects from a company. This welcome email also provides users with an opportunity to start exploring the company to learn more about their products. It's a great introduction to Tillamook for new subscribers.
4. Hulu
Drip campaign type: Subscription cancellation email Next on our example list of email drip campaigns is Hulu. When someone unsubscribes from Hulu's TV subscription service, Hulu sends an automated email to confirm the cancellation.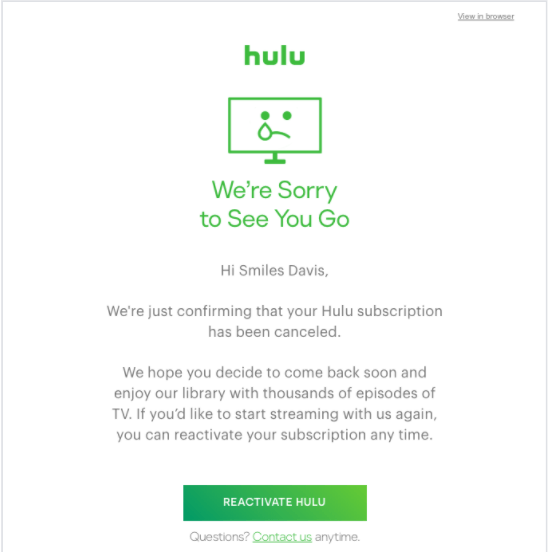 The email is short and sweet and provides the customer with an opportunity to resubscribe at any time.
But when a user unsubscribes to a service, you may think it's the end of the email campaign — but it's not. Hulu often follows up with emails to entice these subscribers to come back, like this one:

By sending a follow-up email with an offer to reduce the monthly subscription cost or earn a free month, Hulu can use drip email marketing to bring prospects back.
Why this email drip campaign works: Hulu's email drip campaigns work because Hulu consistently entices prospects to come back to their business. When people stop buying your products or unsubscribe to your services, there's a reason behind it — you must try to identify problems or pain points your audience faces and solve them to get prospects back.
With Hulu, for example, the cost may be why someone unsubscribes. So, after sending the cancellation confirmation, Hulu can send out a discounted offer to rope the subscriber back in to use their service. It's an excellent follow-up for helping bring customers back.
5. Starbucks
Drip campaign type: Re-engagement Another example of drip email campaigns that work is Starbucks. Starbucks held an Earth Month contest for April where with every item purchased, customers could play games to win prizes and enter a sweepstakes. To get prospects to engage, Starbucks used an email drip campaign to re-engage prospects and remind them of the contest.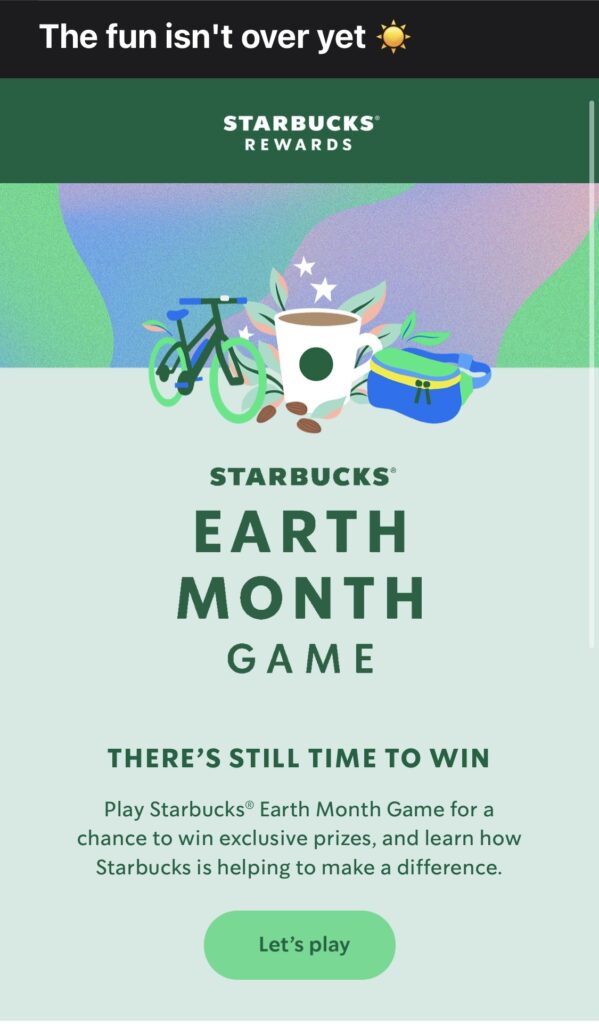 Starbucks follows up with this email a week later, reminding subscribers it's the last week to participate in the contest.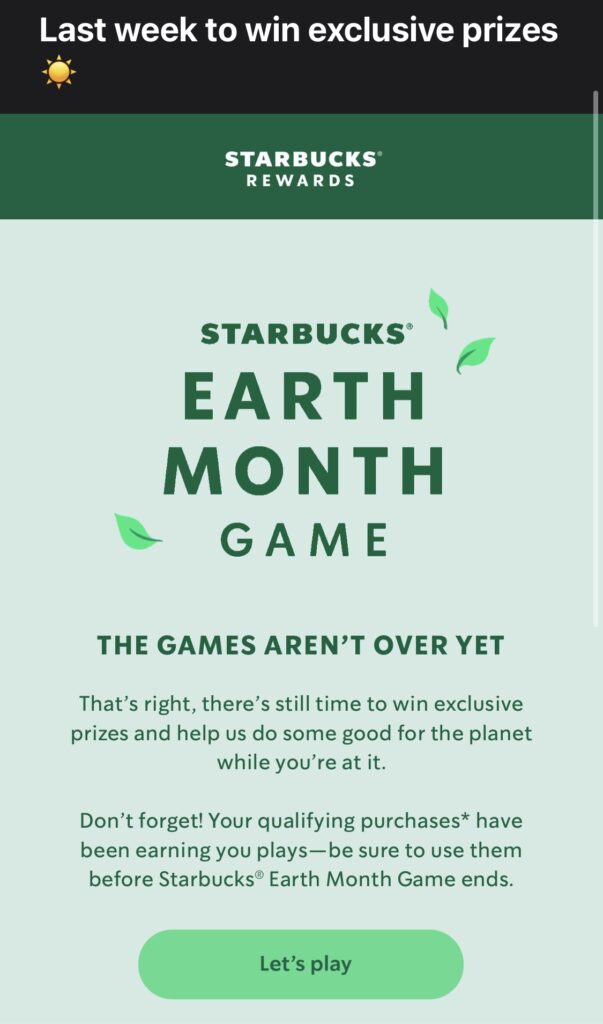 This email drip campaign is an excellent example of re-engaging prospects in buying products from Starbucks.
Why this email drip campaign works: Starbucks' Earth Day email drip campaign works because it consistently engages prospects to participate. In addition, they uniquely tailor the messages depending upon the timing — the second email example was specifically tailored to the last week of the games.
By getting the timing right with their emails, Starbucks creates a more enticing and engaging email drip campaign that gets people to participate.
6. Allbirds
Drip campaign type: Post-purchase email The last of our email drip campaign examples focus on Allbirds. With this email drip campaign, Allbirds automates an email and sends a purchase confirmation immediately afterward.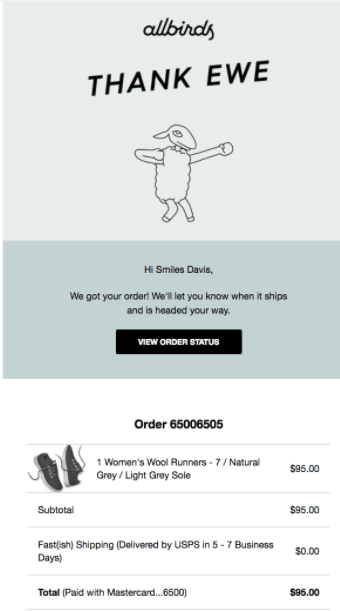 Once the shopper receives their product and gets the chance to use it, Allbirds follows up with an email inviting prospects to leave a review for the product.
It's a great drip campaign idea to follow up post-purchase and get prospects to leave their thoughts about the product after receiving it.
Why this email drip campaign works: Reviews are a critical component of your business — they help you earn more sales in the future and build trust in potential customers. By using drip email campaigns, you can keep prospects engaged post-purchase. Creating a post-purchase email drip campaign that focuses on earning reviews is a great way to help increase sales in the future.
How to implement email drip campaigns
If you want to launch an email drip campaign, you need email automation software like EmailMarketingFX.
With email automation software, you can set up triggers to send out emails when users complete a specific action or a certain amount of time has passed. For example, if someone joins your email list, you can immediately send them a welcome email. Then, three days later, you send a compilation of your top products.
Then, based on how your subscribers interact with that email, you follow up with email content personalized to their past email actions. You can set up drip campaign emails for multiple types of emails, including:
Welcome emails
Retargeting emails
Abandoned cart emails
Post-purchase emails
Subscription cancellation emails
Re-engagement emails
Need help setting up your email drip campaign?
After looking at these drip campaign examples, you may feel inspired to start creating your email drip campaign. But if you aren't sure where to start, WebFX can help you get started.
With over 25 years of experience, we know how to craft email drip campaigns that help your business grow online. We know how to craft email campaigns that drive results for your business. In the past five years, we've driven over $3 billion in revenue and over 7.8 million leads for our clients.
We know how to craft campaigns that help your business earn more leads and sales.
Ready to drive more revenue for your business? Contact us online or call us today at 888-601-5359 to speak with a strategist about our email marketing services!