Are you a chiropractor looking to attract more patients? If so, email could be a great marketing opportunity for your practice.
If you're interested in learning how WebFX can help your practice create an effective email marketing strategy, call 888-601-5359 to speak with a strategist, or keep reading for a few tips to help your chiropractic practice grow.
Our digital marketing campaigns impact the metrics that improve your bottom line.
See More Results

WebFX has driven the following results for clients:

$3 billion
In client revenue

7.8 million
Leads for our clients

5.2 million
Client phone calls
Why is email marketing important for chiropractors?
When it comes to chiropractic care, the public is often confused about what chiropractors do and the services they provide.
This means that potential clients might be apprehensive about scheduling an appointment, and you could be missing out on new leads.
Email marketing is a great way to engage these potential new clients and help them feel confident in their decision to seek chiropractic treatment. By providing helpful information, you can ease their fears and keep your practice top-of-mind.

Hear What It's Like to Work With WebFX!

"WebFX has completely transformed my practice. With their support, I have expanded my practice significantly and grown exponentially. I could not have expanded to this degree, nor this quickly had it not been for the incredible efforts provided by WebFX and my team."
Healthcare
How can chiropractors compile an email list?
One of the easiest ways for chiropractors to begin compiling an email list is to keep a signup sheet at the checkout counter.
Be sure to let patients know that signing up to receive emails is the best way to stay in the know about your chiropractic practice. Then, they can sign up to have information about office hours, cancellations and closings, special offers, and general health news delivered right to their inboxes.
You can also make it easy for people to subscribe by posting signup forms on your website, blog, and social media accounts.
Email marketing is also a great way for chiropractors to reach new clients before they become patients. Word of mouth recommendations are huge, and people can forward your emails to friends and family members who might be in need of chiropractic services.
Email marketing tips for chiropractors
Once you've compiled an email list, you need to figure out how to best communicate with your subscribers. Let's take a look at some email marketing tips you can implement today to attract more patients to your practice.
Brand your emails
Branding your emails is a great way to increase awareness of your practice and establish trust with potential patients.
All you need to do is include your logo and website colors in each of your emails, and maintain consistent formatting. You will also want to make sure that your emails come from a branded address, such as [email protected]. This way, your recipients will know exactly where the email is coming from and that you are a trusted source.
Create compelling subject lines
Subject lines are your first impression, and a third of people choose whether to open emails based on the subject line alone.
If you want to improve your open rates, you need to make sure that your subject lines are clear and concise. They should also accurately describe the content of your emails and encourage recipients to want to learn more.
You can also create multiple subject lines and A/B test them to pinpoint the subject line with the highest open rate. Then, you can use the insight you gain through these tests to continue to write effective subject lines.
Optimize for mobile
Did you know that 50% of emails are opened from a mobile device?
This means that you need to make sure that your emails are optimized for mobile. Readers shouldn't have to pinch-zoom to read your emails, and your subject lines should be short enough that they don't get cut off when people view them on a phone.
Without mobile optimization, your click-through rates will plummet.
Provide value to readers
Email marketing gives you the powerful ability to reach potential clients right in their inboxes.
However, if you want them to keep reading, your emails need to provide value. For example, you can provide helpful insights into how chiropractic care can improve health.
Rather than trying to "sell" your service, focus on educating potential patients and providing them with the information they need to take action.
Add social sharing buttons
Does your latest email include great tips for alleviating back pain? Or information about another common concern you hear from your patients?
Recipients may want to share the information with friends and family, and incorporating social sharing buttons is a great way to encourage people to do so.
This can help improve your word of mouth marketing and also increase awareness of your practice among a larger audience.
Include clear calls to action
Finally, you want to ensure that your emails contain clear calls to action.
Though your emails should be largely educational, it's important to let readers know about next steps they can take.
This can be as simple as including a button at the bottom of the email that says "Click here to schedule an appointment!" You could also direct them to check out your website or blog for more information and to learn more about your services.
Don't miss our Marketing Manager Insider emails!
Join 200,000 smart marketers and get the month's hottest marketing news and insights delivered straight to your inbox!
Enter your email below:
Inline Subscription Form – CTA 72
"*" indicates required fields
(Don't worry, we'll never share your information!)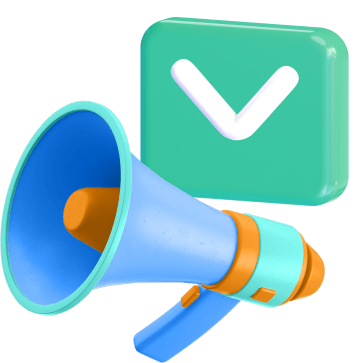 Check out our email marketing plans
Want to learn more about how email marketing can take your practice to the next level? WebFX can help!
Check out our custom email marketing plans, and contact us today to talk to a strategist.
We look forward to hearing from you!
Earn a 20% greater ROI with WebFX