Patients are rarely shy when it comes to sharing experiences with medical providers they don't like. This could always harm your business since you likely attract new visitors through word of mouth, but thanks to the Internet, the damage can be devastating. You need to maintain a stellar reputation if you want to maintain relationships with new and existing patients. In other words, a successful medical practice relies on successful reputation management.
A complaint from a patient or a negative news story has always had the capacity to hurt a physician's reputation. But if that complaint or story goes viral—as often happens on the Internet—it lasts longer, causing damage long after it was published. The only way to keep this kind of negative publicity from hurting your practice is to monitor what people are saying and respond as quickly as possible.
Call 888-601-5359 to speak with a strategist about online reputation management services from WebFX, or keep reading to learn more about how you can improve your practice's online reputation.
Time to Level Up Your Sales
Our long list of services helps you grow every aspect of your business with marketing strategies that are proven to increase bottom-line metrics like revenue and conversions.
In the past 5 years, we've managed more than 12.9 MILLION transactions across our client base.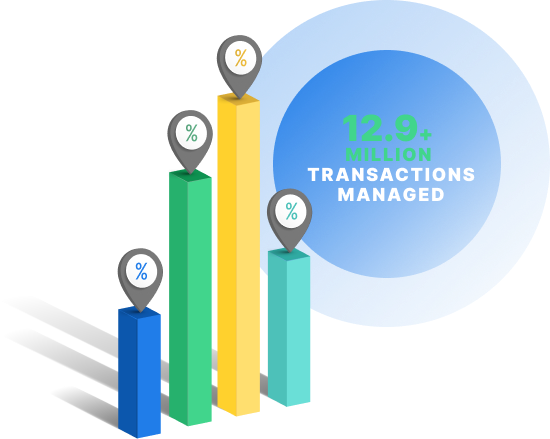 How can online press affect your practice?
The primary purpose of reputation management is to establish and maintain a strong reputation for your practice. A negative story gets in the way of this goal. It doesn't take long for bad press to go viral, and one bad review can make someone think twice about making an appointment with you.
Even a false story or review can be hard to overcome, but an effective reputation management strategy helps you respond to this kind of feedback and minimize the consequences.
Without this type of strategy, negative publicity could have the following effects:
Fewer visits
When many people are in need of a new doctor, they go online to research their options. They want to know which ones other patients are happy with, and which ones are best suited to treat them.
If someone goes online to complain about your bedside manner or shares details of a missed diagnosis, someone who isn't familiar with your practice may reconsider making an appointment. And thanks to the Internet, they'll easily be able to find another option.
Fewer referrals
Maybe the person reading the negative story or review doesn't need a doctor, but their friend or family member does. If these people are asked about your practice, they may recall that bad press and decide to make a referral elsewhere.
Damaged brand reputation
For many people, the latest story is the most trustworthy. The complaint from an unhappy patient published a few hours ago could be the first thing people read about your practice. If no one comes along to counter the claim, it becomes the public's first impression of your practice—and possibly the last.
Every business has had to deal with negative feedback at one time or another. You can't always avoid it, but you can take steps to ensure it doesn't ruin your reputation.
Hear What It's Like to Work With WebFX!

"WebFX has completely transformed my practice. With their support, I have expanded my practice significantly and grown exponentially. I could not have expanded to this degree, nor this quickly had it not been for the incredible efforts provided by WebFX and my team."
Healthcare
How can you protect your reputation online?
Social media and other online channels are great for quickly reaching large audiences. Unfortunately, negative press can travel just as fast. You may not be able to stop people from sharing unfavorable stories and reviews, but you can stop them from hurting your image. Here's how:
Increase online activity
Post frequent updates on social media, write new blog posts on a regular basis, keep your site content fresh, and be sure to feature positive testimonials on your site. You may also choose to participate in online discussions and even host your own online events.
These activities will increase engagement and build your online reputation. If a negative story ever does break, you'll be more likely to get the benefit of the doubt. What's more, all the recent good news will take the focus off the bad.
Monitor your online presence
It's easy to find out how people feel about your practice when you read review sites and your social media pages. However, these aren't the only places people may mention it. A blogger could write about a particularly bad experience at your office, or a former staffer could tell unflattering stories on Glassdoor.
The only way you can identify every mention is with a reputation management program. Choose one that tracks several factors, including number of mentions, sources, sentiment, search engine results and inbound links. Any one of these things could hurt your reputation, so the sooner you identify it the better.
Develop a response plan
When bad news about your practice goes online, you have to act fast—but that doesn't mean typing and posting the first thing that comes to mind. While you don't want to let a negative story go unanswered, a rushed response could make things worse. So before an issue even arises, have a plan in place to respond to negative publicity.
Determine the best way to respond to some of the most likely scenarios, including reviews from unhappy patients or unflattering stories about your practice or associates. Of course, you'll need to customize your message to the specific situation at hand (since generic, copy-and-pasted responses come across as callous and insincere), but your chances of mitigating the damage are greater if you prepare for it in advance.
Want to improve your practice's online reputation?
People can find out a lot on the Internet, including the reputation of a physician they might want to visit. It's easy for one negative review or news story to undermine your reputation, but with proper online reputation management, you can keep that from happening.
If you'd like assistance with your practice's online reputation, don't hesitate to contact us! Our talented team of Internet marketers and social media managers is more than happy to help you create and manage a proactive strategy.
Earn a 20% greater ROI with WebFX