When you're trying to grow your business, you're always looking for new avenues to reach potential customers.
If you're in the home service industry, you've likely come across TaskRabbit. So now, you're wondering: is TaskRabbit worth it for home service providers?
On this page, we'll cover the necessary information you need to make your decision, as well as provide a TaskRabbit alternative for your business.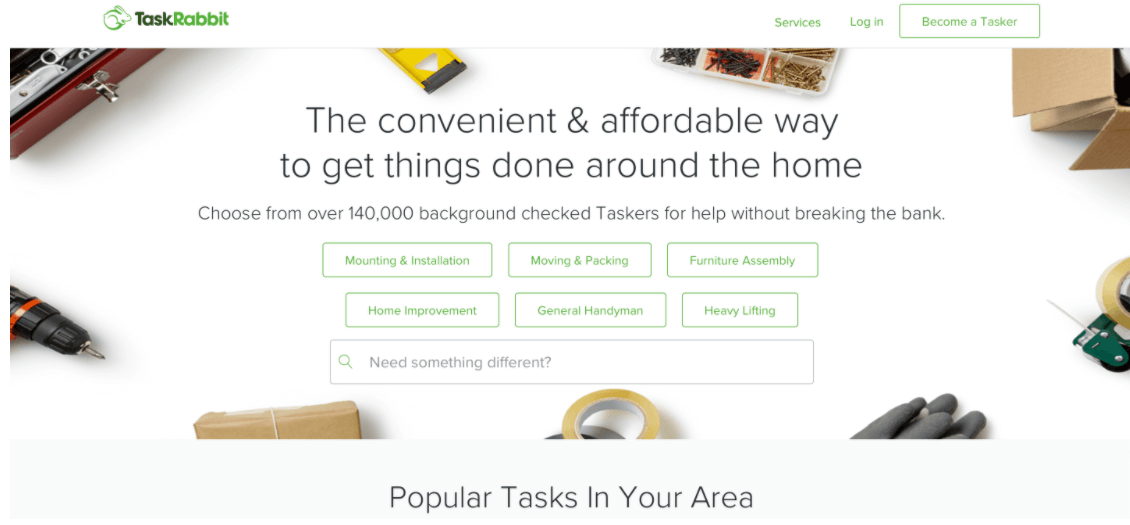 If you'd like to speak with a strategist before reading on, give us a call at 888-601-5359!
What is TaskRabbit and how does it work?
TaskRabbit is an online and mobile marketplace for finding and hiring freelance laborers for tasks like cleaning, moving, delivery, handyman work, and more. You can see a full list of available services on TaskRabbit's website.
Clients post jobs — everything from help with TV mounting to furniture assembly — and TaskRabbit matches them with skilled professionals they can hire. Once the Tasker (person completing the job) finishes the work and the client verifies completion, they receive payment within 24-48 hours.
The average TaskRabbit price varies depending on the job type, location, and day of service. While there is no set price for specific services, Taskers are encouraged to adjust fees depending on the type and size of jobs.

Hear What It's Like to Work With WebFX!

"We were looking for a forward-thinking but down to earth SEO company to partner with. Not only were we looking to build a long term business relationship but we needed them to understand our needs as a small company. And WebFX met all of that criteria. Our experience has been unparalleled; from the sales team who made the drive to our office to meet us in person to our Internet Marketer who has been an absolute joy to work with. They are completely transparent about their services and they take the time to explain everything which not only sets them apart from every other SEO company we have worked with but we also feel like we're taking something away from our interactions with the staff at WebFX. We are exited to see where this year will take us knowing that we have such a great support system with their company."
Home Contractor
Is TaskRabbit worth it for home service companies?
As a home service provider, you want to know if TaskRabbit is worth your time, or if you're better off connecting with clients in other ways. After all, you don't want to waste time with a service like this if it doesn't benefit your business.
So, is TaskRabbit worth it for home service providers? Let's take a look at some pros and cons of TaskRabbit's service.
Pros of TaskRabbit
There are a few benefits TaskRabbit offers to your business. Let's take a look at some of them.
You can earn extra income: If you're looking to make extra money, TaskRabbit can help you find local jobs that fit into your schedule. For home service providers looking to increase cash flow and connect with more clients, TaskRabbit is a solid option — especially if you're looking to invest back into your business.
You can attract more clients: It also has the potential for you to earn brand exposure. TaskRabbit is focused on small and simple jobs like cleaning a kitchen or building a piece of IKEA furniture.If you do small jobs for different clients, it has the potential to drive bigger jobs your way. These same clients may need bigger jobs than what TaskRabbit allows. If you do a great job on these smaller tasks, they may want to hire you for larger jobs.TaskRabbit offers a potential opportunity for you to reach people who may be looking for their go-to handyman or plumber.
Cons of TaskRabbit
Along with great features of TaskRabbit's, there are shortcomings. Let's take a look at some cons of this service.
You have a lot of competition: There are dozens of other businesses that use this service to get odd jobs. Not to mention, you're also competing with people who are independent contractors or people who have knowledge in a particular industry. For instance, someone may know a great deal about repairing different parts of a house, but they don't necessarily work full-time as a handyman. This creates a large pool of competition for your business. It can make it more challenging for you to get jobs and make money.
You have little control over the jobs you get: TaskRabbit previously used a bidding system that allowed companies to bid an amount on different jobs to earn them. As of 2014, TaskRabbit relies on an algorithm to produce the top three Taskers for a client. So, how does this work? Let's say there's a client that needs someone to fix a broken step in their house, so they post a task on the site. Once they post the job, TaskRabbit's algorithm produces three handymen that best fit their needs. They choose the one they want and connect with the Tasker to complete the job. The Tasker doesn't have the option to pick and choose jobs. It's all algorithm-based, which makes jobs inconsistent and difficult. You don't get to pick jobs for your business, which makes it difficult to know if you will get jobs each day.
It's difficult to build a consistent schedule: Many tasks people post are tasks they want accomplished the same day. They want someone to come out immediately, which can be difficult if you have other jobs on your schedule for your business. Once a client picks a Tasker to do their job, the Tasker only has 30 minutes to either accept or reject the job. It doesn't give you much time to plan and see if you can complete the job, which may lead to you not being able to take many jobs.
The locations are limited: At this time, TaskRabbit is only available in certain cities. If your business isn't located in those cities, you won't be able to complete tasks. This makes it difficult for businesses in other locations to take advantage of the service.
Should I use TaskRabbit?
After reviewing the pros and cons, you may wonder if TaskRabbit is worth your time. If you're looking to make some extra money here and there, it may be worth your effort to invest in this service. You can potentially earn extra money to help grow your business and reach new clients.
How to get set up with TaskRabbit
If you want to get started with TaskRabbit, you must start by registering as a Tasker. You must be 21 or older to register. In addition, you must be located in one of the specified metro areas.
You will also be required to do a background check. TaskRabbit vets all of their Taskers before hiring them. Once you've been approved, you will need to input a valid bank account and have a valid credit card on your account.
TaskRabbit charges a $20 registration fee to become a Tasker. The TaskRabbit registration fee is a one-time fee that you pay when your account is approved. After that, TaskRabbit takes a 15% service fee for each job you complete.
To get started with all of your tasks, you'll want to download the mobile app to manage all your tasks. This is where you can see your pending jobs and where you'll find your payment records.
TaskRabbit alternative: Invest in digital marketing
If you aren't sold on TaskRabbit, and you're looking for a TaskRabbit alternative, a strong digital marketing plan is a great solution. Digital marketing helps you reach new clients for your business and earn valuable conversions that help your business grow.
There are numerous digital marketing methods you can use to obtain new people looking for services from a home provider:
These are just a few of the digital marketing methods you can use to reach people interested in your services.
With digital marketing, you can reach more people than you can on TaskRabbit. You have a wide variety of options for reaching people that want to hear from your business. It creates many opportunities for you to obtain clients for your business.
You aren't restricted by TaskRabbit's platform, either. You don't have to wait for the algorithm to choose your business out of all the other competitors. You own the traffic that comes to your site and can capitalize on it to help turn that traffic into leads and conversions for your business.
Let WebFX help you set up your marketing strategy today
Now that you know more about TaskRabbit and the potential it holds for your business, you can decide if it's a good fit for you. Whether it works for your business will depend upon your location and goals. If you aren't located in the areas TaskRabbit services, you can still earn more conversions for your business by investing in digital marketing services.
At WebFX, we have over 25 years of experience creating digital marketing plans that help you reach valuable leads and earn conversions for your business. We will help you create a customized digital marketing strategy that allows you to obtain valuable leads for your business.
If you're ready to start obtaining valuable leads and conversions for your business, invest in digital marketing today. Contact us online or call us today at 888-601-5359 to speak with a strategist to find out what digital marketing strategies are right for your business.
Earn a 20% greater ROI with WebFX