As the industry continues to grow, you need a comprehensive digital marketing strategy to stand out from the competition and attract new customers. Pay-per-click (PPC) advertising can be an integral part of your renewable energy marketing strategy to help you increase leads and sales.
In this post, we'll discuss how PPC advertising for renewable energy works, list some top benefits of PPC renewable energy ads, and give you five tips for making the most of your renewable energy advertising campaign.
At WebFX, we've managed more than 650 client PPC campaigns and generated $3 billion in revenue for our clients over the last five years through our work in various areas of digital marketing. Contact us to learn more about our PPC management services and other digital marketing services.
What is PPC advertising?
PPC, or pay-per-click, advertising is a digital marketing strategy that involves placing ads on search engines, websites, and social media sites.
If you've used Google, you've probably seen PPC ads. Here's what they look like:

To launch a PPC campaign in Google Ads and similar platforms, you bid on keyphrases that are related to your business and that your potential customers search.
For example, for a renewable energy advertisement, you might bid on terms like "best renewable energy provider in (your location)" or "how to choose solar panels."
When a user conducts a search, Google runs an auction to determine which ads to show. It considers factors such as each advertiser's bid, the quality of each ad, and the relevance of each ad to the search. The whole auction process takes place in just milliseconds.
If your ad is displayed, you will only pay when someone clicks on your ad. When someone has an interest in your ad and clicks on it, it will take them to a landing page on your site where they can find more information.
Hear What It's Like to Work With WebFX!

"We transitioned to WebFX last year and have been extremely pleased with the level of transparency into the processes and the response time to any questions we have. Our account manager does a great job at keep our team informed and talking through our strategy for growth on our website."
Energy Provider
4 benefits of PPC ads for renewable energy companies
Why choose PPC as part of your renewable energy marketing plan? Here are some of the top benefits of PPC advertising for renewable energy.
1. It's cost-effective
With PPC, you set your bid amount and maximum budget, and you only pay when someone clicks on your ad. This setup means you can adjust your spending as needed, and you only pay when there's a chance of someone converting.
While spending more does increase your chances of success, you have control over your budget, and you won't spend money on people who see your ad but don't click on it.
PPC also has an excellent return on investment (ROI). The average is $2 for every $1 spent.
2. It can quickly improve your visibility
Digital marketing strategies like search engine optimization (SEO) are important, but it can take some time to rise to the top of search results.
With PPC, however, you can get there almost immediately. PPC ads display above the top organic search results, which gives you immediate increased visibility.
3. You can monitor and change your ads
PPC platforms like Google Ads provide you with data about how your ads are performing.
Some key metrics to track include impressions, click-through rate, quality score, and conversion rate. You can use this information to adjust your ads and maximize your ROI.
It's also easy to test different versions of ads to see which perform best.
4. It attracts qualified leads
High-intent searches are searches that users make when they're close to making a purchase decision. Users performing these kinds of searches tend to click on PPC ads. In fact, 65% of all high-intent searches lead to an ad click.
So, if you want to capture leads who are close to converting, PPC renewable energy ads are a smart strategy
6 PPC tips for renewable energy advertising campaigns
The right PPC advertising strategy can bring qualified leads to your site and help you gain new customers. Want to make the most of your renewable energy ads? Check out these tips!
1. Target specific locations
If your renewable energy company focuses on customers in your local area, include location-related keywords in the terms you bid on.
As a local solar panel installer, for instance, you could target keywords like "solar panel installers in (your location)."
More specific location-based keywords are often less expensive. Plus, they enable you to target a more precise audience.
2. Include clear calls to action (CTAs)
A CTA encourages users to take a specific action, such as making a purchase or scheduling a consultation.
Have a well-defined goal for what you want users to do when they click on your ad, and make sure you clearly communicate the desired action. Make your CTA short, descriptive, and action-oriented.
For example, you might say, "Switch to renewable energy today!" or "Get a quote now!"
3. Optimize your landing pages
In addition to your renewable energy ads, you'll also want to optimize your landing pages. While your ad gets users to your website, your landing page is what gets them to convert.
Your landing page should be tailored to the content of your ad. So, for example, if your ad focused on solar panel installation services, your landing page should as well.
Also, make sure your landing page loads quickly, since 83% of people expect websites to load in three seconds or less. You can test your page's load speed and gets tips for improving it with Google's Page Speed Insights tool.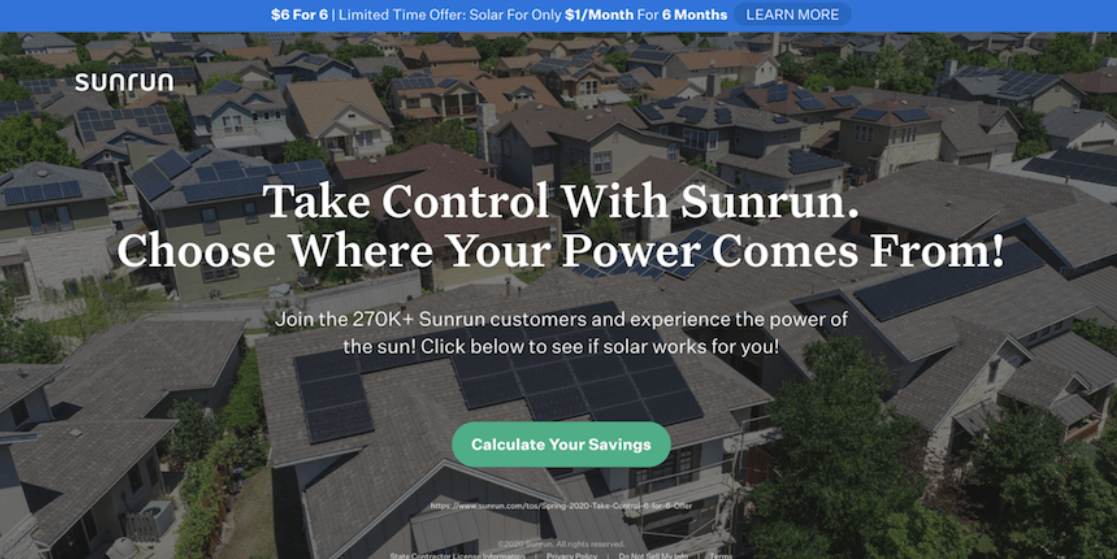 Your page should also be well-organized and easy for users to scan. Include a title that tells people what the page is about, headers to point out important information, high-quality visuals, and a clear CTA. Avoid large blocks of text and make sure the page doesn't look crowded.
You can also conduct A/B testing to see which buttons, copy, and images lead to the most conversions.
Here's an example of a landing page from Sunrun. It includes short, to-the-point copy, visuals, and a clear CTA.
4. Use remarketing
Many of your leads won't convert the first time they visit your website. Choosing an energy option is a relatively large and complex purchase decision, so it may take people some time to make a choice.
Someone may visit your website, for example, and browse your page about energy options. They may come back a week later and look at pricing information. Then, a few days later, they might return to your website and request a quote.
To account for this long buyer's journey, use remarketing in your PPC strategy.
Remarketing involves targeting users who have already visited your website and encouraging them to come back and complete the next step in the conversion process. That next step may be signing up for an email list, requesting a quote, making a purchase, or another type of conversion.
PPC remarketing ads enable you to recapture leads who viewed your site but didn't convert, and turn potential lost leads into new customers.
5. Monitor and adjust your campaigns
One benefit of PPC for renewable energy is that you get lots of data about how your campaigns perform.
To get the most out of your campaigns, monitor this data closely to see what's working well and what isn't. If a certain ad isn't performing up to your expectations, you can adjust to try to improve its performance.
You can also use the information you track on your current campaign to maximize the success of your future campaigns.
6. Consider hiring a professional PPC management company
Maximizing the results of a PPC campaign requires specialized knowledge and lots of time, especially since you need to monitor and adjust your ads constantly.
The fastest way to create a successful PPC campaign is to work with a professional PPC management company.
Because they already have the necessary skills and knowledge, an experienced PPC management firm like WebFX can audit an existing campaign or create a new PPC strategy for your renewable energy company that gets results quickly.
When you work with a PPC management company, you'll save time you would have otherwise spent learning PPC, creating your campaign, and monitoring your ads' performance.
If you choose a high-quality company, you can also be confident that you'll get world-class results — with much less effort than if you went it alone.
Good agencies have more than 50 testimonials.
Great agencies have more than 100 testimonials.
WebFX has over 1000+ glowing client testimonials.
See What Makes Us Stand out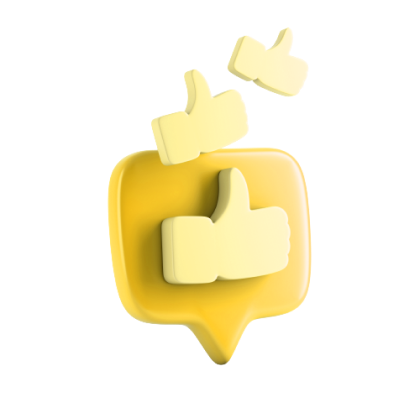 Drive revenue with PPC for renewable energy companies
At WebFX, our team of more than 500+ digital marketing experts can help you create a PPC campaign that drives results. As a Google Premier Partner, you can count on us to help you drive more leads and sales for your renewable energy company.
To learn more about our PPC management services, contact us online or at 888-601-5359 today!
Earn a 20% greater ROI with WebFX