What is Google Analytics? Google Analytics Definition, Uses, Benefits, and More
Launched in 2005, Google Analytics quickly made its mark as the most popular web analytics tool in the world.
Now over a decade old, the popular tool has become known for its cutting-edge website analytics and its ability to help website owners understand things about their websites that they once only dreamed of knowing.
On this page, we'll talk about what Google Analytics is, how it works, and how it can help you earn the highest possible ROI for your business!
If you want to talk to a marketing specialist about a Google Analytics campaign before reading on, you can reach us at 888-601-5359.
Interested in Google Analytics Consulting?
Google Analytics definition: What is Google Analytics?
Google Analytics is a web analytics tool you can use to track and analyze the performance of your website or app. Through Google Analytics, you can access a wide range of data and reports on website traffic and website visitor behavior. The platform is available to anyone with a Google account, and there are both paid and free versions.
Related: What Is Google Analytics 4
What is Google Analytics used for?
After knowing the Google Analytics explanation, you'll understand that it tracks a wide range of data about your website and site visitors. This data includes:
How users arrive on your website
How users interact with your website content
The characteristics of your website's audience
How many of your website visitors convert
and much more
You can use the reports within Google Analytics to accomplish things such as:
Evaluating the performance of your marketing campaigns
Determining how your pages are performing and how to optimize your pages
Deciding who you should target your content and marketing to
Tracking conversions and purchases
How does Google Analytics work?
The main Google Analytics purpose is to track your website using and you need to add a snippet of JavaScript code to your website's pages.
When a user visits a page with this code snippet, the code uses a JavaScript file to begin tracking data and send it to Google Analytics.
Once Google Analytics has collected enough data from your site, the data will populate the reports within GA.
Who can benefit from Google Analytics?
Google Analytics meaning becomes evident when you think about how it's used. Since Google Analytics is used to track search engine optimization (SEO), pay-per-click (PPC), and other marketing efforts, it is the most beneficial to companies with an online presence that want to track their marketing campaigns.
With Google Analytics, you'll be able to glean important information about your audience, visitor behavior on your site, traffic patterns, and more. Plus, you can access and analyze data fast with Google Analytics' data sampling feature.
Whether you opt for the free or paid version, you can gain fantastic insight into how your customers interact with your website. All you have to do is set up Google Analytics to get started.
Why is Google Analytics beneficial?
Let's go beyond what Google Analytics is and talk about why it matters.
In order to understand why Google Analytics is so beneficial, it's important to initially define Google Analytics and have a baseline understanding of what it helps to track.
Earlier, we mentioned that the platform helps website owners track the success of their SEO, PPC and other internet marketing campaigns. But what are SEO and PPC?
SEO refers to a mixed bag of marketing techniques that are used to improve your website. Those improvements help your website rank higher in search engine results pages, which means they will attract more traffic.
SEO campaigns focus on targeting important keywords that your audience consistently searches for, creating informational content to target those keywords, making a user-friendly website, and more.
PPC is a paid advertising platform that you can also track with Google Analytics.
It works on a bidding system where business owners select and bid on keywords to earn top, paid advertising spots in a search engine's sponsored links. The best thing about PPC is that advertisers only pay when people click their ads.
With all that said, you can see how it may be difficult to understand the results driven from these strategies without some sort of tracking platform.
That's the exact reason Google Analytics is so beneficial.
5 incredible benefits Google Analytics provides
Google Analytics is a Swiss army knife when it comes to its capabilities — they're almost endless.
This wide range of capabilities provides numerous benefits for businesses. Here are five of the most important ones when it comes to the Google Analytics purpose.
1. Access to real-time data
One of the first tabs in Google Analytics is the "real-time" tab. This tab allows you to see real-time information regarding your website.
It includes a digital read of how many individuals are on your website at any given second, how many of those users are viewing your website on a desktop, and how many are viewing it on mobile.
You'll also be able to see how many website pageviews happen per minute and per second, top referring websites (websites that mention your website), top active pages, and top locations where your website is viewed.

That real-time information can also be broken down into locations, traffic sources, content, and more.
In the locations tab, you'll be able to see what percentage of website users are viewing your website from any given location around the world.
In the traffic sources tab, you'll be able to see where your traffic is coming from, which is extremely beneficial in understanding how your target audience surfs the web. The platform can tell you what percentage of website users are coming from search engines – also known as organic traffic – what percentage is referral traffic, traffic from paid ads, and direct traffic.
The real-time tab also breaks your data down into content, which gives real-time numbers for what content is being viewed, and conversions — what kinds of goals are currently being completed.
Website owners set their own goals, and they can be anything from a new lead or job submission to a newsletter signup.
Why is this information important?
Real-time numbers provide basic information about site traffic, and they help you understand user behavior. Things like:
Time of day that users are typically on your website
Fluctuation of users over time
Where to focus your energy — is your traffic mostly paid, referral, or organic?
How often users sign up for a newsletter, download a guide, make a conversion, or complete any other goal that you set.
2. Insights into your audience
To better understand how to serve and target your audience, it's extremely helpful to know as much information as possible about them.
That's why as mentioned in the Google Analytics explanation, it provides information like how many visitors your website has, how many sessions each user completes, how many pages users view per session, and the average session duration.
The audience tab also provides charts depicting the percentage of new vs. returning visitors to your site, and how traffic fluctuates over a specific time period.
Google Analytics also provides audience demographics to help you understand your website users even more in depth. It gives information like what percentage of visitors speaks a certain language, what country a bulk of your visitors are from, the browser they use, and even the operating system of their mobile device.

These general, surface-level demographics are certainly beneficial, but Google Analytics helps you to understand your audience even more by providing information on the lifetime value of your users, a cohort analysis, and more.
The audience tab also allows you to dive into your audience's interests, their behavior on your site (which covers things like engagement), what kind of mobile device they use, and more.
Why is this information important?
Audience analytics is more important than what meets the eye!
It helps you decide things like language to use on your site, jargon, tone, and more.
It helps you understand what time of day users are most active on your site.
It helps you understand just how important mobile-friendliness is for your website.
It helps you understand their interests and what to include more content on.
And so much more.
3. Enhanced ad management
As we mentioned before, PPC ads are a great way to drive traffic to your website, but without an Analytics platform, it's hard to track the results.
With Google Analytics, you can track and manage your Google Ads account all in one place. You'll be able to see things like the number of clicks on each ad, the cost of each campaign, the cost per click, and more.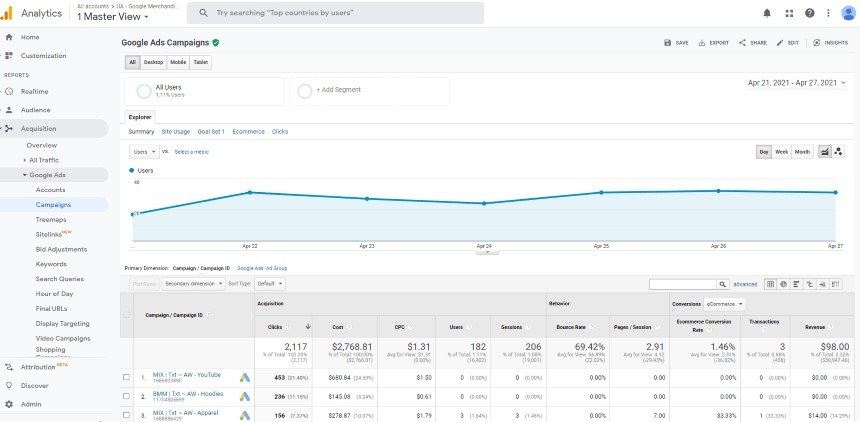 Why is this information important?
Keeping track of your PPC campaigns helps you to understand what's working, and it helps you save money in the long run.
Understand the money being spent and if it's benefiting your campaign
Understand what keywords are beneficial
Understand how often users are clicking, and what ads are working the best
Understand how users interact with landing pages
4. Improved understanding of interactions and user behavior
In the behavior tab of your Analytics platform, you'll be able to learn about all things site content.

You can see an overview of all the pages on your site, which are the most popular, and how much traffic they get over time.
You can also enter a specific URL from your website to see numbers about that page.
Some of the information provided in the behaviors tab includes sessions, new users, bounce rate, average session duration, and conversion rate of that page.
From this tab you can also see your site speed, exit page analytics (the last page a user was on before they left the site), and more.
Why is this information important?
Understanding how users interact with your site content helps you save time and effort and direct it to the correct areas of your site.
Helps determine which content is the most popular and the most beneficial
Helps determine what elements keep users on a page
Shows what pages are driving conversions
Allows you to compare a page during two different time periods to track how content changes affected your pages
5. Better tracking of goals and conversions
As we mentioned earlier, you can set goals based on whatever you consider a conversion on your website.
If you're an ecommerce site, you may consider a goal a purchase. If you're a bakery, you may consider a goal completion a quote form submission.
Whatever kind of action that you want to make a goal, can be a goal. Some other goal ideas include newsletter signups, contact form completions, guide downloads, or webinar signups.
The conversions tab in Analytics helps you to understand your goals, see how many were completed, the monetary value of your goals, and more.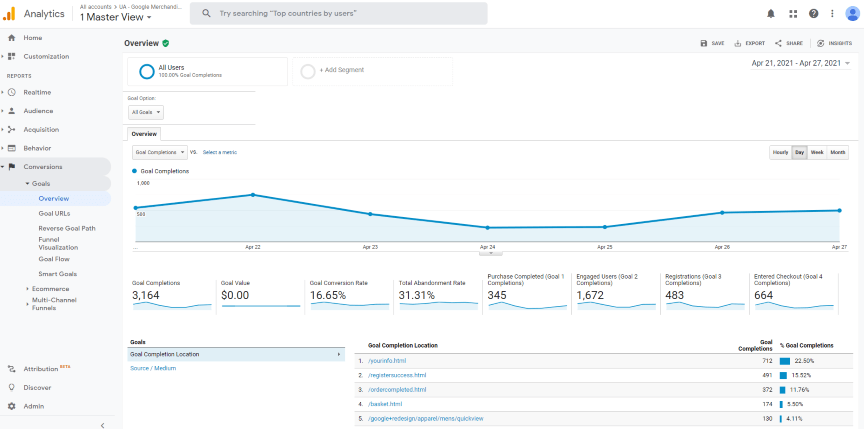 Why is this information important?
Understanding your goal completions is potentially one of the most important things to understand about any marketing campaign.
See what goals are being completed and which ones aren't, and draw conclusions about why that is.
See the overall goal value in dollars
See what pages goals were completed
Learn how we increased traffic by over 40%, and conversions by over 100% for an ecommerce client.
Read the Case Study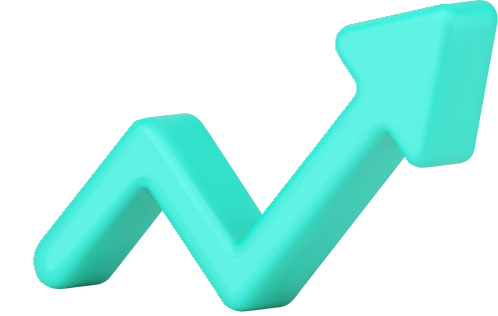 Do you need help setting up Google Analytics for your business?
Now that you know what Google Analytics is and why it's important, it's time to set up Google Analytics for your business's website.
If you want help getting the most possible value from your web analytics, WebFX has you covered.
We offer Google Analytics consulting services and can help you learn how to use Google Analytics, set it up, and get more value from your data.
As a full-service Internet marketing company, we can also create and implement custom digital marketing plans for your business. We're experts in SEO, PPC, and much more. No matter which online marketing channels you choose, we'll use web analytics to track, report on, and improve your campaigns.
To get started, request a free quote online or call us at 888-601-5359.
Earn a 20% greater ROI with WebFX