How Influencer Marketing Can Boost Your ROI
Want to expand your online reach to attract new customers, earn more revenue for your business, and boost your ROI?
Influencer marketing is a great way to promote your products or services and reach potential consumers. And working with influencers can help you reach people in your market that you may not be able to reach on your own.
On this page, we'll take a look at influencer marketing and how you can use it to boost your ROI.
Keep reading to learn more, and contact us to speak with a strategist today!
What is influencer marketing?
Influencer marketing focuses on using key figures in your industry to promote your brand, products, or services. These individuals are people who have influence over buyers, and they can encourage them to purchase certain items.
Who are influencers?

If someone asks you to name an influencer, who comes to mind? You may think that all influencers are the same type of person, but there are actually different categories of influencers.
Celebrities: These are the most well-known influencers. They are constantly promoting and endorsing products through TV and social media. Sometimes celebrity influencers aren't as effective because it is harder for consumers to relate to their lifestyles.
Social Influencers (Youtubers/Instagrammers): These are people who have created a huge following because of videos they take or photos they post. Though they sometimes get paid to endorse products, consumers still trust them. They are more authentic and relatable than celebrities.
Industry Influencers: These are significant people within your industry. They can be bloggers, social figures, or business leaders. These are people who are viewed as an authority in your field and have a following.
These are the three main types of influencers. Out of all the types, social and industry influencers are the most trusted. Why is that?
Consumers are less trustworthy of celebrities because they are aware that the celebrities are being paid to say something. They find it to be less authentic and forced. The celebrity is going to say good things about the product, regardless of their own personal belief.
Though influencers can also be paid to advertise a product, they tend to stick to products they actually use and enjoy. They have first-hand experience with the product, so their advertisement is more authentic. This is why 92% of consumers trust influencers over celebrities and traditional marketing.
How do people become influencers?
Influencers are usually people who create YouTube channels, blogs, or social media accounts where they share information. This information can be beauty tutorials, cooking tips, do it yourself (DIY) projects, or anything similar.
These influencers gain popularity because people like the content they post. Most influencers have thousands to millions of subscribers or followers. They have the ability to reach a wide range of people that check out their content. This applies to social and industry influencers.

Why is influencer marketing so effective?
Three words: word of mouth.
You've probably asked a family member or friend their opinion about a product. If they gave you a negative review, you probably passed on the product. If they gave a glowing review, you may have felt more confident about making the purchase.
Word of mouth is a primary factor behind purchasing, with countless statistics to prove it. Twenty to fifty percent of all purchases are influenced by word of mouth. People rely on word of mouth more when they are buying a product for the first time or spending a lot of money on a product.
Studies show that word of mouth advertising generates double the amount of sales of paid advertising. Consumers are more likely to trust someone giving an authentic review of a product rather than a paid advertisement.
Influencers are so effective because they practice word of mouth. Influencers are everyday, average people that share their opinion about products. This has the same impact on people as asking a family member or friend. That's why thirty percent of consumers are more likely to buy a product recommended by an influencer.
There is always the chance that a family member or friend may not have experience with the product. Influencers can fulfill this need to know about a product.
Benefits of influencer marketing
Influencer marketing is very effective and carries great benefits.
More leads and conversions: When influencers talk about your business, they're giving an endorsement. This signals to their followers that you are a quality business. It leads more people to check out your website and gives you the opportunity to nurture these leads into sales.
Increased brand recognition: People become aware of your brand because influencers are putting you at the front of the stage. Influencers put you in front of a new audience, which means you get more qualified traffic and better potential consumers.
More credibility: Influencers are vouching for the quality of your business. Since the influencers are already trusted, they get their audience to trust you. It shows consumers that you are a credible business because a trusted influencer is recommending your business.
These are just some of the benefits you will receive from using influencer marketing. The most important benefit out of all of them is the return on investment (ROI).
Learn How to Find Instagram Influencers
How influencers boost your ROI
If you decide to use influencer marketing to promote your brand, you will reap some great benefits. Influencers produce a great ROI for your business.
For every $1 invested in influencer marketing, your business can generate $6.50 in return. This means your ROI can be 650% or more. The investment is well worth the profit you receive.
Influencers can reach thousands of people, including people that are in your target market. As the number of views/viewers increases, your sales will increase.
Influencers are fundamental to boosting sales. Twitter and Annalect, an analytics firm, conducted a study about the strength of influencers. They found that 40% of respondents purchase an item online after watching an influencer use it.
The ROI for influencer marketing compared to other digital methods is what makes it stand out the most. Influencer marketing has an ROI 11x higher than other digital media.
WebFX is a partner businesses trust.
Hear from HydroWorx, who saw a 236% increase in organic sessions with WebFX services.
Watch the Video Testimonial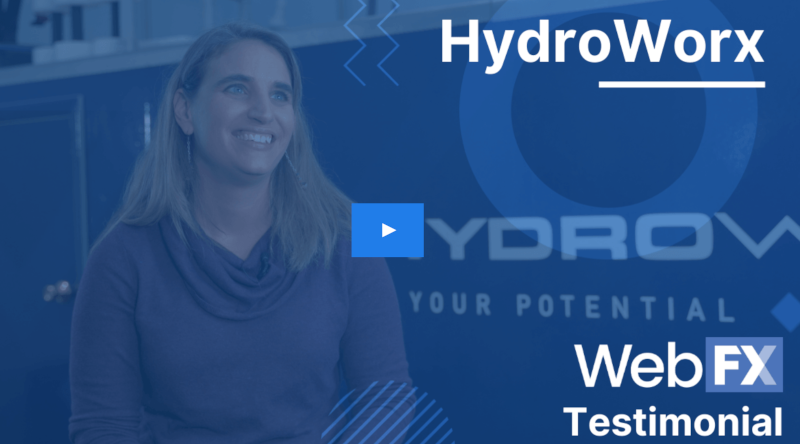 How to measure ROI from influencers
One of the challenges with influencer marketing is trying to measure how much traffic and how many sales come from the influencer. There are a few ways to effectively measure your ROI from influencers.
1. Set goals
If you want to see if influencers are helping your sales, you'll want to set goals. You need to know what you are trying to achieve before you enlist the help of an influencer. You can set goals such as:
Increase sales by $5,000 a month
Increase Twitter followers by 20%
Expose 2,000 consumers to your product
You want your goals to be achievable. It's important to set goals, so you can accurately measure the effectiveness of your influencer marketing.
2. Provide promo codes
When you're working with an influencer, you can provide them with a promo code. They can use this promo code and put it on their video, blog, or whichever medium they use. When user engage with the influencers, they can use this code on your site.
When they use the code, you will know that they came from the influencer. This is a great way to measure how effective your influencers are on your sales.
3. Hashtags
Hashtags are a very effective way to measure engagement on social media. Influencers can use hashtags in their posts and encourage viewers to use the hashtags as well.
On sites like Instagram, you can see how many people use that hashtag. It can help you get an idea of how many people purchased your product because of the influencer.
4. Use tracking pixels
Tracking pixels make it easier for you to see where your traffic comes from. Influencers can put this tracking pixel on their site. When someone is on their page and ends up visiting your page, the tracking pixel helps you see where they come from.
Tracking pixels help you see if people are coming from your influencer site. This will help you measure your ROI better.
WebFX is a top influencer marketing company
At WebFX, we know how effective influencer marketing can be for your business. We offer numerous packages to help you get the most out of your money.
Our influencer marketing packages offer social amplification on Facebook, Twitter, Instagram, and Pinterest to help promote your content. We track your conversions and traffic from influencer referrals, so you know the effectiveness of your influencers.
The best part? We do it all for you. You can take care of your business while we work on getting you more valuable leads with influencer marketing.
Ready to start using influencer marketing?
If you're ready to start using influencer marketing, our team of 500+ experts can help you begin creating your ideal plan.
Contact us today to speak with a strategist!