Business Advice

Startup Marketing: 6 Ways To Earn Web Traffic On A $0 Budget
Startup Marketing: 6 Ways To Earn Web Traffic On A $0 Budget
8 minute read
The WebFX team is made up of more than 450 subject matter experts in digital marketing, SEO, web design and web development, social media, and more. Together, they've helped WebFX's clients earn more than $3 billion in revenue from the web — and that's just in the past five years. @webfx
Ahh, the plight of the startup entrepreneur. You had a great idea and created your own business, but now you have no funding left to advertise for your website. And with studies estimating the average cost of creating a startup at something to the tune of $30,000, it's no wonder your piggybank is a little low right now.
Thankfully, there are plenty of ways you can get more visitors to your website without paying a dime.
Here are a few of my favorite ways to get traffic to your site on a $0 budget:
1. Entice Customers with Social Media
If you've been reading our other blog posts, you've probably noticed that we love social media. Here's why – through the completely free social networking accounts of Facebook, Twitter, StumbleUpon, and Pinterest, you can expand your online connections, get noticed with great content, and get other people to share links to your website. It's the web traffic trifecta!
Take Pinterest for example.
If your startup is really photogenic or visual, you definitely want to make use of this social site. Snap some pictures of the most aesthically-pleasing features of your startup and pin them to your account. If other users are intrigued by your pictures, they can favorite them, repin them, or even click right on them to go to your site.
The addictive properties of Pinterest can keep users repining for hours (trust me, I know). Set the right eye-candy to lure in potential customers and you're bound to increase the traffic coming to your website.
Even if you don't have a visual product, photos of your awesome workspace and team can be great for Pinterest! Find something that's visual and likeable about your company.
For example, we created a Pinterest board entirely out of pins from Wall Written, a wall decal company.
It's very visual and interesting, and several people liked or shared each of these pins within minutes of me creating the board.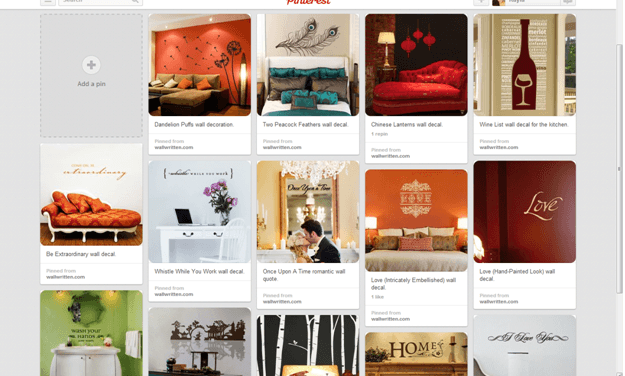 If your startup isn't the most photogenic business, that's okay too. There are endless possibilities when it comes to using Pinterest and other social sites. Related topics and industries are good places to turn to if you find yourself struggling to get shares on Facebook and Twitter.
2. Reach Out as a Guest Speaker
Surprisingly enough, you can still drive traffic to you website through offline mediums. One great way to do this is to reach out to local organizations and institutions and offer to speak at their events.
I personally favor the college/university approach. Universities are always looking for events relevant to their students' interests, and many state universities accept guest speakers without charging them a fee.
As the proud owner of your own startup, you're already guaranteed to have something to offer business and marketing majors.
Contact the local university's business department and offer to give their students some tips or advice on creating their own startups. By casually promoting your own startup and website at the event you can generate more traffic online, while also establishing yourself as an expert in your field.
Another option is writing a column for a local newspaper or business journal. This can make you a trusted expert in your field and result in people seeking you out online.
3. Create a Survey/Interview
Think about your customer base and create a few questions that would interest them. SurveyMonkey is an easy-to-use survey creation website that lets you make all kinds surveys for free. If you don't like SurveyMonkey, there are plenty of other free survey tools.
You can create multiple choice or open-ended questions and then share your surveys on Facebook. SurveyMonkey even offers a Facebook app to help you easily embed surveys on your Facebook page.
Say your startup is involved in the landscaping industry. Create a survey asking what kinds of pests people find in their yard or what kinds of destruction their lawn has survived in the past.
People love to talk about their quirky life experiences and will be more inclined to interact with your website if you pose questions to which they want to contribute.
You can turn these surveys into long-form pieces of content full of customer stories and anecdotes. If you want to target your content more specifically, you can reach out and interview a single person. Leverage your existing business relationships and personal contacts.
Interviewing thought leaders on your blog will help add trust and bring people to your site. Think about all of the interesting people that you know and the potential that an interview series could have.
4. Host a Contest
People love a chance to win something, even if that something is simply a title. Start a contest on your Facebook or Twitter page and get more people to interact with your website. Photo contests are a great way to engage potential customers since nowadays nearly everyone travels with a smartphone in his or her pocket.
If you're in the interior design industry, start a Best Room in Your House photo contest.
If your startup pertains to the restaurant industry, start a contest for people to submit their favorite homemade recipes, offering to adopt the winner's and name it after him.
Contests can drive a lot of free traffic to your website while simultaneously providing you with new content and ideas.
Take a look at Havahart's Fan of the Month contest. While Havahart does offer monetary prizes for this contest, they also offer the winner a month-long title in addition to some of the company's products. By simply employing these latter two strategies, you'll gain interaction on your social media pages as well as your website.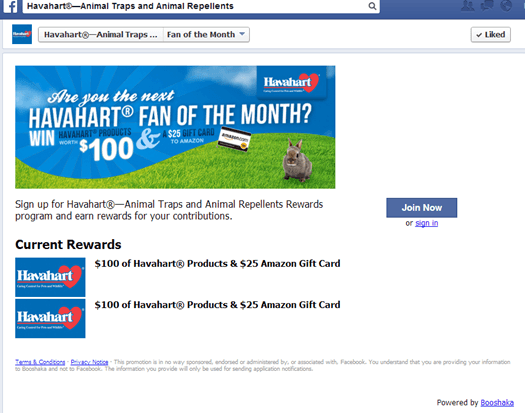 If you are really strapped for cash, you don't have to give away money, gift cards or products.
Give away your knowledge. Have a contest for free consulting, web design or a coffee meeting. You may have other byproducts that you aren't using that you can giveaway too (tools, software, videos, books, etc).
5. Create a Podcast
Recording a monthly podcast is a great way to position yourself as a knowledgeable member of your industry, while also driving more traffic to your website. Studies have shown that awareness of podcasts has jumped 105% since 2006, with 45% of Americans being podcast-aware in 2012.
Podcasts can drive traffic for any company or business. Take a look at this podcast about the construction industry.
Created by Remontech, a company that installs cameras and other monitoring devices in construction sites, the Construction Industry Podcast currently features 45 episodes of advice, interviews and discussions about the construction industry.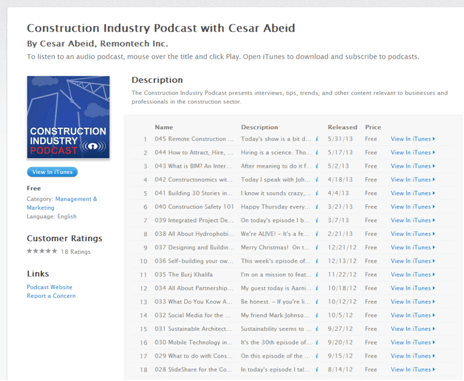 Think of the industry areas you enjoy most or are particularly knowledgeable about and offer listeners some inside advice on these subjects. You can also set up interviews with other industry experts to bring a range of perspectives to your startup's podcast. Free podcasting sites like Podbean are great for first-time podcasters and, as always, you can share your podcast on Facebook to get more likes and website visits.
You can host the episodes, show notes and other resources on your website so that listeners are interacting with your company site.
6. Use Your Internal Resources
If you don't have the time to create a monthly podcast or speak at events, you can use resources you've already created to quickly and easily create traffic-driving content. Take a look at the internal resources your startup has already created and think about how you could offer them to potential customers in an appealing way.
Company documents, training guides and instructional videos can all be transformed into useful customer resources. Your internal byproducts can become helpful and informative eBooks, and instructional videos can easily be turned into customer-oriented YouTube content.
The content you create will generate more website traffic without taking up much time.
For example, if you have a blog devoted to your startup, its creation, or its industry, you can easily compile your old blog posts into a book or eBook to drive more traffic to your website. Freemium versions of online publishing sites like Lulu and Booktango allow you to easily create eBooks out of blog posts and other internal documents.
Storyful, an information-gathering website that blurs the lines of news and social media, converted 6 months of old blog posts into their eBook, Social Newsgathering. The eBook is available for free on iTunes.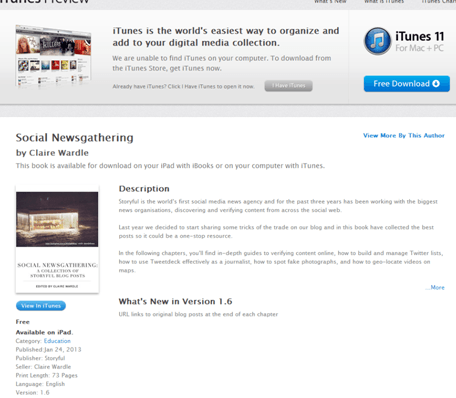 Driving traffic to your website can make or break the success of your startup.
Fortunately, these tips will help you get the traffic you need without costing you a penny.
Do you have another idea for getting free web traffic? Let us know in the comments section!
The WebFX team is made up of more than 450 subject matter experts in digital marketing, SEO, web design and web development, social media, and more. Together, they've helped WebFX's clients earn more than $3 billion in revenue from the web — and that's just in the past five years.

@webfx

WebFX is a full-service marketing agency with 1000+ client reviews and a 4.9-star rating on Clutch! Find out how our expert team and revenue-accelerating tech can drive results for you! Learn more
Try our free Marketing Calculator
Craft a tailored online marketing strategy! Utilize our free Internet marketing calculator for a custom plan based on your location, reach, timeframe, and budget.
Plan Your Marketing Budget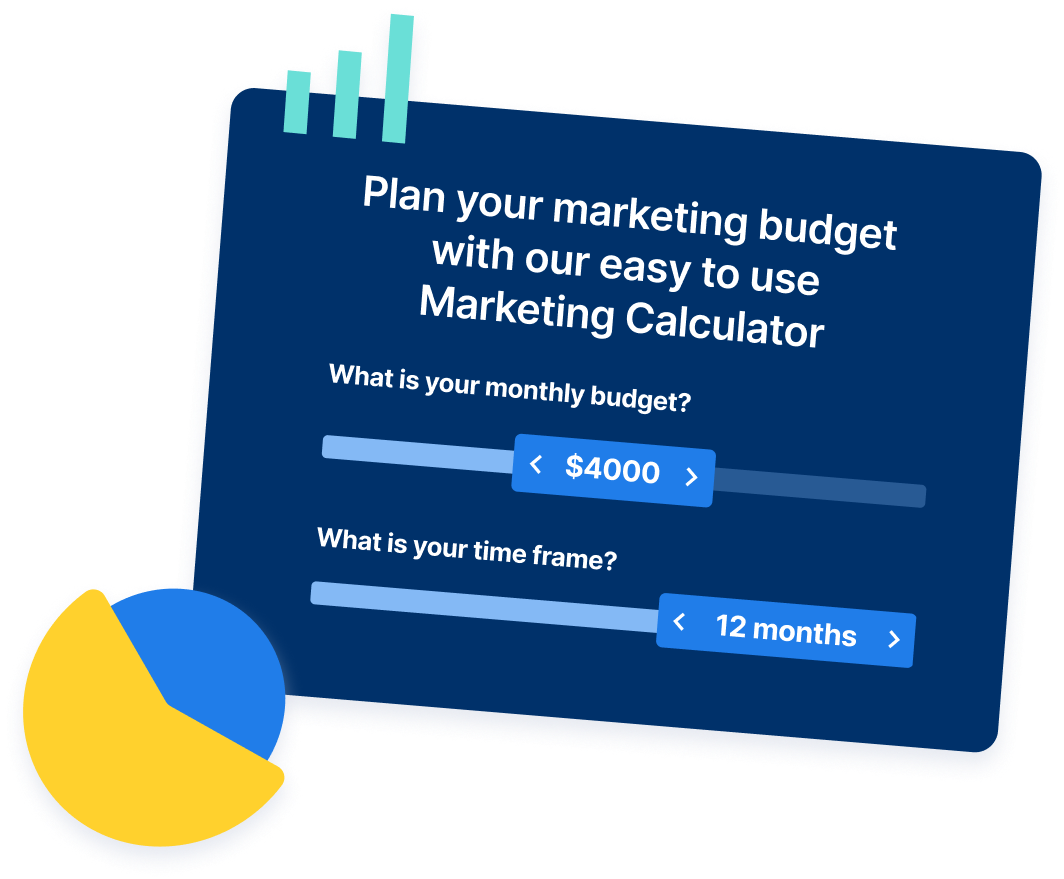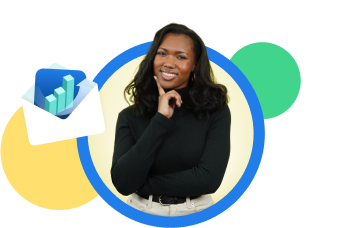 Looking for More?
Get expert ideas, industry updates, case studies, and more straight to your inbox to help you level up and get ahead.
"*" indicates required fields
Try our free Marketing Calculator
Craft a tailored online marketing strategy! Utilize our free Internet marketing calculator for a custom plan based on your location, reach, timeframe, and budget.
Plan Your Marketing Budget