According to Bill Price, former Global VP of Customer Service at Amazon, "Smart companies have realized that customer loyalty is the most powerful sales and marketing tool that they have." Wondering how you can create more loyal customers? You came to the right place. In this post, we'll look at why customer loyalty is so important, as well as seven tips to help you foster customer loyalty.
Let's get to it!
Why is customer loyalty important?
First, we need to start with the basics. Why does customer loyalty matter in the first place? According to Our Social Times, 70% of companies say it's cheaper to retain a customer than acquire a new one.
Many companies spend lots of time and money on recruiting new leads. While this is important, it's also crucial to focus on retaining existing customers. In reality, keeping a current customer is five to ten times less expensive than acquiring a new one.
That's huge. Focusing on customer loyalty can help you make the most of your marketing budget and ultimately earn more revenue for your business. And who doesn't want loyal, happy customers?
Top 7 customer loyalty tips (and a video)
Now that you know why customer loyalty is so important for your business, let's dive into seven tips for earning more loyal customers.
1. Prioritize customer service
If you want to earn more loyal customers, providing great customer service is extremely important. In fact, 90% of Americans are willing to spend more money if they believe a company provides excellent customer service. This should go without saying, but if you want your customers to stick around, you need to provide excellent customer service and strive to ensure every interaction they have with your company is positive.
In today's digital age, many customers take to social media to voice their concerns, ask questions, and connect directly with companies. An estimated 67% of consumers have used social media for customer service. It's important for you to respond quickly and work to find solutions to any issues that may arise.
Remaining attentive to your customers and providing great customer service can help you create more loyal customers. One of my all-time favorite customer service examples comes from Morton's Steakhouse. While waiting at the Tampa airport, author and entrepreneur Peter Shankman jokingly tweeted at Morton's asking them to meet him at the Newark airport with a porterhouse.

Much to his surprise, Shankman was greeted at the Newark airport by a Morton's server, 24 oz. Porterhouse steak in hand — for free. Customer service this well-done is rare (Okay I'm done with the steak puns now).
While this example is certainly an impressive customer service feat, you don't have to go to this extreme to wow your customers. Feel free to put your own spin on the strategy, and let your customers know how much you value them.
2. Don't just sell
Instead of forcing the sale, focus on providing current and potential customers with valuable information that will help them accomplish their goals. At WebFX, we send email newsletters with tips for helping our subscribers get more from their digital marketing. The other day, we received this reply:

People receive countless emails and encounter hundreds of marketing messages every single day.
Instead of bombarding them with more sales pitches, try providing them with valuable information that helps their businesses. Then, when they are ready to make a purchase decision they will be more likely to choose your company. This can go a long way toward setting you up for customer loyalty success.
When you genuinely care about your customers, they will be more likely to become repeat customers.
3. Keep in touch via email
Email marketing is a great way to keep in touch with current and potential customers and provide them with valuable, personalized info that encourages customer loyalty. For example, you can send email newsletters with the latest updates and key information in your industry. And you can follow up with customers via email after they purchase and invite them to review their experience.
This is a great way to show customers that you care about their needs and want to do everything in your power to ensure they have a great experience with your company. You can also use email to send coupons or special offers that incentivize repeat purchases.
4. Personalize your marketing
According to Campaign Monitor, 74% of marketers say personalization improves customer engagement. And more engaged customers are more likely to remain loyal to your company. Personalizing your marketing doesn't have to be complicated.
Start off by addressing your customers by name. This seems like a no-brainer, but it can go a long way toward establishing customer loyalty. To take it a step further, you can use personalization to send emails based on a customer's behavior on your site or purchase history.
You can also set up automated emails to send when customers take certain actions, like making a purchase or reaching the next level of a rewards program. With its custom product recommendations and email reminders, Amazon is a personalization pro with a trove of loyal customers.
5. Streamline the buying process
If you want more repeat customers, you need to make it easy for them to purchase your products. This is extremely important if you run an ecommerce business since an average of 69% of customers abandon their online shopping carts before purchasing. To streamline your buying process, consider adding a guest checkout option so people don't have to create an account, which can sometimes deter them from going through with their purchase.
You'll also want to make sure that your site is trustworthy and free of errors that deter people from buying. Be upfront about your return policy and offer a variety of payment methods. Pay close attention to pain points in your customers' purchase process and make necessary tweaks to make their checkout process easier and faster.
6. Create a loyalty program
If you want to encourage repeat purchases, consider implementing a customer loyalty program. This can look different depending on your business and industry, but the basics of a customer loyalty program remain the same. You offer people incentives or special rewards for repeat purchases.
When it comes to loyalty programs, don't be afraid to think outside the box. Customer loyalty programs don't have to take the form of punch cards. For example, you can use a tier system to provide different reward levels over time.
You can also gamify your loyalty programs and offer customers the chance to enter a contest or win prizes for purchasing.
Think strategically, though. You want to offer prizes that your customers actually want. People love custom rewards, so you might consider letting customers choose from a number of rewards that correspond to their loyalty status.
For example, Sheetz lets loyalty members choose rewards from gas savings, birthday deals, the chance to try new items, and more. And Sheetz regulars can work their way from "Fan" to "Freak" status on the rewards scale. Both my dad and brother hold their Sheetz Freak status as a badge of honor.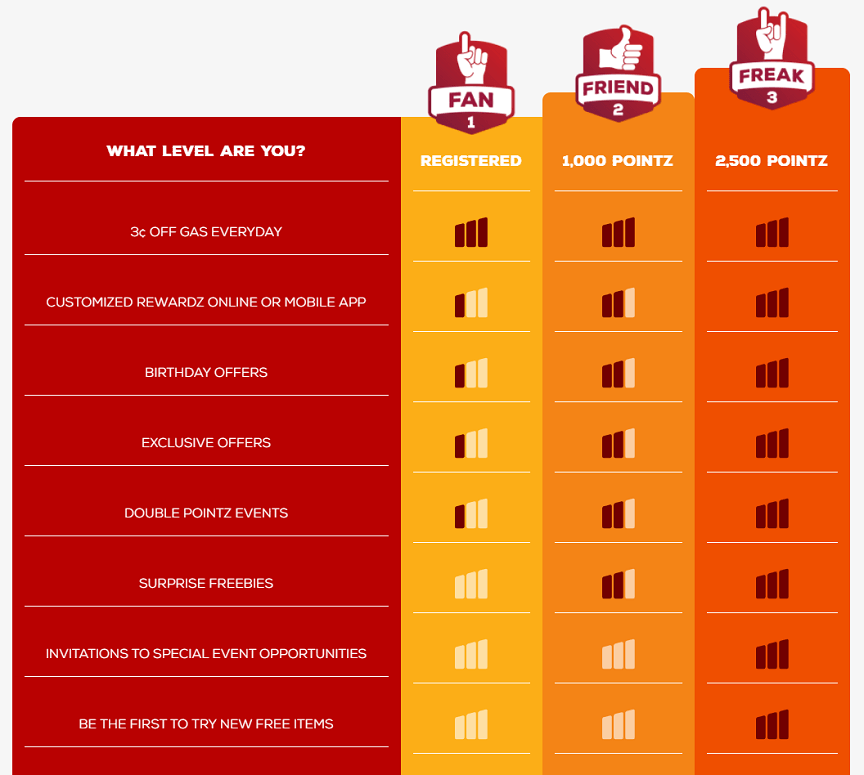 The customer loyalty program opportunities are endless. So feel free to get creative and think about what will best motivate and resonate with your customers.
7. Ask customers for reviews
Since 88% of people read reviews to determine the quality of a business, it's extremely important to feature reviews on your website, social media, and other online channels. Whether you receive positive or negative reviews, don't forget to take the time to respond to your customers, thank them for reviewing your company, and work to ensure they have a positive experience. If someone calls you out for something, take the opportunity to go above and beyond to make it right.
And don't worry. If managing and responding to online reviews sounds like a daunting task, WebFX is here to help with our easy-to-use review management services. Make it easy for customers to review your products and their experience with your company after purchasing.
Featuring product reviews and ratings on your site adds an element of social proof, and positive reviews can encourage repeat purchases.
WebFX Careers
Join our mission to provide industry-leading digital marketing services to businesses around the globe - all while building your personal knowledge and growing as an individual.