Did you know that more than 84% of consumers say that they are more likely to stick with a brand that offers customer loyalty programs? With a stat like that, it could be time to launch your own loyalty program to keep your customers coming back.
On this page, we'll go over some of the best examples of customer loyalty programs that you can copy and get inspiration from for your own campaign. So, just keep reading to learn more!
Bonus: Want even more tips to create happy, loyal customers? Sign up for our newsletter Revenue Weekly! Our subscribers get the latest customer acquisition and brand loyalty advice sent straight to their inbox for free!
What are customer loyalty programs?
Customer loyalty programs are a customer retention strategy that involves rewarding customers who repeatedly interact with your brand. They encourage customers to continue buying from you instead of going to a competitor. The more customers interact and buy from your business, the more rewards they earn.
Types of customer loyalty programs to copy for your campaign
There are a variety of customer loyalty programs you can implement for your business to create more happy, loyal customers. If you're looking for some inspiration for your customer retention strategy, we've got you covered.
Here are some of the best customer loyalty programs with examples to copy for your business:
1. Point-based customer loyalty programs
One of the most popular types of customer loyalty programs are point-based programs. With point-based loyalty programs, customers can accumulate points and then redeem them for prizes, such as free products, cashback, and other perks.
Customers can earn points by:
Point-based programs are a great way not only to create loyal customers, but also encourage more sales for your business as customers aim to acquire enough points for their next prize.
2. Tiered customer loyalty programs
Next on our list of examples of customer loyalty programs is tiered programs. Tiered loyalty programs enable customers to get a variety of benefits depending on their rank or tier in the program.
You can create tiers based on points, sales, engagement, shares on social media, and much more. The higher the tier, the better rewards and prizes the customer can receive.
With tiered loyalty programs, you can give your customers a goal to work towards. If your customers want better exclusive deals and rewards, they'll be more inclined to continue to shop with your business to achieve their goal of reaching the highest tier.
3. Paid customer loyalty programs
Paid loyalty programs, also known as fee-based loyalty programs, require customers to sign up and pay a participation fee to enjoy exclusive deals, benefits, and other perks from your business.
With paid loyalty programs, you can offer your customers a more personalized experience with benefits that only members can enjoy. For example, you can offer your members exclusive deals like free delivery or hefty discounts on your products and services.
When you offer significant benefits for joining your loyalty program, you can encourage more customers to sign up and make more purchases, boosting sales and revenue for your business in the process.
5 best customer loyalty program examples for inspiration
Are you searching for the best customer loyalty program examples to inspire your campaign? We've got you covered!
Check out our five favorite examples of customer loyalty programs below:
1. Starbucks
Starbucks offers one of the best point-based customer loyalty programs for their patrons with Starbucks Rewards. With Starbucks Rewards, customers can earn points, or in this case stars, when they make a purchase.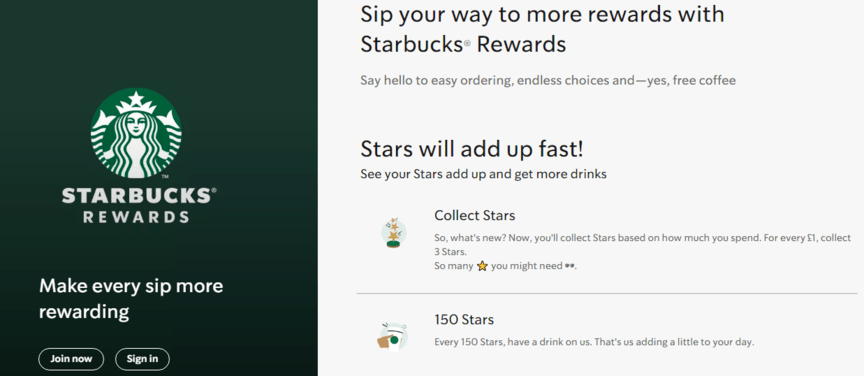 In this points-base customer loyalty program example, once a customer has collected 150 points, they can get a free drink of their choice. Plus, customers can even get a free drink on their birthday. The points also expire after a certain amount of time, which encourages customers to make purchases more frequently so they can get bigger rewards before their points expire.
With a loyalty program like this, you can drive more sales for your company as your customers strive to make more purchases to collect enough points for their next freebie or perk.
2. Sheetz
Sheetz, the gas station giant, put together an excellent tiered loyalty program that keeps their customers coming back for more. Sheetz offers three tiers for their customers to strive to achieve: "fan", "friend", and "freak".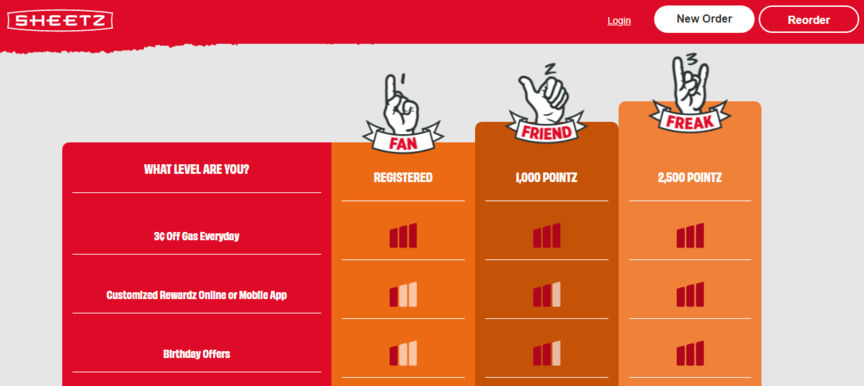 Customers can collect points as they make purchases, and once they collect 2,500 points they'll reach the top tier and have access to a variety of awards, such as surprise freebies and invitations to special event opportunities.
Offering loyalty rewards like this tiered-loyalty program example from Sheetz is the perfect way to reward your customers for shopping with your brand over a competitor and encourage them to make many more purchases in the future.
3. Amazon Prime
Next on our list is one of the best paid customer loyalty program examples from Amazon Prime. Amazon is one of the most popular ecommerce platforms in the world. They also offer customers some of the best deals with their paid loyalty program, Amazon Prime.

With Amazon Prime, customers can pay a subscription fee each month to enjoy exclusive benefits like free delivery, movies and TV shows, music, and much more.
With a paid loyalty program like Amazon Prime, you enjoy more sales not only from customers that sign up for your program, but also from your loyal customers who continue to purchase more of your products and services.
4. McDonald's
The fast-food giant, McDonald's also offers one of the loyalty programs for their customers. With their McCafe awards, customers can earn a free hot drink after they buy five drinks.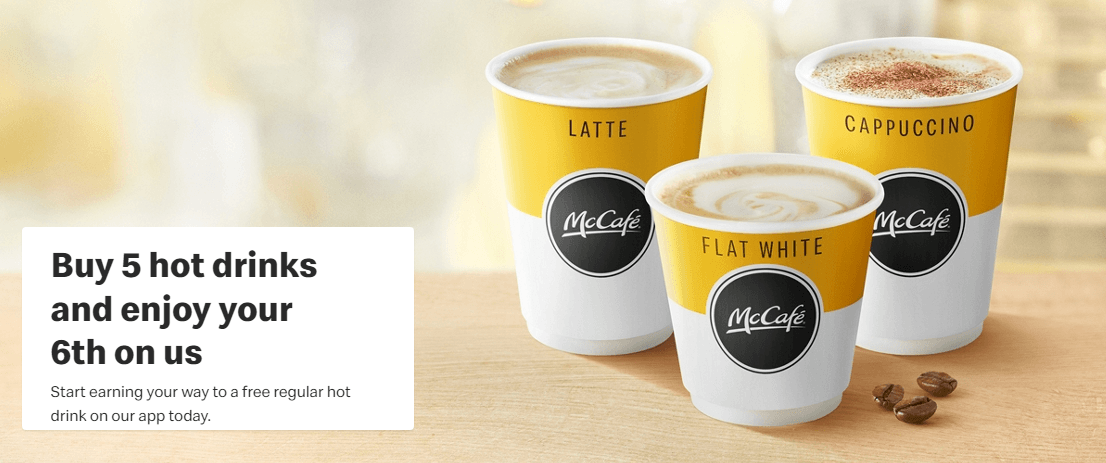 Customers can access their rewards on a physical sticker card or on the McDonald's app. By offering regular free hot drinks, McDonald's expertly keeps their customers coming back for more, making their McCafe awards on the best points-based customer loyalty program examples.
5. North Face
If you're still looking for the best customer loyalty program examples, look no further than this rewards program from North Face.
North Face offers a free membership program called the Explore Pass for customers. By signing up, you can get a discount off your first purchase, receive early and exclusive access to products, receive free delivery, and more.
By offering a free membership program like North Face, you can help keep your current customers engaged with your business by providing them with special perks, like free delivery.
Time to Level Up Your Sales
Our long list of services helps you grow every aspect of your business with marketing strategies that are proven to increase bottom-line metrics like revenue and conversions.
In the past 5 years, we've managed more than 12.9 MILLION transactions across our client base.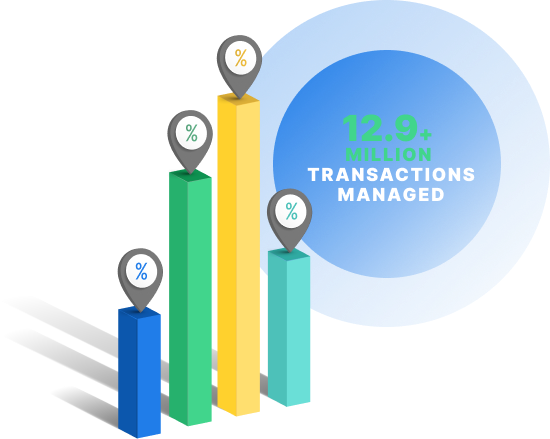 Inspired by these customer loyalty programs?
Are you ready to implement a customer loyalty program that keeps your customers coming back for more but don't know where to start? WebFX can help!
When you partner with WebFX, you'll have access to an award-winning team with more than 25 years of experience implementing effective marketing campaigns that drive serious results.
In just the past few years, we've helped clients drive over $3 billion in revenue, and we can help your company achieve incredible results too.
Speak with one of our strategists today by calling 888-601-5359 or contact us online to learn more about how our digital marketing services can help your business achieve new heights!
WebFX Careers
Join our mission to provide industry-leading digital marketing services to businesses around the globe - all while building your personal knowledge and growing as an individual.