You're running around the office in a panic because your webinar starts in an hour and your host is down. Does this sound familiar? Hosting a webinar can be a stressful experience, but there are several things you can do to set yourself up for success.
In this post, we'll take a look at 9 tips to ensure that your next webinar goes off without a hitch.
Importance of webinars
Webinars are increasing in popularity, and 60% of marketers use webinars as a content marketing tool. If you're looking to generate high-quality leads, enhance brand awareness, and increase understanding of your products and services by 74%, webinars are a great option. Webinars are also cost-effective alternatives to in-person events, and they and help you build stronger relationships with current and potential customers.
In addition, webinars allow you to showcase your expertise and demonstrate your authority in your industry.
1. Pick a reputable webinar platform
First of all, it's important to choose a webinar hosting platform you can trust. Reputable webinar platforms make it easy for people to register for your webinar, and they support multiple ways for people to join. For example, some people may watch your webinar from their computers, while others might want to join from their phones or smartphone apps.
In addition, some webinar platforms are filled with annoying advertisements and have a maximum number of attendees. These are all things to consider when choosing a webinar platform that works for you. At WebFX, we use GoToWebinar to help us manage registration, send reminder emails, and deliver top-notch webinars.
Other webinar hosting platforms include Adobe Connect, WebEx, and AnyMeeting.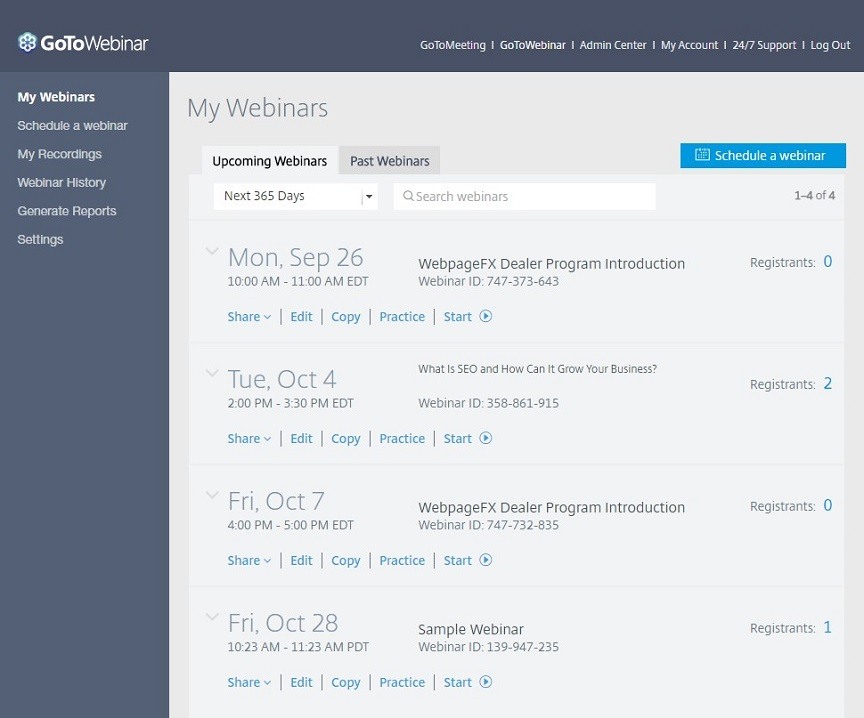 2. Choose the right day and time
It's also important to host your webinar on a day and time that allows for the maximum number of attendees. The best time for your business depends on your target demographic, but a recent WhatCounts poll suggests that Wednesdays and Thursdays are the best days for hosting webinars since Mondays and Fridays are typically filled with catch-up and last-minute tasks. You can also use Google Analytics to determine which regions of the world most of your traffic comes from and select a time that works best for those time zones.
For example, if most of your website traffic comes from the UK, you won't want to host your webinar when it's the middle of the night there. Remember, you can always experiment with hosting your webinar on different days and times and compare attendance rates to find out what works best for you.
3. Use the right equipment
The equipment you use can make or break your webinar or webcast. Instead of relying on the built-in microphones on your laptop or desktop computer, use headset microphones or landline phones to ensure that the audience can clearly hear your presentation. It's also a good idea to have a backup computer and spare batteries for your equipment, just in case you experience technical difficulties.
You should also print out extra copies of your slides, so you won't miss a beat if you encounter a glitch. Using the right equipment will boost the quality of your webinar and ensure that participants have a great experience.
4. Promote the webinar in advance
In order to maximize your webinar's attendance, you need to promote the event in advance. Start by creating an engaging landing page that introduces the webinar topic and speakers, highlights the date and time, and includes a clear call-to-action for people to sign up to attend. You can also promote the webinar on your social media accounts and create a catchy hashtag that will encourage people to engage online.
You can even post short a short video to give attendees an inside look at what they can expect on the day of the webinar, or create a blog post that previews your webinar topic. Finally, you will want to send several email reminders, and on the day of the webinar, you can send an email that includes a direct link to the event.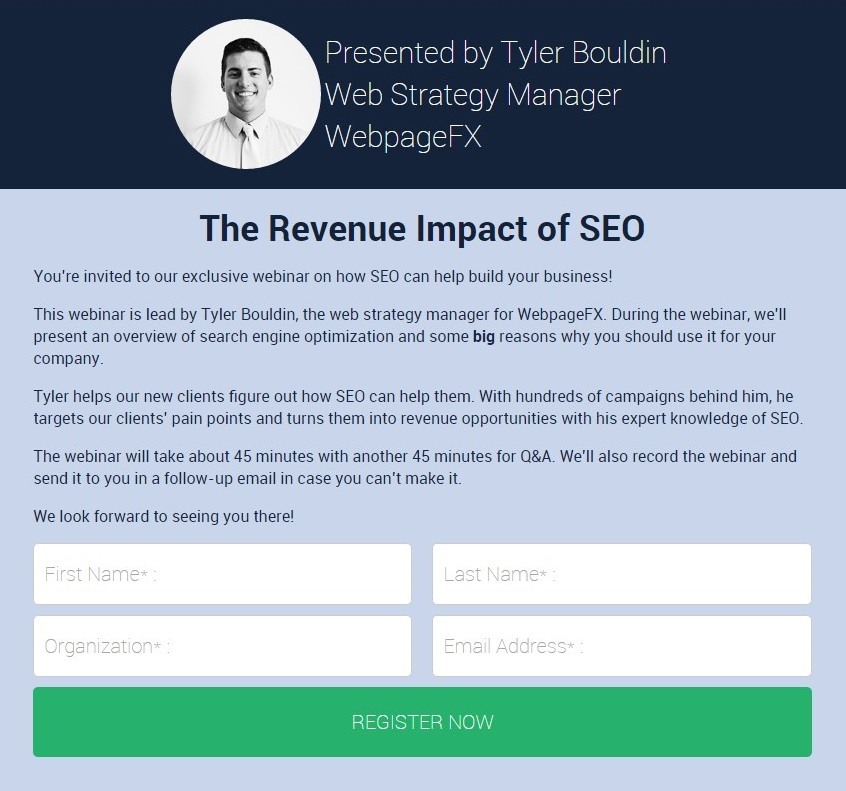 5. Choose a topic that interests your audience
If you choose a topic that doesn't interest your audience, it's going to be really hard to get people excited about your webinar, let alone get them to attend. When choosing a topic, it's important to hone in on a specific idea that will resonate with your audience. If your idea is broad, narrow it down and cover one part in great detail.
An in-depth webinar on a specific topic is much more useful than a general presentation on a broad one. Whether you're educating them about a product, service, or important trend in your industry, you need to provide value to attendees by clearly communicating your message and giving them actionable tips and advice. It's also important to make sure that your presentation is visually appealing.
Using lots of images and introducing one topic per slide will help to keep your audience alert and interested in your presentation.
6. Engage your audience
While you might be focused on your script, don't forget to engage with your audience during your webinar. Your audience can give valuable feedback, so be sure to ask them questions and initiate interaction every 4-5 slides. You should also leave plenty of time at the end of your presentation to answer their questions.
For example, if your webinar is 45 minutes long, you can add another 45 at the end for questions. Some webinar platforms also have polling features, which you can incorporate into your presentation.
7. Practice, practice, practice
Practice your webinar several times to ensure that everything goes off without a hitch the day you go live. Rehearse your presentation several days before the event to ensure that all of your equipment is working properly, and close out any unnecessary applications that may slow down your computer. This will help you identify and eliminate any potential issues, and will build your confidence in your ability to deliver a stellar webinar.
8. Follow up with attendees
After the webinar, follow up with event attendees and send an email thanking them for joining you. You can also ask them to provide feedback and rate their experience. In addition, be sure to send a recording to people who registered but were unable to attend the webinar.
You can also offer freebies or webinar highlights that encourage people to take the next step with your company or attend a future webinar.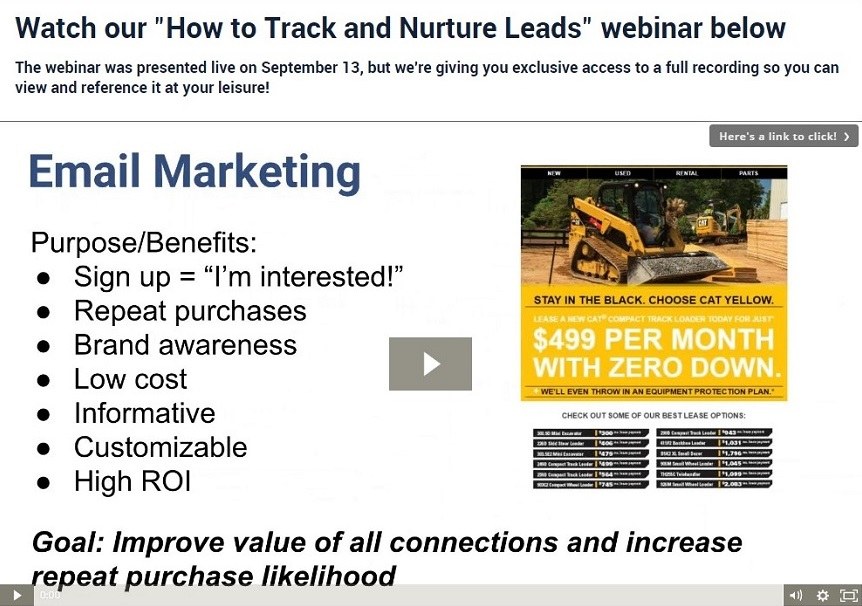 9. Evaluate your efforts
Congratulations, you just hosted a webinar! Now, step back and evaluate the event. Using in-platform metrics, you can analyze registration and webinar performance.
In addition, you can meet with speakers and team members to discuss what went well, as well as areas you can improve. You can also incorporate audience feedback and make tweaks to your webinar process to make your next webinar an even greater success.
Want more from WebFX?
Like what you see? Don't be a stranger.
If you found these tips helpful, sign up to receive WebFX blog updates, filled with the latest marketing insights. And let us know if you have any other Webinar hosting tips. We'd love to hear from you!
How is your website's SEO?
Use our free tool to get your score calculated in under 60 seconds.
Get posts by email
Join 200,000 marketing managers and subscribe to Revenue Weekly!
"*" indicates required fields
WebFX Careers
Join our mission to provide industry-leading digital marketing services to businesses around the globe - all while building your personal knowledge and growing as an individual.