If you have experience with content marketing, you're probably familiar with the term "evergreen content." These pages are written to stand the test of time, remain useful to your customers for years to come, and provide value for your site. However, evergreen content isn't the only kind of content that can drive results for your business. Creating blog posts, articles, and graphics based on seasonal or time-sensitive topics can also be an effective way to attract traffic and earn new customers.
Not convinced? In this post, I'll explain what seasonal content is, and how your company can start using it as part of your marketing strategy.
What is seasonal content?
To put it simply, content is seasonal if it's based on a specific season, upcoming holiday, or major event.
However, successful seasonal content requires more creativity and planning than just throwing an upcoming holiday into a pre-planned blog post on an unrelated topic. Your seasonal content should be directly related to your industry, meaning that the "seasons" you cover can also be industry-specific. For example, Havahart (a company that specializes in wildlife control products), uses their blog to share content based on which pests are the biggest nuisances for each season.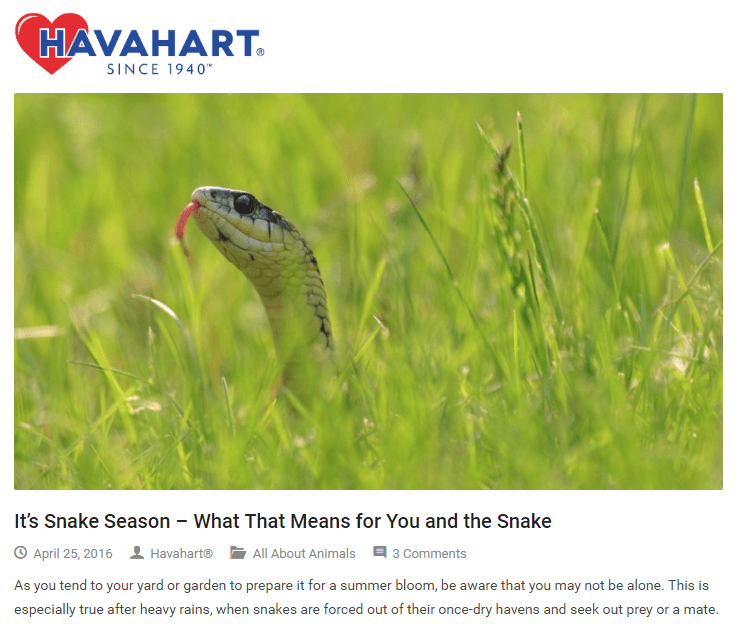 It's also worth noting that it isn't a good idea to base your seasonal content strategy on the goal of directly driving sales. This is a common mistake, and you've probably seen it firsthand in the form of "holiday gift guides" and guides to the "best hair products for summer" that are essentially just lists of links to product pages on the same site. Instead of thinly-veiled sales material, your seasonal content should provide interesting, entertaining, or useful information to your readers.
Why is seasonal content useful?
If you're familiar with content marketing, it probably won't come as a surprise that seasonal content can play an important role in your marketing strategy even though it isn't designed to drive conversions. Here are just a few things you gain by creating seasonal content:
Relevant content ideas
One of the biggest challenges for any content marketer is consistently coming up with relevant and interesting topics to cover. When you add seasonal content into your strategy, filling up your editorial calendar becomes much easier.
You can start with the major national holidays, then use sites like DaysoftheYear.com to identify smaller "holidays" to incorporate. That being said, it's important to choose topics that have a natural connection to your brand. For example, tomorrow is Scotch Whisky Day.
If you're a bar or restaurant owner, this could be a great opportunity – but if your products are targeted to children or young adults, it's clearly not a good fit for your brand. This means that creating effective seasonal content requires planning far in advance. Add relevant events and holidays to your blog or editorial calendar, and give your team plenty of time to create content for those days.
After all, a post with holiday tips is virtually useless on December 26.
Link opportunities
Much like any other content you create, seasonal content is a great opportunity to build links to your site. This is especially true if you create it far enough in advance to reach out to bloggers and editors who may want to share it with their readers. For example, let's say your company sells craft supplies.
In early October, you could put together a blog post with a list of homemade costume ideas and reach out to bloggers whose readers may be looking for inspiration. Even if you don't include your own products in the post, the links you could earn from those sites would make it well worth the effort – not to mention the additional traffic, some of which could be potential customers. The topics you use depend heavily on your industry, but with a bit of creativity, it's possible to use this strategy regardless of what kinds of products or services you offer.
Social media content
Much like content marketing, social media marketing requires you to constantly come up with new and interesting ways to engage your followers. When you start creating timely, interesting content on a regular basis, that becomes much easier. All of the seasonal content you add to your site can be great material for your social media channels.
And in many cases, you can re-share it for years to come.
What kinds of content can you create?
There are many different ways to approach seasonal content, and the best method for your business depends on your brand and target audience. That being said, there are a few types of content that work especially well for timely, entertaining topics:
Blog posts
One of the easiest places to start publishing seasonal content is on your company's blog.
In fact, if you post there regularly, you've probably already covered a few seasonal or timely topics. For example, one of our clients, Shipley Energy, shares energy-saving tips based on consumer concerns for each season. One of their most successful was a blog post with the advantages of LED holiday lights, published right around the time that many people begin to decorate their homes for the holidays.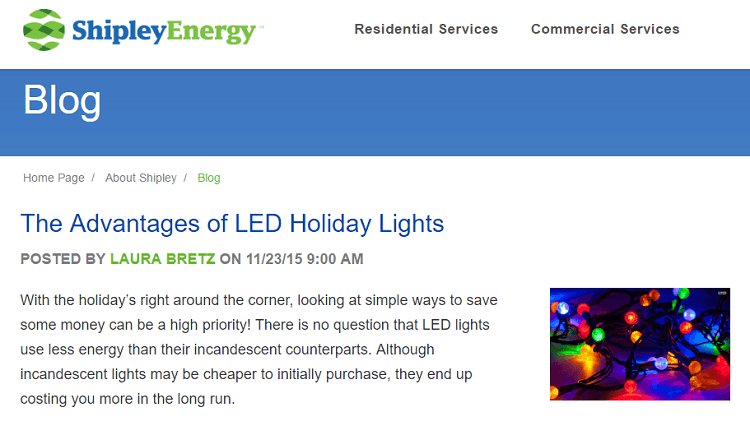 Consumer needs shift with the seasons, and anticipating those needs is a great way to provide relevant and interesting content.
Infographics
In addition to written content, infographics can be a fun and interesting way to engage your potential customers. For example, CJ Pony Parts, a Mustang parts retailer, shared an infographic that reimagined NFL football teams as vehicles a few days before the Super Bowl.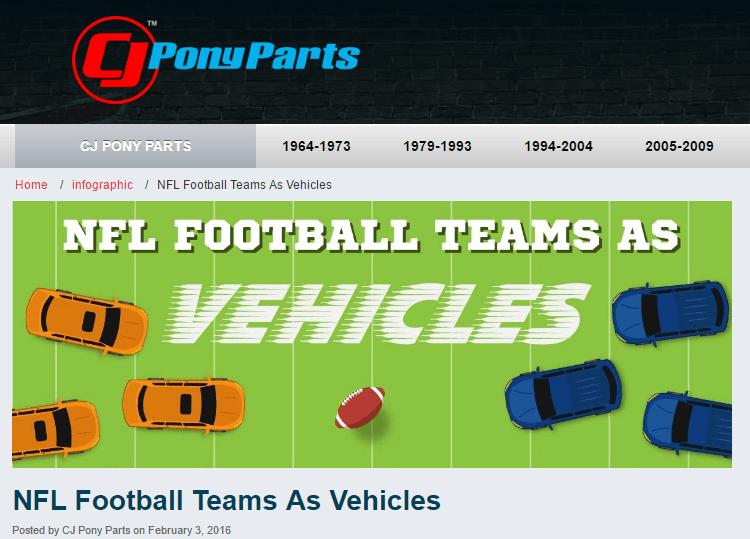 Although it wasn't directly related to their products, it earned links from several major news sites, over 18,000 likes on Facebook, and over 4,000 unique visitors on both of the first two days it was live on their site.
Social media posts
I mentioned earlier that you can share your seasonal content to your company's social media profiles. But beyond that, you can also create content that's unique to your social channels.
This can be as simple as sharing a relevant photo with a holiday hashtag, or as complex as launching seasonal contests, like Havahart does on their Facebook page: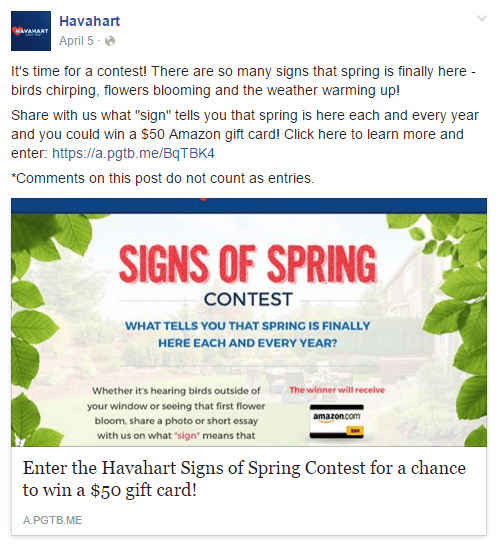 Of course, you can keep your strategy much simpler – as long as your posts are timely, they can help you earn more engagement from all of your social profiles.
Does your company use seasonal content?
These are just a few ways we've helped our clients create successful seasonal content, but it's by no means a comprehensive list of the ways you can use timeliness to your advantage in marketing. Have you found any strategies particularly effective for seasonal content?
Let me know in the comments below!
WebFX Careers
Join our mission to provide industry-leading digital marketing services to businesses around the globe - all while building your personal knowledge and growing as an individual.