What Is Evergreen Content?
Evergreen content is one of the most useful and effective parts of a content marketing strategy. It constantly stays relevant, and it can attract interest from anyone at any time.
If you're marketing online, evergreen content can give you a major competitive edge. It's always interesting so it can draw new readers, and you can promote it whenever you want.
Plus, new visitors may end up searching for and reading your evergreen pieces for years after you post them, and that means you can see returns on your content day after day.
On this page, we'll talk in-depth about evergreen content and how you can succeed with it. To learn more, keep reading, and give us a call at 888-601-5359.
Do you have evergreen content?
Evergreen content is timeless, but that doesn't mean it's hard to create. In fact, you may have created evergreen content on your site without even trying.
Generally, you can identify evergreen content because it:
1. Doesn't rely on trends or current events
If a blog post is all about current statistics, what's happening in your industry right now, or new innovations, then it's unfortunately not evergreen.
In a few years (or even months), there will probably be new information or events that'll be more relevant to your industry than what you show now.
On the other hand, if you're discussing common reasons people come to your business or how to fix typical problems, then you've created something evergreen!
That information will always be relevant, and it can help anyone who reads it for years to come.
2. Answers common questions people have about your industry
Evergreen content is usually focused around common questions that don't change much over the years.
For example, a personal injury lawyer would want to answer "how do I know if I need an attorney," and a personal trainer may answer "How do I lose weight?"
These common questions may be more or less popular over the years, but they'll probably never change. Attorneys and personal trainers probably answer these questions every day, from the day they go into business until the day they retire.
3. Provides value
Good evergreen content is more than just a single-sentence answer. It solves a problem your visitors have now, so they don't have to address it again in the future.
Creating long, descriptive, and in-depth content is the best way to approach evergreen content since it consistently provides a quality experience for the reader. If you only use a few sentences or paragraphs to answer a common question, you won't see the same great returns as if you offered all of your expertise on a subject.
Our digital marketing campaigns impact the metrics that improve your bottom line.
See More Results

WebFX has driven the following results for clients:

$3 billion
In client revenue

7.8 million
Leads for our clients

5.2 million
Client phone calls
4 tips for creating successful evergreen content
Evergreen content is great — but only if it's handled well.
If you want to make the most of this type of content, you need to:
1. Update it to keep it fresh
There's nothing worse than stale content. You want your content to be relevant for years to come, but that doesn't mean you can't update it.
In fact, your blog posts will age better if they offer a new spin on a traditional topic or offer an innovative solution. You can even add new paragraphs to old content you created to give it a fresh, new take.
2. Focus on a single subject
When people first approach evergreen content, they first try to attack a broad subject.
Unfortunately, this doesn't work well. You get more traffic from search engines if you stick to specific topics.
For instance, if you run a photography business, don't just create a blog post about taking "better pictures." Instead, create a post about different light filters or how certain lenses behave in low light.
Specific evergreen content stands out in a sea of general articles. It also tends to be high-quality because it's more likely to help your readers.
3. Strike a balance
You don't want to only create evergreen content. Otherwise, you'll look out of touch or distant from your industry.
It's smart to occasionally write blog posts or article pages about the latest trends in your field. You can link back to your evergreen content if it's relevant, while showing new, timely information to keep your site fresh.
Adding timely blog posts and pages is also a great way to show search engines that you regularly update your site with relevant information. That can help your search engine rankings over time since you show them that you're an active, reliable presence in your industry.
4. Think like a beginner
Evergreen content is often most attractive to beginners. After all, they're the people who have the most questions.
For example, someone who is just starting to learn a new language may be wondering, "What's the best way to learn a new language?" But an experienced student probably knows these answers and might be looking for newer information.
When you create evergreen content, consider what someone wants to know on their first day in your industry. Include lots of useful ideas, and you just might find your content attracting visitors — today and hopefully months from now.
Time to Level Up Your Sales
Our long list of services helps you grow every aspect of your business with marketing strategies that are proven to increase bottom-line metrics like revenue and conversions.
In the past 5 years, we've managed more than 12.9 MILLION transactions across our client base.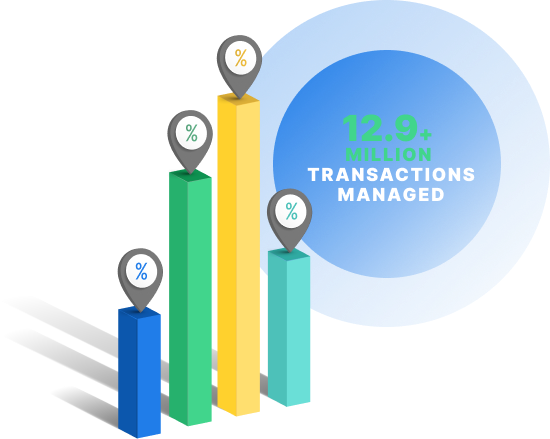 WebFX creates evergreen content every day
At WebFX, we have a full team of expert content creators who know the best ways to create and promote evergreen content. Our talented team works on blogs, graphics, videos, and other forms of content to supply our clients with the top-notch pages they need for their site. We help businesses turn a profit from the Internet with our content, and we want to do the same for you!
Contact us today to create a unique content plan for your company!