Any successful business owner understands the importance of maintaining a steady stream of new customers. This makes referrals extremely valuable – in fact, studies show that referral customers come at lower costs and have a 16% higher life-time value than non-referral customers. Customer referrals drive profits at low prices, and referral customers also have a higher retention rate and brand loyalty.
So, how can you encourage your current customers to recommend your company to other members of your target audience? In this post, we'll take a look at a few effective referral campaigns, as well as some tips you can use to create your own referral program today!
Our digital marketing campaigns impact the metrics that improve your bottom line.
See More Results

WebFX has driven the following results for clients:

$3 billion
In client revenue

7.8 million
Leads for our clients

5.2 million
Client phone calls
Why you need a referral program
A 2013 Nielsen study shows that referrals are the most trusted form of advertising. And if you've ever asked around for recommendations before making a purchase, you can understand firsthand why this is true.
When your potential customers are researching their options, they turn to friends and family members or look on sites like Angie's list, Yelp, or Houzz. And although having high quality products and services is essential for these recommendations to work in your favor, there are few ways to encourage satisfied customers to spread the word about your business. An effective referral program essentially gives your customers an incentive to tell other members of your target audience about your company, with the goal of informing them about your products and services while simultaneously giving them a review from someone they trust.
Four tips for creating a referral program
If you're ready to create a referral program for your business, these four tips will help you get started.
1. Offer high-quality products and services
This should go without saying, but before you set up a referral program, it's important to make sure you're your products and services are of high enough quality that your customers will want to recommend them to other consumers. Satisfied customers will be much more likely to refer you to others. But if your products and services don't measure up, a referral program simply won't generate the results you want.
2. Advertise your program on multiple channels
In order for your referral program to work, you need to make sure that all of your customers know it exists and can easily participate through awareness advertising. Highlight your referral program in campaigns across several marketing channels, starting with your website and blog. Create banner displays to promote your program and include reminders in invoices, bills, and receipts letting customers know that they can save money on future purchases by referring friends and family.
Email marketing is another a great way to let customers know about your referral program. Include a simple link in your template footer, and consider sending emails encouraging customers to participate once or twice a year. For example, Society6 uses email to spread the word about their referral program and encourage customers to refer their friends.
They include a link for subscribers to "Spread the Love" to friends and family.
You can also use social media to promote your referral program. Clothing subscription service, Stitch Fix, does a great job of incorporating social media into their referral strategy.
Stitch Fix uses its customer portal to encourage customers to share a referral link on the social network of their choice. Each customer gets a unique referral link, and they can earn $25 in Stitch Fix credit for every friend who signs up and orders a shipment. This is a great way to incorporate social media into your referral program, and it also boosts your word-of-mouth marketing efforts.
3. Make it easy
When building a referral program, you'll want to make it as easy as possible for customers to participate. If you make users jump through a bunch of hoops to refer a potential customer, you're going to have abandonment issues. For example, you can use auto-fill text to make it easy for users to fill out referral forms and share offers with friends.
And adding features like social login makes it easy for people to share referral links on social accounts.
4. Evaluate and adapt
Finally, you'll want to track the success of your referral program and look for opportunities to make it even more effective. If you already use Google Analytics (and we recommend that you do!), you'll be able to access all the information you need to evaluate your referral program. You can also A/B test copy and calls to action to understand what motivates customers and increase the number of referrals to your business.
Referral program incentives
It's also important to understand how to motivate your customers and create a referral program that includes rewards they'll actually want.
Not all users are influenced by the same types of reward structures, incentives, and prizes. For instance, a referral program that works for a clothing retailer is going to be different from a referral program for a B2B software company. Let's take a look at some different types of referral program incentives.
Double-sided rewards
Double-sided rewards compensate both the sender and recipient of a referral.
For example, if you refer a friend to a retail store, she accepts the offer, and you both receive 20% off your next order, the incentive is double-sided. Double-sided rewards change a user's overall motivation to make a referral to their network since they know that the person they refer will also benefit.
Discounts
Discounts are one of the most common and successful referral program strategies, and they encourage loyal customers to buy more. However, you have to be careful with discounts.
If you constantly offer sales and discounts, people may not be excited about an additional 10% off for referring a friend. So if you're going to offer a referral discount, it should be substantial enough that it stands out against any other current sales or promotions.
Cash
If your business doesn't get a lot of repeat customers or if your customers don't purchase very often, you may consider offering a cash incentive for referrals. For example, if you refer someone to Eventbrite, and they organize a ticket-selling event, you can receive 25% of their ticket fee sales.
In addition, Discover offers customers a $50 cashback bonus for every friend who signs up for an account.
Credits
Offering credits is a great way to keep the money in your system, and it makes sense if your product gets used on a daily or weekly basis. This is a great strategy for companies that operate on a pay-per-use basis. For example, Uber offers customers free rides for referring friends, and Airbnb offers travel credits for referrals.
Swag
Offering fun company swag like t-shirts, mugs, bags, and other items is great because it also serves as an advertisement for your business. But if you're going to offer swag as a referral incentive, you need to make sure that you give items people actually want. Are people going to get excited about a magnet with your company logo on it?
Probably not. But they might be more likely to get excited about a cool coffee mug, especially if it comes with coffee or a gift card to a popular coffee shop.
Gift cards
You can also offer gift cards, which are especially great for smaller referral programs. Tailor your options to your target audience, and offer gift cards to places they're likely to shop.
Some audiences may want an Amazon gift card, while others would rather have a gift card to a retail or home improvement store. Be sure to test out your incentives to find the best fit for your referral program, and consider offering multiple options at first to see which generate the most referrals.
Contests
Occasional contests allow you to get lots of referrals in a short amount of time. For example, Huckberry, an outdoor apparel and gear company, launched a referral contest where customers could earn $10 rewards for each referred friend.
In addition, the company offered $1,000 to the person who referred the most people. Second and third-place winners also received a bonus. Huckberry started by promoting the contest with an email blast to their subscriber list.
Customers who clicked on the email were then directed to a referral widget that described the rules and prizes. Implementing referral contests is a great way to spread the word about your business, and you can customize the incentives based on your target audience.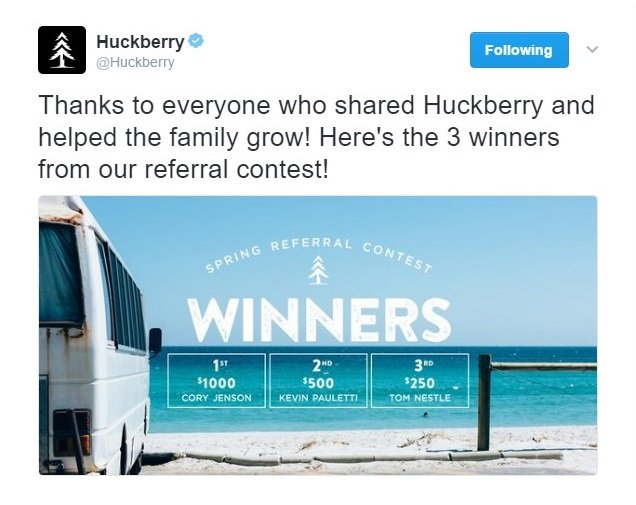 How is your website's SEO?
Use our free tool to get your score calculated in under 60 seconds.
Get posts by email
Join 200,000 marketing managers and subscribe to Revenue Weekly!
"*" indicates required fields
WebFX Careers
Join our mission to provide industry-leading digital marketing services to businesses around the globe - all while building your personal knowledge and growing as an individual.