Did you know that businesses that use content marketing get six times more conversions than businesses that don't? Having a strong digital content strategy can help you grow your business and earn more valuable conversions. In this post, we'll provide you with seven tips for creating an impactful digital content marketing strategy.
Let's get started!
1. Define your digital content strategy goals
When you first create your content strategy, it's important to establish goals. You don't want to create content solely for the sake of creating content. Your content must have a purpose and goals to achieve.
There are many types of goals you can set to achieve with your campaign. You can work to increase brand awareness, gain new leads, or earn conversions. The type of goals you set will determine how you format your content.
For instance, if you're aiming to earn conversions, your content is going to sound more salesy. You're going to add more tidbits about your business and what your business can offer to customers. If you were simply working to increase brand awareness, you may just create a standard piece of content that drives people to your page, where they can get exposed to your brand.
Defining your content creation strategy goals will help you create more effective content.
2. Create personas
Once you have your goals set, you need to establish who you're targeting. It's important that you target the right people. These are the people who will buy your products or use your services.
To ensure you're appealing to the write people, create buyer personas. These are generalized profiles of your ideal buyers. Personas help you understand your customers better so you can properly target people.
You must know who is in your audience, what's important to them, and how you can reach them. It's the best way to get people to interact with your content. When you create buyer personas, you may have more than one.
A company like Old Navy offers clothing for men, women, and children, which means they'll have multiple buyer personas to reach young and middle-aged women and men, as well as parents. When you have multiple buyer personas, you can better tailor your digital content strategy to reach those individual groups. To create your buyer persona, research your ideal customer.
You can collect information from audience demographics, customer databases, online surveys, customer interviews, and more. This gives you a plethora of information to create your buyer personas.

When you create your buyer personas for your digital content creation strategy, establish the following details:
Gender
Age
Location
Education
Income
Interests
Challenges
All of this information helps you form your buyer personas, which helps you better understand your audience. You'll know exactly who you're trying to reach, which will help you figure out how to reach them.
3. Generate content topics
Generating content topics is crucial to your digital content strategy's success. You don't have a content strategy without content ideas. The best thing to do is generate a list of ideas.
You and your team can brainstorm to figure out important topics to cover. You want to cover important topics that your audience is searching. If you conduct a quick Google search, you can see the types of questions your audience is asking about topics in your field.
For instance, let's say that you are a plumber and you want to start developing your digital content strategy. You know many of your customers call you because of issues with their toilets not working properly. This is a great opportunity to create content that addresses common toilet issues.
Let's focus on the term "toilet won't flush." When you Google the term, it generates questions in the search results in the "People Also Ask" section. Upon looking in this section, you can see dozens of questions people ask related to that query.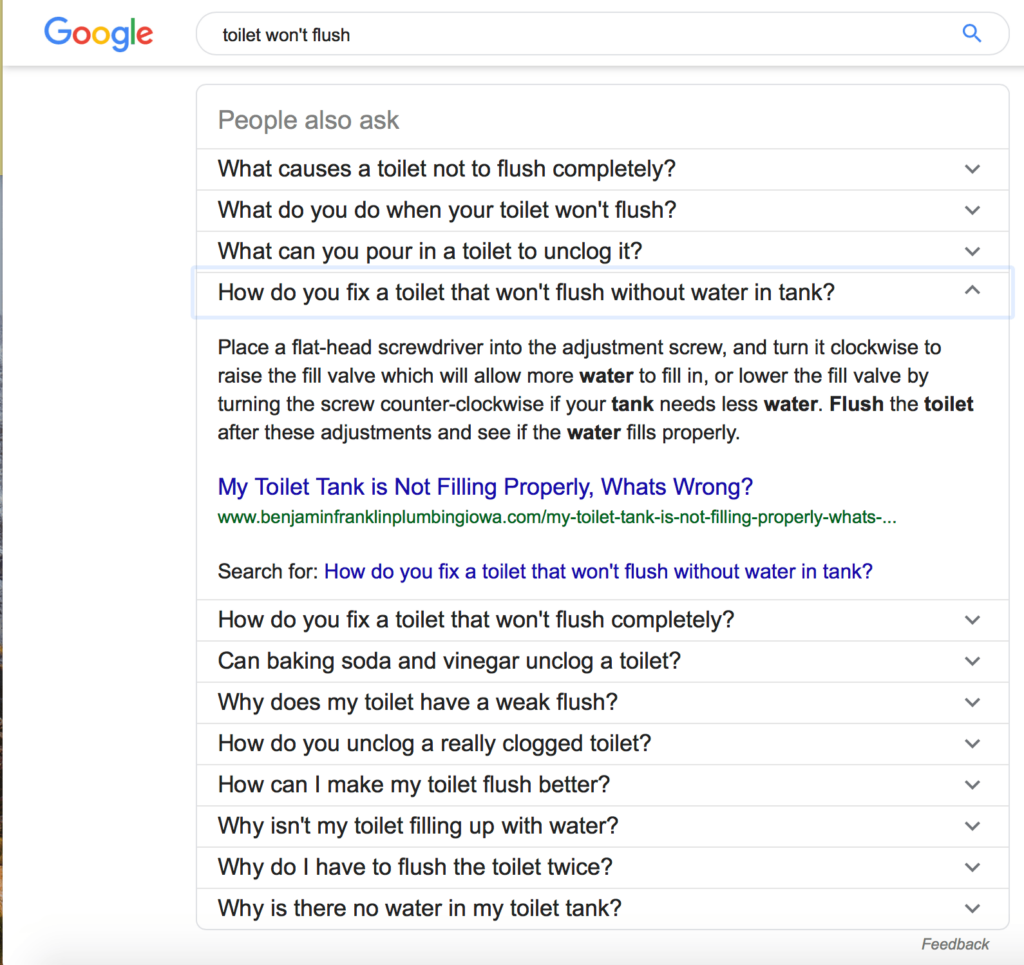 This section generates dozens of good content ideas.
People ask questions like "What can you pour into a toilet to unclog it, "How can I make my toilet flush better," and "How do you fix a toilet that won't flush without water in tank?" If you owned a plumbing business, these would be great content topics to cover, seeing as your audience is already asking those types of questions! Google is a very valuable tool for helping you gain content topics. By generating content topics, you'll have dozens of pieces of content you can create to engage and interest your audience.
4. Conduct keyword research
Topic selection and keyword research go hand in hand. When you're conducting keyword research, you often discover content topics to cover. Keywords play an important role in your digital content strategy because they help you drive leads to your page.
Let's circle back to the plumber example. You decide to focus on the query "What can you pour into a toilet to unclog it?" From this query, you'll want to generate keywords that people will use to search to find this information. In this case, people may use keywords like "how to unclog a toilet" or "best products for unclogging toilets." Keyword research will help you find these valuable keywords so you can integrate them into your content.
When you conduct keyword research, stick to keywords with three or more words. These are known as long-tail keywords and they produce better results for your campaign. Your audience is conducting specific searches, so they are more likely to type in long-tail keywords to find the right information.
5. Decide on the medium
When you're developing your digital content marketing strategy, you must establish the medium for your content. Content creation comes in many forms, including blogs, videos, infographics, and in-depth guides. You must determine which formats are best for your audience.
You want to create a variety of content. Even if your audience engages the most with blog posts, you'll still want to keep your content new by creating videos and infographics to break up your posts. It will be a nice change for your audience that keeps your content feeling fresh.
It's still important, however, to establish which mediums work best for your audience. You can focus on creating an abundance of content through these mediums to keep your audience interested and engaged.
6. Invest time in your title and heading
The title and heading are a crucial part of your content creation strategy. It's the first thing people see when they find your content. If you want to make a good first impression and get your audience to click, you'll want to invest time in creating your title and heading.
Your title and heading should be interesting and engaging for your audience. It should catch your readers' attention and lure them to click on your content. The title and heading are both sneak previews into the scope of your article.
They establish the topic of your article and help guide your audience to understand what to expect. Let's look at one of the previous query question examples we gave above. Imagine someone is searching "How can I make my toilet flush better?" Which of these two titles do you think is more likely to obtain clicks?
"7 Easy Ways to Make Your Toilet Flush Better"
or
"Tips & Tricks: Get Your Toilet Flushing Better"
In this case, the first example is the better title tag.
It tells the audience exactly what they'll get by clicking on the article and clearly aligns with the user's search query. Investing time in creating a killer title will help drive more leads with your digital content strategy.

7. Keep a content calendar
When you start to build your digital content marketing strategy, you'll come to find that you must post content regularly for it to have the biggest impact. Posting and creating dozens of pieces of content can get hectic, so creating a content calendaris in your best interests. A content calendar helps you stay organized and on-time with your content.
You can see when content is being published, set deadlines for publication, and more. It's a great way to keep your business organized with content production.
Start creating your digital content strategy today
A strong digital content strategy will help you reach more valuable leads interested in your business. It's a great way to help your business grow to reach new heights.
If you need help creating an effective digital content strategy, contact us online to see how we can help you get started!
How is your website's SEO?
Use our free tool to get your score calculated in under 60 seconds.
Get posts by email
Join 200,000 marketing managers and subscribe to Revenue Weekly!
"*" indicates required fields
WebFX Careers
Join our mission to provide industry-leading digital marketing services to businesses around the globe - all while building your personal knowledge and growing as an individual.