8 minute read
Emily is WebFX's Content Delivery Lead. She holds an M.S. in digital marketing and leads the FX content team, along with strategy, implementation, and evaluation for WebFX's key revenue channels. Her work has been featured by Social Media Today, Campaign Monitor, Reader's Digest, Yahoo, and more. In her free time, she enjoys hiking, road trips, and exploring new cities. Follow her on Twitter @emcarter16 or connect on LinkedIn. @emcarter16
Did you know that nearly half of all companies don't have clearly defined digital marketing plans?
That statistic is mind-blowing, especially since online marketing strategies drive a significantly higher return on investment (ROI) than traditional marketing. If you don't use digital marketing currently, you're likely missing out on valuable leads and revenue. Luckily, you came to the right place.
In this post, we'll look at the recipe for digital marketing success — seven digital marketing components you'll want to add to your strategy. Hungry for more? Read on!
Or, check out our digital marketing examples to inspire your campaigns!

Free Comprehensive Guide
Digital vs. Traditional Marketing
Download this guide to understand the key advantages, costs, and opportunities for each to decide which is best for your marketing strategy!
Get My Free Guide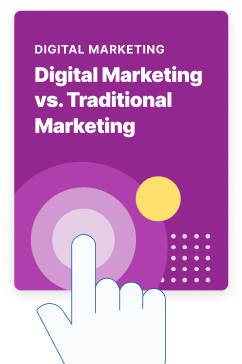 What are the major components of digital marketing?
On their own, digital marketing strategies are powerful. Combined in the perfect proportions? A recipe for success.
Typically, digital marketing components include:
These strategies all leverage the 4 Ps of marketing to drive revenue.
Now that you have an overview, let's take an in-depth look at each digital marketing element.
The foundation for successful digital marketing, search engine optimization (SEO) refers to a number of strategies designed to boost your rankings in online search results. Why do you want to achieve top rankings? A staggering 75 percent of people don't look past the first page of search results.
You can have the best-designed website in the world, but if it doesn't rank on the first page, most people will never find it. When your website ranks at the top of search engine results pages (SERPs), more qualified leads will find and contact you when searching for products or services related to your business. In other words, higher search rankings translate into more leads, phone calls, and revenue for your company.
How do you rank in search results? You can use numerous SEO strategies for your business including:
It's important to remember that SEO is a long-term strategy, so don't expect to see results overnight. While SEO requires regular upkeep (AKA digital marketing campaign management) to maintain top rankings, the results are well worth the investment for your business.
Pay-per-click (PPC) advertising is an excellent strategy for maintaining a presence in search results while you establish organic rankings with SEO. If you're looking to boost your rankings quickly, PPC can start driving qualified leads to your site the minute your ads go live — and it's an affordable option for businesses in most industries. One of the best parts of PPC advertising?
You only pay when people click your ads. This means you'll avoid wasting money trying to reach people who aren't interested in your products or services. In addition, PPC offers advanced targeting options that allow you to hone in on your target customers.
With PPC, you can target people based on demographics, location, and even the type of device they use. These targeting options, coupled with the budget-friendliness of PPC, make PPC a valuable component of successful digital marketing.
Ultimately, the digital marketing components you use drive leads back to your website — and you want your site to leave a positive impression on potential customers. Nearly 95 percent of a person's first impression relates to web design, so it's a crucial factor in your online marketing plan. If your site looks like it's straight outta the '90s or takes forever to load, it will likely send visitors searching for the back button.
To keep people interested and engaged on your site, you need to implement a custom design that reflects your brand and makes it easy for people to find the information they need. In addition to ensuring your site loads at top speeds, you also want to streamline your navigation to improve the user experience and make it easier for leads to contact you. Not happy with your current website?
WebFX can help. Our web design and development teams specialize in creating websites that drive results for our clients. All of our designs are mobile responsive, too, so your site will look great and perform well — no matter the device someone uses to access it.
In order to boost your search rankings and help potential customers learn more about your business, you need to incorporate content into your digital marketing strategy. If you're looking to earn more leads and revenue, content marketing is a great strategy, considering it generates 3x more leads than traditional marketing. Quality content is a key component of content marketing.
Quality content allows you to target keywords related to your business and address searchers' questions, which in turn helps you achieve higher rankings. When creating content, it's important to think about quality and depth. Does your content effectively answer searchers' questions, or does it leave them with unanswered questions?
Do you include calls to action (CTAs) that clearly direct readers to take the next step? Thinking through these questions will help you create content that not only ranks at the top of search results, but also provides site visitors with the info they need to take the next steps with your company.
VIEW CONTENT MARKETING SERVICES
A whopping 2.3 billion people use social media, making it a valuable digital marketing component. Social media allows you to connect with current and potential customers — and develop relationships with them. If they have questions about your products and services, they can connect and ask you directly on social media.
In addition, social media listening allows you to uncover key trends and insights into consumers' thoughts and opinions related to your brand, industry, products, services, and even competitors. You can use this information to inform other strategies. For example, if you're a medical device equipment manufacturer and receive a lot of questions or notice frequent conversations about how a specific product works, you can create content on your website (perhaps, even a how-to video) to address that concern.
Most social platforms also allow you to run paid ads to target and reach your ideal customers. Social media is also a valuable customer service tool. Today, 70 percent of people have used social media for customer service, whether that be to ask a question or voice concerns about a product or service.
Maximize your social media effectiveness by responding to social media comments in a timely manner and in a way that makes your followers feel seen and valued. Ultimately, this will help you establish trust with your audience and encourage them to become loyal customers.
Another component of successful digital marketing, email marketing can earn you $44 for every $1 invested — an ROI of 4400 percent. Since people opt-in to receive your emails, you know they are interested in the products and services you offer. A great lead-nurturing strategy, email marketing allows you to follow up with potential customers and send custom information about products or services that interest them.
Using segmentation, you can personalize your emails based on subscribers' needs and interests and deliver content that resonates with them. Worried about creating, sending, and monitoring engaging emails? WebFX offers clients access to EmailMarketingFX, our proprietary software that allows you to design eye-catching emails and track results in real-time.
One of the best parts? You can automate your email strategy to email customers when they subscribe, after they purchase, or when they take a specific action on your site. This is a great way to make your marketing work smarter and allow you to focus on running your business.
7. Bonus: Marketing analytics
In addition to the key digital marketing elements listed above, you'll want to make analytics a major component of your digital marketing strategy. To continue earning more leads and revenue, you want to monitor key metrics associated with your campaigns continually. Keeping an eye on key performance indicators (KPIs), like conversion rates and cost per lead, will help you improve your campaigns to reach even more customers. In other words, monitoring your analytics will keep marketing costs low and profitability high.
Our digital marketing services include analysis and comprehensive marketing reports to help you drive the best possible results. In addition, our clients receive access to MarketingCloudFX. Our proprietary lead-tracking software, powered by IBM Watson, lets you keep track of key metrics in one place, so you can easily monitor revenue earned from your digital marketing efforts.
WebFX is an award-winning digital marketing agency
At WebFX, we are a digital marketing agency and we offer comprehensive digital marketing solutions to fit your needs and budget.
Our services include:
In the last five years, we've driven 7.8 million leads and $3 billion in revenue for our clients. Don't take our word for it, though. Check out our 1020+ testimonials to hear what our clients have to say.
Get started today!
Want to include these digital marketing components in your strategy? Contact us online today or give us a ring at 888-601-5359. Our strategists would love to talk with you about how you can earn more leads and revenue with online marketing!
Emily is WebFX's

Content Delivery Lead

. She holds an M.S. in digital marketing and leads the FX content team, along with strategy, implementation, and evaluation for WebFX's key revenue channels. Her work has been featured by Social Media Today, Campaign Monitor, Reader's Digest, Yahoo, and more. In her free time, she enjoys hiking, road trips, and exploring new cities. Follow her on Twitter

@emcarter16

or

connect on LinkedIn

.

@emcarter16

WebFX is a full-service marketing agency with 1000+ client reviews and a 4.9-star rating on Clutch! Find out how our expert team and revenue-accelerating tech can drive results for you! Learn more
Try our free Marketing Calculator
Craft a tailored online marketing strategy! Utilize our free Internet marketing calculator for a custom plan based on your location, reach, timeframe, and budget.
Plan Your Marketing Budget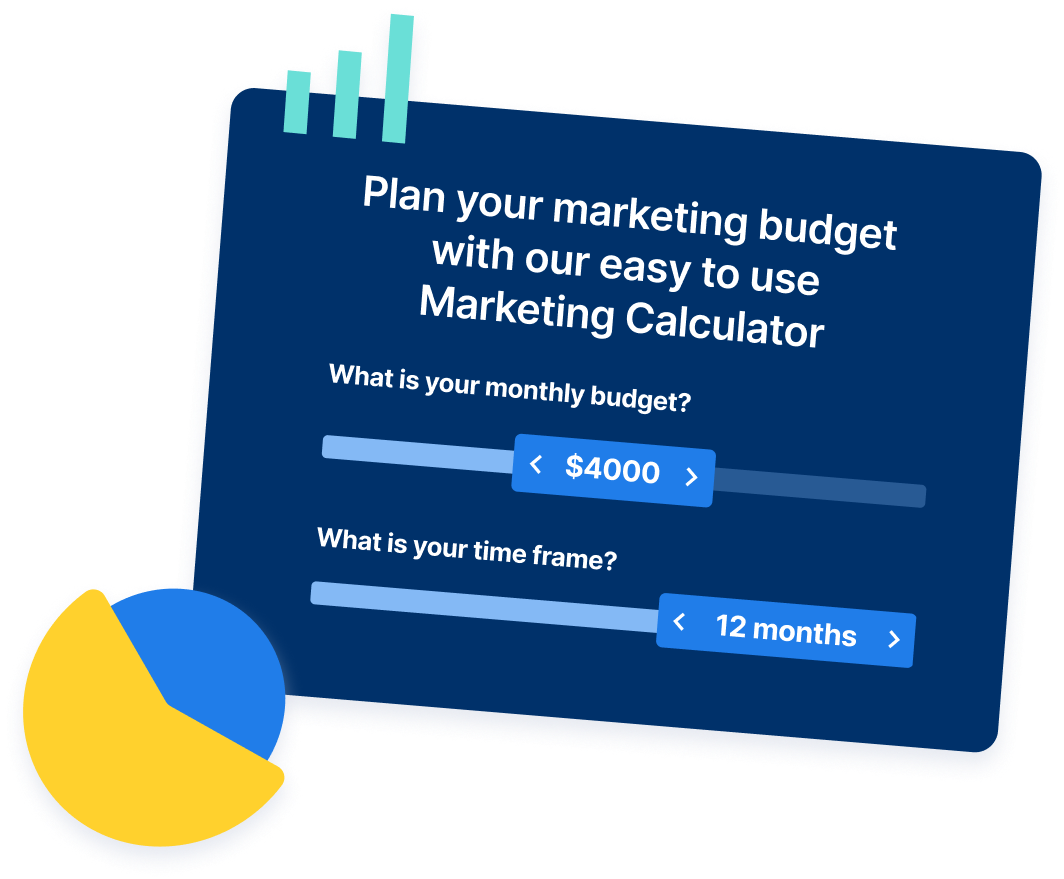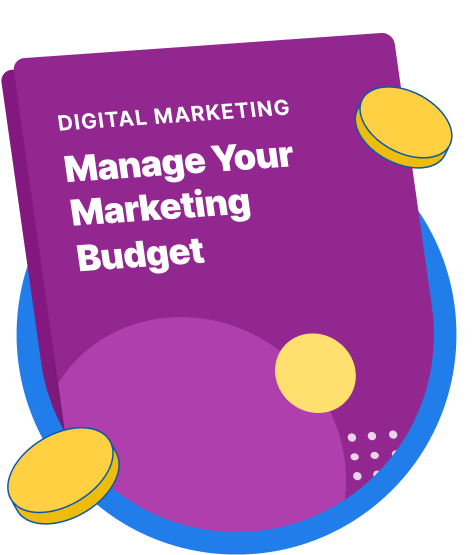 Maximize Your Marketing ROI
Claim your free eBook packed with proven strategies to boost your marketing efforts.
Get the Guide
Try our free Marketing Calculator
Craft a tailored online marketing strategy! Utilize our free Internet marketing calculator for a custom plan based on your location, reach, timeframe, and budget.
Plan Your Marketing Budget