Ecommerce SEO: An In-Depth Look at SEO for Ecommerce
Did you know that
80% of shoppers
do product research online? Without search engine optimization (SEO) plan, these shoppers won't find your business when searching for the products and services you offer. Investing in ecommerce SEO is critical for helping shoppers find your business.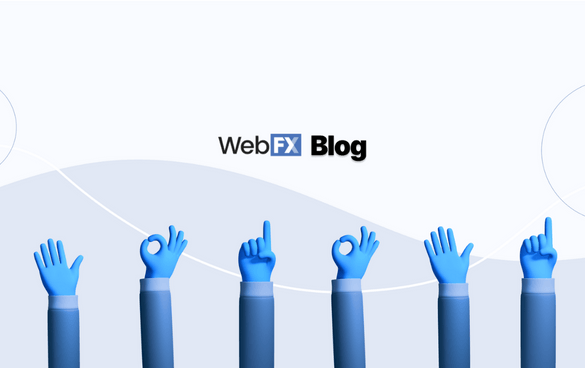 Ecommerce
Home Is WooCommerce SEO Friendly? If you operate an ecommerce store, one of the most difficult decisions you have to make is which platform to use. With many different options, it can be difficult to choose the one that's right […]
By investing in ecommerce SEO, you can help your business rank better in search results, which leads to increased traffic and sales for your company.
But what is ecommerce SEO? And how do you get started with SEO for ecommerce?
On this page, we'll cover everything you need to know about SEO for ecommerce. We'll answer questions like:
If you need help launching your ecommerce SEO campaign, WebFX has a team of over 500 marketing experts ready to lend you a hand! Contact us online or call us today at 888-601-5359 to speak with a strategist about our ecommerce SEO services!
Independent research from Clutch has named WebFX the
top SEO company

in the United States.

Clutch has personally interviewed more than 250 WebFX clients to discuss their experience partnering with us.

Read More Clutch Reviews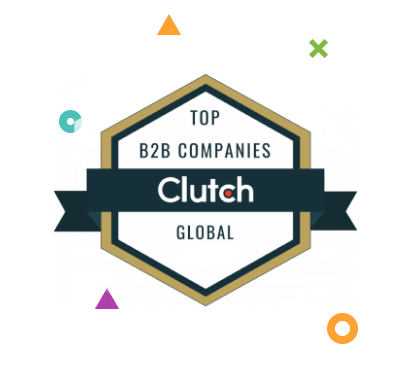 What is ecommerce SEO?
Ecommerce SEO involves optimizing your website to help it rank better in search results. This strategy involves tactics like integrating keywords, improving page load times, and more. Ecommerce SEO uses these optimization tactics to help you increase rankings, which leads to more traffic and leads for your business.
Why should I invest in ecommerce SEO?
If you're wondering why you should build an ecommerce SEO strategy, here are four big reasons to invest:
1. You help more people discover your products
One of the most significant benefits of SEO for ecommerce websites is that you help more people discover your products. When you have an SEO strategy in place, you optimize your product listings to rank better in search results.
When your products rank higher in search, more people discover them and visit your pages to learn more about what you offer.
2. You build trust and authority with your audience
When people look to buy products, they turn to Google to help them conduct research to find the right item. They trust Google to deliver results that match what they need.
If you have an SEO plan in place and Google ranks you highly in search as a result, searchers will trust that you're a reputable company. As a result, they're more likely to engage with your products and learn more about them because they trust you'll deliver top-notch products.
3. You have 24/7 promotion
One of the biggest benefits of building an ecommerce SEO strategy is that SEO provides you with 24/7 promotion. When you market your business, you want to reach people at the right time, whether you're running ads or sending emails. With SEO, you don't need to worry about finding the right time.
If you keep your site optimized and deliver relevant information, you can maintain high rankings. So, no matter what time or day someone searches, they can find you on Google.
This ability to promote your business at all hours means that people discover your business whether you're actively marketing, spending time with family, or catching some Zs.
4. You earn more sales
One of the major benefits of ecommerce SEO is that you earn more sales. When your product pages rank in relevant search results, you help drive interested buyers to your website. As a result, you increase sales for your company and help drive more revenue overall.
9 best practices for ecommerce SEO
Building an ecommerce SEO strategy is critical for helping your business grow online. But if you aren't sure where to start with SEO for ecommerce, here are nine SEO best practices to help you launch your strategy!
1. Find relevant keywords for your product pages
If you want to have success with your ecommerce SEO strategy, start by finding relevant keywords for your product pages. Keywords help your pages rank in the right search results, so you can reach people most interested.
To find relevant terms, use a keyword research tool like KeywordsFX. You can conduct keyword research to generate a list of key phrases to use on your site.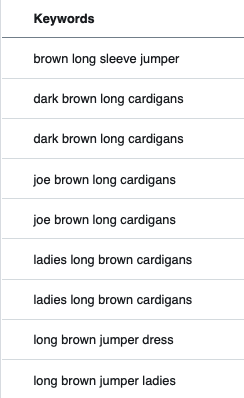 Generally, when you conduct keyword research, you want to focus on long-tail keywords, which contain three or more words. Long-tail keywords are best for ecommerce businesses because they drive more qualified traffic to your site.
Let's say you have a product page for brown cardigans. If someone searches "cardigan," you have no idea if they're looking for the brown cardigans you offer because the search is vague.
With a long-tail keyword like "long brown cardigans," you know exactly what the searcher wants to find. You know your product listing is relevant and that you're driving qualified traffic to your site.
So, once you identify your long-tail keywords, you'll want to integrate them into your product pages, from your product title to your product description.
2. Optimize your title tag and meta description
When people conduct a search on Google and generate results, the first things they see are your title tag and meta description. These two elements tell your audience if your listing is relevant to them.
Your title tag offers your audience information about what to expect on your page. Your meta description provides your audience with a summary of your page's information. Both tags provide context to your page and entice prospects to click.

To get the most from your title tag and meta description, follow these best practices:
Stay within the character limit (60 for title tags, 155 for meta descriptions) to avoid your tags getting cut off
Use your core keyword in both tags to rank in relevant searches
Use power words ("Free," "Fantastic,") to entice prospects to click
3. Improve your website's load time
Next on our list of ecommerce SEO best practices is to improve your website's load time. When users search on Google, they want information fast. If your site doesn't load as quickly as users want, they'll bounce from your site and return to the search results.
Not to mention, slow-loading websites lead to $2.6 billion in revenue loss annually. Having a slow-loading website costs your business money, so you'll want to ensure your site loads fast.
To keep leads on your site, you'll want to improve your page speed. You can see your site's current load speed by plugging it into Google PageSpeed Insights. This tool will provide you with an overview of your load speed on desktop and mobile.
If you find your page load speed isn't up to par, Google provides you with suggestions for improvement. Some common ways to boost page load time include:
Optimizing image file sizes
Enable browser caching
Host videos on an external platform
4. Make your site mobile-friendly
Did you know that 76% of consumers shop on a smartphone? Having a mobile-friendly site is critical to keeping these shoppers engaged on your platform, which is why it's next on our list of ecommerce SEO best practices.
SEO is critical to shoppers and search engines alike. Since Google uses a mobile-first index to determine ranking, you'll need a mobile-friendly website if you want to rank higher in search.
To create a mobile-friendly website, integrate responsive design. Responsive design enables your site to adapt to the screen of whatever device your audience uses. So, whether someone browses your site on a smartphone or tablet, they'll get an experience that works best with their device.
5. Create a user-friendly experience
When you build an ecommerce SEO strategy, it's critical that you focus on delivering a user-friendly experience. The user experience is critical to helping your site rank higher in search results.
Google ranks sites higher that deliver a positive user experience. If people stay engaged on your site, it sends a positive signal to Google that your page is relevant to the search, which can increase rankings and traffic.
So, how do you deliver a user-friendly experience? Here are a few tips:
Make your navigation easy to use: Users don't want to find what they need fast, so you need a navigation that's organized and easy to use. Create broad categories and organized subcategories to help your audience find the products they want.

Create clear and informative product descriptions: Users want to make sure they're getting the right products. Make sure you provide product descriptions that provide shoppers with everything they need to know. Use bulleted lists to break down key information.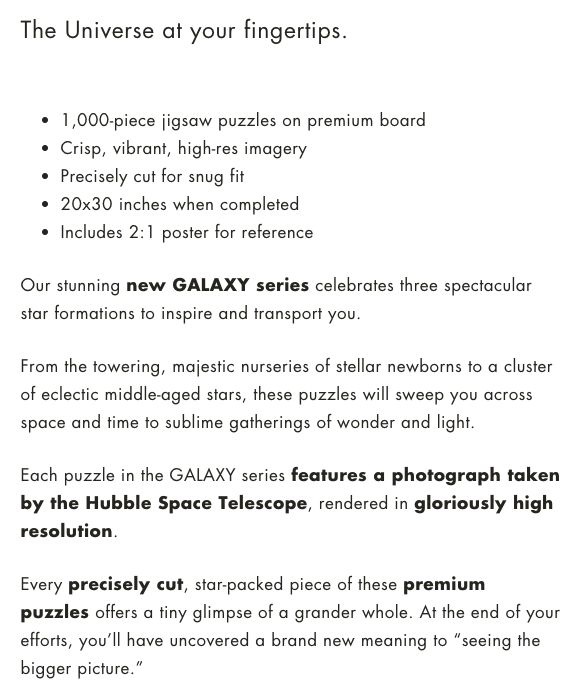 Use high-quality images: When people shop for products online, they don't get to see your products in person –– they rely heavily on photos. You want to ensure you provide high-quality, detailed photos that help shoppers see your products as if they were in person.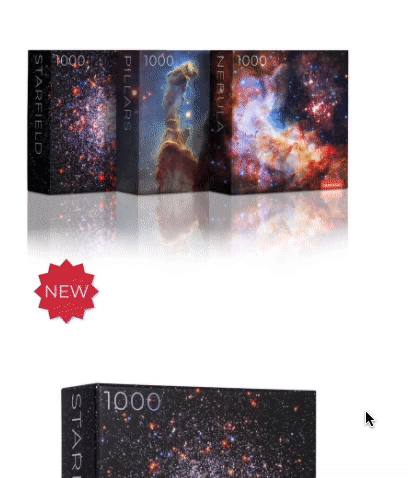 6. Optimize your URLs
Another critical component of SEO for ecommerce is optimizing your URLs. Your URL tells people and search engines where they are on your site. A clear URL can help provide context to your page.
Imagine visiting a product page that looks like this:
www.sweateremporium.com/category3945/product399jj439
The URL doesn't provide any information about what products you're looking at — which makes things difficult for both users and search engines.
Instead, you want to opt to have a clean and structured URL, like this example that follows best practices for URL SEO:
www.sweateremporium.com/cardigans/brown-wool-cardigan
With this URL, both search engines and users have context as to where they are on your website.
7. Add schema markup
If you want to do SEO for ecommerce websites effectively, you must add schema markup to your website. Schema markup enables you to create a more eye-catching listing that provides your audience with more information about your product.
There are multiple types of schema markup you can add to your listing, including:
Location
Address
Phone number
Reviews
Star rating
Cost
In stock indicator

Adding schema markup can help your listing stand out from the competition and catch your audience's attention. As a result, you entice more people to click on your product listings and check out your business.
8. Fix technical issues on your website
If you want an effective ecommerce SEO strategy, you must fix technical issues on your website. Technical issues can hurt your site's performance and rank in search results.
While slow-loading pages are a large contributor to technical SEO issues, there are a few other key areas you'll want to watch:
Check for duplicate content: Duplicate content hurts your pages' ranking because search engines don't know which page to rank in search. You'll want to remove any duplicate content from your website by setting up redirects or using canonicalization. You can use Google Search Console to help you find duplicate content.
Fix crawl errors: If Google can't crawl and index your pages, you won't rank in search results. You can use Google Search Console to help you identify crawl errors and fix them, so your pages can appear in search.
Make sure your site is secure: If you want customers to buy from your business, they need to feel confident their sensitive information is secure. You'll want to add a Secure Sockets Layer (SSL) certificate to your site to protect customers' information. Google is also more likely to rank your site higher if it's secure.
9. Create content
The last item we'll cover on this list of ecommerce SEO best practices is to create content. Content marketing is critical to your success because you need content to rank in search results. If you don't create content, you don't have anything to rank in search.
You can create numerous types of content on your site, including:
You'll want to create different types of content to appeal to your audience. Some people may prefer more visual content, like videos and infographics, while others like to read content like blogs and guides.
When you create content, make sure it's informative and thorough. You want to provide enough information that your audience gets what they need without having to visit someone else's website.
You can determine what information to provide by checking the search intent for your keywords. For example, if you search "fall fashion trends 2021" you'll find that many of the search results provide lists of the trends for the season.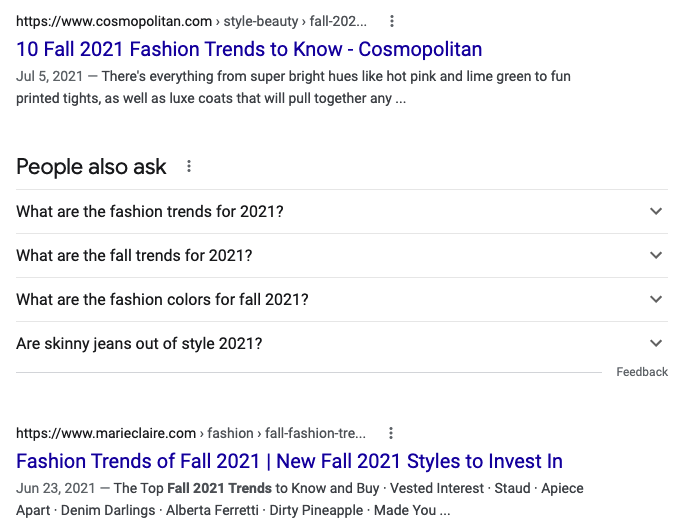 Based on that search, you get an idea of how to structure your article.
When you create content, make sure you create it often. An effective ecommerce SEO strategy involves creating content frequently to continually drive traffic to your site. It also helps you create new avenues for people to find your ecommerce business.
To help you keep track of when you're creating, editing, and publishing content, use a content marketing calendar.
Good agencies have more than 50 testimonials.
Great agencies have more than 100 testimonials.
WebFX has over 1,020+ glowing client testimonials.
See What Makes Us Stand out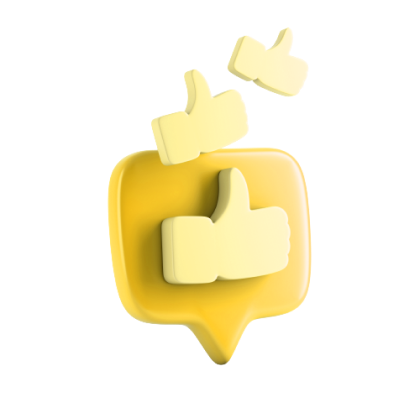 Need help building your ecommerce SEO strategy?
SEO for ecommerce websites is a key strategy for helping your business drive more qualified traffic that turns into revenue for your business. If you need help launching your ecommerce SEO strategy, WebFX can help.
As a top-rated agency, as deemed by Clutch, we're experts at creating SEO campaigns that drive results. In the past five years, we've driven over $3 billion in revenue and over 7.8 million leads for our clients. You can feel confident we'll deliver an SEO campaign that helps you thrive online.
Ready to drive more revenue for your ecommerce business? Contact us online or call us today at 888-601-5359 to learn more about how our ecommerce SEO services help you grow!