Is Pinterest a part of your marketing strategy? Although the platform is still relatively new territory for marketers, it could be worth looking into, considering that 69% of Pinterest users say that they've found an item they've purchased or wanted to purchase on it. As of 2015, 42% of online adult women use Pinterest, as well as 13% of online men.
These numbers may not seem impressive compared to those of Facebook or Twitter, but in a survey of Pinterest users, 70% said they use it to "get inspiration on what to buy," while only 17% of that same group said the same about Facebook. This means that Pinterest has huge potential for marketers, especially for B2C companies. And thanks to Pinterest's new Promoted Pins feature, that potential may have just gotten even larger.
Keep reading to find out how you can use Pinterest's new features to market your business online.
Getting started with Pinterest
If you're completely unfamiliar with Pinterest, it is a social platform that allows users to share and save content in the form of "Pins" to virtual collections. It basically has the feel of a digital bulletin board, and lets users organize Pins as they see fit. Pinterest has two different types of accounts – one for people and one for businesses.
If you want to use the platform for marketing purposes, you'll have to create a business account. You can either start a new one, or convert an existing personal account. Although personal and business boards look basically the same, creating a business account will allow you to take advantage of Pinterest's advertising features.
This includes analytics, rich Pins, and the ability to promote your Pins.
Promoting Pins
Pinterest's option to promote Pins, which launched in January, gives advertisers the ability to reach users who do not follow their boards. This feature can help your brand gain exposure and followers, and possibly generate new leads.
Choose a Pin
The first step to promoting is to go to Pinterest's create page and choose a Pin. There is no creation option within the promotion setup, so you can either choose something recent or create an entirely new Pin before going to the promotion page.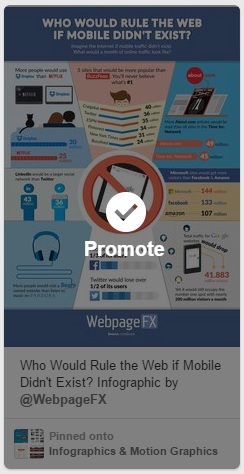 If you have a lot of Pins to choose from, take a look at which ones are already performing well organically. If your current followers like them, they will probably do will with other users in your demographic. If you're new to Pinterest, try to create Pins that are visually appealing and will attract attention or provide value without being overly promotional.
If you sell products that are likely to be popular with Pinterest's demographic, simply pinning them will probably be sufficient. Décor site Dot & Bo uses this strategy and Pins the majority of the products sold on their site.

This Pin likely didn't require too much effort, but is clearly quite successful with over 37,000 repins.
But if your products aren't quite as visually attractive on their own, you might need to get creative. La Crema Winery, for example, includes their wines in their Pins but doesn't make them the focus.
Instead of simply pinning a product, they created a shared a recipe for pasta.
This not only allowed them to reach users searching for recipes, but also those who specifically searched the popular #MeatlessMonday hashtag. In a similar strategy, GlassesUSA created a resource most glasses retailers would've never thought of – a makeup tutorial.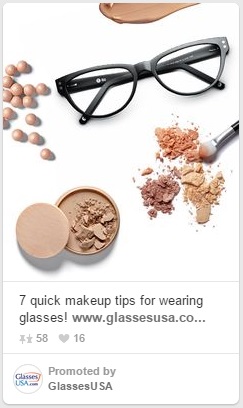 Although it required some original thinking, the tips are likely useful to potential customers.
It also has a better chance of being searched for than a Pin that just featured their glasses, as makeup is a popular topic on the platform.
Targeting
After choosing a Pin, you'll have to choose who you want to reach with it. Pinterest allows users to search for Pins by keyword, so you have to select what keywords you want your Pin to show up in search results for.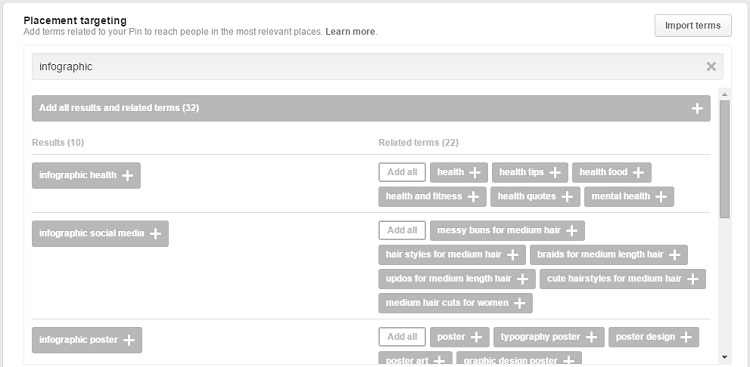 In addition to keyword targeting, you also have the option to narrow down your audience by location, language, gender, and device.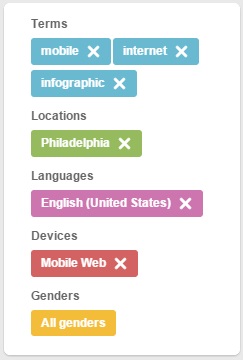 Although you probably won't need to use all of these fields, it is useful to be able to specify exactly who you want your Pins to be shown to. Beyond these basic demographic options, Pinterest also added advanced targeting with their Taste Graph in October 2017. This makes reaching your target audience on the platform easier than ever before.
Pricing
Pinterest uses a cost-per-click (CPC) pricing model, so you only pay when someone clicks through the Pin to your website.

First, set your maximum CPC bid, or the highest amount you are willing to pay for every click through to your website. It's unlikely that you will actually be charged this amount, but the cost will never exceed it.
Then, set the duration of your campaign and a daily campaign budget. Once you've set your targeting and budget, Pinterest will review your Pin to make sure that it meets their guidelines. If it does, your Pin will launch.
If not, they will provide you with suggestions you can use to resubmit.
Pinterest's Guidelines
Pinterest's rules for advertisers are a little stricter than other social media platforms, which isn't necessarily a bad thing. They want ads to be "beautiful, actionable and interesting," which basically just means that your promoted Pins should be complementary to user experience – not disruptive of it. The most important thing to know as an advertiser is that your Pins cannot contain promotional material without full dates, because Pinterest wants pins to be "evergreen."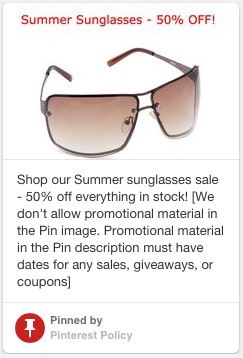 Due to the nature of the platform, your Pin could continue to be repinned for days – or even weeks – after you post it, and you don't want users to be sharing outdated information.
You also cannot include calls to action in your Pins. Pinterest says that phrases like "Buy now!" and "Click here!" harm the aesthetic quality of the platform, which essentially just means that they don't want it to be overrun by disruptive ads.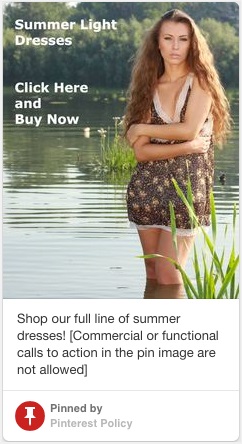 Instead of telling users to take specific actions, pique their interest with visually attractive content and information that is relevant to them.
In addition to these, Pinterest does not allow improper grammar, nudity or sexually suggestive content, harassment or hate speech, shocking content or profanity, or implied Pinterest affiliation. They also do not allow promotion of adult products and services, alcohol, counterfeit goods, drugs and tobacco, online gambling, or weapons and explosives.
Is Pinterest advertising right for you?
Pinterest's advertising features are still relatively new, so there is not a lot of information regarding companies who have been successful with them yet. That being said, being an early adopter could be beneficial, as there is less competition for CPC bids.
One of promoted Pins' biggest draws is their simplicity. Creating and promoting Pins is quick and easy, which is great for businesses who don't want to spend a ton of time on social media advertising. The platform also has slightly less advanced targeting options than Facebook or Twitter, but that could change as more businesses adopt Pinterest for advertising purposes.
Although Pinterest advertising isn't for everyone, if you are a B2C company (especially one related to cooking, DIY, or home décor) it's definitely worth looking into. As the platform continues to develop its options for businesses, it could very well be an effective component of your social media strategy. This post on Pinterest advertising is the third in a series about paid advertising options on social media.
Stay tuned to learn how to promote your posts on LinkedIn!
WebFX Careers
Join our mission to provide industry-leading digital marketing services to businesses around the globe - all while building your personal knowledge and growing as an individual.