How Much Does Pinterest Advertising Cost?
With the growth of social media, more platforms now offer advertising to help companies reach more leads. Pinterest has hopped on board and added their advertising services to help companies reach new leads.
It's an excellent opportunity to expand your business's reach, but how much does Pinterest advertising cost?
Watch our video for a brief overview, and keep reading for a more in-depth explanation.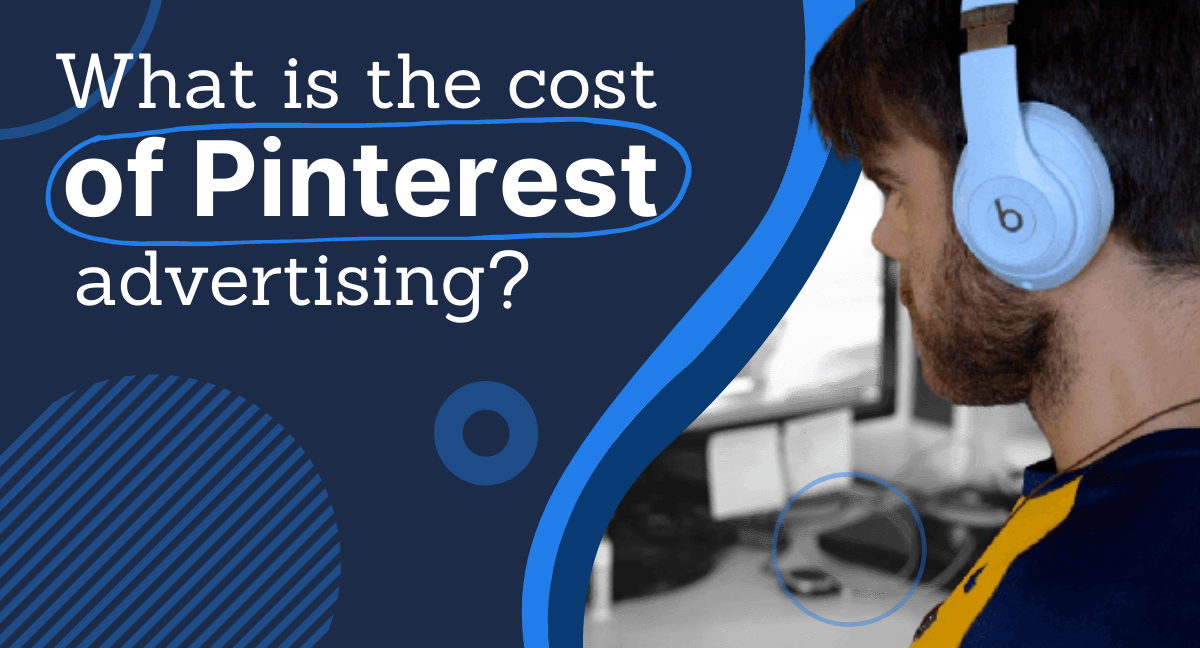 74% of people use social media when making a purchasing decision.
Make their decision easy with a stellar social media presence. See how your brand can level up by requesting a no-obligation proposal today.
One of our experts will be in touch within 24 hours!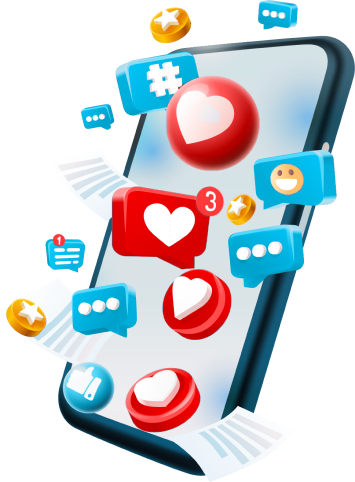 How much does Pinterest advertising cost?
When you start your advertising campaign, it's important to know how much Pinterest advertising costs. With Pinterest, the price for your campaign will depend upon your campaign goal.
There are three main goals you can set with Pinterest ads: Building awareness, boosting engagement and driving web traffic. The average cost of these methods is as follows:
Building brand awareness: $2.00-5.00 for 1000 impressions
Boosting engagement: $0.10 – $1.50 per engagement
Driving web traffic: $0.10 – $1.50 per engagement
Let's look at these different Pinterest advertising goals more in-depth:
1. Building awareness
Many companies will use Pinterest ads to build brand awareness. The purpose of brand awareness is to get your business in front of as many people as possible. These are people that don't know your business or aren't very familiar with it.
When you run a Pinterest advertising campaign focused on brand awareness, you'll use a cost-per-mille (CPM) pay scale. This means you'll pay for every 1000 impressions on your pin. Impressions are how many people look at your promoted pin, but don't necessarily take an action.
So, how much do these Pinterest ads cost?
With the CPM model, your cost is typically around $2-5 dollars for 1000 impressions. The minimum bid is $2. These ads are used mainly to build up your brand recognition and gain brand exposure.
2. Boosting engagement
Another ad option is boosting engagement. When you set a goal to increase engagement, you want to encourage people to interact with your promoted pin. These include actions such as repining and clicking on content.
These ads run on a cost-per-engagement (CPE) model, meaning you pay when someone engages with your ad. These ads are great for building brand recognition further and getting your audience to interact with your content.
If you're wondering how much these Pinterest ads cost, the cost of running a CPE model ad is typically around 10 cents to $1.50 for every engagement.
3. Driving web traffic
The last advertising goal is driving web traffic. This is when you create Pinterest ads with the intention of driving traffic to your website. You are only charged when someone accesses your site from your Pinterest ad directly, not if they engage with it.
This model operates on cost-per-click (CPC). Every time someone clicks on the URL link to visit your site, you get charged a set amount. If you've ever run a pay-per-click (PPC) campaign, the set-up is similar to PPC.
In general, small to midsized businesses can expect to pay around 10 cents to $1.50 per click for Pinterest advertising. The minimum bid for CPC campaigns is 10 cents.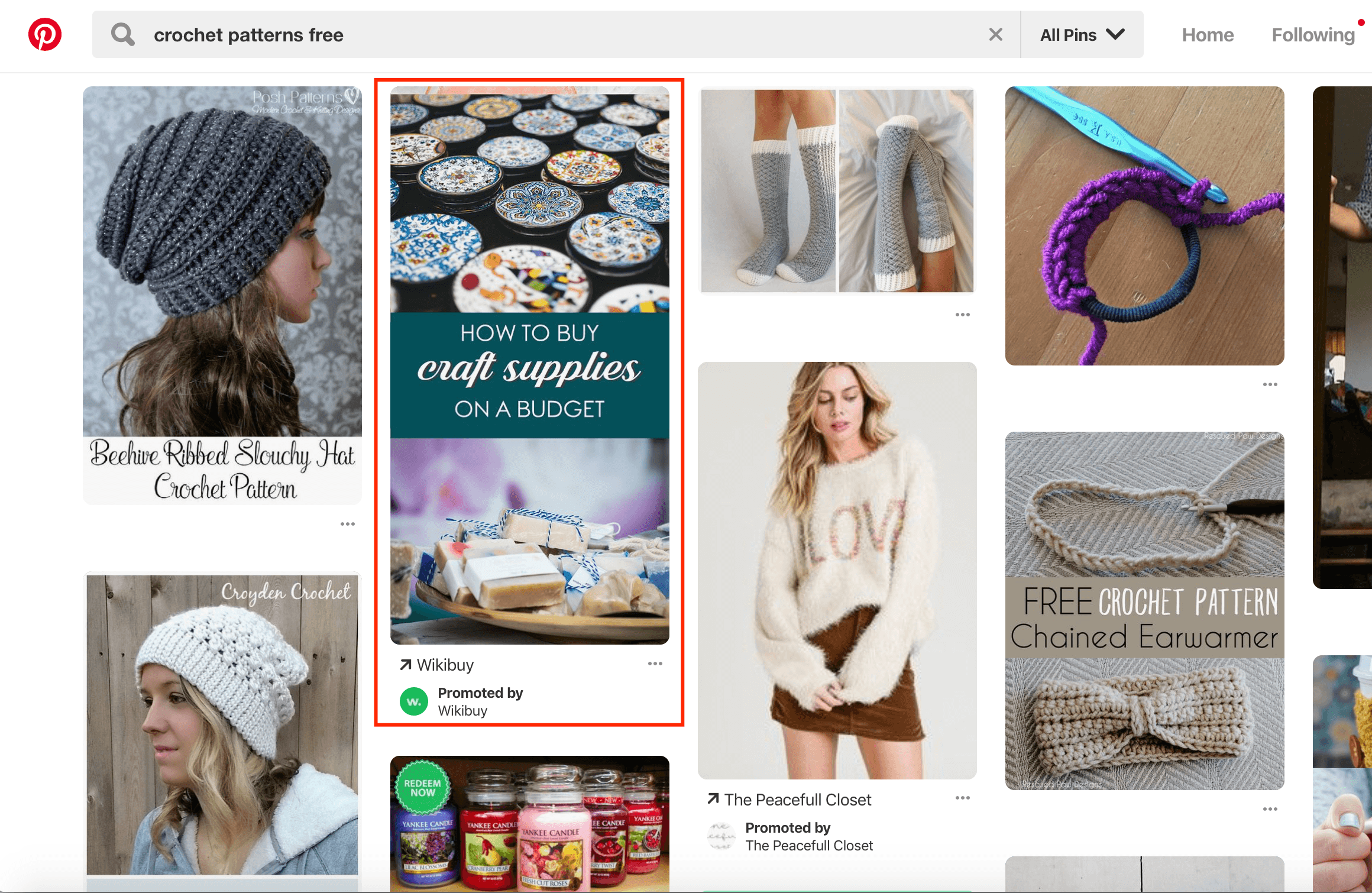 How much does Pinterest advertising cost per month?
Small-to-medium-sized businesses (SMBs) typically spend $200 to $1500 on Pinterest ads and $1000 to $2500 on Pinterest advertising campaign management per month.
Now that you know the cost of promoted pins, we can dive into further detail on how they work and how you can set them up.
How do promoted pins operate?
Promoted pins are ads on Pinterest. These targeted ads appear on a pinner's feed. When they browse through pages and conduct searches, promoted pins are integrated within. They often look similar to other Pinterest posts, so it can be difficult to spot the difference.
When you run a Pinterest ad, you can target people based on numerous factors. This includes location, demographics, devices, and more. It's an excellent opportunity for your business to reach customers who are searching for pictures related to your industry.
Pinterest ads operate similarly to PPC ads. You set a daily budget and how long you want your campaign to run. When you use up your budget, your campaign ceases to run.
When you're running your campaign, you will set a bid amount for how much you're willing to pay when someone sees, engages, or clicks on your ad. The actual amount is determined by other bidders that are bidding for the same placement.
Promoted pins are great for helping drive traffic to interact with your brand. You can help people get familiar with your brand, check out your products, and even convert!
How to set up promoted pins
To get started with your Pinterest advertising strategy, here are the steps you can take:
1. Get a business account
Before you can begin creating promoted pins, you must have a business account. If you already have your business account, you can skip to the next step.
Pinterest outlines the steps for creating a business account. It's completely free to set up an account and access analytics tools to monitor your page's performance.
2. Select your pin
To start promoting your content, you must choose which pin you want to advertise. It can be a pin on your site or a pin from someone else who posted about your brand.
Once you have the pin selected, hover over it. You will see an option to promote your pin. When you click on that button, you will be redirected to a screen to start setting up your ad.
3. Select your keywords
If you've ever run a search engine optimization (SEO) campaign, you know how important it is to conduct keyword research. Keyword research helps you find the right words to attach to a listing to help it appear in front of relevant leads.
There is no specialized keyword tool for Pinterest, so you will need to rely on Google keyword tools to help you find the right phrases. When you generate a list of relevant keywords, you must see how people use them on Pinterest.
Just plug in the keyword into Pinterest's search bar and see what phrases come up in the autocomplete box. You may need to alter the order of the keywords to maximize results with your promoted pin.
Let's say you own a craft store and you're trying to promote a pin about crochet patterns.
When you search the keyword "crochet patterns," there are numerous autofill suggestions, such as, "crochet patterns free." In this case, you would want to research how "crochet patterns free" and "free crochet patterns" differ in search results and intent.
It's helpful if you phrase your keywords the way someone else phrases their searches on Pinterest. Pinterest users sometimes don't create cohesive search terms, like "crochet patterns free easy," and you must adapt for that.
4. Refine your audience
When you run an advertising campaign, you must know who you are targeting. If you want to see the best results with your Pinterest ads, you must decide who you want to target with your ads.
It's important to remember that Pinterest is dominated by a female demographic. Considering 81 percent of Pinterest users are women, you must adjust your strategy to accommodate the number one gender on the platform.
You can target users by more than gender. You have the option to target by location, devices, interests, and keywords. By refining your audience, you will be able to target them more effectively with your promoted pins.
5. Set your maximum bid
Once you have your targeting parameters set up, you must place your maximum bid. The maximum bid is the amount you are willing to pay whenever someone takes your desired action. This includes viewing, engaging, and visiting your website.
Small to midsized businesses typically bid around the average bid amount to maximize results. Many companies will bid slightly lower to get a better return.
The bid amount depends upon your industry and category.
If you have more companies competing for the same spot, you may need to bid higher to secure a better position. You can always start with lower bids when you first run your campaign to gain a grasp on how other companies bid for specific keywords.
6. Set the pin URL
The pin URL is where you'll direct traffic.
When you're running a CPC Pinterest ad, you must choose a relevant URL link to direct your audience. This is where they will end up on your site if they are interested in the product or service you advertise.
In general, the link should correlate with the photo. You don't want to post a picture of a t-shirt and direct people to a product page about shoes. When people are interested in your pins, they want to be directed to the content in your pin.
You can direct them to the specific product page or a page that contains the product along with a few other options. You have the option to send people to the original URL destination, or you can set a specific one.
It's up to you to decide which URL will drum up the best results if users click on it.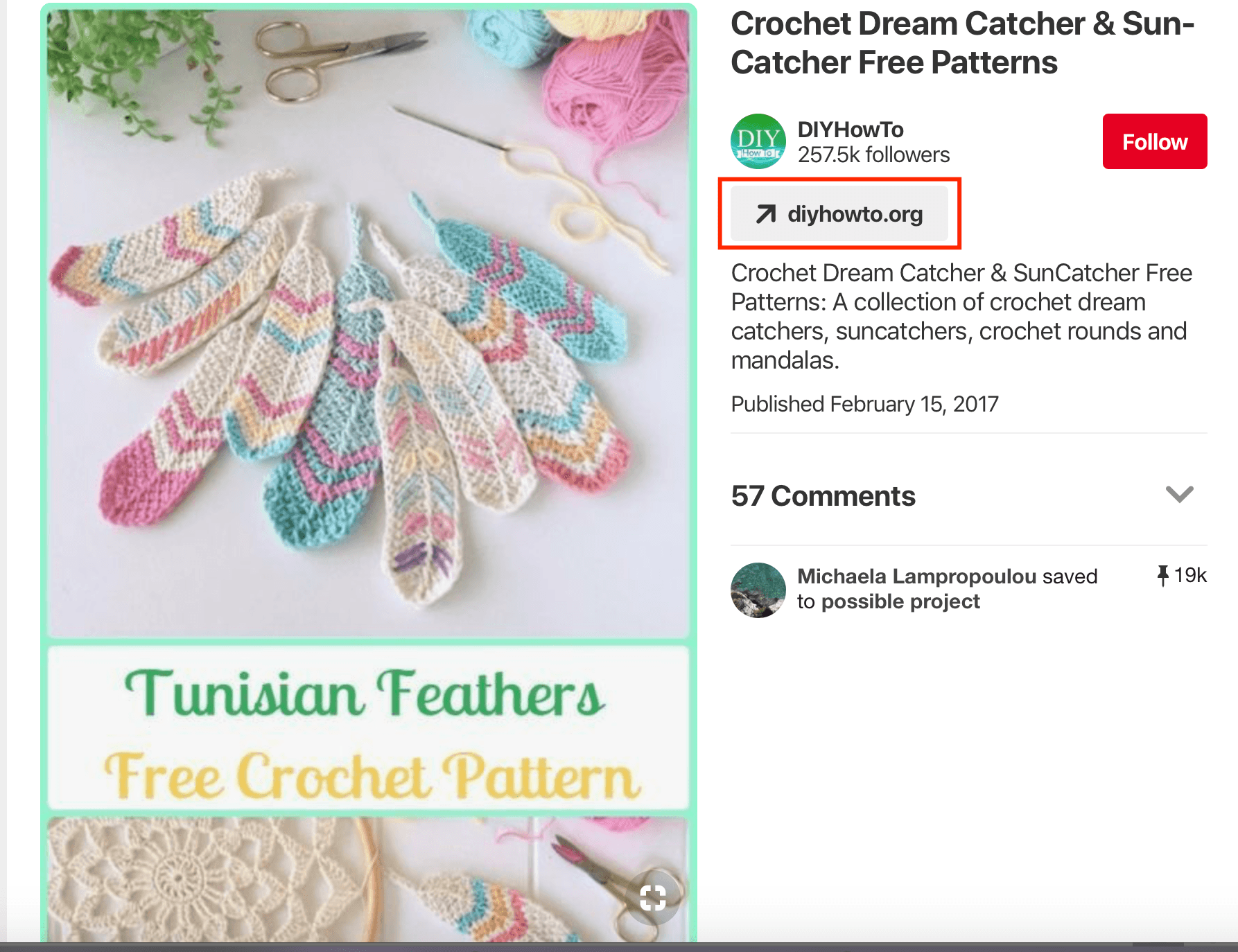 7. Set up payment
Once you have everything completed, set up your payment method.
You will only be charged based on the plan you set up and your maximum budget. If you never reach your maximum budget, you won't get charged for the additional money you were willing to put towards the campaign.
8. Launch your campaign and start tracking
As soon as you fill out all the information, you will launch your campaign. From the moment you launch it, you can monitor your campaign's performance to see how your promoted pin is doing.
There are many metrics you can monitor to track ad performance. This includes impressions, repins, clickthrough rate, and total spend. It's a great way to get insight into your campaign to see if it's driving the results you desire.
WebFX is a partner businesses trust.
Hear from ABWE, who's been with us for over 10 years!
Watch the Video Testimonial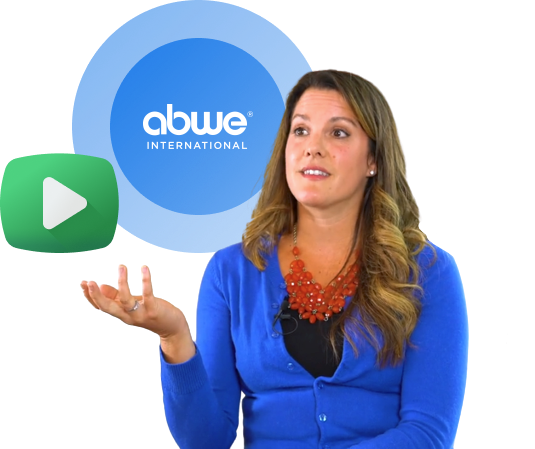 WebFX will help you start advertising on Pinterest
If you're looking to engage potential clients on social media, Pinterest advertising will help. You can promote pins on this site to help your business reach more valuable leads. At WebFX, we know how to create Pinterest advertising campaigns that help your business grow.
We're a full-service digital marketing company that specializes in social media advertising. We have a team of over 450 experts that will bring their knowledge and expertise to your campaign. We'll help you create a social media campaign that lets you reach new leads.
If you're looking for a company that drives results, look no further than WebFX. In the past five years, we've driven over $3 billion in sales and over 7.8 million leads for our clients. We focus on helping our clients grow their business.
When you choose a Pinterest advertising company, you want to work with one of the best in the industry. Our 775+ client testimonials are a testament to the quality of work we deliver for our clients. Check them out to see how we "WOW" our clients!
Get started today on your custom Pinterest advertising strategy
If you're ready to begin running Pinterest ads and building a performance-driven Pinterest advertising strategy, contact us online or call us today at 888-601-5359 to speak with a strategist.
We look forward to helping your business grow from Pinterest!