Social Media Sleek Icons: Icon Pack
Preview
Social media is one of the most popular ways to market a business online, and in order to gain the most traction for your social profiles, you should try to include links to them on your website.
Additionally, web design is extremely important because it gives users an impression of your business – so it should be clean, organized, and professional. One way to ensure that you incorporate your social profiles professionally in your web design is with icons.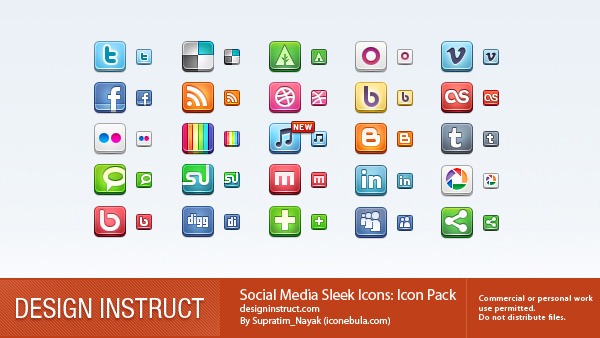 License and Requirements
When using these icons, please use an attribution link that links back to this page. For example, you can use the following recommended attribution: Social Media Sleek Icons by Design Instruct.
Here is the HTML code you could use:
<a href="http://designinstruct.com/free-resources/icons/social-media-sleek-icons-icon-pack/">Social Media Sleek Icons by Design Instruct</a>
Additional License Information
This icon pack is licensed as follows:

Social Media Sleek Icons by Design Instruct is licensed under a Creative Commons Attribution-ShareAlike 3.0 Unported License.
Details
File format: PNG
Size: 32x32px and 16x16px
Limitation of use: Do not sell files, attribution required.
Number of items: 25
Number of files: 50
Download Source Files
Real advice
WebFX is a full-service digital marketing agency that offers everything from PPC ads to social media marketing. This page is all about the social media icons, so check out the advice we give to construction companies on how to utilize social media.
Get posts by email
Be the first to know when we publish a new blog post!