Do you work in the construction industry? Are you struggling to come up with interesting content to post on your company's social media accounts? Or have you not yet taken the steps to set them up? Not to worry—we can help. If you'd like to speak with one of our experts, you can reach us at 888-601-5359.
Regardless of where you are in developing a social strategy, it can be tough to consistently generate ideas for engaging with your audience. And while there's no proven formula for success, the following ideas will hopefully provide some inspiration:
Not happy with your social media engagement?
We've got just the blog post for you.
Read the Blog Post & Watch the Video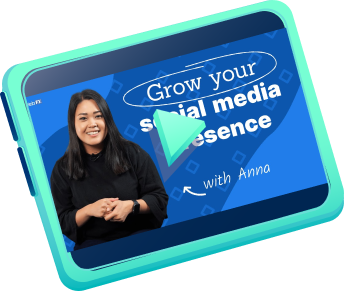 12 social media tips for construction companies
1. Post on a regular basis
It can be difficult to post as often as you should, but regularly posting, tweeting and pinning can really pay off. Most users follow hundreds of other users and businesses, so odds are that your posts will be buried deep in their newsfeeds within hours.
Because of this, if you want people to actually see your posts, you should plan to post at least 3-5 times per week on Facebook, and even more on Twitter. If you don't have the time to do it yourself, you might consider delegating this task to a more social media-savvy employee (or an outside agency).
2. Stick to one or two social media platforms
While you may ultimately be able to keep up a presence on every social media platform the Internet offers, choose one or two to focus on when you're first starting out. Keeping up with accounts can be more work than you anticipated, and it's easy to get overwhelmed.
Although you should claim usernames on all the major platforms (Facebook, Twitter, Instagram, and Pinterest, just to name a few), you can avoid frustration by only actively maintaining one or two. Once you're in the habit of updating, you can gradually start adding in the others.
3. Mix up the content of your posts
Posts should be anything but boring on social media, but all-too-often, businesses have trouble mixing up what they're writing. In general, 50 percent or less of your posts should be self-promotional. The rest can be anything from news to inspiration to humor.
4. Take before and after images of your work
As a construction company, one of the most compelling things you can post is before and after photos. Although you'll need to get permission from the property owners before sharing them, they can be a great way to showcase your abilities.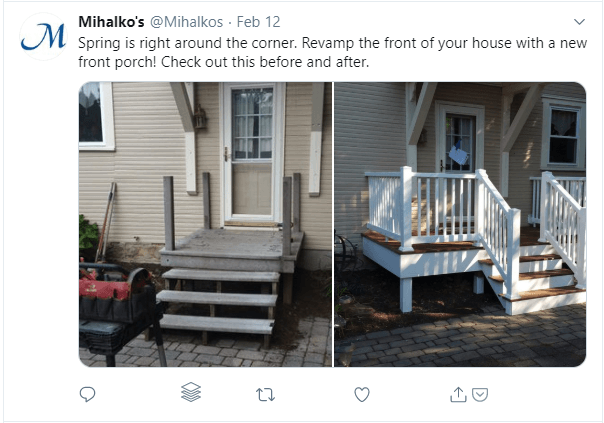 In addition, satisfied customers may even share these posts with their friends and family. Even if no one in their social circles is looking for a construction company right that minute, it's a great way to get your company name in people's minds.
5. Encourage your employees, friends and customers to follow you
When you're first starting out, it can be difficult to build a following and get a decent amount of likes for your pages. And while you certainly don't want to be annoying, you should let your employees, friends and customers know that the page exists.
Remember that no one can like your page if they don't know it exists, so consider suggesting it your personal friends and family members, as well as making a company-wide announcement.
6. Respond to comments and reviews
On your Facebook business page, you'll notice that people can leave comments and reviews. This may be intimidating, since anyone can post to your page, but as long as you are confident in your company and kind to your customers, you should see it as a good thing!
Be sure to respond to all comments, both positive and negative. Thank your happy customers for sharing, and address your unhappy customers' complaints. This will show your followers that you genuinely care about your customers.
7. Share how-to videos
While you may think that sharing behind-the-scenes videos about how you tackle certain projects will inspire viewers to do everything themselves and not need your company, it generally has the opposite effect.
Most of the time, people who see these videos will not have the skills or motivation to do all of their home improvement projects without outside help. Instead, they'll see them as inspiration for making their homes look better. And if they decide that to contact a company about making it happen, who do you think they'll think of? You.
8. Jump on board with trending topics
Social media shouldn't always be serious. If you notice a funny or interesting trending topic and can somehow relate it to your company, go for it! Hashtags can be a great way to get noticed, and can show a bit of personality.
That being said, always make sure you understand a hashtag before using it. Many companies have mistakenly tweeted jokes or promotional material using hashtags related to sensitive issues like national disasters or domestic violence, and those kinds of blunders can seriously damage your reputation.
9. Analyze your posts
One of the best aspects of Facebook's business pages is that you can track the analytics for your posts. This allows you to see which posts performed the best. For instance, if you discover that posts with close-up images drive more views, likes and shares, you'll know how to take photos in the future.
10. Link back to your website
While you don't need to add links all the time, you should occasionally link back to pages of your website. Although your primary goals with social media should be brand awareness and engagement, it can sometimes help drive traffic to your site. And considering that a well-built site is the core of a solid construction company marketing strategy, this is never a bad thing.
11. Add social media buttons to your website
Another way to ensure that your customers follow you on social media is by adding buttons on your main site. Although you don't want to make these buttons more prominent than your calls to action and risk missing out on leads, it's a great way to make sure that people are aware of your presence on social media.
12. Double-check your grammar
Finally, it may seem silly, but it's worth mentioning that your construction company's social media pages are an extension of your company's image. That means that while slang and informality are occasionally okay (depending on your brand), you need to maintain a sense of professionalism.
If you want to start using social media to build your construction company's brand and grow your business, feel free to contact us! Our dedicated social team is more than happy to help you come up with a unique strategy for building a following, encouraging engagement, and driving leads.
Growing your social presence with WebFX is a walk in the park.
"WebFX allows growing your social media platforms to be stress-free! They are knowledgeable and adapt to your company needs!"
Learn More About Our Social Media Services

Hear What It's Like to Work With WebFX!

"We were looking for a forward-thinking but down to earth SEO company to partner with. Not only were we looking to build a long term business relationship but we needed them to understand our needs as a small company. And WebFX met all of that criteria. Our experience has been unparalleled; from the sales team who made the drive to our office to meet us in person to our Internet Marketer who has been an absolute joy to work with. They are completely transparent about their services and they take the time to explain everything which not only sets them apart from every other SEO company we have worked with but we also feel like we're taking something away from our interactions with the staff at WebFX. We are exited to see where this year will take us knowing that we have such a great support system with their company."
Home Contractor
Want to learn more?
Did you know that 74% of people use social media when making a purchasing decision? With construction marketing statistics like that, a social media marketing campaign has the potential to drive tons of leads and revenue for your company.
Interested in learning more about how social media can help your company? You may also want to check out our social media tips for home builders.
Our team of social media experts is ready to work with you to take your construction business to the next level. Contact us today to learn more about our custom plans.
Find out how WebFX can create an effective Internet marketing strategy for your website. Call 888-601-5359 or contact us online today for a free evaluation.
Earn a 20% greater ROI with WebFX