Supercharge Site Content With SEO Content Analysis Services
Our SEO content analysis services use artificial intelligence-powered technology to assess existing content for SEO and provide recommendations for creating new content that ranks in search. You can then use our analyses to develop optimized content yourself or work with our expert copywriting team to craft content that earns your business leads, sales, and revenue.
Explore SEO content analysis reports
Opportunity Report
$600 / month
Analysis of up to 6 existing pages

Title tag and word count recommendations

New keyword opportunities identifications
Opportunity Report & Outline
$150 / month
Analysis of 1 existing page

Creation of 5 potential headlines/topics

Natural Language Processing analysis
"The sophistication and professionalism of the team at WebFX, and the agency itself with their proprietary tools and platform, is hands down the best I've ever experienced. Highly recommend."
BUILDING MANUFACTURER
SEO content analysis pricing
| Features | SEO AI content opportunity report | SEO AI content opportunity report & outline |
| --- | --- | --- |
| Implementation of keyword insertions completed by client | | |
| Analysis of website page(s) | Up to 6 | Up to 1 |
| DeepLearningFX AI analysis of top 5 Google results for target term | | |
| Natural Language Processing semantic analysis | | |
| Overall content score | | |
| Identification of new keyword opportunities | | |
| Keyword frequency analysis | | |
| Keyword stuffing prevention analysis | | |
| Title tag recommendations | | |
| Word count recommendations | | |
| Flesch-Kincaid readability and web accessability analysis | | |
| H1/H2 tag recommendations | | |
| Content outline | | |
| Review of completed content by WebFX content experts for SEO opportunity | | |
| Final content opportunity analysis report delivered to client | | |
| Total Investment | $600 | $150 |
| Need more information? Call Us: 888-601-5359 | GET QUOTE | GET QUOTE |
The tech behind our industry-leading AI SEO analysis content services
We power our AI SEO content services with some of the industry's most advanced technology, including:
MarketingCloudFX
MarketingCloudFX combines machine learning and artificial intelligence into a single hub. Our proprietary software suite, MarketingCloudFX leverages the power of IBM Watson. Get data-backed recommendations using billions of data points from your industry to dominate search.
IBM Watson
IBM Watson is one of the most advanced and respected AI software applications in the world. Our AI SEO services use IBM Watson's power, speed, and accuracy to deliver results. Receive data-driven keyword suggestions, title tag recommendations, and more.
DeepLearningFX
DeepLearningFX operates within MarketingCloudFX and uses the power of IBM Watson. A WebFX-exclusive, DeepLearningFX helps you find supporting phrases to round out the theme of a content page on your website and support your SEO strategy.
Measuring the metrics that affect your bottom line.
Are you interested in custom reporting that is specific to your unique business needs? Powered by MarketingCloudFX, WebFX creates custom reports based on the metrics that matter most to your company.
Leads

Transactions

Calls

Revenue
Learn More

2 core uses of WebFX AI-powered SEO content services
Our AI-powered SEO content analysis services allow your business to manage your content creation and optimization efforts in-house. Whether you have an internal writing team or collaborate with a dedicated copywriting agency, you can use our AI SEO content services to your advantage.
The most common uses of our SEO content analysis services include:
1. Create new, SEO-friendly content
You want to appear in more search results for your industry, and new content can help you do that.
For your latest blog post, online guide, or product listing to rank at the top, however, you need to follow best practices for SEO. You must also create user-friendly content. If you don't, people won't find, click, or read your content.
Our AI SEO content analysis services can help you develop new content by providing:
A content outline for what to write about and in what order
A recommended word count
A reading level recommendation using the Flesh-Kincaid scale
A list of keywords to mention in your content and use in your title tag and meta description
Up to five different headlines
For the best results, an experienced SEO and content expert will review the content completed by your team. This review helps us provide your business with additional recommendations to maximize the performance of your new content.
Your company will also receive a content opportunity analysis report for fast and easy viewing.
2. Optimize old, low-ranking content
Depending on your company and content strategy, you may have dozens of old blog posts, articles, and guides on your site. While you know they're there, most Internet users don't. That's why the content isn't driving traffic, leads, and revenue.
Optimizing this past content can help your business regain that lost traffic and revenue.
It's a time-consuming process, though, to audit the content, research competing pages, and develop a strategy for optimization. With our advanced AI software, DeepLearningFX, you can streamline this task and let your internal writing team do what they do best: create fantastic content.
Our SEO AI content services help your company optimize old content by providing:
A list of optimized title tag recommendations
A word count recommendation
A readability and usability analysis
A Natural Language Processing (NLP) semantic analysis
A keyword frequency analysis
A list of new keywords to target
To make your life easier, we compile all this information into an easy-to-read content analysis report.
Your in-house team can then review the information, ask questions, and move forward with optimizing or updating old content. With this expedited process, your company can make significant headway in your content marketing strategy.
When should my business use AI SEO content services?
Companies from a variety of industries use our AI SEO content services, which come in handy when:
Searching for a way to remove the guesswork of writing SEO content
Looking to optimize extremely technical copy for search
Wanting to ensure that your newly designed site follows SEO best practices
Trying to update a significant amount of old copy
Streamlining the process of updating past content
Writing content in-house with a team that isn't familiar with SEO
Creating content with an external team that doesn't specialize in SEO
Whether you're looking to save time or trying to maximize the return on investment (ROI) of your SEO strategy, our AI SEO content services can help. Plus, if you ever need help writing content, WebFX features a dedicated copywriting team. With us, you can check off all your content to-dos in one place.
Time to Level Up Your Sales
Our long list of services helps you grow every aspect of your business with marketing strategies that are proven to increase bottom-line metrics like revenue and conversions.
In the past 5 years, we've managed more than 12.9 MILLION transactions across our client base.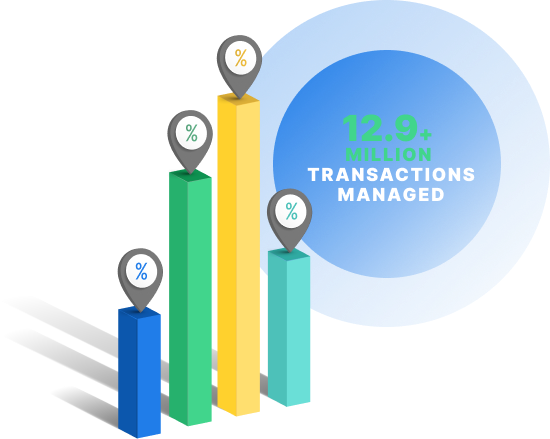 Why do companies choose WebFX's AI SEO content services?
With more than 25 years of experience, WebFX is a trusted choice for companies worldwide. From our AI SEO content services to website redesigns to custom SEO strategies, we provide unparalleled services and unmatched client experiences.
Learn why 91% of our clients stick with us:
Impressive client satisfaction rate
When you partner with WebFX, you can trust that your satisfaction matters. After more than 25 years of experience, we still maintain a client retention rate of 91%. Plus, our client recommendation score exceeds the industry average by 488%.
We continue to maintain such a high score because of our unique approach to client service. Our team works as an extension of yours, learning about your business, products or services, and goals to develop original content that achieves your goals.
Many SEO content services also shuffle your team between account managers, assigning you a number, rather than a name. That's not the case with our SEO services. You have a dedicated account manager that knows your name and your business.
Advanced SEO content technology
As a top full-service digital marketing agency for small-to-midsized businesses (SMBs), we feature some of the industry's most advanced marketing technology, MarketingCloudFX.
This software suite, developed by our team, provides your business with actionable guidance for your SEO and content strategy.
IBM Watson, one of the most sophisticated artificial intelligence and machine learning software applications, powers MarketingCloudFX. With IBM Watson, plus years of proprietary WebFX data, MarketingCloudFX can determine the most valuable topics and keywords for your content. Check our our blog on machine learning to learn more about how it lends a hand to MCFX.
With this tech, we provide your business with an unmatched competitive advantage. You can focus your efforts (and budget) on the topics that offer the biggest return on investment (ROI) instead of guessing which keywords may deliver the most value.
That's why WebFX is known for providing digital marketing that drives results.
Transparent pricing
Agencies that provide SEO content services tend to shy away from sharing their prices online. They require your business to call or contact them, which can become frustrating when you find that the company's services are outside your price range.
At WebFX, we take a different approach.
You can find our prices online, 24/7. Whether you're curious about our SEO content analysis, copywriting, or SEO services pricing, it's easy to view our rates. You can also contact our team for a custom quote, which is helpful for larger projects.
Full-service SEO
If you want to go beyond SEO content analysis and explore more SEO services, WebFX can help with that too.
We're a full-service SEO company, and we offer everything you need to drive revenue with search. We have a team of 500+ digital marketing experts who specialize in everything from SEO copywriting to technical SEO.
We can create a full, custom SEO strategy for your business or help you with specific aspects of your SEO such as content creation or site speed optimization.
3 powerful reasons your company needs professional AI SEO content services
As content becomes a core component of SEO, many businesses now use professional SEO content analysis services. If you're considering AI-powered SEO content services but need to convince decision-makers at your company, this resource can serve as a helpful reference.
Learn more about the three reasons that motivate companies to invest in AI SEO content analysis services:
1. Match search intent
A successful SEO strategy starts with search intent.
If you want to appear at the top of any search result, whether it's for cleaning chimneys or fixing lawnmowers, you need to create content that matches the intent of the user. Write the content you want, and you can expect search engines to ignore you.
Even if you publish content that matches user intent, you need to worry about writing quality. The usability of your site is also an issue, which is why a slow website and confusing layout can hurt your SEO's performance.
With AI SEO content services, you can solve at least one of these issues.
Our experienced content experts, as well as advanced AI tech, research your content topic, related keywords, and competing pages in-depth. This step allows our team to create content that not only matches the search intent but also exceeds the quality of anything produced by your competitors.
If you partner with WebFX, we can help you solve the issue of a poor site design too.
Since we're a full-service digital marketing agency, we offer a suite of services related to website usability. For example, we provide web design services, as well as user experience (UX) testing to ensure a seamless experience by website visitors.
2. Improve SEO performance
Content is a core part of SEO.
If you don't have high-quality (and optimized) content on your site, SEO won't deliver. Your website won't appear in relevant search results, which doesn't provide your business with the qualified traffic, leads, or sales you want.

With AI SEO content services, however, your company can build top-notch content optimized for search engines. This level of content can help your business rank in valuable search results, which can have a direct impact on your bottom line.
You can gain valuable insight into the performance of our AI-powered SEO content services by looking at the results of our clients. Our SEO consultants have helped our clients generate more than 7.8 million leads and more than $3 billion in revenue in the past five years
5. Get industry-leading expertise
Your company specializes in areas that matter to your business. If you're a landscaping company, for example, then you're the expert when it comes to lawn care. In comparison, if you're an SEO agency, then you know everything about SEO.
When you decide to invest in AI SEO content services, you skyrocket your company's SEO expertise overnight. That's because you gain the experience of a digital marketing specialist, plus content expert when you partner with WebFX.
With an experienced and dedicated team on your side, your business can compete with top competitors. You can also take advantage of advanced marketing software, like DeepLearningFX, to inform and enhance your content strategy.
FAQs about SEO content and AI SEO content analysis
If you're starting your research into SEO content services, as well as AI SEO content, you probably have a few questions. This compilation of frequently asked questions (FAQs) can help your team learn more about these services.
Check it out!
What is SEO content?
When people talk about SEO content, they're often referring to content written for users and search engines. It's user- and search-friendly content because it provides value to the user and features helpful signals, like keywords, for search engines.
What are AI SEO content analysis services?
AI SEO content analysis uses artificial intelligence to assess content and provide recommendations for improving its performance in search. You can use SEO content analysis services to analyze existing content or provide recommendations for new content, such as keywords and headings to include.
How much do AI SEO content services cost?
Pricing for AI-powered SEO content services varies.
If you're comparing agencies and pricing, research the artificial intelligence application powering their analysis. You want a robust and reliable software, like IBM Watson. If the agency doesn't use that kind of software, its recommendations won't help you launch or maintain SEO-friendly content.
What kinds of content can you write for SEO?
You can write a variety of content for SEO, including:
Blog posts
Informational articles
Service pages
Product pages
Infographics
Online guides
And more
The advantage of content marketing is that you have a tremendous amount of options. With so many options, your business can build a content marketing strategy that aligns with your audience, goals, and industry.
How long does SEO content take to write?
The turnaround time for your SEO content depends on a few factors, like your content's type and length. If you're investing in an online guide, you can guess it will require more time to write and prepare than a blog post.
If you choose our web content writing services, your dedicated account manager will provide an expected date of completion. They can also expedite the content if you need it sooner, like for a product launch or a seasonal opportunity, like a guide on decorating your home for the holidays.
For our AI SEO content services, you can expect a similar experience.
What are SEO content writing services?
SEO content writing services develop, produce, and publish SEO-friendly content. With SEO content, your business can increase its visibility in search results, which can bring more traffic and potentially revenue to your business.
How much do SEO writing services cost?
Rates for SEO writing services vary.
Companies can spend $25 to $25,000 per page, though this number depends on several factors. The word count, for example, as well as the content topic, can lead to price increases. While many agencies choose their content writing service pricing based on the client, we provide upfront, flat-rate prices.
Get a free quote for our SEO content services
Ready to begin creating reader- and SEO-friendly content for your website?
Get started by contacting WebFX today! With our impressive client recommendation score, you can count on our team and advanced marketing applications to deliver actionable and insightful reports for creating content that your target audience will love to read and share.
Give us a call at 888-601-5359 or contact us online to request a free quote!