SEO Content Creators: How to Write Valuable SEO Content
Did you know that 70% of users prefer to get to know a business through articles than ads?
Creating content not only helps your leads get to know your business, but it also helps your business improve your search engine optimization (SEO) ranking. As an SEO content creator, you'll be on the fast track to boosting your website's ranking in the search results and driving more traffic to your page.
In this post, we'll discuss what SEO content is, different types of SEO content, and six tips for writing valuable content as an SEO content creator.
If you have any questions about SEO content, feel free to give us a call at 888-601-5359!
Want to create custom SEO content?
What is SEO content?
SEO content is any content created to attract people through search engines. You optimize your content to perform well on these search engines, which boosts traffic on your website.
Let's break it down further:
SEO: SEO is the process of boosting your website's rankings in search results through optimizations. The goal is to get your website to the top of the search results to attract people to visit your site.
Content: Content creation is the process of compiling knowledge and sharing it with your audience, typically in a written or visual format. This material allows you to present yourself as an authority in your field, which ultimately leads to people trusting your business and choosing you.
As you can see, SEO content is the process of boosting your website's ranking in the search results by creating authoritative and informative content for your audience.
What formats of content do SEO content creators use?
SEO content comes in many forms. There isn't one right way for an SEO content creator to create content. After answering the question "what is SEO content?" it's time to move to the next question: What does SEO content look like?
Let's look at the five most popular formats for SEO content creators.
1. Product pages
Product pages are a common type of page that ecommerce businesses use. On these pages, you share your products and all the critical information about them. This information includes their unique selling points, materials, usage, and more.
These are essential content pages because they detail what you offer to buyers. With these product pages, you'll want to optimize the product information to help your products rank better in relevant product search results.
2. Videos
Videos are the most popular form of non-written content on the web. YouTube is the second largest search engine in the world, which means that video is more popular than ever. It's an excellent opportunity for content creation that allows you to engage your audience.
SEO content creators can utilize video to pass along an abundance of information. One minute of video is equivalent to eight million words. You can say a lot through video in a short period!
Video content is an excellent opportunity for you to show off products, highlight services, introduce staff members, provide client testimonials, and more. This digital marketing strategy will help you provide visual content for your audience that engages them and gets them interested in your business.
3. Infographics
Infographics are another example of a visual presentation of information. With infographics, content creators break down a complicated process or complex topic visually to make it easy for audiences to digest.
When you create an infographic, it should be visually appealing to get your audience interested in the information on the graphic. You can easily illustrate a process to make it easy for your audience to comprehend.
Infographics are easily shareable on social media, too. Many people will post infographics on social media to help people better understand those topics.
As one of the most popular formats for content, infographics are a reliable medium to disseminate information. Consider creating infographics if your goal is to engage and educate your audience.
4. Blog posts
Blogs are the most common format of content for SEO content creators. It's one of the most accessible formats for creating a large quantity of material. Blog posts are engaging and allow you to share valuable information with your audience.
With blogs, you can engage your audience by sharing valuable information with them. It's a great way to attract links and traffic, as well as build your website's authority.
5. Guides
Guides are one of the most in-depth pieces of content you can create. They go beyond a standard article or blog post. These are full pieces of content that focus heavily on and go into detail about a particular subject.
If you create guides, you open the opportunity for your business to obtain new leads. You have the option to share a snippet of your guide and require that leads sign up to your email list to receive the complete manual. Guides are a valuable piece of content for both you and your audience.
WebFX is a partner businesses trust.
Hear from HydroWorx, who saw a 236% increase in organic sessions with WebFX services.
Watch the Video Testimonial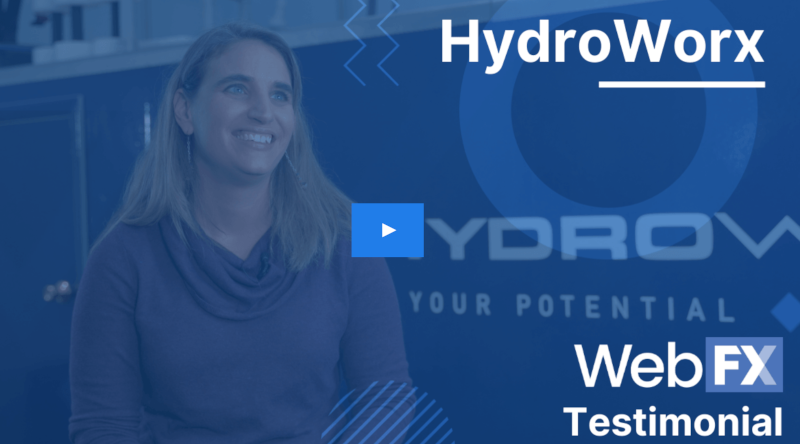 How to write SEO content that drives results for your business
So, you're ready to become an SEO content creator, but how do you get started? Before writing your first piece of content, it's a good idea to jot down some SEO content writing tips to help you create impactful content.
Let's take a look at six tips on how to write SEO content.
1. Define your website goals to create a more effective content plan
Before you dive into writing content, you must establish your website's goals. You must know what you're trying to achieve with your site before you create content. Your website goals will determine the type of content you create.
There are many goals you can set to achieve with your website. You can focus on driving sales, increasing traffic, or increasing brand awareness. These are common goals companies set when they create their online site.
Let's say that your website's focus is to earn conversions. For your content marketing plan, you will focus on creating informative product pages, blog posts surrounding topics related to your products, and videos that detail how to use your products. This approach is conversion-focused.
Notice how all the content aligns with the ultimate goal to earn conversions. The type of content would look different if your focus were on increasing traffic. If you want to be a successful SEO content creator, know your website goals so you can create content accordingly.
2. Segment your audience to make a more significant impact with your content
People take an interest in your business for different reasons. Not everyone wants the same thing from your company. It's crucial that your content strategy reflects the differences within your audience.
You want to create content that appeals to different parts of your audience.
To ensure you're hitting the mark with different people in your audience, you'll want to segment them. Segmenting your audience allows you to group people together based on their interests and write content tailored to them.
You can segment your audience by demographic information, hobbies, interests, buying habits, browsing habits, and more. For example, if you were an HVAC company, you could create tailored content targeted at people who have been browsing for heating systems.
This tip is one of the most effective SEO content writing tips for driving results. Segmenting your audience will enable you to avoid creating fluffy, blanket content with minimal purpose and focus on building robust, informative, and valuable tailored content.
3. Conduct keyword research to find relevant topics for your content
An essential part of SEO is keyword selection. Keywords trigger your website to appear in relevant search results and drive valuable traffic to your site. With SEO content creation, you want to use the right keywords to drive the right traffic to your content.
To find relevant keywords, conduct keyword research. Keyword research will help you generate a variety of key terms you can use in your content. BuzzSumo and Keyword Tool are great keyword research tools to use to find relevant key phrases.
As you look at your keyword options, focus on long-tail keywords. These are keywords that contain three or more words. As an example, "HVAC companies in Harrisburg, PA" is an example of a long-tail keyword.
Long-tail keywords are specific, so these key terms drive traffic that is explicitly looking for your business. It helps you focus on driving traffic that wants to hear from your company.
When you use long-tail keywords in content, you attract people that are looking specifically for your information. If you wrote a blog post titled "Top 10 Double Chocolate Desserts," you know that anyone typing "top double chocolate desserts" or "double chocolate desserts" is looking for your business's content.
On the other hand, if someone searched "chocolate" or "double chocolate," it's not entirely clear what they are seeking. It could be dessert, a specific type of chocolate bar, or information about chocolate.
By conducting keyword research to find relevant long-tail keywords, you'll become a better SEO content creator. You will create content that reaches more relevant leads.
4. Create a content calendar to stay organized
One of the most valuable SEO content writing tips surrounds the organization of your content. If you want to have a successful content marketing campaign, you must know what content you're publishing and when you're publishing it. A content calendar will help you stay organized and be a successful SEO content creator.
Content calendars allow you to plan exactly when you're writing content, what topics you're covering, and when you want to publish it. It enables you to get a scope of your overall content marketing strategy.
When you create a content calendar, you'll only want to plan up to a month's worth of content. If you try to plan for a year's worth of content, you'll waste your time.
Businesses are continually changing, so you don't want to plan too far ahead in case your business incurs changes in the future. You can still jot down ideas for the future that you can revisit later but mainly focus on the month ahead of you.
With your content calendar, you'll determine when you're publishing topics. This calendar allows you to create a cohesive campaign of content.
5. Make your content useful for your audience
Many companies create content for the sake of creating content. Since content creation requires constant creation and publishing, many companies focus on getting the content out, rather than the quality of the material.
This mindset is a problem because the quality of the content is one of the most critical factors that influence your content marketing plan's success.
While you need to produce content regularly for it to be effective, you also need to create high-quality content. The point of content is to engage your audience and get members of your audience to read or watch as much of your content as possible. If you're creating half-hearted content, you're not going to see the results you desire.
When you create a piece of content, it should have some use or value to provide your audience. As you develop a piece of content, ask yourself how it provides value for your audience. Are you providing helpful tips, meaningful information about a process, or how to do something?
Each piece of content should have a determined purpose. When your content has meaning, it will attract more people and get them interested in your content.
It also keeps people on your page longer, which sends a positive signal to Google that your page is valuable and informative. Google will boost your ranking to help more people find your helpful information.
If you want to be one of the most successful SEO content creators, make sure every piece of content has a purpose. You will drive better results with your campaign.
6. Format content that is easily readable
You can have an incredibly impressive and informative piece of content, but that won't matter if your audience can't read it. When you publish your written material to your website, it must be readable. Readability influences whether your audience continues to read your content or leaves your page.
Readability touches on two aspects: the content and the appearance of the material.
Within your content, you want to use key terms and phrases that are related to your industry. While it's good to use jargon to establish yourself as an authority, you don't want to overdo it to the point where your audience doesn't understand your content.
Use jargon when necessary, and explain any terms that may be confusing or unknown to your audience.
The second part of readability is your content's appearance. If someone clicks on one of your blog posts and sees large paragraphs of text, it deters them from your post. It's crucial that you make your text easily readable for your audience.
If you want to know how to write SEO content successfully, follow these readability tips:
Use headings to break up your text into sections: Utilizing headings will help create flow for your content. People will know what to expect next. Doing this will keep your content organized and allows your audience to skip to sections that matter most to them.
Use bulleted lists when appropriate: Utilizing headings will help create flow for your content. People will know what to expect next. Doing this will keep your content organized and allows your audience to skip to sections that matter most to them.
Choose the right font color: Your audience can't read your text if they can't see it. If you want to see the best results with your campaign, choose a font color that contrasts with your background.
Choose the right font size: Font size is imperative for readability. If your font is too small, your audience can't read your content and will have to zoom in and out to read it. Generally, you'll want to keep your font size at a minimum of 16pt.
Break your text into digestible paragraphs: Paragraphs of 1-3 sentences are easier to read than paragraphs of 6-7 sentences. It may make your pages seem more prolonged, but your audience will be more likely to read it because it's less intimidating with smaller paragraphs.
These are just a few SEO content writing tips to help you improve readability. By improving readability, you'll increase dwell time on your page, which will improve your SEO ranking.
Independent research from Clutch has named WebFX the
top SEO company

in the United States.

Clutch has personally interviewed more than 250 WebFX clients to discuss their experience partnering with us.

Read More Clutch Reviews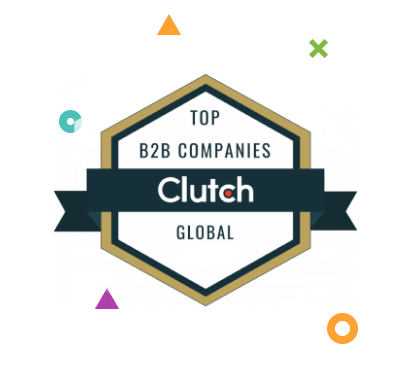 WebFX is one of the best SEO content creators
Creating content requires time and dedication to drive valuable results for your business. If you're busy focusing on running your company, you may not have the time or resources to dedicate to a content marketing plan. If you need help creating an impactful SEO content strategy, WebFX can help.
We have a team of over 500 experts that will bring their knowledge and expertise to your campaign. We'll help you create a customized SEO content strategy that boosts your website's ranking and drives more traffic to your page. We have over 1020 client testimonials that prove we're SEO content creators that drive results!
If you're ready to start creating content that boosts your SEO ranking and website traffic, contact us online or call us today at 888-601-5359 to speak with a strategist about your custom content campaign.
How Is Your Website's SEO?
Use our free tool to get your score calculated in under 60 seconds.