Video marketing for SEO is a great strategy that will help your website outrank competitors online. Websites with video content are 53 times more likely to rank on the first page of Google's search results. While relevant text posts and images on your site can help give you a boost in the search rankings, different types of website videos give you an extra edge when it comes to making your business stand out online. I can't speak enough about the benefits of using video for any purpose, and there are so many when using video content for SEO alone. Keep reading to learn more about video marketing for SEO, or check out our video production services to get started!
3 ways video marketing improves SEO rankings
When optimizing your website for search engines, specifically Google, numerous ranking factors determine where your page will appear in the search engine results pages (SERPs). Video marketing allows you to enhance your SEO content to meet standards set by search engines and achieve top rankings. Here are three ways videos can improve your content and rankings.
1. Videos enhance the depth and quality of your SEO content
Search engines like Google want to rank quality content that answers searchers' queries and provides valuable information. Videos help to contextualize your content and provide helpful visuals for website visitors. For example, let's say you sell cutting-edge medical technology, and you have a state-of-the-art tool that no one has ever seen before. On your website, you can write up a page explaining how it works, giving directions in a step-by-step format. People might get excited if you include images to give context to your explanation. But imagine having that text page AND adding a video where you debut your new technology, show it in action, and have visual proof that your product really works. You can show people how excited you are about your product while educating them on its features. Telling people about what you have is great, but being able to show them how great it truly is in a website video will undoubtedly leave an impression in their minds. Video content for SEO helps you produce in-depth, quality content that ranks at the top of the search results and gives you a leg up against competitors.
2. Videos improve user experience (UX) and time spent on your site
Videos also help to break up walls of text on your site to engage users and ensure they have a great experience on your site. They also encourage people to spend more time on your site. Going back to the medical technology example, if you have an awesome video in addition to text on your site, people will likely spend a lot of time reading and watching your content. Engaging, relevant video content will also help to increase dwell time on your site — the time people spend on your pages before returning to the SERPs. With videos for SEO, you have the chance to enhance what you already have and engage your audience so that they stay on your site. Ultimately, when people spend more time on your site and have a good experience, it sends positive signals to search engines — and they'll rank your content higher in search results.
3. Videos help you earn more backlinks
More than 90% of people share videos they've watched online. This means that video marketing allows you to earn more relevant backlinks to your site content. Since the number and quality of your backlinks impact rankings, this is a huge perk of video marketing for SEO. In fact, 46% of a site's rank is determined by links. Using the medical technology example again, let's say that an established medical blog sees your content and wants to write a feature about it. They want to link to your product video on your site to tell their readers about what's new in the field. Not only will you get a larger audience to read your content, but you'll also get the link equity from the backlink. An Ahrefs study found that about 91% of pages in their Content Explorer tool don't get traffic from Google.
The main reason? Lack of backlinks. If video for SEO marketing can increase backlinks and engagement with your content and your site, why not dive into it? By creating relevant and engaging videos, you can see a dramatic increase in rankings and traffic to your site.
Looking for an all-in-one SEO audit tool? You've found it.
SEO Checker provides data on key metrics to give you:
Complete SEO score

Content Grade

Site Speed Analysis

and more.
How to get started with video marketing for SEO
Now you know why SEO experts love video, but how do you make video marketing part of your SEO efforts? Here is a list of easy tips for implementing video in your SEO strategy.
1. Tailor video content to the people searching for it
I can't stress enough how important it is to create video content that resonates with your audience. Though you want your content to rank well in search results, it's important to remember that you're creating videos for real humans — people interested in learning more about your business. When creating any piece of content, especially a video for SEO purposes, you should tailor it to the people who are going to search for it and watch it. If you want authoritative medical sites to link to your video, the language in your script should be geared towards medical professionals. They will likely know a plethora of medical terms, so you probably don't have to define them. On the other hand, if your goal is to target non-medical professionals searching for an easy answer, you should keep the language simple and explain any medical jargon you're using. If you're not sure exactly who your audience is, just think about who you sell to. Who follows you on social media, shops in your stores, shares your posts and other content, and would be interested in the content you're creating? Knowing the people who will watch your video and catering to them will make your video SEO content more successful. Check out this blog post for more tips about finding content for your audience!
2. Add SEO keywords to your video titles and descriptions
Keyword research is a core tactic when it comes to shaping your SEO strategy, and it's crucial when making video content for SEO, too. Keyword research is very useful when it comes to creating a title and description for your video. You don't have to be a video SEO expert to do keyword research (although having a team of experienced SEO professionals definitely helps)! Many tools exist to help you research keywords related to your video topic. Some examples include:
You can type in the keyword you're targeting, learn the value of that keyword, and get suggestions for related keywords you might be able to rank for in SERPs.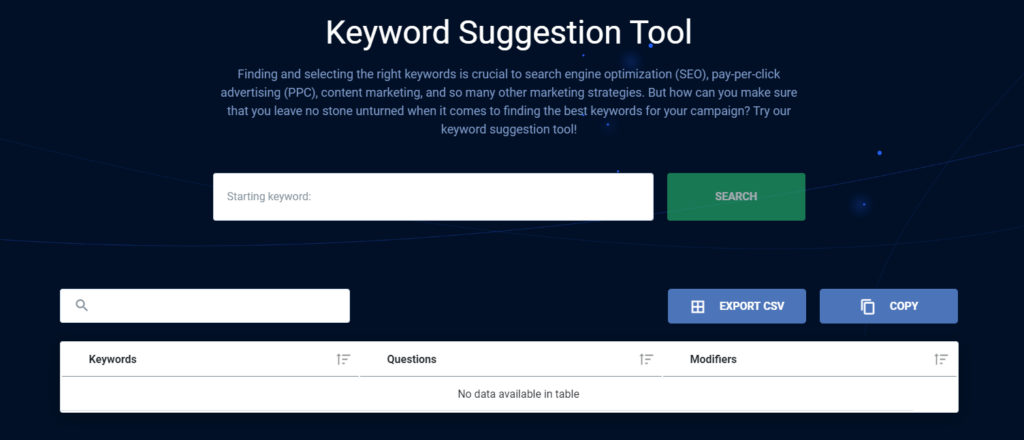 When researching keywords, it's important to take into account that people sometimes search for videos on YouTube differently than they search for content on Google. Certain keywords that work for a text post will not be as effective for a video. Keyword Tool offers a YouTube keyword search option if you're posting your video to YouTube, and you can also type your keyword into YouTube's search bar and look at the suggested results.

When writing the title and description for your video, you should make sure to include your main keyword and related keywords. It's important to also write a title and description that makes someone want to watch your video. If you're targeting the phrase "video transitions" in a video, don't make your title "Video Transitions." Instead, try something creative that sparks interest among viewers — like "6 Awesome Video Transition Tutorials!" The same goes for your description.
Use language that makes someone want to learn more, and keep your keywords in mind when doing so.
3. Include video transcripts for SEO
Putting a transcript of your video on the same page as the video will give search engines more information to contextualize the video. You can see an example of this on our site!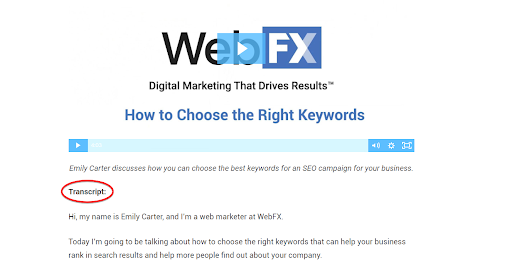 Since search engines can't "read" video content, transcripts provide the text content needed for indexing and higher rankings. As a bonus, combining video and written content will help you appeal to a larger audience. It's said that 80% of Internet users will watch a video on a site, and 20% prefer text. By posting both video and text elements, you're catering to 100% of your audience's content consumption preferences.
4. Promote video content as part of your SEO strategy
While creating great website videos is important for your SEO strategy, it's important to remember that posting the videos isn't the last step. Just as it's important to research keywords, it's crucial to research potential ways you can increase video views on your site. Great video content has the potential to earn quality backlinks — and taking the initiative to reach out to blogs and websites to requests will help you rank even faster. You can also share your video content with followers on social media, and send it directly to subscribers via email campaigns. Promoting your video content will supplement your SEO efforts and boost traffic to your website.
Get started with video marketing for SEO!
If you want to start using video marketing for your SEO strategy, contact us! We're a full-service search marketing agency that has driven over 255,000 page one rankings on Google for our clients — and we offer custom SEO and video marketing services to help you boost rankings, leads, and revenue.
WebFX Careers
Join our mission to provide industry-leading digital marketing services to businesses around the globe - all while building your personal knowledge and growing as an individual.