The Beginner's Guide to Personalized Marketing: Converting Visitors Into Leads
Personalization is a great tool for turning visitors into customers and generating revenue for your company. But in order to accomplish these goals, you need to take a conversion-focused approach to creating your strategy.
Table of Contents:
The Beginner's Guide to Personalized Marketing
This means that you should not only use your content to connect with site visitors, but also show them the next steps towards becoming your customer.
Here's how to make sure your strategy does this in five steps:
1. Create personalized content for all stages of the sales funnel
Many companies choose to begin their personalization strategy with different homepages tailored to segments of their audience. And while this is a great first step, it's only the beginning.
In order to be successful, your strategy should create a personalize experience from start to finish. During the planning stages, it's extremely helpful to segment your audience into different personas and determine what kind of content they'll need to move through the sales funnel.
For example, a target persona for an equipment supplier may look something like this: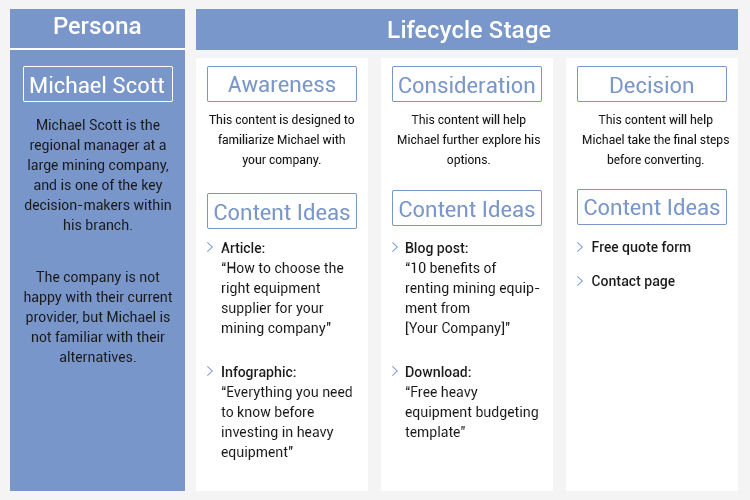 By getting a general idea of their customer journey, you can be sure that you have the right content on your site to help them become a customer.
2. Use content to direct visitors to the next step
Once you're sure that your site has all information each persona needs, you should determine how you'll move them through the sales funnel.
No matter how relevant or interesting your content is, if it doesn't eventually drive your visitors to action, it isn't producing results for your company. This means that you should include relevant CTAs throughout your site and monitor the results to make sure your strategy is working.
With automation software, you can even keep track of your leads' customer journeys, and see what they do before converting.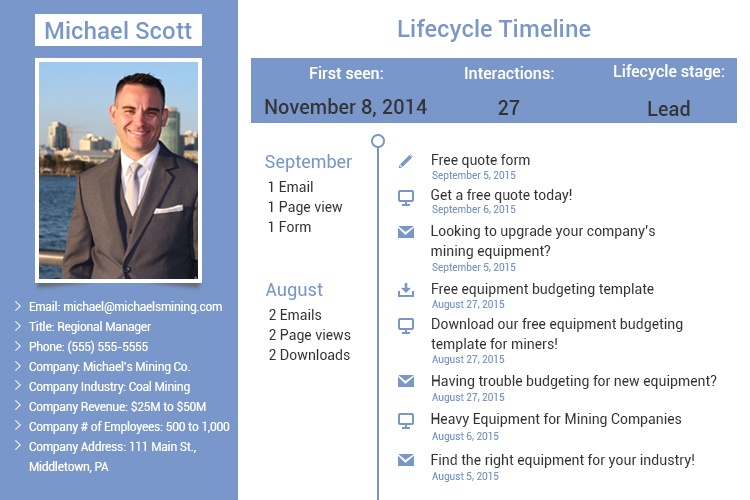 If these actions line up with your company's goals, your strategy is on the right track. And if they don't, you have some insight as to what's missing and how you can fix it.
3. Loop your sales team in on the process
In order to personalize the pages on your site, your personalization software will gradually collect data on each of your leads. Depending on your software, this can include demographic, firmographic, and behavioral data.
This information is clearly useful for your marketing and sales teams. If your company operates on a B2B model, be sure to pass it along so that your sales team can have a better idea of each of your leads before reaching out to them.
4. Stay in contact with customers
As we covered earlier, you may think that your job is finished once a customer makes a purchase, but that isn't the case at all. In fact, the average company has a 5-20% chance of selling to a new prospect, but a 60-70% chance for an existing customer.
With personalized email marketing, you can stay in contact with your customers (even after they've converted) and continue to inform them about new products and services they may want.
This process is similar to lifecycle marketing. But, what is lifecycle marketing? Lifecycle marketing helps you implement strategies that retain your customers while also attracting new leads and conversions.
When you do this, you increase the chances that they'll return to your site and become recurring customers.