Marketing to people online isn't always easy. Sometimes it can be a struggle to get people invested in what you're advertising. The good news is that you can significantly boost people's interest when you cater to their specific interests, which is the idea behind behavioral targeting.
On this page, we're diving into all things behavioral marketing, including:
Just keep reading to learn more.
Ready to get started right away? Speak with a behavioral targeting specialist at WebFX by calling 888-601-5359 or submitting your free proposal request online!
What is behavioral targeting?
Behavioral targeting is a marketing method that analyzes users' real-time actions on your website and uses this information to deliver personalized advertising. A more individualized approach creates better engagement and returns on investment (ROI) for your marketing efforts.
How does behavioral targeting work?
This method differs slightly from traditional contextual marketing, which displays ads based on product similarities. For example, viewing a golf course's website may trigger club manufacturer ads. Behavioral marketing produces a more seamless conversion process for customers than contextual advertising.
Behavioral ad targeting works by drawing on what users do — such as adding items to their cart on ecommerce sites — and then segmenting those users according to their actions. Like many advertising strategies, it's driven by data and based on your unique customer makeup. Sources of behavioral information include:
Cookies and other website actions

Third-party data like

Google Analytics

User locations and movement

Demographics like age and lifestyle interests
Benefits of behavioral targeting for businesses
Marketing to users based on their actions has four direct impacts on your business goals:
1. Increased user engagement
User engagement is essential to your business's success. Individuals who frequently interact with you have a greater chance of converting and becoming long-term customers. They're also more likely to recommend your product or service to others, and social proof is valuable to your company's reputation.
Tracking user behavior on your website allows you to help potential customers discover relevant content that keeps them on-page longer, moving them through your sales funnel.
2. Boosted average order value
One of the easiest ways to increase your revenue is by boosting your average order value (AOV). Many ecommerce sites rely on algorithms to analyze a customer's browsing or purchase history. This type of machine learning helps your business introduce users to relevant products and services that may interest them and help generate additional user spending.
3. More conversions and better ROI
The simple fact of the matter is this: Personalized marketing produces better results. Customers today are more aware of marketing messages than in the past. As a result, your advertising campaigns must resonate with them.
Using potential buyers' actions to craft an individual experience means an uptick in your conversion rate and an improved return on the money you've spent.
4. Better investment decisions
Having more data on your target audience's behavior can help you eliminate expensive testing across channels. Instead, you can use real-time insight about what they're doing — and how — to better understand their browsing habits. As a result, you can spend your budget wisely, presenting your ads to potential customers when and where they're most likely to convert.
3 types of behavioral targeting
Let's look at three examples of behavioral targeting in digital marketing today to see how this strategy can work for you:
1. Retargeting
In its simplest form, retargeting exposes a user to ads featuring products or services they've explored before. You can combine this strategy with contextual targeting to create a personalized ad experience for users.
For example, a golf course visitor may see an ad for the exact set of clubs they researched online. A click takes them directly to the product page, making the purchase easy. The insight you get from cookies also allows you to cross-sell — sell a different product or service to a customer — when the prospect comes back to your site.
Users spend a significant amount of time connected to the Internet. As a result, your business has more opportunities than ever before to reach your target audience with the right message at the appropriate time. Continued exposure creates a familiarity with your brand that fosters trust and drives conversions.
Remarketing is also effective through many channels. You can use it in display advertising, text messaging, email marketing, and social media. Today's technology makes this multichannel approach easy to execute for better results.
2. Location-based targeting
One emerging method of reaching customers through behavioral marketing is location-based targeting. This process delivers personalized and relevant ads based on a user's specific geographic area and patterns to encourage interaction. For example, a weekly bank visitor may receive a text message about an exciting credit card offer the next time they walk into the branch.
The environment within the geographic area can also play a valuable role in location-based targeting. A hotel can send its guests dynamic emails with the current weather conditions. Perhaps it's sunny outside, so they remind guests to pick up some sunscreen in the hotel store.
Providing transportation options or directions are other ways to cater to a personalized user experience with geographic behavioral targeting. Consider a hotel guest who browsed a nearby attraction's website but didn't buy tickets. They may be excited to see an ad that bundles a subway pass with their tickets or texts directions to their phone after purchase.
3. Companion or similar product recommendations
You're undoubtedly familiar with the concept of similar product recommendations if you watch Netflix or shop on Amazon. Both businesses offer suggestions for what to watch or buy next, so some refer to this technique as suggested selling. This strategy relies on recommending an accompanying or similar product or service with your purchase.
For example, if you add baby crib sheets to your Amazon cart, you may see the "frequently bought together" box displaying a related item, like hooded bath towels. Likewise, Netflix makes personalized recommendations of programs a viewer might enjoy based on their previous picks.
Time to Level Up Your Sales
Our long list of services helps you grow every aspect of your business with marketing strategies that are proven to increase bottom-line metrics like revenue and conversions.
In the past 5 years, we've managed more than 12.9 MILLION transactions across our client base.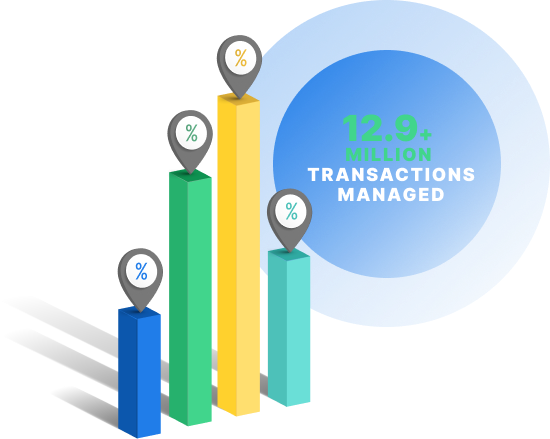 Behavioral targeting services from WebFX
Creating the right behavioral ad targeting plan for your marketing can be effortless with an expert's help. WebFX specializes in digital marketing that delivers results. Our award-winning team of SEO specialists, online advertising professionals, and content strategists will help you design an action-based strategy that's best for your business.
Find out what our clients say, then call 888-601-5359 or reach out online for your free proposal.
WebFX Careers
Join our mission to provide industry-leading digital marketing services to businesses around the globe - all while building your personal knowledge and growing as an individual.