Social media is one of the best ways for businesses to connect with current and potential customers, and one of the most popular platforms today is Facebook. With over two billion active users, it's a smart place for any company to be online.
As a credit union, you want to establish trust with the people who use (or are considering using) your services. Facebook presents a great opportunity for your business to engage with current members and gain new members. The relationships you build on the platform can translate into real results and business growth.
If you want to learn more about Facebook marketing, call us today at 888-601-5359 to speak with a strategist, or keep reading to learn more about how you can use the platform to reach your target audience.
Not happy with your social media engagement?
We've got just the blog post for you.
Read the Blog Post & Watch the Video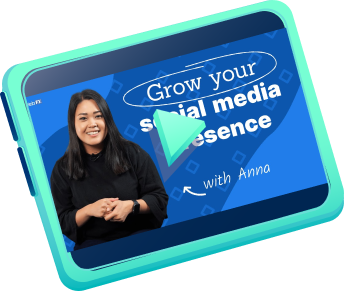 How can you start marketing on Facebook?
The first step to marketing on Facebook is creating a business page. This page will be the base for your business' presence on the platform.
When you set up your account, you want to maximize your opportunity to share information about your credit union that will help users understand who you are, what you do, and how they can contact you. This information will go in the "About" section of your page.
Once you create your About section, you'll need to add a cover photo and a profile photo. These should be tailored to your credit union, but there is also room to be creative. Your photos should be reflective of your brand, but don't necessarily need to be as formal as other aspects of your branding.
Once you create your page, you can start earning followers. One of the easiest ways to do this at the start is to announce the page on your website. You may want to put a banner or call to action on your homepage encouraging people to follow you on Facebook. When members visit your site, they'll have the option to visit Facebook and like the page.
You can also encourage your employees to like your new Facebook page. This will build up your initial number of followers, and it may also show up in their friends' newsfeeds.
It will take time to build followers, but social media growth is often exponential. As users find you, they'll have the option to share that with their friends, and then those friends will have the chance to share it with their friends.
Hear What It's Like to Work With WebFX!

"WebFX is lightyears above any other digital marketing agency we have worked with. I can't say enough about how easy they have made this process and how accommodating WebFX has been to my entire team. I will never stop recommending WebFX!"
Credit Union
How to use Facebook as a marketing tool for your credit union
Once you have your Facebook page set up, you can use it as a marketing tool to reach and engage potential members. There are several ways you can use Facebook to reach users.
1. Share your site content
If you already publish informational content as part of your marketing strategy, Facebook is a great place to share that content and increase your reach. This is a great way to educate your target audience and help them better understand their financial needs.
You can post links to blog posts, videos, infographics, and anything else on your site that your target audience may find useful. Everything you post should be interesting and informative for your followers.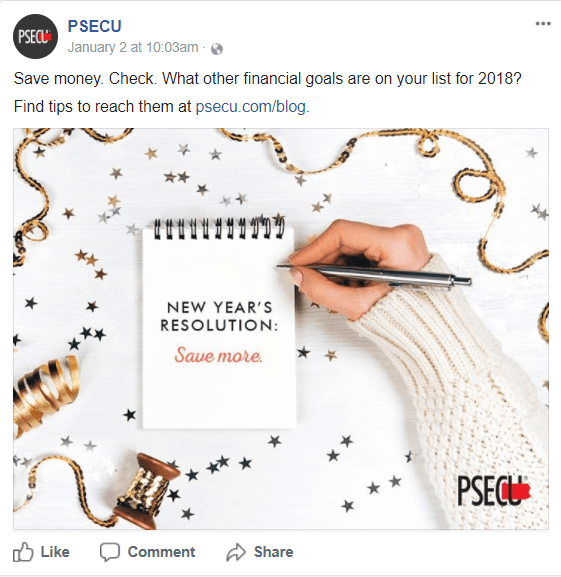 It's also important to note that not all of the content you share needs to be from your own website. You can also share links to other helpful information online.
Though you should avoid linking to content on your competitors' sites, you can share relevant news articles and posts from industry blogs that your followers may find useful.
2. Publish engagement-based posts
One of the biggest advantages of platforms like Facebook is that they allow you to directly engage with your target audience. But your followers will only comment and interact with you if you publish content that encourages them to do so.
Although some of your followers may comment on the links and articles you share, you can increase your engagement by asking questions and telling your followers what to comment.
Your content should be relevant to your industry and focused on getting users to interact with your brand. For example, you could ask your followers questions like, "How do you teach your children about saving money?" or "Does your family have a plan in place to save for summer vacation?" These questions won't necessarily drive immediate results for your business, but can encourage them to be more engaged with your brand.
When your followers comment to respond, your post may also show up in their friends' feeds. This expands your brand's reach and can bring even more people to your Facebook page.
These types of posts are a great way to build your audience while generating engagement. And as your presence continues to grow, you'll improve your Facebook marketing results.
3. Run Facebook advertisements
One of the best features of Facebook is the ability to create advertisements. The platform offers a few different types of ads, many of which operate similarly to pay-per-click (PPC) ads.
These ads appear in users' news feeds or in the sidebar next to it.
The only indication that these are advertisements is the "sponsored" label. These advertisements are meant to be seamlessly integrated into a user's newsfeed and typically look more like a regular post than an advertisement.
Facebook is flexible with their advertisements. You can create an all text advertisement, a picture ad, or video ad. The type of advertisement you choose will be based on your target audience.
Pictures and videos are a great option to catch a user's eye and engage them (especially videos). You may need to experiment to see which kind of advertisements draw the most interest.
Facebook offers advanced targeting options for these ads, so you can target the users that are most likely to be interested in your services. You can use criteria like location, age, and interests to make sure that you're reaching users who fall within your target demographic.
Growing your social presence with WebFX is a walk in the park.
"WebFX allows growing your social media platforms to be stress-free! They are knowledgeable and adapt to your company needs!"
Learn More About Our Social Media Services

Facebook marketing services from WebFX
If you're ready to boost your credit union's social media presence, WebFX can help. We're a full-service digital marketing company with a team of social media marketing experts.
We'll take the time to get to know your credit union, then create a social media marketing strategy that's unique to your business and goal. We'll strive to drive real results for you, just as we do for all of our clients — and as a result, we've driven incredible resluts for our clients — and we can't wait to help you, too.
Ready to reach more members with Facebook?
WebFX is a top Facebook marketing agency.
If you're ready to learn more about how WebFX can help you create an effective Facebook marketing campaign, contact us online or call us today at 888-601-5359 to speak with a strategist. We look forward to working with you!