Health care lead generation is a little different than typical sales leads — the motivation behind gaining leads has a different approach. It's not only about wanting people to purchase your services, as having a medical condition is serious. Rather, it is about wanting people to choose you to gain the best services to treat their condition.
These approaches may seem similar. However, it can take a different form of marketing to bring your service to the forefront of a competitive industry. Doing so can be possible when you partner with WebFX. As a leader in the digital marketing industry, we can help you reach your goals. Contact a strategist today, or continue reading to learn more about lead generation for cardiology services.
37% of marketers say that generating high-quality leads was one of their biggest challenges.
We want to decrease that percentage.
WebFX can help you generate high-quality leads with a customized marketing strategy.
Learn More About Lead Generation Services
9 best practices for cardiac lead generation
Explore these best practices for generating leads and getting more patients to your practice:
1. Be easily accessible and quick to respond
One of the best ways to bring in potential patients is by being easily accessible. Don't make them search for contact information — offer them several ways to reach out. This contact information can include an email, phone number, text messaging number, and more.
Incorporating a call-to-action button on your website is also helpful by encouraging patients to take action, thus increasing your page's click-through rate. Some call-to-action examples include:
Contact us today

Meet our physicians

Schedule an appointment

Subscribe to our newsletter
Another rule of thumb: If you want to be easily accessible, you must be quick to respond to inquiries. A single patient may have reached out to multiple providers, and you want to be the one to get to them first.
2. Use multiple forms of communication during a follow-up
Once a lead is generated, you need to follow up with them to confirm their likelihood of becoming a paying patient. To nurture this lead, present multiple communication channels. Doing so allows you to close more deals with leads while they can communicate the way they are most comfortable.
Your communication options do not need to be limited to one per patient. You may initially start with a text and then set up a phone call or and send a follow-up email. In short, keep your options open.
3. Be present online
The health care industry is so large that searching for the right provider often begins online. Most patients — 80% or more — will run a search before setting up an appointment, looking for fundamental factors like a medical license, medical certification, insurance plan participation, how quickly they can be seen, office location, and cost.
However, social media is also beneficial for modern health care providers. Your social media presence can create a solid first impression if potential patients stumble across your services via the algorithm or other promotions.
4. Ask patients to leave reviews
In relation to your online presence, having patients leave reviews is important for generating leads. In fact, 75% of Americans find online reviews important before selecting a provider. Patients want to ensure their experience will be positive. Who can blame them?
For this reason, be sure to encourage patients to leave online reviews. You can do this in person or over the phone or set up automatic post-visit texts. Have them spread the word on sites like Yelp, Facebook, RateMDs, WebMD Physician Directory, and more.
Additionally, patients like to see businesses respond to negative reviews. It can build trust and reputation, as patients see that you care and are apt to remedy a bad experience.
5. Utilize paid search
As mentioned, patients will turn to the Internet with a simple Google search. They might look for the best cardiologist downtown or top primary care physicians near them. Paid search advertising can send your site to the top by bidding on chosen keywords based on what patients search for.
It can also be beneficial to utilize paid ads on social platforms. These ads can appear in users' social media feeds as sponsored posts. They look similar to organic posts, but you have to pay to bring them to the feed. You can also use this feature to target certain demographics to reach your target audience.
6. Answer health questions
It is natural for patients to have questions concerning their health — the goal is to be the first to answer. Continuously post high-quality content so that you are the trusted advisor on health topics. If they see you as knowledgeable, it will encourage patients to choose your practice.
7. Build an engaged community
Engage with in the community you are in. Sponsor local schools, events, or sports teams to get your name out there. That way, if people search for a cardiologist in their area, they may think of you first. Health care is a trust-reliant business, so foster that goodwill and build community through sponsorships.
Also, consider networking with the local stakeholders in your area. Host meet-and-greets like lunches or cocktail parties to connect with new physicians and local business leaders. When you build relationships with other leaders in your area, they can refer patients to your cardiology practice — and vice versa.
8. Use email marketing
Capture the attention of already interested patients through email marketing. Start by offering a free download or other opt-in option for users to type in their email address. Send them a welcome email and start a conversation.
You can also use email contact information to stay in touch with leads. This way, you stay on top of a potential patient's mind when they are looking to book an appointment.
9. Integrate SEO
Search engine optimization (SEO) is another way to boost your visibility online — specifically in searches — without relying solely on paid ads. SEO can increase organic searches, driving 51% of website traffic. This statistic is especially relevant to those search results on the first page of the Google search.
Meet WebFX:
Your world-class, tech-enabled marketing agency with over 1.6 million hours of combined expertise.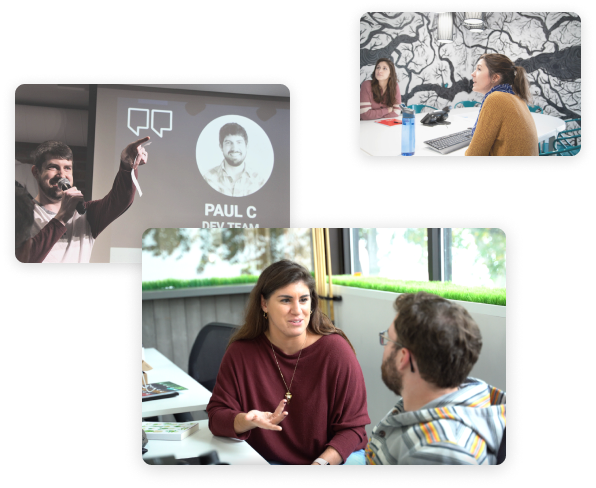 Digital marketing experts for cardiologists
Like what you see? At WebFX, we can plan and write strong, high-quality content so you can benefit from practices like SEO and be considered an expert in your industry.
For more information on our marketing services for cardiologists, contact us online or call 888-601-5359 to speak with a strategist today.
Increase your leads, sales, and revenue with digital marketing
Find Us Driving Revenue Nationwide