The pharmaceutical industry is extremely competitive, and for every type of drug on the market, and there are dozens of companies selling and advertising their own version. This creates intense competition between brands to convince consumers and medical professionals that theirs is the best available.
This competition is certainly evident online, despite the rules and regulations set by the FDA that make it challenging to create compliant advertisements. So if you want to stand out and reach potential customers and clients, you need to have a clear-cut pay-per-click (PPC) strategy.
PPC is one of the most effective ways to earn visibility and qualified traffic, but it comes with its own set of challenges for even the most experienced digital markers. Call 888-601-5359 to speak with a strategist about PPC plans from WebFX, or keep reading to learn more about how you can use this advertising model to get ahead of your competitors.
What is PPC and how does it work?
If you've ever conducted a search for something on a search engine like Google, you've likely seen a PPC advertisement. These advertisements are typically found at the top of results pages, and are denoted by a small "Ad" tag.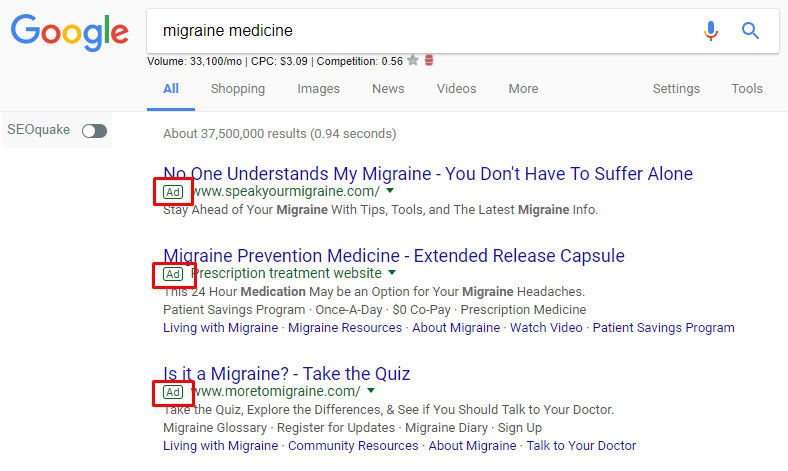 These ads are placed based on the keywords a user searches. As an advertiser, you can choose which searches you want your ads to show up for, then bid for placement on the results page with the search engine's advertising platform. The most popular option among marketers is Google AdWords.
Bidding on Keywords
When you run PPC campaigns, you choose which results pages your ads display for based on the keywords a user searches. For example, if you bid on the keyword "best migraine medicine," your have the chance to show an ad every time a user searches this phrase.
Once you select your keywords, you can set a bid for each one. Your bid amount is how much you're willing to pay whenever someone clicks on your advertisement for a given keyword.
The advertisers with the highest bids will typically get their ads displayed in search results, but Quality Score also plays a role in this. Your Quality Score is determined by your clickthrough rate, relevance, and landing page. The higher your Quality Score, the better your chances of earning high placement with your PPC ads.
Then, if you earn a spot in search results, you'll pay your bid amount each time a user clicks your ad. If you're targeting a more specific keyword with less competition, this amount will likely be lower. You'll end up paying a lower cost per click (CPC) regardless of the position you get.
If you pick a competitive keyword, however, your bid amount will need to be higher because you're competing with a larger pool of advertisers. Higher bids mean a higher CPC, and likely higher campaign costs overall.
Long tail vs. short tail keywords
When you're selecting keywords for your campaigns, you'll want to consider long tail keywords, or keywords with three or more words. The longer a keyword, the clearer a user's search intent – and the more likely you are to show ads relevant to what they're looking for.
If you chose a short-tail keyword, like "best cold medicine," you're competing with many other companies for that keyword. You will end up bidding extremely high amounts to be one of the top advertisements for that phrase, which can become very costly for your company.
Long tail keywords are more practical because there are less people bidding for those phrases. You won't have to compete with as many companies, and you'll be able to tailor your ads to a more specific search interest.
The two key takeaways
The most important thing to remember about PPC advertising is that you only pay your bid when a user clicks your ad and visits your website. This means you only pay when a user actively shows interest in your ad – and never just for ad space.
It is also important to remember that PPC can deliver immediate results. It works well with strategies like SEO, because it can start driving traffic and leads the moment you launch your campaign. Plus, you can pause your campaigns at any time.
Hear What It's Like to Work With WebFX!

"WebFX gets it done! They've done a great job working with our changing vision and goals, and their turnaround times are wonderful. All staff are professional, timely, and friendly."
Healthcare
How does PPC benefit pharmaceutical companies?
For every type of medical concern consumers have, there are hundreds of companies making medications to treat them. You want to make sure people are choosing your brand over your competitors – and PPC is a great way to do that for several reasons.
1. It's budget-friendly
PPC is an extremely cost-effective channel given its pay-for-performance model. Since you only pay when someone clicks on your advertisement, you don't have to worry about spending money on campaigns that don't drive results.
It's also a budget-friendly channel because it offers both daily and monthly spending caps. If, for example, your budget only allows for $2,000 per month in PPC ads, you can set this cap up front and never have to worry about going over.
Platforms like AdWords also make it easy to adjust your campaigns at any time. So if you determine that a certain keyword or ad isn't generating the results you want, you can pause it immediately – and not spend a single cent more. Then, you can more allocate your budget to more cost-effective ads and campaigns.
2. It's extremely targeted
PPC allows you to target specific locations. If you know where your target market is located, you can tailor your campaigns to reach those people based on state or region. You don't want to waste money on advertising to people who aren't part of your target audience, and PPC campaigns eliminate this issue.
You can also adjust your campaigns to display during different times. For example, you could run certain ads in the morning, and a different set of ads in the evening. This helps you even further tailor your campaigns to match what your target audience is searching for.
If you aren't sure where your audience is located, or what time they're searching for your products, you can use your PPC platforms analytics to learn more about who's clicking your ads. This information can help you gain a better understanding of your audience and improve your campaigns in the future.
3. It lets your audience find you when they want to
Consumers select companies based off their needs. They will search for specific products online when they need them, and actively research their options.
This means PPC brings your potential customers to you, rather than you reaching out to them. Unlike traditional advertising methods, like TV or radio commercials, which interrupt audiences as they're attempting to do other things (like watch TV or listen to music), you reach your audience while they're researching products like yours.This is much more cost-effective, because it prevents you from wasting your advertising budget on an audience that is not interested in your products.
When people see your PPC advertisement, they choose to click on it if your company is offering what they need. These advertisements aren't invasive, and when targeted correctly, are helpful to people who need your products. This allows your audience to make the decision to select your company without feeling bombarded by advertisements.
4. It's easy to measure
You want to know your advertisements are working, and PPC makes it easy to monitor and analyze each of your campaigns. You can track how each ad is performing and whether it's generating the results you want.
You can see which keywords are the most cost-effective, which generate the most clicks, and which lead to the most conversions. This gives you the opportunity to shift more of your budget into effective campaigns, and improve lower-performing ads if necessary.
5. It puts you at the forefront
PPC advertisements display on the first page of search engine results. This is important because less than seven percent of people click past page one of results.
If you're not yet ranking for keywords that are important to your business, investing in PPC is an effective way to get in front of searchers. Other advertising channels take time to show results, but PPC, you can start reaching your audience (and generating traffic and sales) immediately.
PPC tips for pharmaceutical companies
Getting started with PPC can be challenging, but the following tips will help you create effective campaigns and get the results you want.
1. Create informative landing pages
As you create PPC advertisements, each one will need to link to a specific page on your website. The pages you direct users to should be relevant to the keywords people are searching.
For any PPC ad you create, you want to make sure you are taking users to a page with information about the keyword they searched. Don't make them go to your homepage and search around for the content they were originally seeking – send them exactly where they want to be.
The pages you direct users to should have all the information they need to make an informed decision about the product you're advertising. Your landing pages should also make it easy for them to convert, and take an action like make an online purchase or sign up for an email list.
2. Use PPC together with SEO
If you are considering PPC, you should also consider using SEO to improve your organic search rankings. These two strategies are even more effective when combined.
While PPC campaigns can get you in front of users immediately, your ads will stop displaying as soon as you pause your campaigns. SEO, on the other hand, helps you establish rankings in search results that you don't need to pay to keep.
SEO also accounts for people who actively avoid PPC ads. Some people will scroll past the advertisements and look to the organic results. If you utilize SEO, people will see your top organic ranking even if they skip over your PPC ad.
Using PPC and SEO together helps you earn maximum visibility for your valuable keywords, and ensures that you reach all potential consumers searching for your products. Even if people skip over your advertisement, you'll still be able to reach them with your organic result.
If someone types in Tylenol, for example, the first result to appear is a paid advertisement. If the potential consumer is someone who ignores paid advertisements, they will immediately turn to the first organic result. In this case, Tylenol's website is also the first organic result.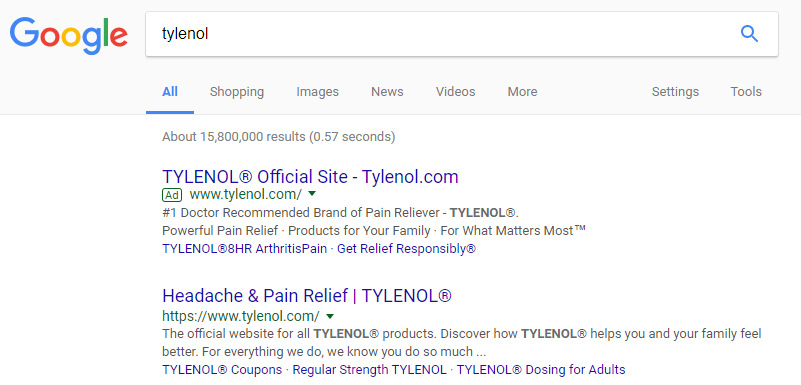 This ensures that they have maximum visibility in search results, and increases the chances that a user will visit their site.
3. Consider working with a PPC campaign manager
Even for experienced marketers, creating and managing effective PPC campaigns can be extremely challenging. Selecting the right keywords, writing effective ad copy, and designing high-converting landing pages take time and practice, and can all have a major impact on your success – and your budget.
That's why many companies today choose to work with experienced campaign managers for their PPC advertisements. Partnering with an agency allows you to launch effective campaigns right from the start, and avoid wasting your marketing budget on ads that don't generate results.
Ready to start using PPC?
PPC is a great addition to your online marketing plan, and can help you earn more qualified leads and sales. If you're ready to start using PPC to reach your marketing goals, WebFX can help.
We're an experienced PPC management agency, and we have years of experience driving results for our clients. In fact, we have over 1020 testimonials from clients in a variety of industries that have seen significant business growth from their digital marketing campaigns with us.
Contact us to speak with a strategist and get a free quote!
Earn a 20% greater ROI with WebFX