Is your construction company looking to attract more customers and grow your business?
With email marketing, you can reach current and potential customers with personalized information right in their inboxes. And it makes a big difference! Email marketing generates 50% more leads for 33% less investment, so for every $1 you spend doing email marketing, you make about $44.25 in return!
Email marketing has consistently proven to have one of the highest ROI's, so don't wait to get started! You can call 888-601-5359 or click the button below to speak with one of our 500+ experts!
On this page, we'll take a look at why email marketing works for construction companies, as well as some email marketing tips you can implement today.
Time to Level Up Your Sales
Our long list of services helps you grow every aspect of your business with marketing strategies that are proven to increase bottom-line metrics like revenue and conversions.
In the past 5 years, we've managed more than 12.9 MILLION transactions across our client base.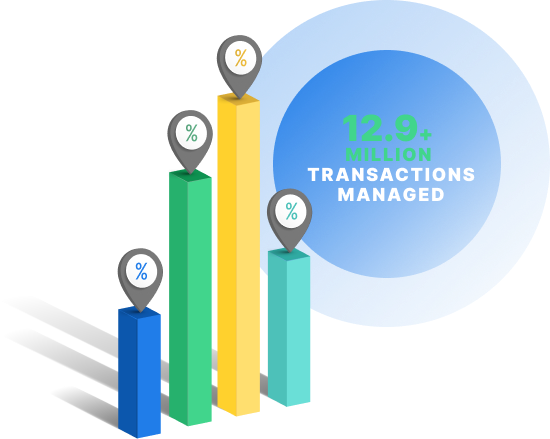 Why is email marketing important for construction companies?
For construction companies, email marketing has several major benefits.
First, email marketing allows you to send targeted, personalized content based on your customers' needs and interests.
You can segment your customers based on their lead status, demographic information, location, and other data. Then, you can send relevant offers and information based on those needs and interests.
Compared to traditional marketing methods, email marketing is also cost-effective, and it allows you to make the most of your marketing budget.
Hear What It's Like to Work With WebFX!

"We were looking for a forward-thinking but down to earth SEO company to partner with. Not only were we looking to build a long term business relationship but we needed them to understand our needs as a small company. And WebFX met all of that criteria. Our experience has been unparalleled; from the sales team who made the drive to our office to meet us in person to our Internet Marketer who has been an absolute joy to work with. They are completely transparent about their services and they take the time to explain everything which not only sets them apart from every other SEO company we have worked with but we also feel like we're taking something away from our interactions with the staff at WebFX. We are exited to see where this year will take us knowing that we have such a great support system with their company."
Home Contractor
Email marketing tips for construction companies
Next, let's take a look at some email marketing tips that can help your construction company make the most of this channel.
Compile an email list
Before you can start sending emails, you need to create an email list. This will consist of current and potential customers who have signed up to receive updates from your company.
You can also encourage people to sign up to receive your emails on your website. If you choose to attend in-person events, this is another great place to encourage attendees to sign up.
Once you have a list of subscribers, it's time to start creating your emails.
Write interesting subject lines
Next, if you want people to actually read your emails, you need to include compelling subject lines that encourage them to open your emails and read your content.
This is all a user can see in their inbox, and 33% of people open emails based solely on the subject line.
This means that if you don't want people to send your emails straight to the trash, you need to create interesting subject lines that make them want to learn more about your business and the products and services you provide.
Brand your emails
It's also important that you brand your emails so that recipients know exactly where they came from and who sent them.
Make sure that your emails are sent from a recognizable company email address. Sending emails from "[email protected]" will allow people to quickly decipher who is sending them emails. This brand recognition can increase the likelihood that someone will click on your emails to learn more.
You can also include your company's colors in the email and choose photos and graphics that compliment your brand and the image your business wants to portray.
Make emails easy to scan
You should also make your emails easy to scan so that readers can pick out the most valuable information at a glance.
Not everyone has time to sit down and read an entire email. This means that you need to make your emails easy to scan so that people can easily pick up the information that you're trying to convey.
You can also break up the text with images and graphics that support your points and give readers an inside look at your company. This can help them gain trust in your business and help them feel more confident in their decision to choose you for their construction needs.
Avoid spam triggers
You need to take steps to avoid spam triggers in order to keep your emails in recipients' inboxes instead of their spam folders.
Words like free, help, deal, win, trial, special offer, and order now can trigger spam filters.
While spam filters are getting more sophisticated and take into account more than an email's subject line, this is still a factor that can determine whether your emails end up in the spam folder.
Automate your email process
You can also use an automation software to streamline your email marketing process.
Programs like EmailMarketingFX allow you to schedule your email campaigns in advance. You can also use built-in analytics programs to assess key metrics such as open and bounce rates.
Automating your email marketing process allows you to get the most out of your email marketing efforts to reach more customers and increase awareness of your construction company.
Include clear CTAs
If you want people to take a certain action, sometimes you just need to tell them.
Do you want people to sign up to download your latest ebook? Include a link in your email and let them know how they access the resource.
You also need to ensure that your CTA buttons stand out from the body copy. For example, you can add buttons that include links to landing pages and tell visitors what actions you want them to take when they arrive there.
Our digital marketing campaigns impact the metrics that improve your bottom line.
See More Results

WebFX has driven the following results for clients:

$3 billion
In client revenue

7.8 million
Leads for our clients

5.2 million
Client phone calls
Learn more about email marketing for construction companies
Want to learn more about how email marketing can help your construction company reach more customers?
At WebFX, our team of email marketing specialists can help you design and implement email marketing campaigns that drive results for your business.
Contact WebFX today to speak with a strategist and receive a free quote.
Call 888-601-5359 or contact us online today to see how WebFX can improve your online performance.
Earn a 20% greater ROI with WebFX