Omnichannel marketing is a strategy promotes your products and services across multiple channels, devices, and platforms using unified messages that create a consistent brand experience for customers.
Its goal is to help you deliver a more effective brand message and a seamless user experience that encourages conversions and sales for your business.
Here's a quick overview of the topics we'll cover in this omnichannel guide below:
So, keep reading to learn more!
And don't forget to sign up for our newsletter, Revenue Weekly, to join over 200,000 other marketers who get the latest omnichannel and digital marketing advice sent straight to their inbox!
Don't miss our Marketing Manager Insider emails!
Join 200,000 smart marketers and get the month's hottest marketing news and insights delivered straight to your inbox!
Enter your email below:
Inline Subscription Form – CTA 72
"*" indicates required fields
(Don't worry, we'll never share your information!)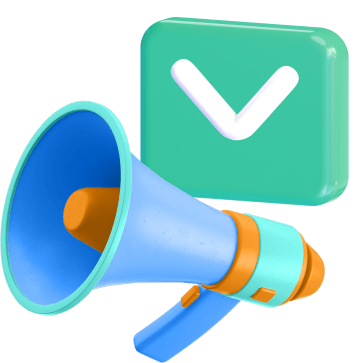 What is omnichannel marketing?
Omnichannel marketing is a strategy that connects all of your marketing channels into one cohesive, efficient system. With an omnichannel marketing strategy, you can reach your customers at each sales funnel stage to drive more conversions and sales for your company.
How does omnichannel marketing work?
Now that you know the answer to the question "what is omnichannel marketing", let's answer another burning question: "how does omnichannel marketing work?
To understand how it works, it's essential to first understand the sales funnel and customer journey.
In most cases, customers don't immediately decide to purchase your products or services. They typically interact with your business multiple times before they become a customer.
For example, a customer might have first discovered your brand on social media and then decided to read one of your blog posts. A few weeks later, they choose to sign up for your emails and eventually purchase one of your products.
With the omnichannel experience, you can create compelling marketing messages that target users in each touchpoint and interaction mentioned above. As a result, you can make more personalized messages that target users in specific stages of your sales funnel to encourage more users to convert into paying customers.
Omnichannel marketing vs. multichannel marketing: What's the difference?
Omnichannel and multichannel marketing seem like two very similar terms, and it can be easy to confuse them. While both strategies target your audience across multiple channels, the terms aren't interchangeable.
Luckily, we've got just the breakdown for you to discuss some of the key differences between the two. Check out the major differences between omnichannel marketing vs. multichannel marketing below:
Multichannel marketing
Multichannel marketing is the simpler of the two marketing strategies. With a multichannel marketing strategy, you can promote your products and services across multiple channels, but these channels aren't connected.
In other words, you might have a website, blog, and social media page in which users can interact with your brand. However, because the channels aren't connected, users won't see consistent messages or have a seamless experience that enables them to easily switch between channels.
Omnichannel marketing
Omnichannel marketing connects your marketing channels into one efficient and seamless experience. As a result, users can interact with your business across multiple channels, like your social media page and website, and still see content that's relevant to them at their stage in the sales funnel.
By implementing an omnichannel experience, you can encourage users to move down your sales funnel even when they switch between channels.
3 key benefits of omnichannel marketing
So, why is omnichannel marketing essential, and how can it help your business grow? We've got the answers for you!
Check out three key benefits of omnichannel marketing below:
1. Create more personalized experiences
With omnichannel marketing, you can develop marketing messages that resonate with users at each stage of the sales funnel and customer journey. As a result, you can create a more personalized experience that encourages users to convert into paying customers.
2. Encourage more conversions and sales
Creating an omnichannel experience enables users to seamlessly navigate between your marketing channels so you can deliver a consistent brand message. That means you can move users down your sales funnel and towards conversion no matter which channel users interact with.
3. Earn a higher return on investment (ROI)
Earning the highest ROI for your marketing efforts is the ultimate goal for any business. Omnichannel marketing enables you to effectively target each sales funnel stage and create more personalized experiences. As a result, you can drive more revenue and earn a higher ROI for your business.
3 steps to building an omnichannel marketing strategy
Want to leverage omnichannel marketing in your strategy? Here are three steps to building an omnichannel strategy that drives conversions:
1. Collect data
The basis of omnichannel marketing is data. To have a successful omnichannel marketing campaign, you must know your consumers and how they experience your channels as a whole.
Have your customer in mind when you create an omnichannel campaign. It's the most effective way to optimize your campaigns for customer experience. Ask yourself: "What options and products would you (as a customer) want to see across all your channels?"
Stepping into your buyer's shoes helps you increase your buyer's experience throughout your channels. Start by:
Gather feedback and reviews. After your consumers make a purchase, invite them to give feedback and reviews. By asking for feedback, you can more easily discover faults within your products and services. You can then steadily work on improving those faults, leaving your buyers overall, more satisfied with their experience with your brand.
Use social listening tools. Social listening tools like Hootsuite can help you find the trends that your buyers are talking about. They can also help you find mentions of your brand to see what people think of it. This is another great place to get started on improving your experience. People tend to be more truthful about their experience when they are talking to someone not associated with your brand.
Implement pixels. Pixels are snippets of HTML code that track where your buyers go after they leave one of your channels. Use them for your remarketing ads, which, if you distribute them across all the channels your buyer appears on, will provide a more wholesome experience. Pixels determine your buyer's preferences, so you can send them similar items as recommendations. As they interact more with your brand, you can refine the types of products and services they would likely be interested in. If the recommendations match their tastes, users will know that you care about their interests, which will form a strong connection with your brand.
Create buyer personas. Use the data you collect to segment your audience into personas. Having a clear understanding of the similar traits between your buyers helps you determine what kind of experience they want to have. Do they like using chatbots, or do they like talking to a real person? What kind of articles do they like to read and sites do they like to visit? By analyzing your audience, your content, products, and services will be relevant to your buyers.
Monitor your consumer's journey. Ask yourself, at what points do your buyers leave your sales funnel? What's causing it? Is it a slow load for your mobile landing page? Then work on speeding the page up or consider providing forms straight from your ads so your buyers can purchase or sign up with one less step. Continue to brainstorm ideas that would make it so that your buyers never leave, would bring them back, and which platform might bring them back faster.
Ask your customer service department about FAQs they receive. Examining your FAQs helps you understand where your consumers are having problems. You can address those FAQs in a couple of different ways.
Answering your users' questions will help them feel that their concerns are valid, boosting their confidence in themselves and in your authority as a brand. Your level of customer service will also increase as your buyers manage and control their accounts and access your services whenever they need it.
Create a thinktank between all your teams. Ask each of your employees for ideas on how to improve the processes of your omnichannel marketing strategy. Have some input methods such as a box or a document that your employees can use whenever inspiration strikes them.
See what they think customers would like to see in advertisements or in your products and services. Ask what would make your users' experience on your channels more accessible and more fluid.
Benefits: Gathering data helps you connect your channels. It improves your products and services and helps you strategizes the best methods of creating ad campaigns.

You'll have a smoother process for creating a seamless customer experience, the more data you gather and the more people you have chipping in to give ideas. And with a transparent conversion process, you'll help drive traffic and sales.
Check out this page for 13 free useful data visualization tools for your omnichannel marketing campaign!
2. Generate personalized content
Generating content for each of your channels has value because your content is what your consumers will be interacting with the most.
The best way to use content in your omnichannel campaign is to personalize it, which means incorporating the data you collected about your customers into your process for generating content, either manually, or most likely, through an automated process.
Your content must target your customer lists. The data you collect will tell you:
When they sign up for your email newsletters, which you can use to send your users welcome deals and similar content to the first piece they viewed.
When they search or purchase a product or service, which you can use to send them deals for similar products and services.
When they search to solve a problem, which you can use to send them products or services that could help them solve it.
It will also tell you any information you gather about your buyers' demographics. Send your buyers information on:
Events occurring in their location
Seasonal events applicable to their area
Products and services, trends, and topics similar to their previous interests
Products and services, trends, and topics their peers are interested in
And if you managed to get their birthday information, send them exclusive birthday deals
To successfully implement omnichannel marketing, you need to work out how to make your content relevant exactly when your consumers need it. This means thoroughly testing your content to see what works and what doesn't.
Your consumers will be much more likely to convert when they get the content they want it.
Your content also needs to be correctly optimized for all channels. For example, it must contain all the correct keywords for search, and it must translate well to all channels (including mobile and desktop), as well as match each part of your buyers' journeys.
Benefits: With quality, personalized content across multiple, interconnected channels, you'll increase traffic and conversions across all your channels several times over. You'll also increase your users' awareness, loyalty, and engagement with your brand.
Want to learn more about why and how you should include content marketing into your omnichannel marketing strategy? Take a gander at WebFX's helpful content marketing FAQ page!
3. Un-silo your departments
The most important, and perhaps the most challenging part of omnichannel strategies is to get your departments to work together, which requires redefining and reorganizing your teams. Start by:
Having a central hub, a single platform for both front-end and back-end, to manage all of your channels.
Scheduling regular meetings to teach each of your departments on how to interact with each other and to generate new ideas on how to improve your consumers' buying process.
For omnichannel marketing to work, all of your departments must be able to have a hand in customer experience. For example, when your technical department has fluid communication with your marketing department, it's easier to test your advertising campaigns to find what creates the most leads.
Benefits: You'll maximize the value of your existing digital systems. With an interconnected channel approach, you'll have more opportunities for automation to be implemented effectively because you'll have less redundant automated and manual tasks since one task will affect the whole network.
In other words, omnichannel marketing helps you reduce system and departmental complexities and streamline your workflow.
Examples of omnichannel marketing for inspiration
Are you ready to implement an omnichannel experience but need some inspiration? We've got you covered.
Check out our favorite examples of omnichannel marketing below:
Starbucks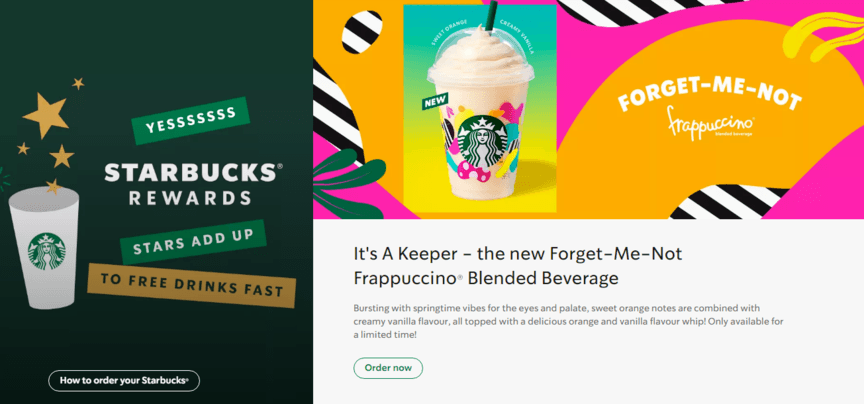 Starbucks is one of the top omnichannel experiences out there, making it possible for customers to interact with the brand no matter where they are in the world.
Why it works
Customers can visit their physical locations all around the globe, and they can also interact with the brand on the Starbucks app, website, social media page, and more.
Plus, Starbucks offers a customer loyalty program that enables you to earn free rewards whenever you make a purchase. In addition, you can top up your loyalty card by phone, on the website, or in-store.
Amazon

Amazon is the most popular ecommerce website in the world and is well known for providing an exceptional omnichannel experience for users. Users can browse products on the app, social media, and website. In addition, customers can have their shopping cart synched across multiple devices.
Why it works
Amazon offers users the ability to purchase products across multiple channels. Plus, users can also interact with Amazon's in-house products, like Amazon Prime Video and Amazon Music.
As a result, Amazon can reach users while watching their favorite TV shows and movies, listening to music, and much more.
Disney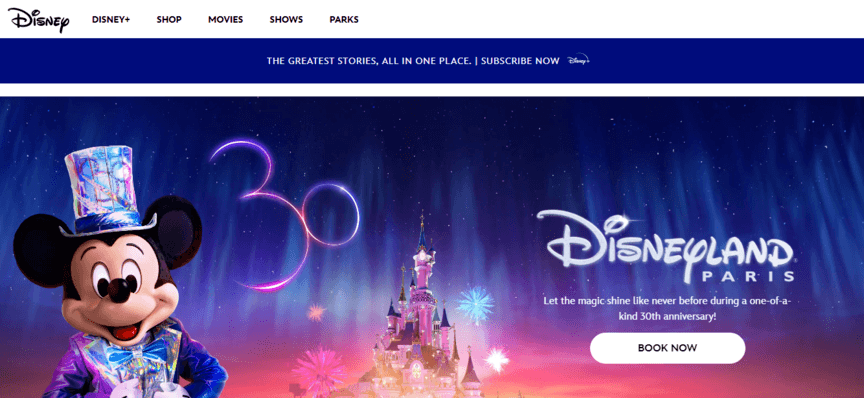 Last on our examples of omnichannel marketing is Disney. Next to their main website, Disney offers a wide range of channels in which users can interact with the brand.
Why it works
From investing in sponsored advertisements on social media, offering multiple resources to manage your trip to Disney parks, to providing its own streaming or OTT platform, Disney targets users across multiple platforms and channels.
Our digital marketing campaigns impact the metrics that improve your bottom line.
See More Results

WebFX has driven the following results for clients:

$3 billion
In client revenue

7.8 million
Leads for our clients

5.2 million
Client phone calls
Master omnichannel marketing with WebFX
Are you finding it tricky to wrap your head around omnichannel marketing? Do you struggle to find the time to manage an omnichannel marketing strategy for your business? WebFX can help!
WebFX is a top digital marketing agency with more than 25 years of experience implementing and managing revenue-driving marketing strategies for businesses just like yours.
Our team can help you map your customer's journeys to develop strategies that target users in each stage of your sales funnel so you can drive more revenue for your company.
If you're ready to partner with a leading agency behind over $3 billion in revenue, call us at 888-601-5359 or contact us online to learn more about our digital marketing services! We can't wait to help your business grow!
How is your website's SEO?
Use our free tool to get your score calculated in under 60 seconds.
Get posts by email
Join 200,000 marketing managers and subscribe to Revenue Weekly!
"*" indicates required fields
WebFX Careers
Join our mission to provide industry-leading digital marketing services to businesses around the globe - all while building your personal knowledge and growing as an individual.